A Complete Guide to Home Services App Features List
A Complete Guide to Home Services App Features List
Última actualización el 14 de julio de 2022
The way people run their houses has dramatically improved because of the on-demand economy. And with on-demand home services at your disposal, you don't have to waste much time washing up your dishes, laundry, and many other works.
Since using the home services apps is so handy, you don't even have to lift a finger to do any work at your place.
Because let's face it — no one likes to move objects, assemble furniture, paint walls, and clean floors in the line in a specific way. And neither does anyone have the time to do so. I personally would rather spend my time with my friends and family outside on a picnic than do the dull household chores. Because of this, the home services app market is growing and is forecasted to grow by $4.75 Billion from 2021 to 2026 as per informes.
See more:
And that is where the home services apps come into play.
These apps give you a better chance of doing things that actually matter rather than focusing on redundant, mundane tasks which often pop up in our households as it offers a plethora of outstanding features.
Users of A Home Services Business
When we talk about any other app business – like Instagram or Snapchat or any game, only one app is sufficient, because the end user is only one – the customer.
Whereas in the case of a professional app like UrbanClap or similar Home Services ones, there are three different kinds of users
The Customer
The Service Provider
The Admin
Basic Features To Have In Your Home Service Apps
Now that you have three different users, you can consider three different kinds of apps for all three users:
La aplicación del cliente
The Service Provider's App
The Admin Panel
And all these apps will have their own set of features. The user-specific features help to make your home service app more useful.
¿LISTO PARA LANZAR TU APLICACIÓN?
Con soluciones personalizadas bajo demanda de OyeLabs
Features For The User App
You need to offer consumers a list of services on the home screen in your on-demand home services app. The marketplaces are an important position on demand. Any service provider needs a well-built and uncompromising market.
Each service must provide a snippet explaining briefly what the client should expect. You must go to a special tab, such as pricing, features and detailed details, to explain the A to Z of the service in question after clicking a particular service.
Browsing Professionals With The Help of Differing Filters
Without any difficulty, the consumers must be able to find services. Provide various kinds of filters that make the process simpler. The user experience can be significantly improved by filters including finding the service provider based on prices, distances and specialization.
The providers in the framework play an important role in these functions. This allows users to have a centralized location where all their reservation orders can be accessed with the app.
This section also has many useful applications for the consumer, ranging from expenditures to the best and worst reservations that he has made. It allows users to contact the best service providers once more, particularly when required.
The date and time of reservations, service providers' name and contact details, etc., are detailed in the related section on the reservation history.
Enable your customer to select the service on the desired time frame. This feature helps your customers to pre-book their service rates. This function also offers the application a different dimension than an on-demand application.
An invoice for a completed transaction is obligatory. Therefore, it requires a separate section of its own. Moreover, automated invoice generation options must be given, which can be sent to the e-mail and/or contact numbers registered by the customer.
You may also provide an option for comprehensive and short invoices. More options and experience is obtained for the customers, which contributes significantly to the overall performance and preference achieved by the on-demand app.
In every on-demand program, real-time alerts play a major role. In this application, too, you must ensure that the customer gets a note after the service provider agrees to the request. 
Mensajería en la aplicación
For each application connecting consumers to service providers, you have to provide an in-app message feature. Although calling can help, an in-application chat feature is much faster and much easier to use than calling.
The in-app messaging features allow consumers and service providers to understand each other better in real time, reducing confusion and/or the potential for something to go wrong.
Ensure your offered network is encrypted when you connect your on-demand home service app to its in-app messaging feature. It improves the overall performance of your application.
Secure Multiple Payment Options
Ensure that you have several payment choices in your app, including credit, debit card, cash and wallet. As a result of sticking to any payment system, all consumers have their preferences. Having this feature on board will also ensure the security of the transactions.
The features must be revised when the service is through your app. You must be able to rate and review the service provider by your customer. It serves as input and lets other users pick service providers with higher ratings. This feature is of great benefit.
There are several issues with current and existing users using the app. In order to fix the issue, you need a mix of FAQs, customer service, chat support and tutorial videos. 
It is very important for any application to have a support section, in which users can find answers to the obvious questions in any kind of Q&A. The help section must also be easy to find and use on most on-demand service provider applic sites, where possible.
To solve issues that go beyond the questions listed in the Q&As section you must provide contact information such as an email support identifier and a contact number.
Lectura relacionada: Explicación de los 3 principales modelos comerciales de servicios para el hogar a pedido
Features For The Service Provider's App
Fast Registration & Profile Approval
Your App needs a simplified registration process that does not take extra time for service providers. If the profile is submitted with the approval of the service provider, assignments will begin according to his specialty.
Real-Time Request Management
The service providers must be notified in real-time of their inquiries. Your app and service will perform faster notifications. All request notification options, such as e-mails, text messages and push notifications must be included.
Request Acceptance & Declining
The service provider must have the authority to verify the application upon receipt of the order. He would consider this after he checks it, whether he likes the work, or if he does not reject it. However, you need to make certain arrangements that prohibit service providers from refusing trot requests.
In any on-demand app, communication is key. Your app must also provide an integrated chat system that enables service providers to communicate to customers. They will address issues such as rate negotiations and pass on other significant task information.
Different payment information may be added to service providers such as Paypal, Bank No or anywhere they choose to collect payments. In addition, any additional charges such as transportation may also be listed in cases where a consumer lives far away.
Both ways work in the feedback process. You will need a feedback function in which service providers may score customers according to a variety of criteria. These requirements may be like the experience of the service provider with the user, the right user directions, and much more.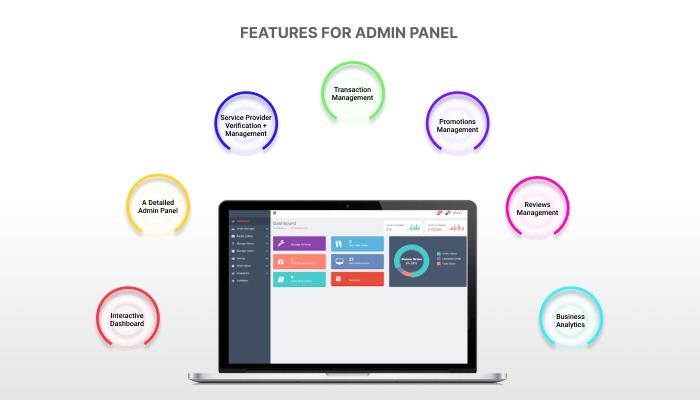 Features For The Admin Panel
An interactive dashboard must be in the admin row. The dashboard serves as a control center for the entire program. Any activity on apps can be monitored and tracked. Ensure easy-to-access dashboard reports are the best possible.
Any on-demand application must resolve three levels of interaction, namely consumers, service providers and administrators. Both consumers and service providers are responsible for managing and contracting. One thing you need to make sure a solid technology stack supports all of the above so the whole business enterprise can be built or destroyed.
Choosing the technology stack is also very significant, as it adds to the overall cost of the on-order services application for development.
Service Provider Verification + Management
You need a function where all the service providers can be administered. New service providers may also be added manually. In addition, the profiles of all service providers must be checked and fraudulent registration avoided.
The committees must be set very clearly so that uncertainty can be avoided later. In addition, fast and secure transactions between users and service providers are assured. This feature can help you solve all payment problems.
You can deliver different profitable deals and discounts to promote your app. This feature helps you to check how well you have accomplished the offered discounts. It allows you to gain valuable knowledge that can help to better and more relevantly deliver deals and promotions.
Feedbacks & Reviews are very important since they guide all parties in their choice of allies. This feature allows you to check all reviews from both ends. You may classify low performers and refer to top performers on the basis of their opinions.
This is very valuable because it gives you crucial insights into your company. These observations and statistics help you in determining better ways to improve your services. By analytics, you can re-check your progress and make the required adjustments to keep your services on track.
Conclusión 
The new trend in the on-demand sector of applications is the Home service app. However, there are still several possibilities on the market, despite the presence of apps Handyman, Taskrabbit and Thumbtack; you can still explore and introduce these choices.
The incorporation of key features and suitable marketing will make your app popular with the required market research.
You can contact top mobile application development companies in gathering insights and develop an app.