How Does Flink Work – Business and Revenue Model Explained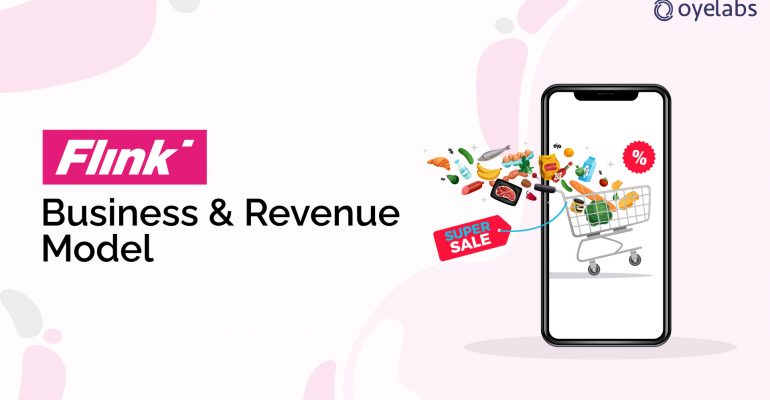 How Does Flink Work – Business and Revenue Model Explained
Last Updated on September 8, 2022
In recent years, the global grocery market has seen a number of significant changes. Online food start-ups have benefitted and have gained the interest of industry investors from a number of on-demand economies. Therefore, this is one of the fastest expanding eCommerce sectors in 2021. By 2024, 70% of customers will be getting their groceries, according to a Nielsen survey.
The continuous growth of the on-demand food supply economy makes it imperative to have a knowledge of the several business models going on in the industry, all the upcoming opportunities, and most importantly, the ever-growing competition.
Let's say you are planning to start a grocery delivery business online, It is important for you to understand the depth of the industry, what others in the industry are up to, and how you can outperform them. This is because every other day a new version of Grocery Delivery Business is being launched, with improved and effective working models — and Flink is one of them.
This article gives you an in-depth analysis of the online grocery shopping platform Flink, its history, business, and revenue model which will assist you in better planning your e-Grocery business.
So, let's hop into it.
What Is Flink?
Well, Flink is an online groceries store platform that delivers orders to local businesses on demand. It's one of the top marketplaces where local stores and restaurants in the vicinity are listed for the people who want to buy from them but don't have enough time to go out and pick up their order in hand.
The great thing about Flink is — they intend and fulfill the deliveries in 10 (to 15 at max) minutes of the order placement. Thus, they are able to satisfy all their customers in the best way possible and maintain the consumer base you would ache for too.
Established in 2020, Flink soon transformed into a major and popular online food and grocery delivery platform. It had the potential so strong that in no time it became one of the leading brands in Europe and to attract over 300 million dollars in funding across three rounds up to now.
See also:
The biggest advantage of Flink is that you don't have to leave your home first, then wait for the grocery shop and then carry your stuff back to your home. With only a few taps on your phone or computer, you are able to order straight from any business around your location. 
How Did Flink Start?
The founding of Flink is simply a reflection of the founder's skills and business acumen. Merkel had previously made a six-figure private investment in Gorillas, which launched in early 2020 and surprised Germany with its new delivery concept. 
The investment, which Merkel made during the Gorilla Series A round (announced in November 2020), allowed her to study the company's business metrics, including margins and profitability. 
After convincing Cordes and Dames to join them, they were able to raise a first seed round of 10 million euros, which is worth a business of 30 million euros (poster). The founders used the funds to speed up the launch process.
In late 2020, the Flink team acquired Pickery, a newly launched delivery app in Hamburg, for an undisclosed amount. Pickery founders Saad Saeed and Nikolas Bullwinkel have joined Flink as technology and experience directors, respectively. 
In January 2021, Pickery was renamed Flink and officially launched to the public. This service,  like its predecessors, was initially launched in Hamburg. 
Within a month, Flink was operating in five German cities, including Munich, Berlin, Cologne, and others. This is especially impressive because the startup has to set up the actual repository, as well as source products and drivers. 
Hard work was quickly rewarded with a second round of funding. This time, the Flink team managed to raise $52 million in March 2021. The funding also coincided with Flink's overseas expansion, to the Netherlands and France. 
In fact, Flink can arrange operations in a new city every two days. For reference, Gorillas, its biggest competitor, took more than four months to develop into a second city. 
Launch Your Grocery Delivery App in 2 weeks
With Customized On-Demand Solutions by OyeLabs
How Does Flink Work?
Flink Delivering groceries online is incredibly fast thanks to their design plans. They have built many warehouses and their latest technology helps them serve their customers in less than 10 minutes to order in their store.
The app has the latest technology that supports applications available on the Android and iOS platforms, and it also offers web-based services so customers can track and order in real-time.
They also have qualified and dedicated staff who pick up packages from warehouses and deliver them to delivery people who use four-wheel and two-wheel electric bicycles to expedite delivery. Their dedicated full-time delivery service is available and they carry out their duties honestly.
Flink has appointed couriers under contracts from popular service providers such as Instacart, Deliveroo, etc. They are paid for successfully delivering the product and are given a sum of money for each product that can be shipped.
Here's how it works
To use their service, you have to visit their website or app first. If you don't have apps, you can download them from the Google play store for Android users, and from the Apple apps store, you can download the application if you are an iOS user. 
Then you need to register yourself into the application with the proper name and Address for smooth delivery. You can change your delivery address anytime before placing your final order, so don`t worry; just be careful while placing an order. You need to confirm your desired address where you want your order. 
Now find out which products you will buy; just find and collect them into your bucket through apps. Finally, place an order. 
When placing an order, you can only choose a prepaid payment method.
You can choose to make prepaid orders using various payment methods such as Apple Pay, or you can use Paypal, credit cards, debit cards, even Wallet which you can use. 
Now wait a few minutes, they will deliver your order to your door. If you need to track where your order is?
You can follow their  tracking system online, their GPS based tracking system is available in the app. Using that feature, you can check the current position of your rider.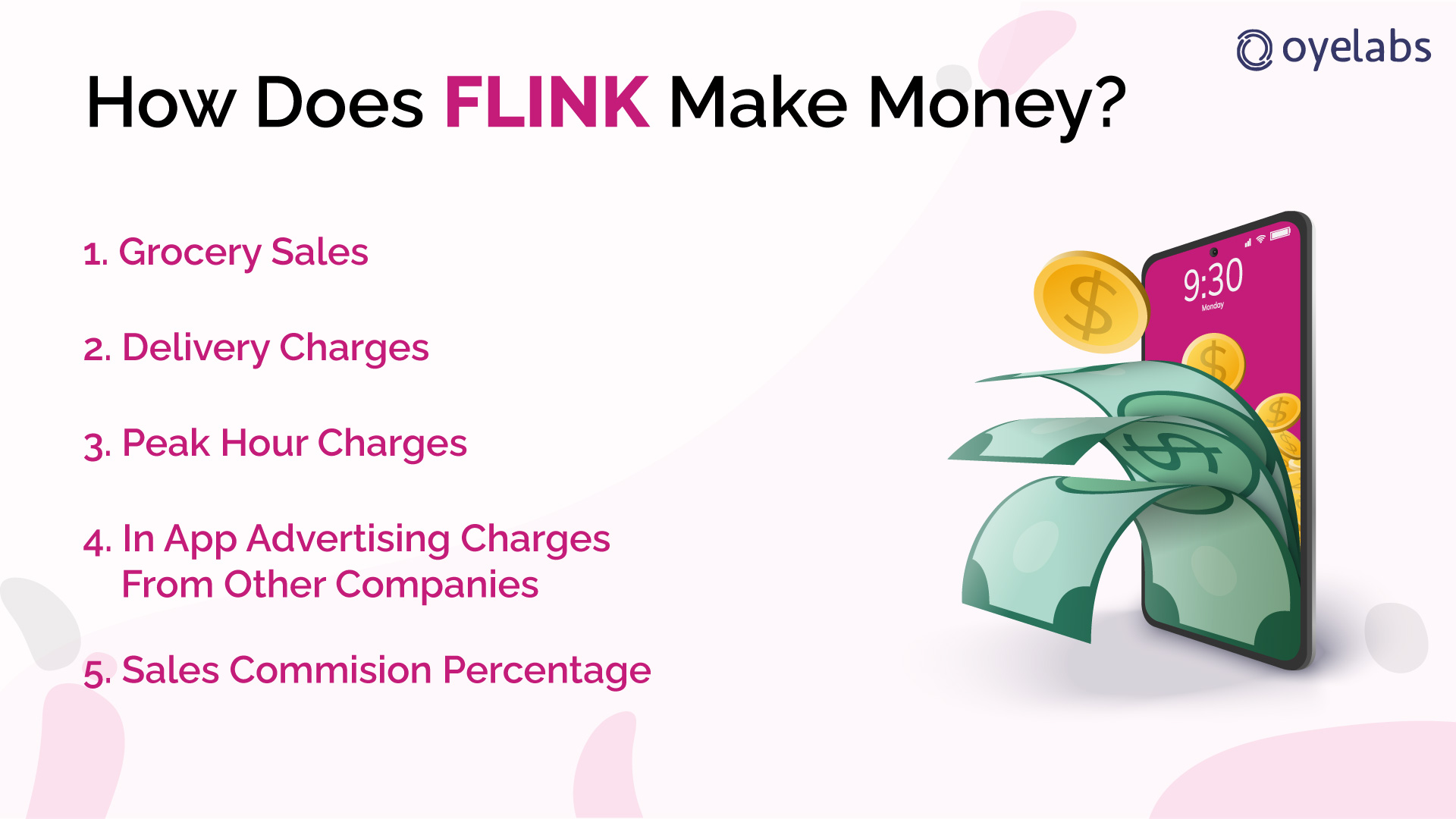 How Does Flink Make Money?
Well, as a grocery delivery platform, Flink has 5 key ways to make money, which are:
1. Grocery Sales
Most of the revenue generated by Flink comes from the sale of groceries it buys and stores in bulk. Flink also raised its price slightly to increase margins. However, prices are still much lower than in convenience stores (or kiosks, in the case of Germany). 
Furthermore, through its procurement agreement with REWE, the company may have received very favorable terms for the products it purchased in bulk. 
While offline supermarkets have operating margins of around 2-3 percent, Flink may be able to order a bigger slice of the pie.  This is because you don't have to rent hundreds of square meters of retail space. Instead, the company relies on optimized small warehouses, which are often found in less expensive areas. 
Secondly, companies do not need to hire retail assistants who will be asked to assist customers. Therefore, they can invest in stock collectors and riders. Thirdly, the entire Flink shopping process is completed in the application. This means drivers don't have to waste time at the customer handling payment doors, but can instead move within seconds of reaching their building. 
Over time, Flink will also learn what customers prefer to buy. They can then formulate personalized recommendations within their app, potentially allowing them to cross-sell items at higher margins.
2. Delivery Charges
If the restaurant doesn't have its own delivery team, this type of app can handle paid delivery. Shipping costs can be a percentage of the order price or a flat rate depending on the distance. 
Deliveroo also applies this monetization method. As reports show, Deliveroo earns £129 million from delivering restaurant food to customers' homes. The company's revenue comes from charging customers £2.50  for each delivery and a commission charged to restaurant owners (usually 10% of the order price). Deliveroo can typically earn £16.50 per hour per driver. 
Charging for delivery is a good way for businesses to earn a stable income, but it may be difficult to stay afloat using this model alone. Therefore, you should think about additional sources of income such as extra expenses during peak hours.
3. Peak Hour Charges
Consider this as another option to mint a lot of money using food supply applications. This strategy of monetization includes a significant boost in the delivery charges during peak hours. For instance, during lunch and supper, UberEats or Zomato sets high prices. They limit their menus and locations in busy hours and charge an additional premium on the regular delivery fee they charge. Therefore, the charge is a terrific approach to generate extra cash over peak hours. But make sure you remember that not all clients are prepared to pay a surge price and can only go to a rival that offers a cheaper service.
4. In App Advertising Charges From Other Companies
Advertising is another way food delivery apps make money as all the delivery apps such as Flink offer ads to grocery stores or restaurants for an additional fee to put them on the top of their search results. In delivery applications, advertising can mean listing restaurants at the top of search results for a certain period of time. In fact, this is the main source of income for Swiggy.
Since Swiggy charges restaurant owners money to showcase their restaurant on the app. By being on the featured list, restaurants are shown above others in search results and can attract more customers. 
Applications like UberEats earn advertising revenue from partner restaurants. Like Swiggy, UberEats charges restaurant owners marketing fees for serving their restaurants. 
Since the market now has a lot of stores and restaurants, it has obviously resulted in a lot of competition. Many people want to advertise their restaurant and be more visible than others. Thus, it would be safe to say that in-app advertising is a great source of income for Flink, and it could be for you too only if you partner with trusted stores and restaurants that have good customer feedback.
5. Sales Commision Percentage
Another approach to monetizing food delivery apps is commission rates. Online food delivery apps can partner with restaurants for a predetermined commission rate based on the size of the order. For example, Just Eat makes a lot more money by charging restaurants a commission on transactions. The company currently has a market capitalization of $3.5 billion and is successfully operating in more than 15 different countries. 
Therefore, commission rates are a good way to make money and can lead to long-term customer relationships. But the amount of the commission can vary depending on the level of the restaurant, average income, and other factors of course.
Deliveroo is the perfect example of a company that has been using this for a long time and minting good money. Charging restaurant commissions has increased Deliveroo's revenue by 20 to 25 percent per month over the past three years — which in itself is a great deal.
Wrapping Up
Online Grocery Delivery or better known as eCommerce is a promising business idea, as evidenced by the success of well-known companies like Amazon, FreshDirect, and Flink.
If you are about to enter the food and grocery sector with your startup idea enriched with innovative technology, feel free to contact us and our experts will be able to provide you with all the guidance you need with your project.
You see, OyeLabs has been in the industry for over 5 years and we have developed some of the most successful and promising products in the on-demand food and grocery businesses. We have the expertise, experience, and vision you need to turn your dream into a robust, scalable reality.
Frequently Asked Questions About An App Like Flink (FAQs)
How do I make sure my app idea is a valid one?
Some of the steps you can take to validate your idea are:Reasearch for competition,Understand your market, Build an MVP and Check your apps product market fit.
Why are grocery apps becoming more popular?
During the time of pandemic, grocery delivery apps proved to be of great value to the consumers and promises to have a huge number of users in future because of many factors such as ease of access, convenience and time saving.
How can I increase Market opportunities for my app?
With personalised features such as push notifications, notification based on user data, marketing campaigns, etc you can increase Market opportunities for your app.