eLearning Apps Business Models – How eLearning Platforms Work
eLearning Apps Business Models – How eLearning Platforms Work
Last Updated on June 19, 2021
Have you ever found a disconnect between what students learn in school and the skills they need to excel in the workplace? Websites like Skooli, Preply, Lessonface, TutorMe, and other online tutoring networks are the product of the same concept. People who wish to develop real-world career skills will communicate with people who already have them across these channels.
And now that the markets have gone online all over the world, the use and efficiency of high-speed internet have triggered paradigm changes in user behavior, whether in e-commerce or e-learning.
See Also:
Online education is becoming a common alternative for busy professionals due to its simplicity and versatility. The economy is booming, and educators and business players today have new ways to tap into it.
India is reportedly the world's third-largest online education market. The bulk of its inhabitants are young and tech-savvy. They see e-learning as a realistic career opportunity and a quick way to refresh their skills.
But would you be shocked to hear that the e-learning system has been used for 22 years? This isn't a passing fad; it's a long-standing method for teachers, staff, and others to gain information and broaden their horizons.
The latest coronavirus pandemic has accelerated the development of e-learning, making it a required safety precaution. According to Jon Marcus of the New York Times, forced social distancing will be a stimulus for the advancement of more sophisticated online education programs, and we will see an extremely close convergence of online learning with conventional learning structures over the next few years.
What exactly does this imply? It means that now is the right time to start an e-learning business. Employees and students of all ages have discovered that e-learning is a cost-effective and scalable solution, which is why e-learning software creation is one of the most common app concepts for 2021.
What Is An eLearning Platform?
An eLearning platform is an online educational website that teaches people new skills or imparts niche-specific expertise.
eLearning companies make money in a lot of ways, but the most famous are:
Sales of things such as eBooks and classes on a one-time basis
Access to independent online schools via subscription
Self-paced online learning has increased in popularity in recent years, with an approximate market cap of $103.8 billion, and the COVID-19 pandemic has accelerated this growth. (I'll get to that later!)
So, what is it about eLearning companies that makes them so popular? For teachers, it's because they have a great deal of versatility. They are free to make their own choices and choose:
Subjects
Teachers,
Class plans,
Payment choices and so on…
to build an exclusive experience that meets their requirements These are all essential aspects that conventional offline learning environments seldom have.
Higher degrees of versatility and artistic independence is also accessible to teachers. There are no conventional syllabuses or instructional systems to bind you.
Instead, you can add the most value to your audience by discussing subjects that concern you in the niche you care for. Perhaps better, you can work on your own day.
eLearning Platform Business Models
In total there are three different types of business models for your eLearning platform to choose from. They are:
The Nightschool Business Model
The Academy Model
The Combined Model
The Nightschool Business Model
If you just want to offer one-time admission to a course, the "night school" model is a classic. If you've ever completed an adult literacy course, you'll be comfortable with it.
The students here
Pay a one-time charge for the course
from beginning to end, stick to a predetermined framework (with little deviation from the main topic)
To demonstrate proficiency, end the course with an exam or quiz…
They are ideally suited for students who are primarily interested in studying a particular subject or skill.
This eLearning business model is well-suited to InkWorkshops. Person admission to laser-focused tattoo workshops is available for purchase.
The advantage of this business model is that you get a lot of money upfront. You can create buzz and offer access for a limited time, which can result in huge profits.
However, the drawback is that each client only pays you once. There is no need for them to reinvest in this course if they have access.
You're also restricted to one subject per course, but if you try to explore a range of subjects, you'll have to develop several standalone classes, which can be time-consuming.
The Academy Business Model
The "academy" concept is a much more long-term approach. It's where you set up an online school that helps students to…
Your pupils will benefit from this in the future.
In return for a regular monthly subscription fee, you earn a recurring income.
The academy model encourages you to concentrate on a wide range of abilities that your students will need. You should amass a huge library of videos to cover a vast variety of skills.
Let's presume you want to launch a guitar-related eLearning website. Instead of teaching a particular ability, such as how to play a certain song, you may extend your reach to include:
How to put chord progressions into effect.
What you need to do about restringing your guitar.
The fundamentals to fingerpicking.
How to read music notation.
These subjects are far too diverse and relevant to be used in a single lesson, so they must all be learned separately as skills.
This is everything Magic Stream excels at. For a small monthly fee, young magicians may gain access to a vast library of videos.
There are several advantages from a company perspective.
You will receive a monthly recurring income from both former and current students. You can also gain money from the content you've posted months or even years ago!
The Combined Business Model
This is, without a doubt, our favorite eLearning business model.
The "combined" model is created by combining the night school and academy models to create a supercharged income incentive.
In this case, you can use:
As a key offering, you can use the academy model.
To have versatile alternatives or add-ons, the night school model is used.
It's possible if your clients just want access to one tutorial from your database, or that you're doing a limited live stream session that's worth paying a little extra for.
READY TO LAUNCH YOUR APP?
With Customized On-Demand Solutions by OyeLabs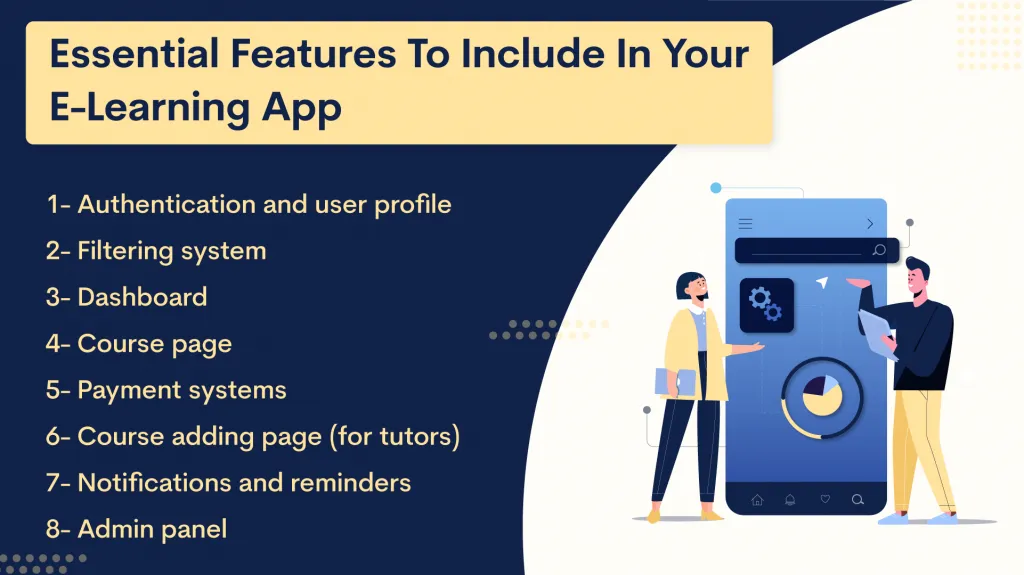 Essential Features To Include In Your eLearning App
Regardless of the e-learning software creation model you pick, all share a few main features. These features extend to every other e-learning website as well.
Authentication and user profile
First and foremost, consumers – both students and instructors – must authenticate themselves. The most common method is to combine an email address with a phone number and a password. Still, logging in via social media accounts such as Facebook or Google is fast, easy, and commonly used.
The number of features required for profile management varies based on whether the profile belongs to a pupil or an instructor. The following information can be found in a learner's account:
User information and a profile photo
Courses that are currently active or have been completed are listed below.
Certificates, points, and credits details
A page for configuring your purchasing history
In addition, the teacher's profile should provide the following information:
Page with facts (with information about degree or establishment they represent)
Courses that have been added to the list
Filtering system
Any e-learning website is first and foremost a course catalog. When dealing with massive websites such as Udemy, users will need a tool to browse through them.
The following resources are available on most e-learning platforms:
Search bars where the users will enter keywords;
Categories on the main page;
Filters (by level, price, language, rates, and so on);
Recommending similar or most popular courses to students.
Dashboard
Students and teachers may use the dashboard to monitor their progress and gain relevant information about their studies or jobs. Students will see how many classes they've enrolled in, how many courses they've taken, how many hours they've spent on a course, and so on.
Teachers will also see the classes they've developed, the number of students attending, grades, traffic, and earnings.
Course page
Photos, podcasts, recordings, digital textbooks, and even chats are common in most classes. Many apps often provide gamification features to help students remain involved.
Any course should contain the following:
description;
creator(s) information;
list of topics and materials
By including a rating feature, you'll be able to assist beginners in determining how important and helpful the course is.
Finally, administrators can issue a certificate upon completion, which may be created automatically or manually.
Payment systems
If the platform's e-learning model is built on paying classes, students should be able to pay for them easily, and instructors should be able to gain their earnings. Also, keep in mind that when working with money, it's important to take the time to look for safe payment methods.
For the time being, the most common payment methods are:
Cards (debit and credit)
Braintree, PayPal, or Stripe
Course adding page (for tutors)
Institutions and private teachers should be able to develop courses on Edu platforms with trust and ease. They should be able to develop a course framework, incorporate content, activities, and connections to external services using these methods (PDFs, videos, audio files, etc.)
Notifications and reminders
You will send emails or app messages to users to let them know about new classes, recommendations, activities, or changes. The aim is to do so in a timely and gentle way. Sending emails revealing each new course, for example, is a terrible idea. However, most consumers can benefit from a monthly digest of personalized tips.
Admin panel
Finally, you'll want to have an admin panel. Administrators are in charge of the website's material and subscribers, as well as editing and deleting classes, producing and reviewing statistics files, and handling alerts and newsletter addresses.
Conclusion
Online tutoring is the future of education, and it will undoubtedly continue to expand exponentially across the world. With the rising rivalry, it's more critical than ever to pick a dependable approach for launching a feature-rich online tutoring platform.
There's never been a great time to launch an eLearning business. COVID-19 has altered people's perceptions of what they want and need to read, and demand is stronger than ever.
Reach out to us if you'd like to hear more about the main skills you'll need to start and develop your own eLearning platform, and we'll be happy to assist you in building an intuitive, effective eLearning platform.