Uber For Home Services: How to Develop an On-Demand Home Services App?
Uber For Home Services: How to Develop an On-Demand Home Services App?
Last Updated on May 26, 2022
The growth of the ride-hailing and distribution industry-inspired businesspeople to pursue other industries as well. The on-demand industry penetrated into the homes of consumers offering substitutes for traditional home chores. Consequently, home transport apps like Uber are evolving with a range of subcategories.
It relies entirely on your business model if you want to offer multiple services or one of them. Both approaches are successfully provided with the software flaw-free. You have to make sure that people will use the app easily and accomplish the expected target they preferred your app over others for.
It's all convenient and it's all here right at your fingertips as mobile apps in the ever-growing technological age have built an empire. New-fangled homes filled with a variety of home appliances such as refrigerators, air conditioners, microwave ovens, heaters, and assorted kitchen appliances need the care to deal effectively with them.
Maintaining all household tasks and keeping the appliances in line can be strictly exhausting in this animated way of living we're surviving in.   There is still an overwhelming demand for home-based services and this is the situation where people feel overwhelmed to find the right provider to fulfill their needs.
This is the all-in-one portal that users can employ from sofa cleaners and carpenters to real estate attorneys, architects, bartenders and home cooks, etc., to any specialist. In a long-hauled weekend, you skipped the body form, getting a question about your appearance.
Just chill, there are a number of platforms like  UrbanClap which deliver the requisite service by landing the experts at your doorstep in a scrutinized fashion.
Clasp the fascinating home service provider apps like UrbanClap, the robust solution platform for all services related to lifestyle. Many home services apps are being curated in such a way that you can recruit local professionals with a quick tap to get stuff done.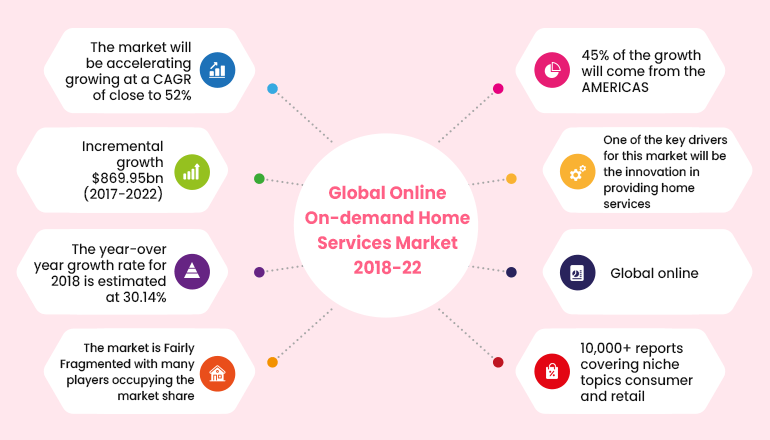 People overwhelmed by an online home-based service app because they provide the comfort of posting the required service in the app where the service provider responds with a suitable budget and the timeline for completing the work. People may recruit neighborhood professionals, or from any place they choose.
Are On-Demand Home Services Apps The Next Big Thing?
With lives now becoming faster and the need for easy access to services at home is becoming increasingly common on-demand home services. A simple example here will be the contrast between the current online market today, v / s the one that existed nearly a decade ago. The digital scenario has shifted massively with the Internet era and the competition will only survive by the businesses that provide an extra edge.
Companies like UrbanClap (now Urban Company), Uber, etc. have been reaping profits from their labor in the past few years.
The global on-demand home services market is forecasted to grow by $ 4.75 Billion from 2021 to 2026 with a CAGR of 60.77%, according to the latest report by Technavio. It also shows steady growth over the forecast period and is expected to hit a CAGR of nearly 49 percent by 2021.
The current generation being the internet's largest consumer is also the biggest consumer of on-demand home services. And this will also lead to incredible business growth in the coming years. Another key factor for the growing popularity of on-demand apps is the invariant relation that is formed directly between a seller and a client. In addition, there are plenty of low-cost solutions that can help set up an on-demand delivery app. Because of that, even the smallest of meager-budget startups can set up their company and run in no time.
READY TO LAUNCH YOUR APP?
With Customized On-Demand Solutions by OyeLabs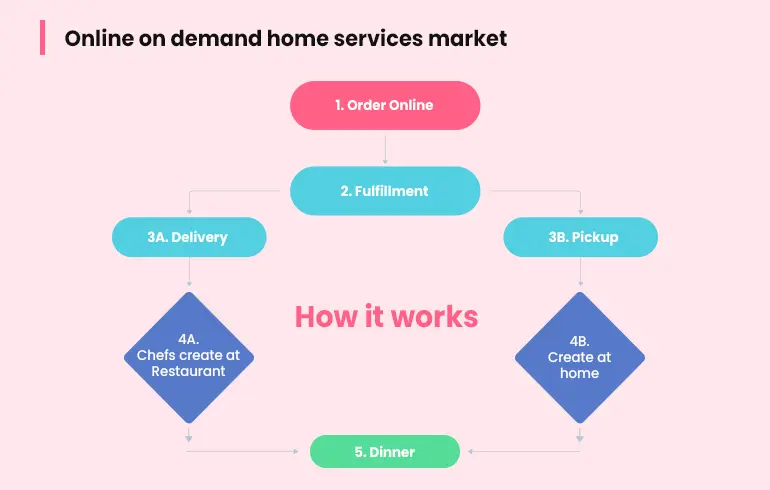 List of Services You Can Offer On Your On-Demand Home-Service App
Home cleaning and repair
Geyser repair

Electrician

Plumber

Washing machine

Carpenter

TV and fridge

Home deep cleaning
Tutors and lessons
Commerce tutor

English tutor

Home tutor

Mathematics tutor
Shifting homes
Packers and movers

Pest control

Bathroom

Kitchen

Sofa

Carpet

Water tank
Home design and construction
Interior

Modular kitchen

CCTV camera installation

Painters

Architect
Party and event services
Birthday party

Event photography

Party make-up artist
Health and wellness
Physiotherapy

Dietician

Yoga trainer

Fitness trainer

massage
Wedding services
Wedding photography

Bridal makeup

Wedding planner

Pre-wedding photoshoot
Business
Web designer & developer

Lawyer

CA for tax registration
Kids
Home tutor

Drum classes

Guitar classes

Baby photographer
Here is a list of the top home services business ideas for 2022 to give you greater insights into the large scope of the home services industry.
Strategies To Turn Your On-Demand Home-Service App Into A Success
A variety of businesses are encouraged to have their goods and/or services on demand by growing their lifestyle. Since the massive achievements of Uber, a taxi on-demand service, this market has expanded rapidly. A variety of companies entered and became competitive in the on-demand industry. However, it is not easy to build an on-demand app and get orders. The three main steps to implement an on-demand business plan include market research, design, and app feature planning and marketing of the app. 
But, should you have any problems with how you can get the most downloads on-demand and produce revenue from them?
Identifying The Audience & The Problem You Want To Solve
How on earth would you create an app if you don't know about whom and for what?
You can't, that's false. Okay, you can, but I assure you that until finished, the app won't make any sense.
The best ventures have a schedule. You've got help. This means to consider who the customers are, and what their needs are, with an on-demand service — or a service. User analysis is an ideal way to open up information into a product app.
So you should begin by figuring out which question the app can solve on request. How do people like that? Will you actually meet a requirement? Would people want mechanics at their doorstep? Will people like to obtain food? Do you want haircuts to a click tap? Qualitative and quantitative analysis will decide answers to all these questions right before you launch.
Yes, also as your project starts, you will conduct research (see next point), which will produce much information you need for your application to be built successfully. So you must first assess the target market parameters. This will help you choose the best home services business model for your business.
Low Competition: Choosing The Application With The Least Competition
Select certain goods or services where less competition is expected to occur. While competition is a new phenomenon that has made the path to success, not all businesses have entered it. Search for products or services on demand by your competitors. When you don't, otherwise you are not likely to survive. If yes, look for the breakouts and give your customers something or something that your prospective customers do not offer from any other seller. Your on-demand software will provide the user with something great to access and use.
The fuel that drives a new idea is implementation. "What if someone steals my plan rather than just worried and thinking? "Go on to investigate how many people are ready to purchase through your on request submission. Build and fill up questionnaires for real customers. The most accurate and volumes of results can be produced in digital and physical ways. To ask friends to fill them in and ask them to fill out more questionnaires is one way.
Consider that if you fill out physical forms, the corresponding target audience will fill out them. You should enter locations where the focus audience of your product or service is most likely to be situated and ask for the survey form. It gives you a good picture of how many consumers are potentially involved in buying your goods and the right cue to continue. You can easily conduct an online social media survey by using social media more and more to determine whether your product idea is feasible and will succeed.
Identify The Key Players & Functionalities You Need 
How many players does your on-demand program need to operate?
The key sections are
Your customers

Your suppliers of services

Your management team/operations.
For instance, UrbanClap has tie-ups with people that companies that provide the services and the individual service providers as well, then there are people who manage everything from the backend. Then there are clients or people who are actually looking for the services which they provide on their application.
On-demand apps can get tricky due to all these different players. A variety of functions and features are expected by all the parties participating in an on-demand operation. This sometimes means separate applications in one app and sometimes it means that multiple players are able to build entirely independent devices.
Marketing: Spread The Word Around The Right Away
After the app idea is formatted and perceived as likely to succeed, the marketing plan should be taken forward. Sure, before the first line of code is written, marketing will start. Create a website for a single-page app; in brief, the landing page, and let your public know about launching the app. Inform them that your app will be brilliant and helpful. Mention the features and all that a customer might like to know about. This gives you a good idea of what you can expect from your app. It is an approach to preventive marketing used by several companies that launch apps.
When you have a user-friendly interface missing then your application may have the best value that nobody else can deliver on request but does not show success in the shop. An app that provides self-search and needs limited steps to evaluate the product you want is possibly your favorite person. The contrasts of colors used in the logo would attract the eye and keep the text readable. Without much hassle, the consumers or users should be able to quickly identify and order the drug. Intuitive application design can attract more clients and help to retain the existing client base. It is important to hire a good app development partner to help you make a successful app for your business.
You will provide offers and discounts and you can start shopping using your app until you protect the product for a wide number of consumers. Loyalty programs, bonus points, or products are some of the approaches that you can take to expand your client base. Sales coupons. It's the safest way to keep consumers respected.
The soul of every company is marketing. Likewise, if you want to continue to accept orders through your application and to maintain the sales flow steady, you can advertise it continuously. Commercialize your goods via media and other marketing channels. You may like to develop the search engine for your ios app. This puts you on the top charts and attracts the audience's attention.
Generally, the development and successful delivery of an on-demand app can be seen to be not a cup of coffee. There is a lot of work to finalize software and create the end-to-end method. Therefore, the right demand production organization with knowledge and experience is very important to pick, in order to ideally accomplish the business. Preparing your application is not like getting to the finish line, it's like planting a seed, and you must constantly water it with marketing to get profit from it.
Related Read:
How To Make Your On-Demand Home Services Application?
Step 1: Deeply Research Your Market
A comprehensive market study is the first step to educating everything you do. You need to understand the existing market offering and use this expertise to detect a gap in the solution to your problem and serve a new, comprehensive solution.
Extensive research on the market will help you find:
Who are your competitors?

What is their strategy?

What are their strengths and weaknesses?

What are their customers saying in the reviews and on social media?

What is their unique selling point?
You should be able to escape the errors of your opponents, double your tactics and specifically identify your particular solution to the problem and the direction you pursue solving them when you have the answers to those questions. Millions of iPhone applications are available and this is your chance to guarantee that yours is excellent.
Step 2: Choose The Kind Of App Your Want – Hybrid, Reach or Native?
A few operational choices need to be taken in advance, so this is an important decision. There are also implications for the potential growth and management for deciding between the natural, hybrid or a mobile app. That is why it is important to optimize your analysis on the market and your key goal and capabilities so that you can make the right decision.
Native applications are ideal for heavy-duty applications such as playback, photos or videos. Web applications are, however, the perfect option for those who need quick upgrades but do not need access to the native functionality of the application.
All of these forms are on the opposite side, with mobile applications the most costly to create and find in app stores, while web apps can be very easy and cheap to build, but can not be distributed through app stores or accessed by the customers.
Hybrid apps are the best in both worlds: they use the same codes for both platforms, access the features of the device, and live in both app stores. They are also suitable for most systems and frameworks like efficiency, utility, and business applications.
You can delegate your money and schedule the entire software process much better after you have agreed on your application form.
Step 3: Know Your Monetization Options
An app can play a wide range of roles in your company and industry. It is evident to produce revenue directly from the app, while others may simply be a tool for your public or help certain steps in your sales process indirectly and expand the versatility of your brand.
Through route as benefits and drawbacks, as with any other alternative. As you can now change your decision later, you need to have a better understanding of all of the models first and to handle the production of your mobile app on the basis of what is best for your market.
Step 4: Business Plan Formation
It is time to make more specific plans once you have an insight into the app market. A strategic strategy is a good start. It lets you prevent needless costs or save your money.
The tactics and strategies of your business plan may include. Nevertheless, it is very difficult to implement a technique from our experience at once. But make short-term planning and you'll be able to prepare for longer stretches after some time.
The most critical thing about this is not to forget the plan. Do remember that the software provider is highly profitable and innovative such that you can have a long-term approach and not lose time in decisions.
A business plan must not be very complex and detailed for a short period of time. This must be clear enough, at the same time, to define the main concept and give the most critical steps for its development. It must also provide information on the expenses and potential ways of obtaining capital.
Step 5: Build Your Pre-Launch Strategy
When it comes to promoting and extending the product, from branding, PR, pre-launch activities, outreach, and merely a general online presence, if there is an aspect that has such a major impact on the app 's success.
Now maybe you find it's too early to dream about strategy before you even start creating. However, if you start creating your app's buzz before it is present in app stores, your efforts will increase in the long term.
Step 6: Security Measures
Finally, if the app extracts personal information from consumers, you will need to have a privacy policy. The procedure must include the information gathered and how it is handled.
The benefit of taking this move so early is that you will take time to receive the required legal counsel, and prepare and enforce security precautions in an app.
Some of the key points are the health of the device and you have to make sure that it is installed early. The data of the customers is the most important commodity, so you can make sure that you have systems in place to capture, administer, preserve and so mitigate all possible safety threats.
Once you are moving through these preparational steps, you are primed for successful delivery and launch of your device growth without disruptions!
Related Resources: Home Services App Case Study
Feature List – Must-Have Features In Your Home-Service App
Service Company's App
The application should have a relatively simpler registration process that does not take excessive time for service providers.  It should be in such a way that once the registration is completed, the service provider can start working immediately.
There should be a proper system for the request manager for the service providers in the application. They should get real-time requests so that they can manage them according to the time-bandwidth they have.
Giving the service the option to chat with their customers in real-time is an amazing option to ease most of their confusion or any other queries. Thus, there should be an in-built chat system for the service providers.
The service providers should have the option to manage the feedback they get from their customers. In fact, they should also have the option to give to their customers.
Specific payment information, for example, PayPal, bank account number, or where they want to be paid, are issued by service providers. They may also mention any extra costs in case a customer lives a little too far, such as transportation.
Customer/User's App
Easy Browsing Within The App
Browsing within the app or looking for services in the application should be easy for the users. So you must provide them with all sorts of navigational filters using which they can easily find what they're looking for.
In any on-demand home service application, real-time notifications play a major role. The client also serves a similar function, and you will make sure the customer receives an alert until the service provider accepts the order.
The functionality will be checked while the operation is over the computer. Your user must be able to rate and examine the service provider. This functionality is very helpful because it aims to provide reviews and allows other consumers to choose higher-rated service providers.
You have to make sure that making payments in the application shouldn't be a hassle for the customers. Also, there should be a number of payment options for them.
Admin Panel
This feature provides the users with an in-depth insight into their business. They can see all the critical information which would help them make better business decisions.
The business owners can offer a plethora of lucrative promotions and discounts to promote their application. Thus, you can monitor your progress with regard to the discounts offered by this feature. It lets you get useful information that can allow you to deliver more and more appropriate deals and promotions.
This feature will allow the business owners to go through both the positives and negative reviews of the customers about their products. This comes really handy when it comes to improving the brand image by considering customer feedback.
Technology Stack You Can Use For Home Services App Development
Application and Data- NGINX, MySQL, Ruby, Rails

Utilities- Google Analytics, Amazon CloudFront, ElasticSearch, Amazon Route 53, Mixpanel, Optimizely, Mandrill, Braintree, Looker, CameraTag

DevOps- New Relic, Bugsnag, Solano CI, Server Density

Business Tools- G Suite, AdRoll, SnapEngage, MadMimi
How Much Does It Cost To Build An On-Demand Home Service App?
Depending on the requirements, the costs of creating an online service provider app vary. Technology on the Android or iOS platform can be incredibly exorbitant and rarely within control. It also depends on the aspect that you hire from the service provider software creation firm.
Such demands are expensive based on a time- and expense limit of $10,000 to $50,000. The hourly rate is used by developers globally and the premium will be paid if the backend phase is used.
The hourly rate in countries like Europe or America is $150-200 per hour. Whereas, In India, the development of a home service application has cost about $80-$130, which is really cheap as compared to anywhere else considering the quality you get here.
Key Factors Determining The Cost
The cost of building services company software such as UrbanClap varies by platform. Because of checking features, Android costs comparatively more than the iOS app.
A broad range of subjects online that suits well with the functionality of the service provider. The best Interface allows the program to be consistent with other apps.
In the modern world, content is the king. Connect a range of content from blog entries, infographics and program adornment galleries.
Regardless of how the service provider software functions on an iOS or Android device, make sure the home-based service program suits all the screen dimensions.
The cost depends on the contractor alone. A developer's backgrounds and expertise play a significant role in assessing costs.
The characteristics of such a mobile app include data synchronization, hosting, design disintegration, push notification with OTP assessment, etc.
Conclusion
The new development in the on-demand app market is the Home Services device. However, there are still a lot of possibilities on the market for companies that can be pursued and introduced.
The incorporation of critical characteristics and effective messaging will make the product popular with proper research in the market. The demand for the home services app is growing with time. It is essential to use this demand with a proper approach to which expert guidance is necessary. Oyelabs is an experienced on-demand app development company and we can help you develop the perfect home services app and bring your idea to life. Get in touch with us to get started!
FAQs
Can I develop an errand service app for my local market?
Yes, you can. The success of an app like TaskRabbit, which lets local-qualified workers take on jobs in the neighborhood, is proof that it is a lucrative market. All you need is to polish your idea and define your niche and get in touch with a trustworthy development agency to further hone in on your vision.
How much will it cost me to build a Home- service app?
It can typically cost you $20-50K (US) (or more) to build an app that fits in that category. The overall cost of development can differ depending on various factors, such as the complexity of your app, your team, target platforms, and so on.
What should I keep in mind before making the app?
Make sure that you have a market for such an app. After that, the task is to make the platform lucrative for both home- service professionals and homeowners. Coming up with your unique value proposition for both segments is an ideal place to start. Choose a team that compliments your ideas, and discuss your idea with people you trust before you invest in it.