Top On-Demand Home Services Startups in 2024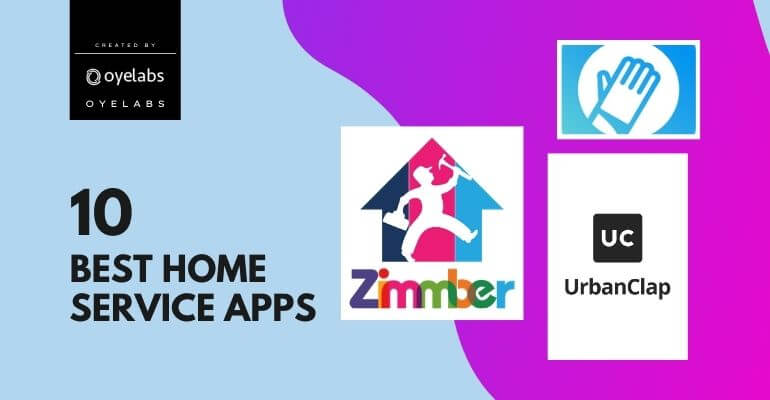 Top On-Demand Home Services Startups in 2024
Last Updated on December 1, 2023
Introduction
Innovation is everything. With the growing need for on-demand home services, the home services market segment is coming up with innovative ways to keep up with the ongoing market trends. Investors have started investing in on-demand companies and this is what is boosting the growth of the online on-demand home services sector. The improvements in the technological sector and advancements in networking have given rise to consumer services such as home education, packaging, relocation, and spa and beauty services to draw new consumers and expand the market room.
The biggest explanation for the popularity of the on-demand system is its intrinsic capacity to make everybody happy. This brings financial flexibility that can be accomplished by serving as on-demand staff during the days off. On-demand home services cater to those who are busy during the workweek and have no time for themselves. This demand-based economy has filled a gap that previously required a large paycheck to bridge.
On-demand services, with their speed and ease, are undoubtedly driving commercial opportunities and rising market competitiveness. This has thoroughly overhauled conventional company approaches and tactics, and the instant solution to any challenge that you may have to face.
The US online on-demand home services market sector is about a $600 billion industry. According to a report by the New York Times, it is advancing firmly during the forecast period and posting a CAGR of almost 53% by 2024. Home services span a broad variety of industrial markets, such as restoration and servicing, upgrades, home renovation, and others. If the number of facilities offered by the home services sector grows, the scope also thus grows. Home services encompass various intangible assets that are provided by businesses for homes. With the increase in technological growth, both online and mobile booking platforms are growing. Home services are basically a more convenient and streamlined way of purchasing and arranging skilled services. Today's generation is the largest consumer of internet services and this has widened the scope of the home services business. The busy lifestyle of customers is causing them to choose providers right on-demand and this has broadened the bandwidth in the growth of the industry for the upcoming years.
While rapid growth will provide market players with enormous growth opportunities, the efficiency of vendors will threaten the growth of market participants. In order to optimize opportunities, market vendors will concentrate more on growth potential in fast-growing segments, while retaining their place in the slow-growing segments.
The growth of this industry is also caused by the rise and usability of the mobile sector, which allows consumers to procure information and book services with just a tap. On-demand home services cross the divide between real-world infrastructure and immediate internet platforms to provide production services. 
Top 10 On-Demand Home Services Startups in 2024
Previously known as UrbanClap, UrbanCompany has brought together multiple services on one platform. From home cleaning to beauty services, from restoration to movers and packers services, UrbanCompany has hooked everything one click away. The platform guarantees more than 10,000 registered professionals that are verified by the company itself. The company crossed the value of $10 million in revenue as it gained popularity amongst the busy working lifestyle of the urban population.
The app was launched in 2017 and instantly became a hit in a matter of six months. The company became one of the fastest-growing home services companies and has raised 63 Crore INR funds from Accel India and SAW Partners. UrbanClap is reported to offer huge discounts of 1,32 Crore to lure buyers. Even with these promotions, the company received revenue of Rs 45 Crore in the 2017 – 2018 financial year. UrbanClap has since then been able to reduce prices, thanks to the increasing number of users on the platform. UrbanClap is expected to generate a revolution in the on-demand home services product growth market. Looking to enter Home services market? Create app like Urbanclap.
AtoZ Service – Trusted Home Services App
AtoZ Service is magic. The user interface of the program is straightforward and easy to use. Everyone can book their services without any problem. The programs provided by AtoZ include health, home requirements, packers and movers, grooming programs and many more.
AtoZ services believe in offering quality services that should be delivered to all. Get yourself a similar app like Atoz Service by contacting OyeLabs' on-demand home services app development team.
Zimmber raised $400,000 investment from Mobi's co-founders and received $2 million in pre-series financing from major Venture firms such as Omidyar Networks and IDG Ventures. The organization checks the compliance of all licensed service providers so that you can put an end to your complaints. They also have extra guidance and advice systems to close any gap that remains in the existing service. 
It has a number of top-notch investors under its wings like the Aarin Capital and various angel investors.
If you need any assistance to run errands, you can always rely on Zimmber. It offers several services through its app and website. Hire professionals for pest control, carpentry, plumbing, cleaning and sofa cleaning, electrical repairs, laundry, home spa, and more, with just a click.
Helper is a one-stop service for both your home care and maintenance needs. The platform offers washing and laundry services, maintenance services, etc. It also provides technical services such as pest control, electrical repair, heating, cleaning and restoration of vehicles, home painting, and computer servicing, etc. 
You can sign up for routine or annual maintenance plans for home and equipment replacements. The business was awarded the Best Start-up of the Year award in 2015 by the Coimbatore Management Association (CMA) and has more than 23,000 registered employees. Each staff member is tested, assessed, and verified after a background check is conducted, including security police reports.
HouseJoy is one of the fastest-growing home services ventures. The company raised $4 million in the initial round of funding from Matrix Partners.  It received immense support from the Indian population who made around 4,000 orders per day resulting in 30 to 40% weekly growth of the company. 
The company has raised $27 million investment from various investors such as Amazon, Vertex Ventures, and Matrix Partners. HouseJoy has an amazing business model, followed by a controlled expenditure strategy, and seamless management. HouseJoy generated sales of $4.72 million in the 2015-2016 financial year, an improvement of 66 percent compared to the previous year.
Both HouseJoy and UrbanClap have been the fastest and the best competitors when it comes to delivering home services. HouseJoy also provides incentives to its staff and clients, such as health insurance which has created a strong consumer base for them.
Within a very short period of its inception, SBricks became a success. It recently acquired HomeCues for $1 million and took over the Melway facility management service to expand its portfolio. HomeCues will be operated by SBricks, but they will start under their own brand name. The business was set up by a consortium of young entrepreneurs who saw the on-demand home services market on sale. 
SBricks is currently operating in Hyderabad and Bangalore, but soon branches will be opened in other cities such as Pune, Visakhapatnam, Vijayawada, Kochi, and Chennai. The company provides home services, cleaning, washing and repair services through the company app, which is available in both iOS and Android.
With over 300+ services listed on this platform, you are guaranteed to find your choice of services at a fair price. From electrician to a plumber, from pest control to laundry, find services that fit your choice.
Search for the required services and book verified professionals from your local area. Choose a preferred date and time and your job is done.  Professionals can register themselves by filling in all their qualifications and other formalities. 
Mr.Right was established in 2013 and currently offers services in the Delhi NCR region. 
The business was founded in 2013 by Lovnish Bhatia and Debadutta Upadhyaya with the goal of supporting people who are new to cities. Use your mobile phone to book services such as maintenance and other things seamlessly. Timesaverz is currently active in Delhi , Noida, Gurgaon, Hyderabad, Bangalore , Pune, Mumbai and Chennai. 
The app or website offers cashback rewards after every service that can be exchanged for a dine out, social events or spa treatments.
Near.in is an ecommerce platform for local service vendors. Acquired by Paytm, it allows consumers to receive integrated services for all home demands, skills (dance and music classes), fitness (yoga, dietician) and celebrations (birthday activities). The business received $280k in funding from Marquee partners and targeted more than 100 areas, including home uses, fitness and wellbeing.
Cheep is one of India's largest and most respected security service companies. Backed by Topsgroup, it ensures the safety and protection of its customers by recruiting specialists after a detailed background check. 
This Mumbai based startup has generated more than 30 crores till now. Currently active in more than 20+ cities in India, consumers have the option to choose from a wide range of services, get verified professionals, and negotiate with the service vendor. 

READY TO LAUNCH YOUR APP?
With Customized On-Demand Solutions by OyeLabs
The Market Size Of Home Service Industry
The industry for on-demand home services will rise by $1,574.86 billion during 2020-2024. The market's growth momentum will intensify over the forecast period due to a gradual rise in year-over-year growth. The industry is decentralized and the degree of heterogeneity will increase over the projected period.
Global businesses have been delivering innovative services and regional firms focus on delivering home facilities for different reasons. In addition to this, existing vendors are implementing M&A approaches to extend their business presence. ServiceWhale Inc., Serviz.com Inc., and TaskRabbit Inc. are some of the leading industry players.
To help clients improve their market positions, the online on-demand home services market provides an opportunity for the market leaders. The market's competitive landscape provides information on the products offered by various companies and how entrepreneurs can lead the market by creating strategies to make the most of future growth opportunities. As per the reports by Verified Market Research, the Global Home Services Market was valued at USD 281.65 Billion in 2018 and is expected to witness a growth of 18.91% from 2019-2026 and reach USD 1,133.40 Billion by 2026.
Conclusion
The above-mentioned startups are only a few in the list of growing companies that have invaded the online on-demand home services segment. The verified professionals can fix your routine home issues with just a click. From beauty to house cleaning, from repairing to assisting you in moving and packing things, home services apps have gained a lot of popularity.  On-demand home services cover all the digital marketplaces that provide convenient access to a variety of home services. These platforms are gaining popularity owing to their availability, flexibility, scheduling, booking hours, and easy payments. 
The global industry for on-demand home services online is highly diverse as there is a range of firms selling various goods in the market. Rapid commercialization of routine services makes businesses active in the market. The online on-demand home services market research study would help clients find emerging growth markets and build new growth strategies. 
If you are an entrepreneur who is planning to invest his/her time and resources, OyeLabs will help you in building and developing apps as per your requirements. Our team here will help your business in expanding your products and services. The online on-demand home services market is at an initial stage.
Have an idea in mind? Here's a detailed analysis into On-demand delivery app development cost