A TO Z OF LAST MILE DELIVERY
A TO Z OF LAST MILE DELIVERY
Last Updated on July 20, 2022
Due to the ongoing epidemic, the ever-complicated final mile delivery became even more chaotic in 2019.
At a time when businesses were striving to meet new customer demands such as speedier and same-day delivery, issues such as contactless delivery, cashless payments, health updates, and more arose — to make things even worse.
Customers who are aware of the importance of end-to-end transparency in the fulfillment process are looking for it. They want to know where their order is, who will deliver it, and when it will arrive. This is what last mile delivery is and it is important to optimize this process for businesses to reach an optimal cost. 
And trust us, it doesn't end there — shoppers want brands to provide various delivery options too. Consumers today are more loyal to companies that provide a flexible online shopping experience and accommodate client convenience.
To meet these demands, supply chain executives must reconsider their last-mile delivery strategy. Traditional hub-and-spoke logistics arrangements will not be sufficient to strike a balance between customer satisfaction and profitability. 
The future of retailers, eCommerce providers, supermarket chains, restaurants, and manufacturing enterprises will be shaped by the digitization of essential retail final mile delivery procedures.
So, before we learn about what other last-mile delivery options are available today — let's get back to the basics and learn what is last-mile delivery? What are the benefits of last-mile delivery? All of this and more insights will be covered in this article.
Last Mile Delivery — The Meaning.
The final step of the supply chain is referred to as last-mile delivery, which is synonymous with the travel of a commodity from a warehouse to the end customer's doorstep. This is the most important phase in the delivery process and should be handled carefully to ensure prompt delivery.  All on-demand delivery applications and other delivery-based businesses put in their best efforts to achieve maximum efficiency at this level. 
Businesses are preparing this essential stage for a rapid and effective shipment in response to rising customer demand. Whether it's a private house or a retail business, the supply chain's end destination must be reached with breakneck speed in order to keep churning out more and more satisfied consumers.
The final mile of delivery is also the most expensive part of the route from the transportation hub to the final destination, thus resource efficiency should be a top priority.
Last Mile Delivery — The Process.
When a consumer puts an order on the retailer's or eCommerce company's website, their web browser or mobile application connects directly with the retailer's or eCommerce provider's server.
The order is forwarded to a centralized order management system, which validates stock availability and gives the consumer the option of paying online. It then requests that the items be dispatched to the final consumer from the warehouse that houses the stock.
It is mostly here that the last mile of delivery begins. The shipper sends an agent to the warehouse to pick up the customer's merchandise.
After that, the agent places the package into his car and drives it to a preset hub. The parcel is then picked up by an agent from the hub and delivered to the customer's doorstep. All of this may appear to be straightforward, but it is not.
The last mile ecosystem has many moving elements, and the quality of execution is heavily influenced by both internal and external variables. Businesses are turning to sophisticated logistics solutions to guarantee that all of these different operations run smoothly.
In layman's terms, there are six major processes required.
The sender's orders are digitally stored in the carrier's system, and the order is delivered to the transportation hub.

The order is sent to the delivery people, together with any pertinent information (such as a recommended route and the locations of the recipients).

Orders are scanned for record-keeping purposes before being loaded onto vehicles.

Following that, the item is delivered to the specified recipient.

The delivery status is then recorded and updated by the employees.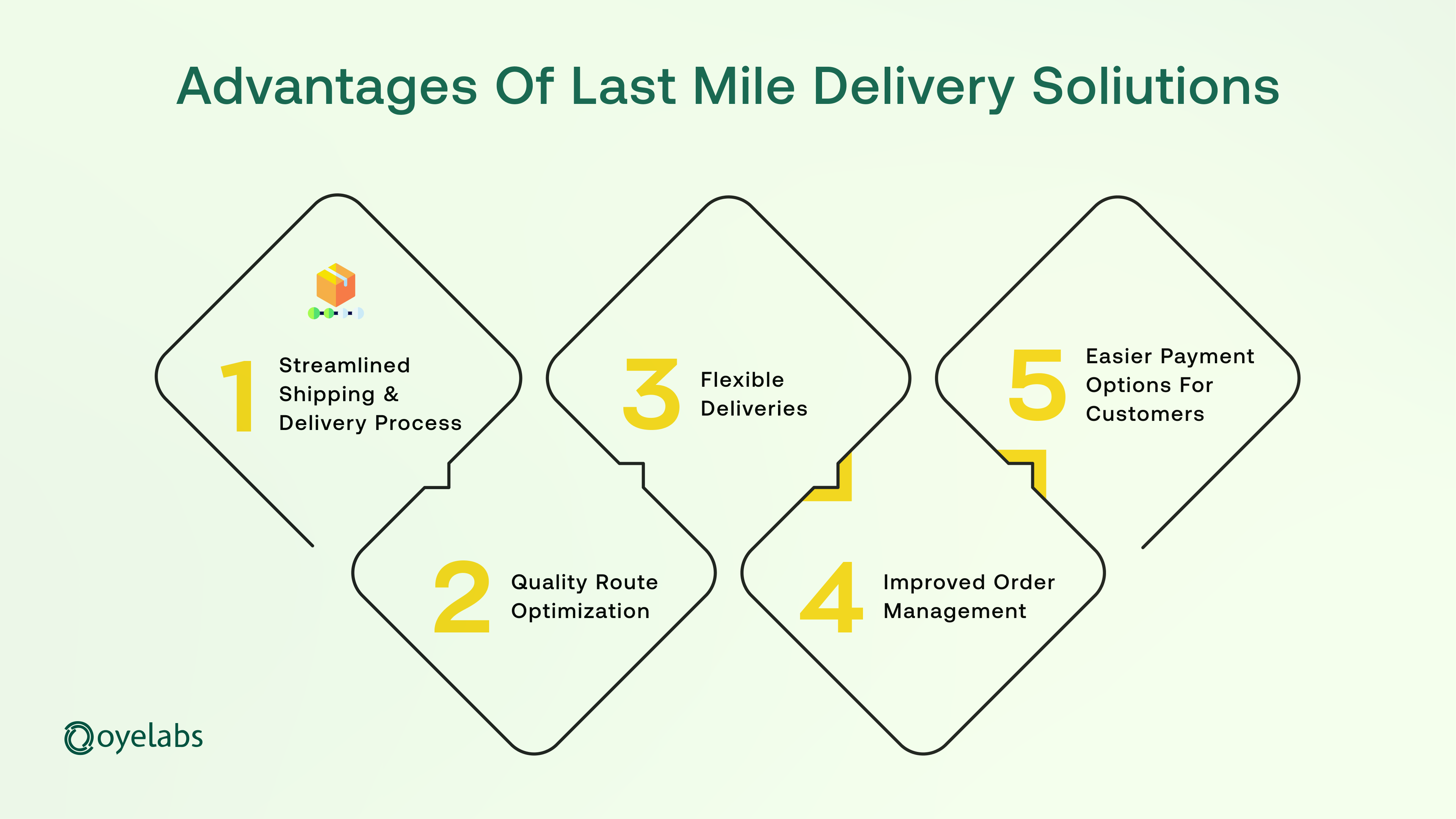 Last-Mile Delivery Solutions — The Benefits.
Streamlined Shipping & Delivery Process
A last-mile delivery solution automates time-consuming and repetitive operations in the delivery process, saving your company a significant amount of time, resources, and money. Waybills, handwritten receipts, and notes without barcodes are examples of manual tracking systems that are not only time demanding but also prone to human error.
Such methods become completely automated with a contemporary final-mile delivery solution, eliminating verification difficulties and assuring precise and efficient load planning. This type of solution also provides predictive information to your company, automatically allocating resources such as transportation, drivers, and even merchandise.
Quality Route Optimization
No entrance windows, bad weather, high traffic hours, and unexpected route obstructions can all significantly slow down your delivery. As a result, it's critical to use dynamic delivery route optimization software that calculates and assigns the most effective delivery routes.
Such software may also analyze real-time data to notify your last-mile carrier agents of impending traffic jams or severe weather, as well as send them an alternate route that is the most efficient under the given conditions.
Flexible delivery choices are frequently sought by buyers, adding to the ease of online buying. For example, if you've ordered urgently needed medicine for your mother but are concerned that the package will not arrive at your home address on time.
Wouldn't it be fantastic if you could go to the retailer's website and change your delivery time or address so that you may pick up your package later or have it delivered to your work address while you're there?
Customers may adjust the timing or location of deliveries with a tap, and cancellations and refunds can be handled using the same system, thanks to real-time updates provided by last-mile delivery software.
Improved Order Management
Even with the greatest procedures in place, delays sometimes occur, and it isn't much you can do about it other than telling clients about potential delays so they may better manage their expectations. Consider this: isn't it preferable to notify consumers of delays ahead of time rather than waiting for them to become frustrated and call?
Last-mile delivery software may help by informing you and your customers of potential delays, allowing you to better manage expectations and build trust.
Customers are also kept informed of specific arrival times via automatic delivery updates, assuring their availability to collect the purchase and raising their contentment score.
Easier Payment Options For Customers
Many people throughout the world are hesitant to use their credit cards or financial information online. For such customers, pay-on-delivery is the most practical alternative, and the epidemic has heightened the demand for contactless payments at the door.
By incorporating numerous payment alternatives within the delivery app, last-mile delivery solution makes it easier for customers to pay for their products.
Some software also allows customers to rank and review the service they got, which may help you develop your company and better fulfill consumer expectations.
READY TO LAUNCH YOUR APP?
With Customized On-Demand Solutions by OyeLabs
Last Mile Delivery Solutions — The Problems.
There is a slew of issues that bog down the whole supply chain and last-mile delivery operations, making them the most costly. The increased demand for same-day delivery, outdated IT infrastructure, limited logistical visibility, COVID-19 restrictions, and other factors all offer severe challenges when putting it into practice.
Optimizing last-mile delivery would, without a doubt, reduce the entire cost of cargo, but only if we fully comprehend the issues and manage them appropriately. Let's take a brief look at these difficulties.
Execution Of Same-Day Deliveries
According to reports by Invesp, more than 80% of customers nowadays are prepared to pay extra for faster delivery, and meeting this expectation is the most difficult hurdle for last-mile deliveries.
Inefficient routing techniques, human reliance on distributing jobs, and poor handling of third-party logistics services make it exceedingly difficult to reduce delivery turnaround times, posing a risk to the entire shipment process.
Another issue is ensuring that vehicle capacity is used to its full potential. Due to the fact that same-day deliveries typically consist of little products, fully using truck capacity becomes a challenge, putting a dent in a logistics company's large savings. Companies do not have the flexibility of time to wait for enough orders to be made to guarantee that their capacity is fully used.
Old School Routing Methods
It is difficult, if not impossible, to assure timely and cost-effective implementation of last-mile deliveries without highly efficient routing technologies and procedures.
Traditional routing models rely heavily on manual procedures, making it difficult to take into account all of the aspects that impact the creation of highly productive routes. For example, changing a route depending on real-time conditions like weather, traffic congestion, abrupt road closures, inadvertent diversions, and more is a massive challenge with manual routing methods in place, slowing the delivery process.
Poor Visibility Of Logistics
The inadequate visibility of logistics operations is a primary cause of time-consuming procedures due to legacy supply chain architecture and conventional delivery processes alongside poor system compatibility.
Consider the following example. It will be very tough for a logistics manager to track and trace the precise position of a vehicle at any given moment in time if a management solution is not in sync with a last mile 3PL company's system. This results in a slew of inefficiencies.
Poor visibility causes delays, incorrect ETAs, route diversions, vehicle idling, increased fuel consumption, and renders deliveries opaque to clients, compounding the last mile delivery problem.
Minimizing The Impact Of Covid 19
The ongoing COVID-19 epidemic has thrown established logistics strategies into disarray and impacted last-mile delivery. The way parcels are picked up, delivered, and received has altered as a result of social distancing restrictions. Contactless delivery has now become a standard expectation, and why not?
It guarantees that social distance compliance is maintained. Contactless deliveries may appear to be a straightforward operation in which an executive just leaves an item outside a customer's door, but this is not the case.
Customers must be informed of delivery completion without needing to open the door. To achieve zero-contact, cash and card payments must be abolished. In order to maintain high standards of service and safety standards, businesses must also notify consumers about a person's or shop staff's most recent body temperature, as well as a timestamp.
Scaling Of Business Operations
Businesses are rethinking how they execute last mile delivery operations in light of rising online sales and an increase in the quantity of shipments, as well as the push to reduce delivery times.
During busy business days, when their own resources are depleted, many companies struggle to complete deliveries. This makes it harder to commit to same-day deliveries and makes customers pleased.
Rigid Logistics Practices
In a world of quick satisfaction and continuously changing market dynamics, inflexible delivery systems, which are regarded as one of the primary supply chain inefficiencies, have little place.
Traditional procedures that rely on manual intervention fall short of consumer expectations and result in a high level of customer discontent. Modern clients, for example, appreciate businesses that allow them to adjust the delivery time and location on the fly based on preferences.
Unfortunately, transportation is responsible for more than 20% of global carbon emissions. As environmental awareness grows, more people are ready to pay a premium for items that are naturally organic and packed with recyclable materials. Customers will not be surprised if they expect carbon-neutral deliveries.
According to studies, 48 percent of customers want their deliveries to be carbon-neutral. As a result, organizations must establish strategies and adopt best practices for last-mile delivery in order to decrease fuel consumption and kilometers traveled in the last step.
Options Available For Last Mile Delivery
When considering all the options available for Last Mile Deliveries — companies generally have 3 key solutions to go forward with. They are:
Local Couriers Service Providers
Local courier services are often smaller businesses with a limited number of cars and vehicle sizes, therefore the size of the item to be delivered may be a determining factor.
And when demand grows, few businesses have the ability to scale. As a result, you'll frequently need to collaborate with various delivery service providers, which adds to the administrative burden and makes it difficult to maintain a uniform delivery experience.
Dropshipping Possibilities
Dropshipping is a business strategy in which a merchant collects customer orders and distributes them to a manufacturer, wholesaler, or organization that handles the shipping.
Merchants may add items from prominent marketplaces to their online shop, route orders, and track deliveries to end consumers made by product sellers using platforms that support drop shipping operations.
Key players like AliExpress, Oberlo, Spark Shipping, and SaleHoo are well-known dropshipping platforms that come pre-integrated with a large number of approved suppliers.
Using Crowdsourced Deliveries
Crowd-sourced delivery markets, a relatively new product in recent years, are transforming the delivery scene. These services are highly creative, allowing for on-demand, variable-cost delivery.
These organizations can simply expand and bend to suit your clients' demands because they don't own vehicles. You may also have more control over the delivery experience because these marketplaces may personalize delivery for your brand while still offering industry-standard technologies like real-time tracking.
Therefore, as a result, a higher-quality delivery experience may be provided that can scale up and down in response to demand. They also provide the flexibility of web/cloud and mobile apps.
Wrapping Up
As you can see, a reliable last-mile delivery system may significantly improve your productivity and delivery experience.
We've been assisting shops all around the world in increasing delivery efficiency by optimizing their last-mile operations. Get in touch with us to learn how we can improve your last mile.