How to Build An On-Demand Liquor Delivery App Like Drizly
How to Build An On-Demand Liquor Delivery App Like Drizly
Last Updated on May 26, 2022
The internet sales of alcohol were gradually boosted by the coronavirus pandemic and social regulatory conditions. The website for planning Doodle reports that the meetings for simulated drink activities have risen by 296%. At the end of March 2020, Nielsen announced online alcohol sales were 234 percent. The sales of tequila and gin grew 75% in contrast to the same time last year, with wine sales increasing by 66%, while beer sales increased by 42%.
The Nielsen Vice President for Alcoholic Alcohol Practices, Danelle Kosmal, states that "market pantry loading time" is currently the highest rate. Tom Wark, the National Wine Retailers' Association's executive director, shared this perception and notes that these days demand that customers accept wine shipments from out-of-state wine suppliers as a significant requirement. But the beer distribution company couldn't be a great moment.
For your hop on the liquor fever wagon, we'll go through one of the most famous booze distribution software, Drizly, with the key feature and business model.
Let's have a look at this application, all under the cover.
Drizly is the world's leading market for beer and provides consumers with beverages at their doorstep. In over 100 cities throughout the United States and in Canada this alcohol e-commerce site runs. No doubt the acronym, "Amazon for Liquor," has been used throughout the world to refer to Drizly.
Following the national revival from the Supreme Court of India, asking the governments of the states to find ways to supply alcohol to consumers, India possibly wants its own alcohol trading site such as Drizly. In this respect, the top suppliers of home products such as Zomato have also demonstrated an interest in the demand for beer.
So, without any further adieu, let's get started.
What is Drizly (Amazon for liquor)
Drizly is an e-commerce platform that links local liquor stores to customers, from which they can purchase and/or deliver any alcoholic beverage (beer, wine, and spirits) within an hour. Isn't that so cool?
Investing in an innovative platform and smartphone app for both Android and iOS has created a smooth user interface. Drizly is now known for selling a wide variety of liquors at affordable prices.
Drizly: A little background
Drizly was established in Boston and is the best online alcohol storage service, which has been available since 2012. At present, approximately 1000 brick and mortar liquor shops in Canada and the USA are connected to Drizly. In less than one hour this wine-buying app promises to supply different Spirits and alcohols. Liquor intake was never poor since the inception of this application and that is why Drizly is now known as Amazon for Liquor, as we've stated this previously as well, even after seven years of alcohol supplies.
Drizly 's business model is focused on affordable pricing, an exclusive range of wine and tailored beverages for legal beer consumers. Although, in less than an hour, the arrival of liquors makes it the strongest alcohol supplier service. Entrepreneurs should invest in a Drizly liquor store app, to achieve tremendous popularity as alcohol on-demand platforms are emerging.
The size of the global alcoholic beverage industry is projected to hit 1,684 billion dollars by 2025 from $1,439 billion in 2017, which is CAGR 2 per cent, according to an Allied Market Research survey. The business value of the availability of liquors on sale would certainly grow at a high level over the years ahead.
Startups developing a Drizly-like app clone in their region should expect fast and cost-effective returns. There are a huge number of customers in the age of on-demand apps searching for an online beer distribution service, making it a modern business field. You should use the right tools to open your own popular beer store. It is all necessary for sellers of liquors, a strong alcohol supply and a fully working quick drizly clone to take advantage of the growing global demand for alcohol.
Funding
Well, in case you are wondering how much Drizly has gathered in total in terms of investment, then let us warn you beforehand – It is A LOT! In its several rounds of investment already this online platform for alcohol has collected $85 Million by the financial year of 2020. The key is to build a viable concept and a business plan, both in print and in the real world. And Drizly, thankfully, had it all to bring in the nice place.
Drizly uses the funds in the extension and further growth of its web network in more than 100 towns.
Alcohol Market: 2022
Before going in, it is best to calculate the water level. That is why we need to look at what will happen in the near future on the market with alcohol products. Looking at data from reputable outlets, the worldwide alcoholic beverage industry will prosper as this market is expected to expand to 1.684 billion dollars by 2025. In 2017, by comparison, the same industry's market cap was $1.439 billion. Many on-demand liquor delivery apps have come up during the pandemic period and many on-demand delivery apps have integrated liquor delivery as part of their services depicting the demand for such a service.
There is no question that there is an unprecedented widening of the market. But note, that this is a worldwide survey on the alcoholic alcohol market. Obviously, the intrinsic security of the online liquor procurement industry would also accelerate business growth at a substantial pace. Everything that we can see is countless possibilities and openings in the Indian market that this idea also has to launch.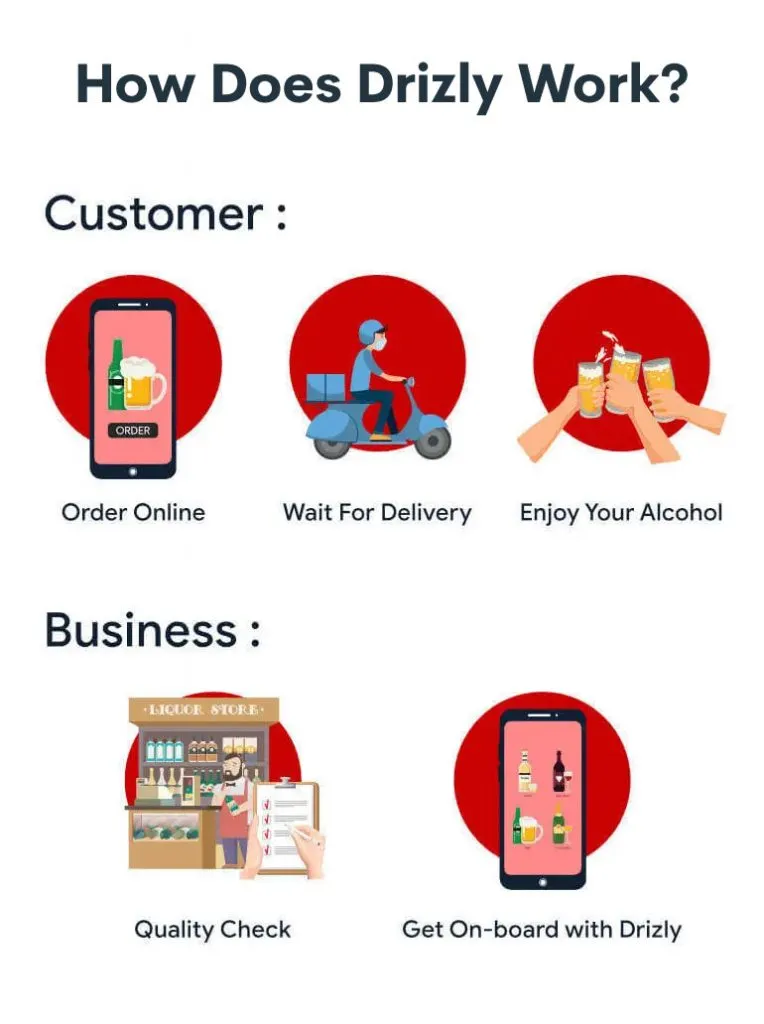 How Does Drizly Work?
Drizly is a liquor company that neither manufacturers nor operates a physical brick & mortar shop or fleet. They are now working with nearby convenience stores to sell beers, wines and spirits right at the consumers' doorstep. Drizly is also proud to call itself a technology broker. Drizly quickly communicates to its customers via Drizly App and its web site and integrates with stock management tools.
To buy your preferred drink, the customer has to log in to the Drizly app or website. The order will be sent to your doorstep within an hour of receipt of the order. However, the delivery time is not assured and different factors such as traffic, rain, or poor weather will affect the delivery date, etc.
Drizly does not, though, merely a partner in any spirits store. Drizly must retain certain credibility in order to be a successful organization. The Drizly team, therefore, carries out a comprehensive quality review on its product inventory, storage space, repair capability, product costs, POS, distribution process and many other important criteria, before operating with any liquor shop. If a quality check has been carried out, Drizly blends into the inventory of the shop and carries it online.
The on-demand alcohol procurement system, on the other hand, provides the liquor store with very strong growth potential. Those shops that have no consumer credibility today sell soft drinks online in large amounts. It is shocking that more than 50 % of consumers have started buying liquor from Drizly's most famous shops. Drizly is then greeted by all parties with an outstanding response.
Here is an article on the Drizly Business Model to give you a complete insight into how an app like Drizly works.
How Apps Like Drizly Make Money?
The sale of alcohol is strictly regulated in the United States. State Liquor Control offices ban the stocking and selling without a licence of liquor of alcohol-containing items. Amazon can not however exploit the beer distribution network. But how did Drizly earn $85 million in an Investment Fund and start running in 100 North American cities by 2020?

Drizly pays a monthly flat rate to its founders, rather than extracting payments from any purchase in its app. Drizly also charges customers a shipping fee that shop owners should pay. The Drizly framework for the ID age verification is another means of monetization, which is simple to construct using any tool which can be used to identify the age of individuals.

READY TO LAUNCH YOUR APP?
With Customized On-Demand Solutions by OyeLabs
Feature List – An Ideal Liquor Delivery Application
It is important to recognise that a single application needs to be adequately qualified to work with liquor shops, employers, distribution staff and the administrator if you wish to develop an on-demand applicant business. The needs of each participant in this chain differ significantly and if the applications will satisfy all of them concurrently then the ultimate objective is to create a business application that satisfies all stakeholders with the perfect on-demand liquor distribution application.
The following is a list of functionality that the developer may take into account and that will enable the team of technical administrators and the administrator to maintain this programme up and running after release. Learn further to dig into the specifics without further ado.
In order to attract consumers, the theme and design of your liquor delivery app should be customizable and rendered while retaining the brand's theme.
The application should allow menu tracking so that restaurants can adjust both the sales and the prices in the future.
The age requirement must be your liquor delivery application priority, whether you are suing or banning the service. You need the ID or driver licence scanner for bars in your application to supply your distribution service. This functionality can be installed at all costs. However, it takes a lot of time, money and talent. Moreover, each nation has its own variations and differences in legislation with respect to the policies on alcohol you need to know about.
Attractive User Interface
It is very important that the design is not very soft in order to provide the customers with appropriate visual and aesthetic products, and that customers are presented with vibrant photographs from the menu and the restaurant venue.

In order to implement new and advanced methods to optimise quality and control of supplies and production, the admin must provide analytical data.

After a conversation with the client, the developer would focus on the product features, until the aesthetics and user interface have been effectively handled. Push notice must be provided for the management of pending requests, deals and tailored updates so that in all situations the customer can not skip them.
Connect a chatbot to the application if you can obtain the tools. It can be driven either by artificial intelligence, or dedicated workers who can assist customers with any queries about orders, programmes, deals, etc.
Important Features From A Customer's Point Of View
By enhancing the functionality provided by an application, users are more likely to prefer it over other apps. The online liquor supplier market depends heavily upon its consumers for its growth, much as any e-commerce organisation, so that the consumer desires are taken into account when designing their application.
The waiting time is a serious problem for consumers. Therefore, the first thing you have to do is offer live order monitoring to consumers. Besides, you can build a logbook of the order details so that you can keep track of what you previously ordered and reorder.
There must be someone to talk to in case of any inconvenience. To raise some questions, there should be a support desk. This engagement allows you to enhance the facilities.
Even if clients do not want a pick-up choice, they do worry about the place and the hygiene conditions of your shop from which they order. Therefore, the pictures along with the location and the menu are highly recommended to you.
Not everybody uses the same payment gateway, but some customers may drive away if your application supports only one significant payment transfer. Be sure you don't make the mistake of not paying immediately.
Important Features From The Delivery Service's Point Of View
It is necessary to achieve unparalleled cooperation between vendors, liquor shops and customers for the convenience of all stakeholders. The following is a list of delivery-focused features to be found by the client. 
Learn further to dig into the specifics without further ado.
A framework for improved monitoring and quick distribution to assess the order status.

The position and shortest path to the destination.

For fast contact, the supplying agents must be able to interact directly with the restaurants and clients. The service agent should also be able to forward the customer to the restaurant in case of any inconvenience.

Frequent incentive programmes uphold quality values and allow manufacturers to prosper.
How To Build An App Like Drizly?
So far the desired characteristics of an online liquor delivery application have been addressed. However, a comparison tool will help you fulfil your dream and create an application that will speak about the city in a very efficient manner. There are five basic steps that will help you create an app like Drizly if strictly followed. Please read on for more information.
Step 1: Plan Creation
The first step is to build a strategy that will concentrate not only on main capital, value ideas, but also costs, income flows and networks. When you decide that you want to set up your company plan, you can execute your proposals even better. It is advised that you start finding funds to ensure no hindrance before carrying out the operations.
Step 2: Reaching  Out To Developers
While this app could be your baby dream, you do need technical assistance to execute your ideas and plans. When talking to a trustworthy team of developers, ensure that you express both your expectations and suggestions in advance to avoid misunderstandings and allow the project to be fulfilled.
Step 3: Building A Working UI
Work on the user interface until you begin to create a database for the programme. Make sure the engineers, designers and the brand manager pay the requisite attention and insight so that clear user experience can be created, as this is what the end-user sees.
Step 4: Work on back-end and database
You should start working on back-end and storage applications once you have completed the user interface design. In the initial stage, it is advised that you start with limited data sets to come up with a minimally viable application or test to give you a better understanding of how the software functions. You can recommend any improvements that can quickly be introduced because the software has not yet been launched if you are not happy with the product.
Step 5: Testing
After the application is completed, the debugging process will eventually take place as the developer team can do a series of checks on the application and remove bugs as appropriate. You can launch the software after this point and it will go live as fast as you want.
Technology Stack For An Alcohol Delivery App Like Drizly
Application & Data – JavaScript, React, MySQL, Redis, Sass, Ruby, Redux, AWS Lambda, Rails and Elixir

Utilities- Google Analytics, Google Maps, Elasticsearch, Mandrill and Braintree

DevOps- GitHub, Git, Docker, Jenkins, Webpack, New Relic, Kibana

Business Tools- Slack, G Suite, InVision, ZenDesk
How Much Does It Cost To Build An App Like Drizly?
The calculation of costs for developing an on-demand delivery app such as Drizly relies on several variables. This covers all the functionality you want to bring to the software, the tools you would need to develop the app, and the configuration and operating level needed by the framework. The sum can be expected to range between $40,000 and $50,000, covering everything from idea to delivery.
A substantial portion of the money will be spent on mobile android app creation and iOS software rollout, software monitoring and app delivery. Furthermore, the needed funding will raise a sum of $50k to $60k if you choose a dedicated website other than the app.
If you wish to know more, you can get in touch with us. We are an experienced on-demand delivery app development company and can help you successfully launch your own alcohol delivery app.
FAQs
Is an Alcohol delivery app like Drizly worthwhile?
Yes. The alcohol delivery app, like Drizly, has a lot of potential in today's on-demand economy. If you have a market for it, and you're qualified for the business (check your state regulations about the same), you can invest. You should also take a look at the competition while you're at it.
How does Drizly make money?
Drizly charges a monthly licensing fee from all its partner stores, which can range from $100 to $10, 000, depending on several varying factors. Drizly also charges a $5 delivery fee from the customers. Other than that, there are no additional costs of using the Drizly platform for either store owners or customers.
What should I keep in mind before developing an app like Drizly?
Before starting development, make sure that you're eligible for starting your liquor delivery business. In most states, the law regarding the licensing is not that defined, and having a regular retail permit is enough. But do have a look at the legalities to find out if you require a separate liquor delivery license.