Build Vieworks Like Software For Video Lead Generation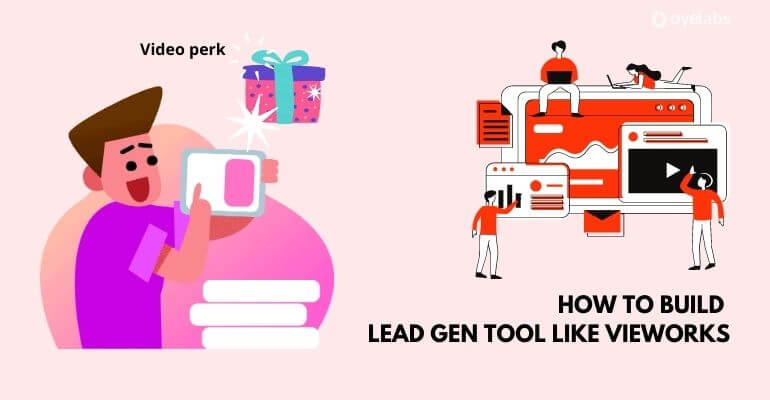 Build Vieworks Like Software For Video Lead Generation
Last Updated on August 19, 2021
Sales enablement is an iterative process of equipping your sales team with the resources to assist them in effectively closing deals. These resources often include written and video content, tools, product guides, and information supporting reps' interactions with potential customers to complete transactions effectively.
Sales enablement software provides a repository for marketing collateral and sales playbooks to supply business representatives with compelling, useful, and suitable content during the sales cycle. Sales enablement aligns processes across the sales and marketing departments and blends business intelligence, customer experience, CRM, automation, sales analytics, and other smaller processes to assist your sales team in making that sale.
Sales enablement is valued at around $1 billion and is forecasted to reach $5 billion by 2021. Identifying and implementing the appropriate sales enablement tool will provide your sales team the support to critically analyze sales strategies and boost overall productivity.
Video is one of the most important marketing channels for any business regardless of size, industry type, or location. As per Statista, 85% of internet users in U.S watched online video content on any devices in a month. However, it is challenging to create high-quality and compelling videos. While creating videos is one aspect, it's even harder to drive engagement through videos and convert them into a lead or sales generation channel.
While advertising products or services through Video Marketing can be challenging, as per research, 65% of the audiences are visual learners. Video marketing is one of the most powerful methods to educate customers about your offerings and build brand awareness. As per optionmonster, video marketers receive 66% more qualified leads annually through video marketing. However, only creating video's will not generate engagement, leads, and conversions. This is where Perks come into the picture. Humans love a reward; when the customers watch the video, share it, or complete any mentioned task, they receive a bonus for it – essentially a HOOK. While users will enjoy the rewards, it will help you achieve higher video engagements with increased lead generation and sales conversions.
What is Video Perk?
Video Perks are redeemable rewards used to target relevant audiences to engage with marketing video content and share data directly back to the brand. These Video Perks encourages the audience to spend more time with your content. These Redeemable rewards could be: –
Free Coffee or other food items
Coupons or Vouchers
Tickets
Discount Credits
Memberships
Competition Perk – This perk will let the users who watch the whole video join a competition
Other Promotional gifts and Offers relevant to the marketer's niche
Vieworks is one such interactive video marketing, lead generation, and rewards tool, addresses these issues effectively.
What is Vieworks
Vieworks help marketers transform their video content into a powerful sales enablement tool to drive viewer engagement, education, lead generation, and conversions via multi-channel distribution. Riding on the growing trend of value exchange marketing, Vieworks enables organizations to set up perks to reward relevant target audiences for marketing video content engagement and 1st party data capture.
Vieworks helps you increase video engagement rates providing an uplift in video engagement, purchase intent, and conversions. The tool offers measurable results to maximize leads by directly capturing the opt-in user data from the video player. Vieworks' process of gifting rewards helps optimize marketing performance, generate quality leads, and builds meaningful customer connections. Vieworks claims that it achieves a 300% increase in video engagement than industry standards with full platform analytics and data capture within the player.
Vieworks provides custom branded Interactive video widgets that reward users with perks for their attention. These perks are simple to distribute across multiple touchpoints, engaging customers where they spend their time. The video link can be easily embedded on landing pages, YouTube videos, emails, etc. and provides insightful metrics. The robust platform also allows brands integrate to their own redemption, social, and marketing tools.
How to setup Vieworks
Create engaging video content: You can use a video recording software. Assign sales teams to record a personal pitch presentation, or share their corporate videos, testimonials of customers, or message from the higher management to explain why the buyer should work with them.
Upload your video: Upload the video on the landing page, YouTube or Vimeo.
Determine the Perk Budget: Vouchers are a very effective perk. Select the value you want to deliver and the total number of bonuses you want to give. You can also select the number of campaigns you want to run, i.e., how many sales reps to use the video funnels.
Set up the campaign: You can easily set up the campaign on the Vieworks platform
Share the Video: The Vieworks player can be sent as a URL across any platform and works on all devices.
How does a video engagement Software like Vieworks work
Customers will see the video player and perk message.
The video format gives a notification within the video of the rewards they'll be receiving by watching an online seller's video content.
The user can see the bonus and tries to learn more, which increases the click-through rate.
The video advertisement is played.
If a user skips playing the full video, they will not get the chance to claim the perk until they watch the video till completion, resulting in a 100% share of voice moment for the advertiser.
Similar Tools to Vieworks
Promo.com: Promo.com is an online marketing platform that assists marketing in generating leads through its video making services such as social media videos, product videos for online marketing. The platform supports users in creating high-performing videos to increase customer engagement.
Users can easily customize any promotional video as per their requirements. Users can select from Promo.com's massive array of video ad templates and allow businesses to boost their brands' access to Facebook and offer YouTube and Instagram videos for marketing purposes. The platform also helps users resize the images and provides a social media calendar to stay up-to-date.
Trailer: Trailer allows users to create recordings and marketing videos for mobile and web applications. The platform's expertise lies in creating excellent app previews to entice customers.
Trailer is easy-to-use and requires no prior video creating or editing experience. Users can quickly generate app videos from their iOS devices or macOS screens by following a simple guide and enable users to get a live preview of how their video looks. Furthermore, it also allows users to select from pre-existing templates. These videos are easily sharable on social media platforms such as Facebook, Twitter, and Instagram.
Sezion is an online platform that helps users make personalized videos from any content and occasion to improve the marketing strategy and grow the business. It enables users to make videos for email marketing, product promotion, content marketing, etc. Users can also add texts, images, audios, or any other data source for creative videos.
Through Sezion, users can create and share highly personalized content-rich videos to customers' inbox for email marketing campaigns. These videos can be quickly published through the website or other channels to increase customer traffic and connect with the audience on more platforms.
Tech stack
Push notifications – Twilio, Push.io
Database – Mailchimp Integration., MySQL, MongoDB, HBase, Cassandra, Postgress
Cloud environment – AWS, Google, Azure
Payment methods – eWallets, PayPal, Stripe, Braintree
Real-time Analytics – IBM, Apache Flink, BigData, Cisco, Hadoop, Spark, Google Analytics
Phone verification, Voice, SMS – Nexmo, Twilio
How to build a SaaS application like Vieworks
SaaS has been becoming a prevalent software delivery model due to its convenience. SaaS applications do not require installation, and users can start using the services by paying a fixed fee. SaaS models generate recurring revenue for the developer, and at the same time, it reduces the massive upfront investment required earlier for the user. Making it a convenient option for both parties.
Steps to Build a SaaS Application
Market analysis
Market research gives your insight into your competitors and your potential clients' demands. It allows you to validate your application potential compared to existing solutions on the market and avoid repeating the earlier made mistakes.
Scope of your SaaS Application
It is essential to determine whether you plan to build a SaaS application or a platform before going deeper into the development phase. It is a critical factor in determining the overall development cost. Tools are somewhat restricted in their scope and strive to perform few core functionalities efficiently. On the other hand, platforms provide a full suite of functionality, typically comprising various tools that interact and offer the full-featured suite. The cost of building an application is relatively lesser compared to a fully-featured platform.
Determining Development Platform
SaaS development is primarily done for PV and Mobile. While it is desirable to create the product for both platforms, it indeed costs a bomb, as it requires building completely distinctive UX based on screens. Most B2B SaaS companies favor desktop platforms as it helps them integrate with other Software for improved productivity. It is generally more straightforward to downscale your service's UX for mobile than to scale up to PC.
The cost of SaaS App Development can shoot up to double if building the app for mobile platforms as well. It is ideal to make the application on a single platform, and once it becomes profitable, to look for expansion of the scope.
Selecting the Pricing model
SaaS solutions come with different pricing options. It is crucial to get the model and pricing right so that it covers the cost of building and maintenance of the app and, at the same time, is not prohibitively expensive for users.
Some of the pricing models are as mentioned below:
Usage-based pricing – Users pay a fee based on usage
Pricing per feature – When the SaaS app determines the price based on the functionalities offered.
Freemium – Some basic features are offered for free to showcase the customers the capabilities and benefits of the tool, from where he can be upgraded once it becomes a paying customer.
Pricing per active user – In this model, the benefit suite is the same, but is charged based on the number of users.
Flat rate – Here, the whole product or bundle of features is offered under one flat price monthly or annually.
Features
It is essential to determine what will be the core features in the app. Apart from that, time, budget, and other factors permitting, you can determine what additional features would be desirable to improve the app's overall offering.
API Integration
Most of the current SaaS applications include backend functionality. This function can either be developed from scratch or created using the API integration, which is cheaper than building the backend features from scratch. API integration allows you to rapidly scale and also reduces the development time.
Testing
Testing is an essential part of product development. It is highly risky to release the product without extensive testing. Testing allows you to identify the bugs in the application and take feedback from people to ensure that it runs smoothly.
Release and Marketing
Marketing is an essential component to draw users to your product.
Constant Updation
In a highly competitive world, where it is easy to take someone's idea, improve the offering and launch their product, launching a tool is not enough. It requires constant addition and tweaks to ensure that it remains ahead of the competition.
Determining the Overall Cost to Build a SaaS Product:
Various factors determine the cost of the application. Building a SaaS App may cost somewhere in the range of $20 – $100,000. Building a SaaS Platform becomes more expensive as it carries the full suite of features and carries added complexity that takes time to develop. A SaaS platform development cost comes anywhere between $50-250k.
The development cost is also dependent on the location of the developing agency.
Cost of SaaS App as Per Geographical Region
| | |
| --- | --- |
| Country | Cost Per Hour |
| India | $15-35/hr |
| Southeast Asia | $15-35/hr |
| Eastern Europe | $20-85/hr |
| South America | $30-65/hr |
| USA/Canada | $40-250/hr |
Building a cloud-based application is not ideal for every business case. As the success of Vieworks shows, it is a highly effective method to provide the right solution to the market seamlessly and is also profitable and sustainable.