How To Make An App Like DoorDash in 2022 – A Complete Guide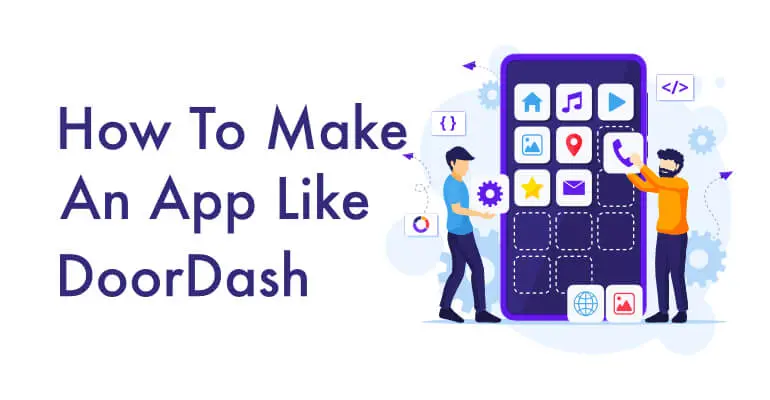 How To Make An App Like DoorDash in 2022 – A Complete Guide
Last Updated on May 24, 2022
Introduction
Demand for on-demand providers is on the rise. Today's food delivery systems work well with the busy timetable of consumers and offer the freedom of choice and ease of use that today's customers want. It is this opportunity that makes it a promising venture for entrepreneurs and a daunting challenge for developers.
Trends show that the new generation would rather dine-in luxury than dine-out. Modern apps like UberEats, Zomato, DoorDash, Postmates, GrubHub, and Swiggy provide this alternative with unlimited restaurant, kitchen, and payment choices that make their lives simpler.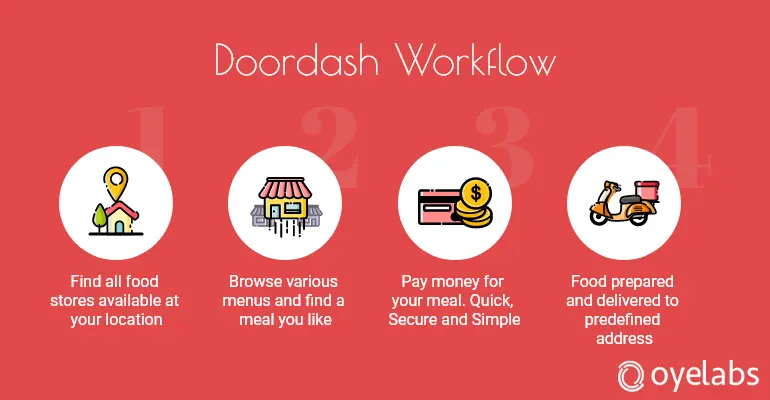 What is DoorDash?
DoorDash is a food delivery service on demand. It's, to put it simply, a food Uber (a lot like Uber Eats). Established in 2013 and located in San Francisco, the DoorDash app lets you order food from a number of local partner restaurants. It also lets people sign up to become food vendors (nicknamed 'Dashers') and inevitably lets restaurants sign up to sell their food to consumers.
According to a November 2019 study by the customer research company Second Measure, it is the most influential app-based food delivery service in the United States, ahead of Uber Eats and GrubHub. 
Online Food Delivery Statistics
As per a report by Statista Market Forecast:
Revenue in the Online Food Delivery market is expected to hit US $343.80 billion in 2022.
Revenue is forecasted to show an annual growth rate (CAGR 2022-2026) of 8.38%, resulting in an estimated market value of US$474.30bn by 2026.
The largest segment of the industry is Platform-to-Consumer Distribution with an estimated business value of US$217.80bn in 2022.
4 Key Points To Consider When Building A Successful Food Delivery App like DoorDash
1. Provide Quick Orders with Scheduled Deliveries
People love satisfying their food cravings, and if they're available in just a few taps they love it more. Online food delivery apps have simplified the way people buy their favorite food. Long day at work? Too tired to cook? Sleepover? House party? Plenty of reasons, one quick solution – Online Food Delivery.
You need to target the emotions of people. When you do that, your product is already the talk of the town. Responsible delivery persons, quick deliveries, hygienic restaurants, restaurants with good ratings, are a few factors that can help you give a push to create a successful app. 
The best feature that you can provide your customers is to let them schedule their deliveries. This would give the app customers additional flexibility to order meals well in advance and keep on to other plans.
2. Real-time Tracking And Fleet Management System
Humans are impatient. Want a real-life example?
When was the last time you ordered food online? Did you keep an eye on how long it's taking to reach you? You did, obviously! Everybody does.
When you look at on-demand delivery services, customers will ask a real-time server to take a peek at their orders. So, inclusion of the map or geolocation would make it easier for users and you, as the controller, to track orders.
As a start-up for food services, you can conveniently monitor the riders through fleet management tools that will give you real-time details about each driver and his or her delivery status. You may also provide your users with a pick-up or home delivery option. 
If the users want the food to be delivered in advance, they can easily pre-order or schedule the food from the app. This added functionality of your food delivery system will make it different from other food delivery applications.
3. Hassle-free Online Payments
Trying to build an app like DoorDash? Make sure the features you add are ruling the industry. The major challenge is to add a seamless multi-payment gateway. Some of the major trusted portals are PayPal, ApplePay, Stripe, etc. 
People want a safe and recognised identity when it comes to transacting money online or making a purchase. So, to win their confidence and never have any payments related problem, choose a solid mobile payment interface while developing your food delivery app.
4. Give Them The Option To Place Group Orders 
Heard of in-app group order feature? It's the best. 
Why?
Everyone's got different taste buds. It is simple to have an in-app order community feature. The creation of your food delivery app should support group ordering by group chats.
This will improve your customer experience and your app will also be promoted organically through word-of-mouth. As a result, the app can become a one-stop solution for a big fat family dinner or party.
Launch Your Food Delivery App in 2 weeks
With Customized On-Demand Solutions by OyeLabs
What Are The Basic Requirements To Develop An On-demand Food-delivery App?
Before you develop your food-delivery app, here are some essential factors that you must keep in mind:
Test your app locally
Make sure your users love your app when you launch it locally. Create and launch a marketing campaign that highlights your app and gathers the response from your local audience. Test the consumer base before taking it to the next level. 
Expert Developers 
Make sure you're consulting the right people. Hire developers that hold an expertise in this field. This will reduce the chances of failures while developing the app.
Give your customers a peek-a-boo to your app
It is both important and beneficial to promote your product before launch. Engage your prospective clients via social media networks and witness your food delivery app draw attention. 
Feedback is imperative
Keep an eye on getting input from the consumer at the initial stage and make the requisite changes to the product on the basis of sincere feedback.
What type of food-ordering app models are available in the market?
Doordash's business model is a very good approach when it comes to launching your own food delivery although there are several forms of food-order applications and 3 of them dominate in the current business scenario. These are –
This model is based on the conventional food delivery system. This model includes a third-party system that handles clients and restaurants. As a third party, food delivery service aggregators thus give the necessary accessibility to restaurants. In the meantime, after registration, consumers can browse various menus, feedback, and ratings on the app and place an order. The aggregator shall relay the details and acknowledgment of the order to the restaurant. After receipt, the transfer and execution of the order shall be taken care of by the restaurant itself. Customers may not have to pay for the extra benefit.
Food ordering system interface with services provided
This approach varies from the composite model, as it has incorporated strategic support for all of its partner restaurants. This model of delivery offers a lot of funding for start-ups that do not have their own money or the ability to deliver at long distances. From the restaurant's point of view, this sort of model offers a lot of advantages and takes care of challenging activities, such as managing service staff, equipment, and shipping. UberEats and Swiggy are the latest examples of food-delivery system types for delivery systems.
Full-stack food delivery models
This model covers restaurants like McDonalds, Dominos, and Pizza Hut which are huge enough that they provide their own app, food, and delivery service.
Interested to know more? Here: Food delivery business models
Define your target audience
One of the first issues for any business producing a new app is – how to meet the consumer target to market the device. Know your target audience. Is your local area surrounded by a work culture? Is it a college area? Weekend nights? Tourist place?
Whatever it is, you need to make sure that your app sets you apart from your rivals – for example, Travel Khana provides particularly to train passengers or Spicebox caters tiffin box-style lunch packages for employees.
Feature list offered in an app like DoorDash? 
Features for the Customer App
Customers must be able to log in to their accounts quickly, keeping all the custom configurations they might have used since they were the last logging in. Make sure you provide them access through their other social media accounts such as facebook/twitter.
Make sure you have listed down all the restaurants and eatery options available for your customers. Details such as a menu, offers/discounts, reviews, etc are easily accessible to them. It's easier if your app has an advanced search option that allows your users to search by place, restaurant name or name of dishes.
Your customer must be able to quickly add, delete or change their preferred orders. Before the final order is issued, a review of the order must be given to the customer if they wish to cancel or change the order. 
Make sure you're providing your customers with multiple payment options that help them perform any action safely with speed.
Setting a precise drop location 
Making sure your users are able to locate the right drop position is crucial so that they can get your meal at home, workplace, or wherever they're hanging out (you can use the 'find me' option to automatically find your place). 
The customer must be able to rate out of five stars and leave a detailed review. Enable customers to let the restaurant know exactly what is wrong – the dish, the delivery personnel, the app or some other aspect.
Features for the Delivery Personnel App
Delivery workers need to identify themselves specifically before they start making deliveries for the company. They need to 'log in' on their app to include all personal details such as cell phone number, social media site, email address and other important information.
Upon registration, they must have access to all essential information concerning the amount of the order, the location of the pick-up/drop and other requirements. Order management software would allow delivery staff to either approve or refuse the request for delivery by booking/rejecting it.
Status update and option to call the customer
The status update option allows the delivery consultant to monitor their position so that the customer knows where their order is located immediately. As in the case of e.g. delivery workers, they can switch their status to approved/disapproved when the customer order has arrived/not delivered, or they can change it to 'order pick up' or 'delivery handled' status – when the package is picked up and the order and processing are over, respectively.
The Delivery Agent must therefore be able to contact the customer number if there is a misapprehension of the drop location.
This feature can help the delivery provider get to and from the pick-up site and drop the order accurately and quickly.
Features for the Partner Restaurant App
This standard functionality is available in customer and delivery personnel models. The restaurant has to register by using an email ID and create a password to be available on the list.
This is one of the most critical aspects of the restaurant edition of the app. The admin panel lets partner restaurants handle the whole process – from order placement to competent delivery requests to restaurant management.
All partner restaurants are required to update their contact information, name, opening hours, address and other data, etc on their app. They must be able to upload relevant information, update images, update menus, adjust costs, details and improvements to deliveries, etc.
Once the order has been placed, the restaurant must have a process to manage orders. They need features such as a clear description of the order, the option to monitor the status of the order and to send updates to the delivery agent when the order is ready to be delivered and to the customer when the order is approved. 
Technological Aspects and App Development cycle of an online food delivery app like DoorDash
It is important to think about the technical aspect before you start designing your project, as the solution will differ based on your specifications, application needs, budget, etc.
You need to make choices such as Android or iOS, whether you want to build an app from scratch or use third-party software such as APIs, SDKs, choose native or hybrid app creation, etc.
Developing an app like UberEats or DoorDash is somewhat different than making anything like WhatsApp or Twitter since the food-order app requires three different copies of the system (for the client, the supplier restaurant, and the delivery staff) and a single admin panel – taking the total amount of deliverables to four.
The key goal of development is to make the software user-friendly in all versions. Therefore, when a customer uses an app like Doordash, they would prefer to provide advanced search options with various criteria, whilst the delivery specialist will require a good GPS interface to determine the time required precisely and to hit the delivery position efficiently. The restaurant management team will also require a database capable of processing a large volume of orders and a good GPS integration.
Technology Stack For An App Like Doordash
Application and Data – Javascript, Python, React,NGINX,CloudFlare, TypeScript, Redis ,Kotlin , Swift, Amazon CloudFront and Retool
Utilities- Google Analytics, Stripe, Twilio Sendgrid, Optimizely and Segment
DevOps- Github, Docker, Jenkins, WebPack, New Relic, Yarn and Sentry
Business Tools: Jira, GSuite and AdRoll
How much does it cost to make an app like Doordash: Pricing and Budgeting
Pricing and the budget are crucial considerations in determining how to continue with software growth. Although pricing is different from project to project, there are certain factors you can remember (which will factor in your app's production costs) when you're creating a food order app –
Settings and features that you like in your app
Android or iOS (Android normally costs less)
Integration or back-end development by third parties. Third-party integrations are favoured if you're short on funding because they're cheaper, but they do accumulate massive recurring long-term costs. In the meantime, server backend is usually preferred, since it can be a major investment initially, but is favoured over the long term.
If you like social media incorporation, or an admin panel in the app,
The team or mobile app development firm that you select
Upgrades and repair costs after the development.
Are you Ready to Invest in Your Own Food Delivery App Development?
"The global food delivery mobile app market is expected to grow at a compound annual growth rate of 27.9%—to $16.6 billion — by 2023," stated Allied Market Research. This and many other figures and patterns indicate an enormous rise in food ordering apps like DoorDash, UberEats or Zomato.
However, as UberEats has uniquely promoted the availability of resources through independent drivers affiliated with Uber and Postmates who have started supplying food and drinks along with food to their app customers, you need an X-factor that can sell your product. But, at the end of the day, the USP (Unique Sale proposal) is necessary for long-term consumer sustenance.
Having seen the road map to create your Doordash-like app – now is the time to put your strategy in motion. Share your idea with us and start developing your new digital enterprise.
We have proposed four ingredients that lead the Doordash Food Delivery App to achieve big sales and customer base in 2022. If you are able to build an app like Uber for food delivery before you grow a niche of your own product in the congested digital landscape, you can review solutions to create a product for food and drink ordering.
So, feel free to talk to us about your food delivery app idea. Oyelabs a leading company in the development of iOS and Android mobile apps. We've built over 50 on-demand food ordering apps like DoorDash and Zomato along with exclusive functionality and services.
If you still have any concerns or uncertainty about the cost of the Uber food delivery service, the functionality of food ordering applications, or what is the best way to recruit mobile app production firms, the cost of creating Android apps, then you can get in touch with us via our contact page. Our tech consultant will reach out to you as soon as possible. The appointment is completely free of charge.
FAQs
Is this app suitable for my food business?
If you own a restaurant, this platform is for you. Do you think your company is lagging behind? Try putting it on the on-demand delivery platform, and you'll see it rise. At OyeLabs, we're trying to help businesses like you meet your customers' demand. 
How much time will it take to build my On-demand food delivery app?
We 're ready to give you the best. Our staff will recognize your business needs and come up with the best ideas to showcase your business. Launching the restaurant / restaurants on an online platform can require a variety of factors. Our team at OyeLabs guarantees that all the needs are met. Creating a good app will take between 7-15 days.

For further info, you can contact us.
How am I going to manage my customers on this platform?
At OyeLabs, we offer you absolute control of your clients. You can handle them conveniently from the control panel of the app. Your customers are completely yours and our solution will help you to handle and manage them in no time. We will allow you to process customer info, orders and payments. A simple demo will help you run your restaurant smoothly from your restaurant's mobile app.
Will I be able to customize the app?
Yeah, yeah! If the delivery has been completed from our side, it's all yours. We've also added a few ways to customise the application. You will note the configuration options on the dashboard that will help you to upgrade the functionality as requested. For more details , please contact our support team.
What is the estimated cost of your app development services?
Every project is very important to us. We take all the specifications into account and then take an unique and fresh approach to it. The cost of development varies depending on the size, complexity, nature and characteristics of the project. 
How will my customers place an order?
At OyeLabs, we make what's right for you. Your applications will be designed based on your own preference of colours, theme, font and menu images, so that they can look as though you've created an online ordering experience. Your customers will be able to request their orders via the customer app.