How To Build An App Like UberEats & How Much Does it Cost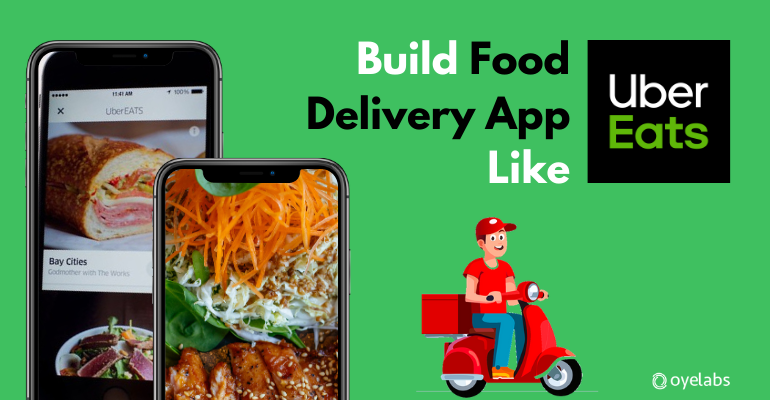 How To Build An App Like UberEats & How Much Does it Cost
Last Updated on November 21, 2023
If you are hungry and don't want to cook yourself, your mobile is at your service, open your food delivery app and order whatever you want and that too from your favourite restaurant. You are working in your office, feel hungry and tap tap burger ordered or you like Pizza more? Tap again pizza ordered. With minutes ding dong the food arrives. Magic isn't it? But you also have an entrepreneurial, mindset, so why not build a similar food app?

In this article, we will discuss how you can build an app like Ubereats to launch your own online food delivery business and how much it would cost you. Let's get started.
No one could deny that Uber has turned out to be one of the biggest promising companies and encouraged creative thought among thousands of other young budding minds.
Like Uber, Ola or Gett, the travelling experience of people has been turned into a totally amazing experience by making the journey a lot more comfortable and convenient.
Uber received a tremendous acknowledgement and an appetizing taste of success in an on-demand taxi booking app which further extended its customer service and entered the online food supply arena – UberEATS, another on-demand app that gains worldwide popularity.
Let's get those numbers on the board now before we go on, to illustrate how the on-demand food delivery app has indeed captured food lovers' interest already.
It has been observed that 10 per cent of people in America use online food delivery services once a week to get their favourite cuisine from the chosen restaurant, according to one of the surveys by Statista.
Now that is the tactic behind the service of apps such as UberEATS; it makes it possible to book any dish from a wide variety of eateries and offer the item at the speed of lighting at their house.
UberEATS has extended its market across nearly all the big continents and countries, close to its taxi booking app Uber.
One of the key advantages provided to the wider audience by online food shopping applications is that they have tantalized their tongues with diverse pieces of cuisine. You can buy almost everything to pamper your taste buds to enjoy the dinner, including Mexican, Thai, Italian, Indian, and Chinese.
In comparison, it has also been shown that the rise in sales of restaurants has improved because of online food ordering applications along with the other benefits that food delivery apps have for restaurants.
Before jumping on the app's functionalities, it is worth knowing the meaning and nature of the food delivery applications.
Why On-Demand Food Delivery Apps Have Become So Popular?
Did you find that, only because of simplicity and maximalism, food distribution firms like UberEats and Deliveroo have become dominant names in the food business today? And the impact on Americans is that, once a week, 60% of US customers order delivery or takeout.
Food delivery apps are a real blessing for everyone in this fast-paced life. One of the strategies that have created a forum where consumers and restaurant chains can conveniently fulfil their needs is on-demand food delivery apps. But here are the few reasons that make sense to increase the success of apps for online food ordering and make it a perfect start-up option.
Restaurants found online food ordering systems that are much simpler and more convenient than taking orders from the wild calls to get delivery orders. In addition, 60% of restaurant operators say their profits have been lifted by delivering food through these applications.
Related read: Create a takeaway app for your restaurant.
Improve The Customer-Business Relationships
43% of restaurant professionals say they agree that third-party applications help to create a direct partnership between a restaurant/bar/pub and its clients. In reality, the streamlined online food ordering systems have modernized customer experience management and can provide all the services needed from food ordering to fast delivery at home.
Improve Business Promotions
Undoubtedly, with numerous social media sites such as Facebook, Twitter, Instagram, on-demand apps are interconnected and offer a perfect forum for smooth market promotions. The different kinds of web advertisements help to draw a huge amount of individuals to the app.
Improve The Customer Base
According to a report, clients who place an online restaurant order can visit the restaurant 67 per cent more often than those who do not use the service. In addition, it was observed that operating with a third-party delivery provider raised the rate of restaurant transactions by 10 to 20 per cent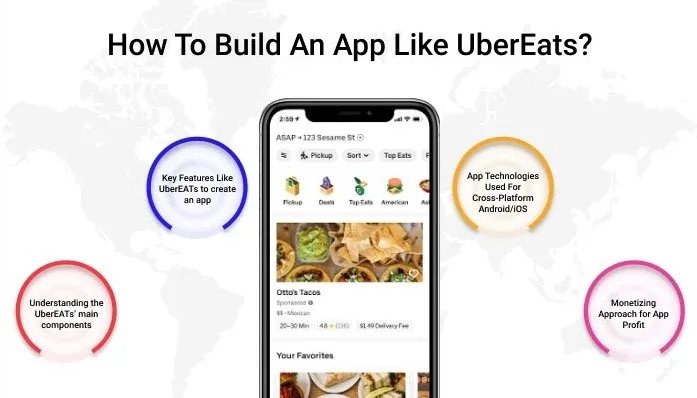 How To Build An App Like UberEats?
There is no doubt that it took an immense investment to build food distribution apps such as UberEATs. The initial cost of creating an app from scratch will start at $25,000 per project, which is very pricey for start-ups. So, what if you don't have that kind of budget, do you cancel the App developer recruiting plan?
Yeah, it all has a solution. Still now, at a fraction of the size, several small companies come up with something similar to UberEATs. There are several App development firms that commonly make use of existing APIs to reduce the process and expense of app development. What you need is to recruit the best people for the creation of an App that will appreciate your company needs and create an app on a small budget.
Launch Your Food Delivery App in 2 weeks
With Customized On-Demand Solutions by OyeLabs
Here's just what you need to work on before building a food distribution app like UberEATs:
Understanding the UberEATs' main components
Key Features Like UberEATs to create an app
App Technologies Used For Cross-Platform Android/iOS
Monetizing Approach for App Profit
For better comprehension, let's dive deep into each point:
Understanding the UberEATs' main components
UberEATs has been the fastest-growing food delivery app today and has partnered with more than 50,000+ restaurants and produced the final number of choices for food delivery. In comparison, it represents 22 per cent of the company's overall bookings in 2019 and a $2.8 trillion addressable demand. Now the big question is, how do they treat anything from heavy traffic to restaurant partners on the app, orders, courier?
Ok, there are 3 key elements of food distribution apps like UberEATs:
For End-Users: This edition allows customers to select from a detailed selection of restaurant options according to their location and menus. All food shipments are made according to the time selected by the consumers.
For Courier partners: This sort of App is for Uber drivers who have been signed up as part of a delivery network or enrolled as part of it. It has been assigned to the driver as per the position until the order is made. For the Courier App edition, the estimated arrival time is alerted to both restaurants and consumers.
For Restaurants Partners: Restaurants collect specific order details and are responsible for updating the status of the order and giving customers & drivers a note. Every day, they have access to the list of the latest orders made.
Must-Have Features In Your UberEats App
When it comes to making a smartphone app, its features and capabilities will make a significant difference in how appropriate it is on the market. In addition, your budget can quickly be absorbed by mobile applications and functionalities, so it is necessary to set your budget and make a choice of features that you need to incorporate into the application accordingly. The type of food delivery app you wish to make also helps you to determine what kind of features you need in your app
Since the UberEats like the app is layered with multiple versions of the App, we have categorized the key features required for the version of the customer and courier app along with the expected production hours.
You should imagine creating an MVP app or an app with simple features if you are a startup and aim to enter the food industry with the lowest budget. Here's the simple food distribution app breakdown:
Basic Features
Hours
Features' List
Backend Dev. Hours
Frontend Dev. Hours
Authorization
15
33
Account Editing
9
13
Push Notifications
13
28
iOS/Android Specific Adjustments
–
15
Total Hours
27
89
Approx Cost
$500
$1,500
If you are searching for the advanced features of the food app, then the production cost of the version of the Consumer app will start from $20,000+ and can go to any costly point.
Basic Features
Hours
Features' List
Backend Dev. Hours
Frontend Dev. Hours
Onboarding Tutorial
–
12
Account Editing
2
7
Geo Locations
36
58
Food Listing
3
12
Dish Description
20
55
Cart Management
16
28
Set A Drop For Delivery Location
6
42
Live Order Tracking
32
32
Payment Options
14
44
Customer Feedback
8
30
iOS/Android Specific Adjustments
–
36
Total Hours
137
356
Approx Cost
$5,500
$14,300
Technology Used For Android or iOS or Cross-Platform
The tech side of the app relies on the operating system choice that you select to launch your app. If you are targeting a native product, then it is worth recruiting a mobile app developer specialist in Java, Node.Js, for Android app creation solutions, while Objective-C and Swift can be an outstanding choice for iOS app development. If you are reaching a wide number of consumers across different channels, then it could be an ideal option to build hybrid apps using Flutter or React Native.
Monetization Strategy For Your UberEats Like App
No matter how wonderfully you built the product, if there is no scope to make a profit from the app, there is no need for designing a gorgeous app or recruiting the best app development company for the project. So here are the few strategies used by UberEats for the best app monetization:
This is one of your app's most common and profitable ways to gain profit. UberEats receive a 15 to 40 per cent fee on the orders fulfilled by UberEats themselves.
UberEats charge a marketing fee to their restaurant partners to improve their exposure on the page of the submission. And with the number of restaurants, investing in marketing is essential for restaurants to make their name clear on the app to consumers.
Delivery Fee From Customers
One worthy way to make a profit from the app is to charge plus surcharges for food delivery at peak hours, including lunch and dinner time.
Related Resource: Top Food Delivery App Business Models
Technology Stack You Can Use For An App Like UberEats
Programming languages: Kotlin (Android) and Swift (iOS)
Back-end development: Node.js
Payment gateway: Braintree, PayPal
Push notifications: Firebase Cloud Messaging, Amazon SNS
Mailing service: Amazon SES
Navigation: Google Places API, Google Maps
Restaurant listing: Grubhub API, FourSquare API
Social media integration: Facebook SDK
SMS service: Twilio
Cost to Build An App Like UberEats
It can be a daunting challenge to determine the average price of the food delivery app since there are a variety of factors influencing the cost of production. There are a plethora of variables affecting the cost of App creation, from the functionality, features, sophistication, scale of the app, development team and venue, to technology.
The estimated cost of creating a food delivery app will start with the simple features from $15,000 to $25,000+, but depending on the option of features and capabilities, the price can go to any cost estimates. The more complicated the configuration of the app is, the greater the cost of app creation would be.
Frequently Asked Questions for building an app like UberEats (FAQs)
Que. What are some apps similar to UberEats?
Ans. Some apps similar to UberEats are Zomato , Swiggy, FoodPanda and Deliveroo among others.
Que. How do apps like UberEats make money?
Ans. Apps like UberEats make money through the following methods:
1) Delivery Charges
2) Commissions
3) Sponsored Listing Fee
4) Subscription Charges
Que.  Who keeps the code after development?
Ans. The owner of the code keeps the code after development in all its entirety but will need experts at the backend for regular maintenance of the app