Why Should Restaurant Have A Mobile App? What Are The Benefits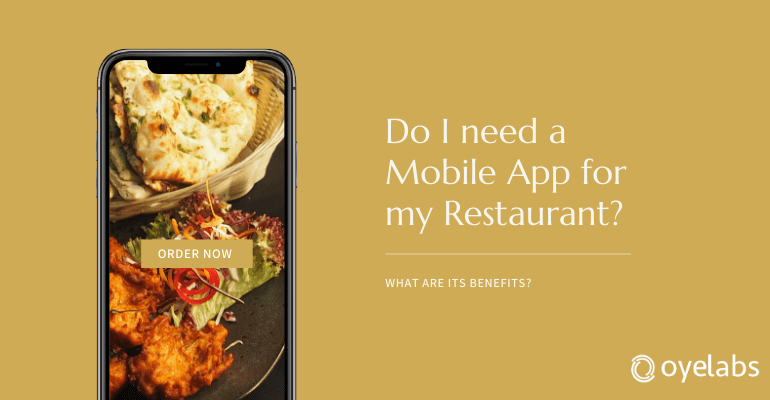 Why Should Restaurant Have A Mobile App? What Are The Benefits
Last Updated on April 25, 2022
A business will perpetually be a business. Irrespective of the type of your business seldom will be the time when there won't be any ups & downs in it. If you own a food venture & your cafe, pizzeria or the takeaway shop is having more ups than downs lately, then we think it is high time to start thinking of doing something new. How about having your very own mobile application?
If you don't have one, then it is a wonderful idea to get a mobile application developed. A mobile application is an amazing tool to boost the sales, protect your business from sinking & enhancing the brand awareness of your business as well.
See also:
So today, we will consider some of the most compelling reasons why your business should have its own mobile application & what all perks you can avail form it!
THE NUMBERS BEHIND IT.
So the mobile industry is constantly growing & is penetrating all spheres of every kind of business, including the food sector as well. All the big food business giants such as Pizza Hut, Taco Bell, Starbucks every other one – have already recognized what mammoth impact a mobile application can have & how propitious it can be. They started early & the result is in front of us already!
When talking about the Starbucks – it receives 60% of its total orders via the digital channels & Taco Bell has about 10 million followers on Facebook. in fact, in the year 2016, out of $10.9 billion of Domino's total sale, $5.6 billion came only from the digital channels.
Hence, it won't be wrong to say that mobile phones have become the primary source of information. Instead of looking at computers, radios and other sources, people go for mobile devices nowadays. Reason? It is the most convenient source of information they have. Just being on the Google isn't enough anymore. These days people are looking for the menu, the location of your restaurant & even the discounts + special offers you have floated online currently!
How Does a restaurant app work?
For Customers
A customer will signup and login to the app
The customer will select their food from the menu items listed in the app
The customer will place the order and make the payment online (or can choose payment on delivery, POD option)
The customer will receive the food
For restaurants
Restaurant owners can login to the app
The restaurant will receive the orders being placed by customers
The restaurant will receive the payment online
The restaurant can prepare/pack food accordingly
The restaurant (or a delivery provider) will deliver the food to the customer. Or users can also takeaway their food, based on the options provided in the app.
READY TO LAUNCH YOUR APP?
With Customized On-Demand Solutions by OyeLabs
So here are the most powerful arguments that
Why your restaurant needs a mobile app
IMPROVED IN-HOUSE SERVICES
Well, this is pretty undeniable that a mobile application is the best way to improve the in-house experience of your customers – in many ways. For a start, the mobile application gives them the ability to pay in advance via various digital payment options which reduces the pick-up time to a great extent. Then the ain't have to wait in the drive-thru lanes.
Customers can also book a table in advance if your applications allow them to. Also, you can also entertain them by providing them with certain games which lets them get bonuses & discounts.
LOYALTY & REFERRAL PROGRAMS
One thing which you can be sure about in your food business is  – loyalty & referral programs actually work. The Dunkin' Donuts DD Perk loyalty program currently has about 6.6 million loyal customers. The most amazing thing is – this isn't the largest food brand community in the world.
Some of the other benefits of giving your customers loyalty cards on the mobile application are:
Ability to get bonuses from different digital channels
Ease of use
Ability to track loyalty program progress
No need to carry numerous cards all the time
Transparent program conditions
BETTER CUSTOMERS INTERACTIONS
Another indisputable fact is modern customers like to interact with businesses as it instantly gives them a sense of importance. This approach is pretty effective because customers feel reachable because of mobile apps. When that happens – they are ready to listen to whatever you'll say to them. Moreover, the mobile application is very popular among the millennials. It allows them to do all the things they can on any website + many more things as well – such as customizing their food orders!
So, all the modern business want modern approaches – such as having a mobile application. People carry their phones with them all the time & they enjoy deriving information out of them. So we'd suggest you to not lose a chance to give your business the boost it deserves. This is the era of applications – use it to the fullest!
How much does it cost to build a restaurant app?
The answer to the question 'How much does a restaurant app cost' is not that simple. As it involves multiple factors which should be considered before coming to any final cost for developing a mobile app fro your restaurant. In general, the approximate budget can be anywhere between $20,000 to $40,000 to create a restaurant app. There are some high level apps that may cost even more because of the premium features involved in those apps.
The overall app development cost will depend on a various factors. These are – features you need to add, the number of platforms (iOS , Android, windows, web), the degree to which the application is personalized, production provider you employ and so on. But you don't have to worry that much about the cost because if your budget is low or high, there is always an app that can be built within a suitable budget. For low budget plans, you can go with readymade food ordering app. If you have any questions, please get in touch with our team, we will be glad to help.