Twitter Clone – 100% Customizable Readymade White Label App
Get 100% Customizable White Label Twitter Clone App
Launch your social media platform like Twitter with a 100% customizable Twitter Clone Script
Integrated with leading-edge features backed by the expertise of developers at Oyelabs with years of experience.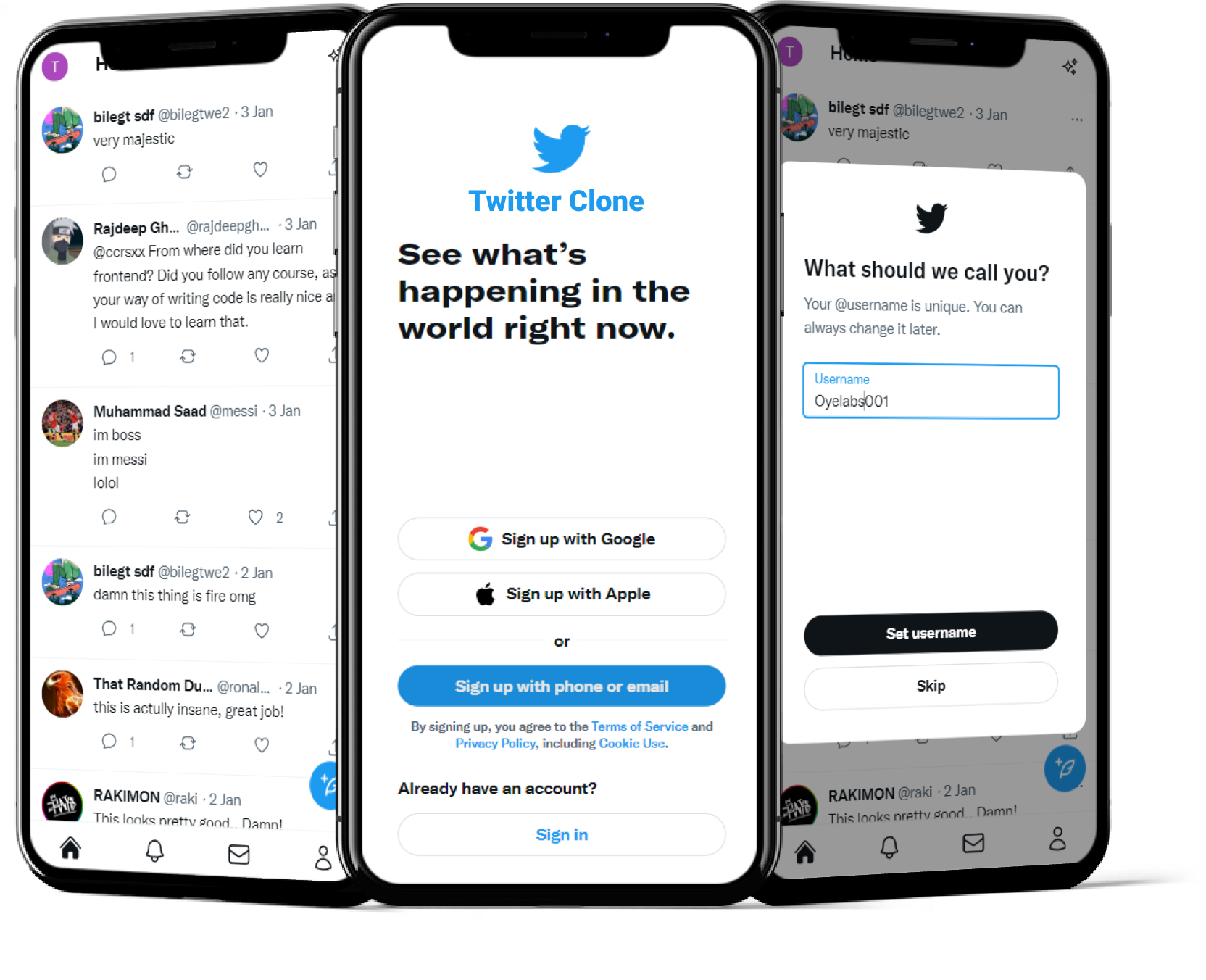 What is Twitter?
Twitter is one of the major social media platforms in the world. The main purpose of Twitter is to connect people and let them express their ideas to a bigger audience.
With a whopping 450 million monthly active users Twitter is one of the leading social media platforms existing today.
What Is Twitter Clone Script?

Twitter Clone Script by Oyelabs is one of the finest replicas of one of the world's leading social media platforms.
We have integrated a huge number of features for both the audiences and the admins to make the swift processing of the platform easily possible. From posting ideas as tweets to personal messaging we have prepared our Twitter Clone Script for all your requirements.
Capitalize The Opportunity To Launch a Twitter Clone

Twitter is surely one of the leading social media platforms in the world and having a replica with high-end features and functionality can also bring you huge success.
Oyelabs has experience of years in developing clone apps and particularly social media apps. With a highly skilled team of experienced developers, we have created the new-age white-label Twitter Clone Script which is completely customizable.
Key Features Integrated Into Our Twitter Clone

User Panel

Profile Creation
Your Twitter Clone users will have the option to register themselves and create their own profile. They will have the option to add pictures, birthday, personal bio, and contact details.
Interests
This feature will not only help the users but also you to offer them a personalized experience. It will help you identify the preferences of your individual users and provide them with relevant contents.
Tweet
A feature that will help your users share their opinion, or idea on something just like the original Twitter app.
Notifications
In order to keep the end users effectively engaged notification features are included in our Twitter Clone Script. Users will have the option to set their own preferences for these notifications.
Search
We have added an advanced search option for the users so that they can easily search and find the specific content or profile they are looking for.
In-App Message
In order to keep your Twitter Clone smooth in terms of communication we have included the feature of in-app messages and that too with advanced filters.
Display Settings
In order to offer a more personalized experience to your end users we have added the options to adjust the display- font, font size, colors, and even background theme.
Bookmarks
To help the users save the contents they like or want to share with their loved ones later a bookmark feature is integrated in our Twitter Clone App Script.
Admin Panel

Add Users
To offer you better control and also ensure the security and sovereignty of your Twitter Clone platform we have included this feature via which you can allow users to be on the social platform after verification.
Support
To help you solve your users' queries we have integrated an automated support feature that will be available for the users live 24/7.
Tweet Management
To make your social media platform safe and sound for all and avoid controversies a tweet management feature is integrated for the Admin.
Push Notification
Alert all users at once with a bulk push notification feature integrated in our Twitter Clone Script.
In-App Ads
You can even promote your relevant services or products on our Twitter Clone which is integrated with in-app ads feature.
Suggestion
For a better user-engagement Admins can modify the suggestions for individual users based on their recent activities on the Twitter Clone.
Multi-Language
For a global user base it is essential that your Twitter Clone app support multiple languages. And our Twitter Clone does have the same feature.
Privacy Policies
Through the admin panel, you can ensure the users are following the privacy policies they were informed about during profile creation.
Our Package For Twitter Clone App Development
Mobile App (iOS & Android)
We will offer you a completely safe and secured white label Twitter Clone mobile app for both iOS and Android operating systems.
Web App
Our Twitter Clone App development package includes a web app for the users to login and enjoy the services of the social media platform.
Admin Panel
A robust admin panel to manage and monitor your own Twitter Clone for a complete control over the activities is also included in our package.
Multiple Payment Gateways
We will provide you the Twitter Clone app integrated with authorized multiple payment gateways.
Methodology We Follow In Developing Twitter Clone App

Requirements Analysis
In order to ensure the Twitter Clone app perfectly fits your requirements we arrange a requirement analysis. It helps us find out your requirements and mark out the best features and functionalities to integrate.
Design
Once we identify the requirements and mark out the features and functionalities to be integrated we let our designers create highly engaging and unique UI for your Twitter Clone App.
Development
Although we offer you readymade Twitter Clone Script but the editing on that clone to add your preferred features and functionalities is required in this development stage.
Testing
Before we deliver the Twitter Clone app to you we perform a number of tests to verify the functionality, compatibility, and reliability of the solution.
Launch
After confirming the Twitter Clone's credibility we also take complete responsibility to upload the app on your suggested platforms.
Support
Oyelabs is not limited to development and delivery of a Twitter Clone we also offer support and maintenance services for your Clone app.
Benefits You Can Avail With Twitter Clone App

Easy Promotion
As Twitter is a famous social media platform launching a Twitter Clone will easily catch the interest of people and you will find it comparatively easy to promote the app.
100% Customizable
Our Twitter Clone Script is 100% customizable so you can select the features you want to remove or even add and even change the theme color of the app as per your brand logo.
100% ROI
As we will offer you a readymade Twitter Clone you will surely get a high return on your low investment of both time and money.
White Label
Our Twitter Clone Script is completely white label and that is why you will be free from the hassle of legal controversies.
Workflow of Our New-Age Twitter Clone App

1. Registration

A user will be required to sign up/register using his personal details like contact number, email, and name to avail of the features of our Twitter Clone App.

2. Add Users

Once signed in or successfully registered the user can view or even add other users as their connections on the Twitter Clone platform.

3. Post

A user can share his thoughts and ideas as a post or tweet and other users can also share the post as a retweet.

4. Online Chats

Users can engage in online chats for better communication in our Twitter Clone App.
Why Choose Oyelabs As Your Twitter Clone Development Partner?

Experience- Oyelabs has highly experienced development teams with expertise in multiple domains and niches. Backed by this highly diversified experience you will surely have an advanced Twitter Clone.
Accuracy In Delivery- Oyelabs always walk the talk and that is why we always maintain accuracy in on-time delivery of your solutions.
Track Record- We have a brilliant track record of developing high-quality solutions with leading-edge features and particularly white-label clones of famous apps. You can verify that by going through our portfolio and client reviews.
Security- We here at Oyelabs have the best practices to keep the security of your solution intact. We sign an NDA agreement to ensure that we will never use the same code for another clone development for the same app and we will also keep your business idea completely confidential.
Our Success In Stats-
A Network Spread Over 180+ Cities
99% Client Satisfaction Report
Unleash Your Business's True Potential,
With Our Twitter Clone App – Starting at $3999 $2599
FAQs
Que. Is this Twitter App Clone Script Customizable?
Ans. Yes, Oyelabs' Twitter Clone Script is 100% customizable.
Que. Is this Twitter Clone Script Multi-language supported?
Ans. Yes, our Twitter Clone Script is multiple language supported, you will be required to provide the languages you want to integrate and our expert team will do that for you.
Que. Will I get the entire source code if I purchase the Twitter Clone Script?
Ans. Yes, we will offer you the entire source code of our Twitter Clone Script once you purchase it from us.
Que. Is this Twitter Clone Script available exclusively at Oyelabs?
Ans. Yes, this Twitter Clone Script is exclusively available at Oyelabs.
Que. Is there any complimentary support and maintenance services offered with this Twitter Clone Script?
Ans. Yes, Oyelabs will offer you support and maintenance services for this Twitter Clone App for three months.
Que. Does Oyelabs offer services to update this Twitter Clone App?
Ans. Yes, whenever you feel an update is necessary for your Twitter Clone App Oyelabs will be more than happy to offer you upgrade services.
Que. How will my business idea be protected by Oyelabs?
Ans. Oyelabs signs an NDA agreement at the start of each project and this agreement ensures that no information related to your business idea will be leaked.