Twitter Clone – 100% Customizable Readymade White Label App
Twitter Clone
Readymade Social Media Platform With Advanced Features

Launch your social media platform like twitter with a 100% customizable Twitter Clone Script integrated with leading-edge features and backed by the expertise of developers at Oyelabs with years of experience.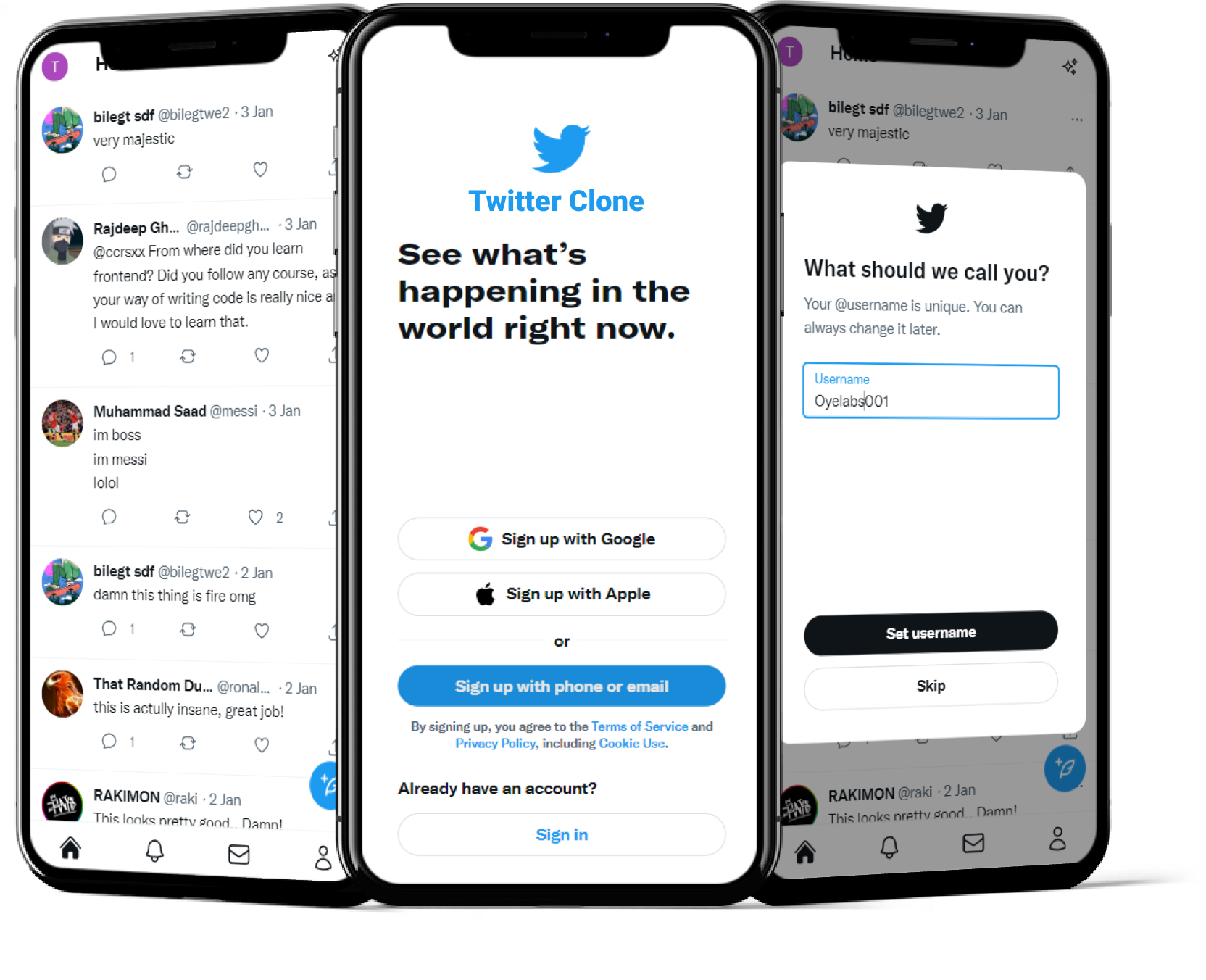 Capitalize The Opportunity To Launch a Twitter Clone

Twitter is surely one of the leading social media platforms in the world and having a clone of it with high-end features and functionality can also bring you huge success.
Oyelabs has experience of years in developing clone apps and particularly social media apps. With a highly skilled team of experienced developers, we have created the new-age white-label Twitter Clone Script which is completely customizable.
Twitter Clone Script
$2199
Snaps Of Our New-Edge Twitter Clone
Key Features Integrated Into Our Twitter Clone

User Panel

Profile Creation
Your Twitter Clone users will have the option to register themselves and create their own profile. They will have the option to add pictures, birthday, personal bio, and contact details.
Interests
This feature will not only help the users but also you to offer them a personalized experience. It will help you identify the preferences of your individual users and provide them with relevant contents.
Tweet
A feature that will help your users share their opinion, or idea on something just like the original Twitter app.
Notifications
In order to keep the end users effectively engaged notification features are included in our Twitter Clone Script. Users will have the option to set their own preferences for these notifications.
Admin Panel

Add Users
To offer you better control and also ensure the security and sovereignty of your Twitter Clone platform we have included this feature via which you can allow users to be on the social platform after verification.
Support
To help you solve your users' queries we have integrated an automated support feature that will be available for the users live 24/7.
Tweet Management
To make your social media platform safe and sound for all and avoid controversies a tweet management feature is integrated for the Admin.
Push Notification
Alert all users at once with a bulk push notification feature integrated in our Twitter Clone Script.
Our Package For Twitter Clone App Development
Mobile App (iOS & Android)
We will offer you a completely safe and secured white label Twitter Clone mobile app for both iOS and Android operating systems.
Web App
Our Twitter Clone App development package includes a web app for the users to login and enjoy the services of the social media platform.
Admin Panel
A robust admin panel to manage and monitor your own Twitter Clone for a complete control over the activities is also included in our package.
Multiple Payment Gateways
We will provide you the Twitter Clone app integrated with authorized multiple payment gateways.
Add Ons For Your Twitter Clone App
Activity Log

Offer your users the option to track their activities on the social media app with an activity log add-on.

Easy Search

Minimize the searching struggle of your Twitter clone users by integrating an easy search bar.

Profile Lock

Users will be able to restrict their follower base as per their preference with the integration of the profile lock add-on.

Online Payment

Give your Twitter clone users the flexibility to complete online payments on the social media app.
Multi-Lingual

Why restrict your Twitter clone's global potential? Integrate multiple languages to target the global audience.

Multi-Currency

When you integrate an online payment option in your Twitter clone make sure you have multi-currency support as well.

Verified Badge

Introduce an advanced verified badge feature for influencers and celebrities to improve engagement on your Twitter clone app.

Membership

Unlock a revenue stream for your Twitter clone by introducing membership plans.
Our Twitter Clone Is For Varied Platforms
Web
Our Twitter clone app script can deliver a premium and credible social media web platform/portal loaded with key features.
iOS
Our Twitter clone script can be used to develop a high-functioning, 100% customizable, and scalable iOS social media app.
Android
Our Twitter clone script can be used to develop a high-functioning, 100% customizable, and scalable Android social media app.
Workflow Of Our Twitter Clone App
User Registration
The user needs to create his profile using personal information like name, email id, or phone number and verify it with the received OTP.
Profile Creation
Users can personalize their profiles with a profile picture, bio, and relevant information like location, interests, and website links.
Uploading Content
Once the profile creation is complete the user can start posting content like texts, images, or even videos.
Engagement
Users can like, comment, and retweet posts to boost visibility, expand reach, and grow their following.
Content Discovery
Users can explore hashtags, trends, and follow recommended accounts based on their interests to discover new content.
Monetization
The platform monetizes through advertising, subscriptions, e-commerce, data licensing, donations, and sponsored content.
Technologies We Have Used In Our Twitter Clone App
Development Process For Our Twitter Clone App
Requirement Gathering
The first step we follow is to learn about your unique business needs, goals, and future expectations so we can customize our Twitter clone script to your specific requirements.

Design
In the next step, our highly skilled designers will work closely with you to create an all-inclusive, visually pleasing, and user-friendly interface that is both intuitive and effective.

Development
Yes, we offer a ready-to-launch social media Twitter clone app, but the development phase is necessary to implement the modifications needed in the script as per your requirements.

Testing
We use a rigorous testing process to ensure that the Twitter clone is completely free of bugs and meets all of your requirements before it is deployed on your requested servers.
Deployment
Once the quality team passes us the green signal we will proceed to the deployment process, ensuring your Twitter clone is smoothly deployed and runs as you have wanted.

Support & Maintenance
We offer 3 months of free support and maintenance services including technical support, and bug support to ensure that your Twitter clone continues to meet your business goals.
Benefits You Can Avail With Twitter Clone App

Cost-Efficient
Custom development is highly expensive as it is a lengthy process whereas our social media Twitter clone app is at a budget-friendly price.

Security
Oyelabs signs NDA before engaging in any sort of business discussion so that your business information stays completely confidential with us.
White Label
When you buy our Twitter clone we offer you a free white-labeling service to make the social media app a reflection of your brand.
Readymade
When trying to capitalize on the social media app trends custom development can prove to be slow while our Twitter clone is a ready-to-launch solution.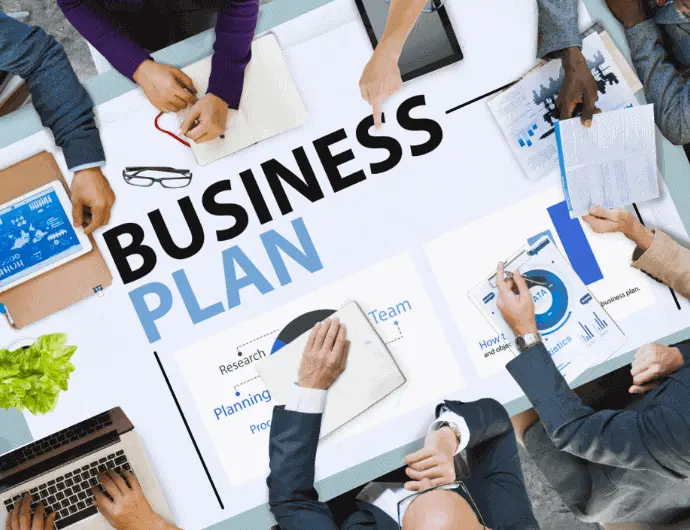 Why Choose Oyelabs As Your Twitter Clone Development Partner?

Free Customization- Oyelabs offers a completely free customization service to ensure that our clients get the exact features and functionalities they need for their Twitter clone.
Free Technical Support- Our experts will be at your service offering free technical support service throughout the development process and for three months after the launch.
Free Bug Support- We also support you with three months of free bug support to ensure that the Twitter clone app operates smoothly and without any errors.
100% Ownership- We ensure you get 100% ownership of the Twitter clone social media platform by offering you the complete licensed source code.
Client's Reviews
Nicole Joesph / Senior Analyst
"We are thrilled to share the overwhelmingly positive feedback we received from our existing customers who had early access to the deliverable of our social media app developed by Oyelabs. The response has been nothing short of amazing! Users have praised the app's intuitive interface, seamless navigation, and engaging features."
Martin Stuart / CEO
"Oyelabs is truly exceptional in every aspect of their social media app development services. They had an incredible culture that fostered collaboration and innovation, creating a vibrant and inspiring environment. Oyelabs exceeded our expectations, delivering an outstanding social media app that has captivated our users. We highly recommend their services"
Dave Baker / CTO
"Oyelabs sets a remarkable standard when it comes to the quality of their engineering and technical skills. Their team's expertise is simply superb, ensuring that every aspect of our project was executed with precision and excellence. Their attention to detail and mastery of cutting-edge technologies truly impressed us. "
Unleash Your Business's True Potential,
With Our Twitter Clone – Starting at $3999 $2199
FAQs
Que. Is this Twitter Clone Script Customizable?
Ans. Yes, Oyelabs' Twitter Clone Script is 100% customizable.
Que. Is this Twitter Clone Multi-language supported?
Ans. Yes, our Twitter Clone is multiple language supported, you will be required to provide the languages you want to integrate and our expert team will do that for you.
Que. Will I get the entire source code if I purchase the Twitter Clone?
Ans. Yes, we will offer you the entire source code of our Twitter Clone once you purchase it from us.
Que. Is this Twitter Clone available exclusively at Oyelabs?
Ans. Yes, this Twitter Clone is exclusively available at Oyelabs.
Que. Is there any complimentary support and maintenance services offered with this Twitter Clone App?
Ans. Yes, Oyelabs will offer you support and maintenance services for this Twitter Clone App for three months.
Que. Does Oyelabs offer services to update this Twitter Clone?
Ans. Yes, whenever you feel an update is necessary for your Twitter Clone App Oyelabs will be more than happy to offer you upgrade services.
Que. How will my business idea be protected by Oyelabs?
Ans. Oyelabs signs an NDA agreement at the start of each project and this agreement ensures that no information related to your business idea will be leaked.