Create Takeaway App For Restaurants | Detailed 9-Step Guide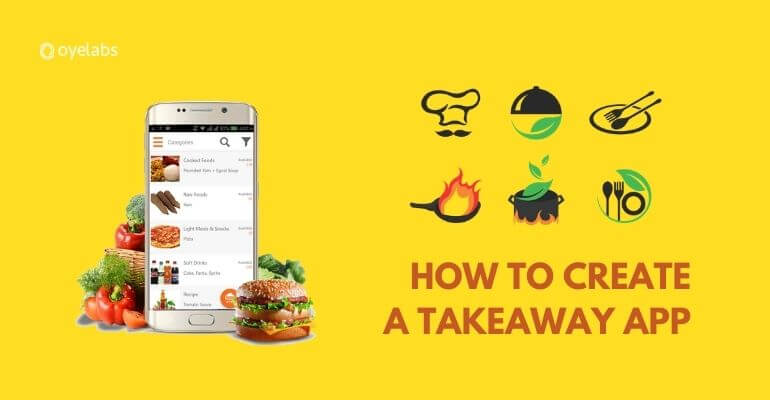 Create Takeaway App For Restaurants | Detailed 9-Step Guide
Last Updated on June 10, 2022
Introduction
The importance of restaurant food ordering applications is expanding every year as the prevalence of smartphones in the world rises by the minute, customers have developed an acute preference for their mobile devices – use them for almost anything, including ordering their food!
As per Statista, by 2022, nearly 7.26 billion people worldwide will be using smartphones – that should give you enough insight into the importance of mobile apps.
Businesses, especially restaurants, are hopping onto the smartphone app bandwagon to leverage the ever-increasing number of users. There are different types of food delivery apps like restaurant-specific or aggregator and all of these apps help restaurants achieve a ground-breaking increase in the total order numbers and improved productivity, whether it's an on-demand ordering app, discount app, or table booking app. For example, Starbucks derives more than 24 percent of all sales from its smartphone app and a large portion of its revenue.
Here is a quick overview of the article:
Customers really enjoy using smartphone restaurant devices to connect with their favorite restaurants due to the user-friendliness and comfort they bring. Many eateries are genuinely looking for efficient software for online ordering. Even though mobile websites are also an alternative, the rise of restaurant apps makes them much more crucial.
If you're a restaurant owner or manager, a restaurant mobile app rich in features offers benefits that could help you satisfy your customer base like never before. And you can successfully expand your business with the same as well. 
If you want to learn more about how the internet ordering industry has revolutionized the restaurant ordering system, you can read about it here!
What should you choose – an app or a website?
According to a survey, 70 percent of customers choose to order from a restaurant's own smartphone app rather than from a third-party app.
So. which one of them is more successful at moving traffic to a restaurant – the website or the app?
Applications have become a one-stop restaurant system to appeal to all consumer needs. A website is just one element of your overarching online footprint, but an app is not just an asset-it's an active promotional tool that can give the opportunity to engage with more personalization with your prospects. So creating a food delivery app for your restaurant is the better option.
Reasons why businesses should choose to get an app developed over a website:
They have a much better user interface
Compared to Websites, mobile applications are more intuitive – allowing customers to choose their favorite items from a special menu and place an order in just a few steps.
It not only saves time but also provides deals, applies coupon codes, and provides restaurants with special instructions.
Apps are comparatively much more straightforward and cover a lot more ground than the order format on a website. Therefore, an app prevents uncertainty about addresses and payments – and restaurants can simplify the whole purchasing process through the integrated payment choices of their app.
They are much more functional as compared to a website
You should choose a mobile website when looking for a comprehensive resource to promote the visibility of your restaurant online. Nevertheless, if you want to build an effective ordering system that gives your customers a seamless experience, work on your restaurant's mobile application.
All of them are important, but an app can do far more to get orders. In addition, you can add various additional features to your app if necessary to enhance performance.
For example, your app can be mapped and positioned to show prospects who are within 50 meters of your restaurant walking around your app. It can also give push alerts to app users for lunch and dinner to inform them of your deals and food items.
You cannot have these functionalities with the Website — when your users are hungry and want a place to eat or order, you should remove the decision-making process for your users and an application allows you to do just that.
To those restaurant operators who want branded apps without breaking the bank, building a mobile application is the perfect solution for them because getting your application developed is much cheaper than a full-fledged website with food ordering functionalities. And you get many payment options as well such as subscription-based payment.
In this way, you can extend the online ordering network, experience higher profits, and reduce maintenance costs because the company divides and pays the entire product development expense monthly.
They have better marketing potential
Updating a website with new deals is somewhat tedious and still, your prospects are not guaranteed to hit your platform in time to take advantage of such deals.
But it is easier to get notifications from the restaurant's mobile app – you don't have to wait for them to reach you and immediately send offers through push notifications to their mobile devices to pay attention. Although online marketing is straightforward for blogs, it has to be used in advertisements, banners, etc.
Mobile applications create endless opportunities to distribute your marketing content and increase prospects.
Does a restaurant need an application after all?
Via restaurant applications your customers are able to order food from your restaurants at all times, without interacting with anyone or anything else.  Apps are simple, quick, and reliable and hence consumers are happy to use them.
Acquisition and distribution are two of the hospitality industry's fastest-growing segments – with revenues forecast to hit over 200 billion dollars by 2025.
And with the growing success of the food takeaway and delivery applications or the takeaway applications, consumers are happy with the concept and try new items. Individuals who have only ordered old standbys such as Chinese food and pizza now experience fries, sandwiches, and burgers more comfortably. 
This is because restaurants now invest more in packaging and delivery services to make sure food gets delivered fresh. You could lose a massive amount of income if you don't have an app for online orders and delivery.

Launch Your Food Delivery App in 2 weeks
With Customized On-Demand Solutions by OyeLabs
Here we have compiled a list of how mobile applications benefit restaurants:
Leverages extensive use of mobile devices
Experts concluded that the number of smartphone users is only likely to grow in the future given the growing number of global internet users.
According to a survey,  almost half of US adults spend 5-6 hours a day on their mobile devices.
Internet traffic will also increase from 11.5 exabytes per month in 2017 to 77 exabytes by 2022 according to professional forecasts.
With this intense use, consumers are searching for fresh and creative ways that enhance their social experience, and what is easier to do than with a restaurant app that is user-friendly.
Placing an order is much more convenient with mobile applications.
Statistics indicate that 80 % of consumers use an online menu before bookings are made – 62% are less likely to order from a restaurant if they can not see food on their screens their mobile.
Better and quicker are indigenous applications – you can show your prospects an attractive menu, order online, or even help them book a dinner table.
Sure, you can allow customers to book a table easily beforehand with the restaurant's app – thus reducing risks of last-minute unavailability. It's all very clear-the clients are prepared to pay more for convenience (in the form of distribution costs). 
You can use the right application for your restaurants more efficiently for your clients, disrupt the market, and build your clients' fierce loyalty. 
Online payment integration
Although cash is a popular commodity, there are those who choose to pay by e-card. You can allow electronic payments in several ways for these customers.
This helps to boost sales because consumers do not have to give up the concept of eating if they have no cash.
You can accept card payment using the right app and can also allow your customers to pay at the counter or on-site via their smartphone even before visiting your site.
Just three of the big payment choices for restaurants today are Google Wallet, Apple Pay, and Samsung Pay, with more than 20% of the full-service restaurant apps already set up to accept all three.
Make sure you don't have your restaurant empty.
It is the new sales channels that everyone is using
When you are placing home delivery or restaurant takeaway orders via telephone calls, your restaurant needs human resources and multiple telephone lines, and the probability is also higher.
If a client still ends up on a busy line, then, they should call a different restaurant.
Your new distribution platform may be an App that is not sponsored or constrained by contact with people.
Therefore, restaurants are offering their customers a seamless online ordering experience while releasing mobile applications – enabling them to recover the customers and revenues they have lost.
If the program is simple to use, up to date, and fully running, consumers would be more likely to visit more often, creating more sales.By choosing the right business model for your food delivery app you can create a successful sales channel for your business.
Restaurants will increase profits, while guests benefit when placing their orders from speed and customer service.
Helps you build your brand's identity
To companies that want repeat clients, brand identity is absolutely important.
Select a competent application developer who can personalize and customize the brand image application for your restaurant.
Here at OyeLabs, we create restaurant apps to help you create a more clear picture of your marketing resources, not just for your company. The right colors, logos, letter marks, and brand keywords help our developers create a powerful identity on the Web as well as in the minds of their clients.
Our mobile restaurant applications can be used on different mobile devices including iPhone, iPad, and Android tablets, and operate with various operating systems. android, iOS, and so on.
Such features make our app one of the best food apps on the market and improve its recognizability.
Expands your marketing horizons
Our expertise in app development will allow your restaurant to experience new marketing opportunities to increase your sales and improve the relationship between your company and its customers.
These notifications allow vendors to establish contact with clients using the app.
Make sure you send short and snappy push notifications and have an open call to action (with less than 10 words). The users of your app won't miss these notifications as they appear on the lock panel.
Don't overdo it, or consumers will be disappointed and the software can be totally uninstalled. Ideally, a week is perfect for one or two push notifications.
Marketing and sales automation
Marketers use apps to schedule, monitor, and evaluate their marketing campaigns online and offline.
Restaurant applications reduce human interference and automate repeated marketing processes – making promoting loyalty programs and delivering rewards easier.
The OyeLabs system can also give the customers direct messages, to thank them for placing an online order – or to give a reminder to those who have not long ordered.
In-depth insights gathering
Instant and regular decision making is also crucial to restaurant managers – reliable, relevant data will make it much easier.
Automated reports can be created from data collected from your app.
These reports include in-depth information on consumers involved, gross sales, sold menu products, deals, and the average cost per customer.
It is useful knowledge for an administrator wishing to enhance the efficiency of the menu, tailor the guest experience, and allow full profitability.
An app for a restaurant owner can be a central control center to help better-informed management decisions at all levels.
Implementation of loyalty programs
Four-five percent of consumers say that online food ordering systems for restaurants are more frequently used because of their loyalty and mobile ordering programs.
Apps make it easy for customers to use a restaurant loyalty program when they reach storage areas and benefit from discounts and bonuses for regular restaurants.
UpMenu 's loyalty application allows restaurants to properly administer their programs by tracking their clients and visitors. Your staff can also add points for meals ordered in a restaurant to the client's accounts.
The step-by-step process of getting an app for your restaurant
The Mobile app development of restaurants is a complex process not restricted to coding alone. The process involves various stages before you get your hands on a ready-to-use app for restaurant purchases.
Below is a 9-step process on how to create a takeaway app for restaurants:
1. Conduct your marketing research
The first step in the process of the restaurant app development should be market research. The target audience of your future application is important to understand what issues your potential customers are experiencing and how you can create a restaurant app to tackle all those challenges.
2. Set your strategy and goals
You should completely comprehend the advantages of mobile app development in restaurants. It is important to remember that not all app ideas can become money-producing applications. Think of the main KPIs, set business objectives and look for the best ways to get the results.
3. Find a software development company
One of the toughest tasks to contend with is to find a reliable and experienced food delivery app development provider. That's why you have to look at this and select a company with industry experience and a restaurant app. It is important that you find a suitable app development company that can understand your vision and give you a quality restaurant app. Oyelabs is an experienced food delivery app development company and we can help you bring your idea to life.
4. Figure out the exact functionality you want
At this point, you have to think carefully about how and what features you want to create a restaurant app. You need to complete a product backlog and list all features that are implemented during the restaurant application development process with the help of a professional software development agency.
5. Design a professional restaurant app 
The primary task of a decent restaurant app is to solve specific problems and restaurant order apps should provide an uncompromising user experience and design.
Design forms part of successful mobile app development for restaurants. The most important steps in app design may be:
Research:

necessary with the aid of market and competence analysis to create top quality and outstanding products, to study the latest trends, and learn best practice

UX Design:

involves creating designs and UX wireframes that form a system skeleton that provides user-friendly navigation and intuitive element layout.

Visual Design:

Mood board design and UI mockups to apply an attractive color scheme to the app

Branding:

Includes development of the logo

Illustrations and Animations:

 when you create a restaurant app, add a unique touch and feel
6. Test, deploy and launch the application
When creating an app, these steps should be part of the development process. When you are ready to start an app, all of the features should be tested in full to ensure that the app works fine. It is advisable to start by making an app MVP for your restaurant and you may integrate more features in the later stage as per user feedback. Building an MVP is also a cost-efficient method to get to the market quicker.
7. Roll out your marketing campaigns
Whether you are developing a mobile app for ordering food or creating one for a restaurant, a marketing campaign to help you inform the world about your product is a good idea.
8. Collect and analyze the feedback on your application
How do you create an app that users love for your restaurant? By collecting feedback on your products, you can see which features are useful and which your application does not have. 
9. Ongoing application support and enhancement
The creation of a restaurant app is a continuous process that doesn't stop when an application is released. You may need to enhance those features, remove any of the current features, or introduce new functionality based on collected feedback. Consistent support will also ensure that the application is configured and provides the best performance for the current versions of operating systems.
Technology Stack For A Restaurant App
User location Finding –  Google Places API

For Payment – Braintree, Stripe, Paypal

For Registrations – Facebook SDK, Gmail SDK

Direction Finding – MapKit, Google Maps

For Storage – AWS, Google, Azure, Digital Ocean

For Analytics – FireBase, Google Analytics
Budget Requirement For Your Restaurant Application
How much a restaurant app costs is a complex question. In general, the necessary budget can start at $18,000 and exceed $40,000 to establish a restaurant app.
The app development costs depend on a variety of factors, such as the production provider you employ, features you choose to add, the number of devices (web, iOS , Android, etc), the degree to which the solution is personalized.
You must allocate a budget to cover the services involved in application development in order to create a restaurant app. The development process of our company is divided into the following stages of discovery and development, including:
Discovery Stage
Business Analysis

UI/UX Design

Software Architecture Planning

Project Management

Team Performance Review
Development Stage
Early planning (Goes for about 1-2 week with period 1st development sprint)

Development

Quality assurance and testing

Project management

Team review
What would a app cost for a restaurant? The budget of creating a takeaway app for your restaurant can be anywhere from $18,000 to $50,000 depending on the complexity of your app. 
Bonus tip: Please note that there is a range of choices for creation of the restaurant app that you can use to build the app or find a professional programmer to create the app. These choices are not the best because of the limited functionality of working with a remote developer and the time it takes.
Conclusion
Whether you're planning to develop a food delivery application or a takeaway ordering application for your restaurant, you are on the right track.
One of the fastest growth rates is the market share of restaurant-related applications. Nobody can deny that a mobile app is no less than a blessing for a restaurant. It not only encourages your customers to look at your product, it also lets your restaurant company maintain a strong brand name in the minds of consumers.
The number of world-class restaurant applications is rising aggressively. There are those who use it for ordering food or ordering food for takeaways. A significant number of restaurant app manufacturers now provide world-class app design services for their hotel business with the increasing requirement for restaurant apps. If you are planning to get one – feel free to get in touch with us.
FAQs
Q- I own a small restaurant. Is a takeaway app appropriate for my business?
A takeaway is a perfect app for your business. Having a smaller restaurant can be a problem if you have to cater to a lot of customers who can't get timely service because of the operational- incapacity of your establishment. By a takeaway app, you can help your existing customers to order in advance and get more customers. 
Is an online ordering business profitable?
Yes, the online ordering business is quite profitable and growing with each passing day. In- demand economy has shown tremendous growth in recent years and is expected to keep growing in the future as well. It is an ideal time to get into the Industry if you're interested. 
How much do I need to pay for app maintenance?
After the app development is complete, your app still needs maintenance. There are a lot of things to take care of, such as server maintenance, Push Notifications, Payment Gateways, etc. 
You can confer with your development team if you're not sure how to do all that yourself. The annual maintenance typically costs around fifteen to twenty percent of the overall development cost.