How to Build a Farm-to-table Delivery App Like GrubMarket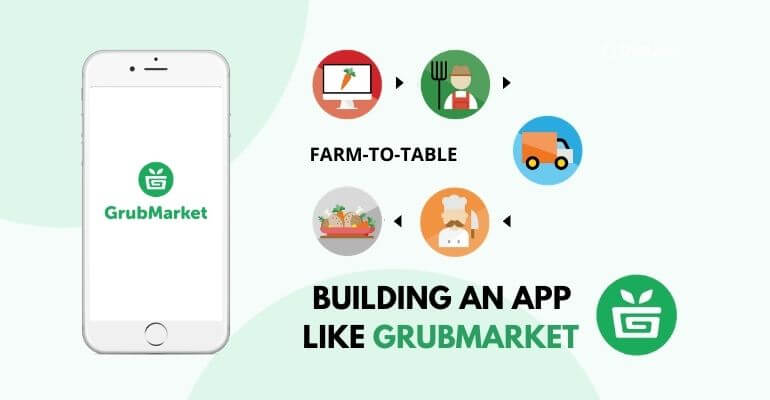 How to Build a Farm-to-table Delivery App Like GrubMarket
Last Updated on June 7, 2022
Consumers are becoming increasingly conscious about the food they consume, from where it comes to how it is grown and processed. The Farm-to-table or the Farm-to-fork movement focuses on fresh, local foods, fruits and vegetables, meats, and seafood.  
Farm-to-table supports consumers and businesses by minimizing the distance food travels before being consumed. For instance, on average fresh fruits and vegetables move around 1500 miles before reaching their final destination. You might have noticed fruits at local supermarkets labeled from around the world, peaches from Ecuador, Strawberries from Chile, and Mangos from India.
The Farm-to-Table supports local agribusiness, promotes a sustainable lifestyle, and educates local communities about the benefits of eating fresh, locally grown food. Since the food is locally consumed, it requires fewer transport resources, resulting in lower fuel consumption and positively supporting the environment.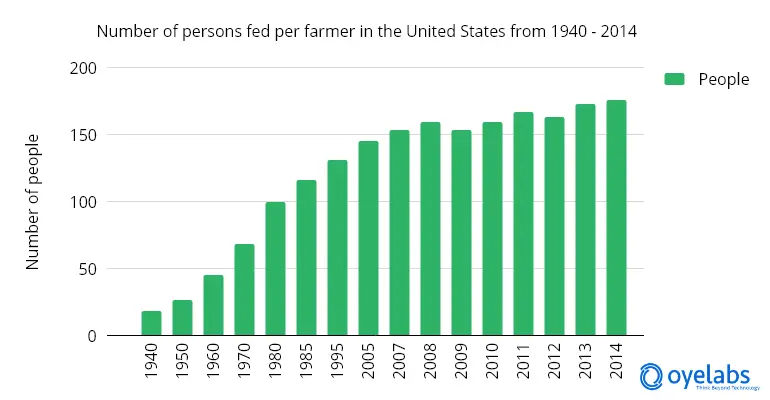 While the increased awareness is encouraging, there is a disconnect between wanting those goods and the ease of purchasing them.  As per the Bureau of Labor Statistics, 35% of Americans work on the weekend, making it challenging to go to the local farmers market.  Also, apart from the farmers market, it isn't easy to buy locally grown fresh food. The Farm-to-table movement connects more farmers to consumers directly; hence farmers can earn more profit from the produce, while more consumers will enjoy the benefits of eating local.
What is GrubMarket
Based in the San Francisco Bay area, GrubMarket was founded by Mike Xu in 2014. The food delivery start-up offers a platform for business-to-business (B2B) and business-to-business-to-consumer(B2B2C) customers.
If you love farmer's market products but don't have time or desire to go to the farmers market, then GrubMarket is the place for you. The marketplace connects consumers with locally sourced and organic food from nearby farms and producers in several cities in the U.S.
With roots as a Y-combinator start-up, GrubMarket sources organic and locally grown food directly from producers and aims to cut out the middle man in many transactions — delivering fresh food to customers at lower prices, and providing farmers with higher income. GrubMarket offers food products to businesses and consumers at a discount of 20-60% over other channels.
Through its SaaS-enabled marketplace, GrubMarket provides services deliveries to consumers and companies, including WeWork, Whole Foods, Blue Apron, Chipotle, and Hello Fresh. GrubMarket has also cornered some particular niches: it serves as the largest mushroom supplier in Northern California and the biggest supplier of Hawaiian Farm produce in the Bay Area.
Since its inception, GrubMarket has clocked three- to five-time growth on a year-to-year basis.  As per the Silicon Valley Business Journal, the company has raised $112 million in venture capital funding till April 2020.
GrubMarket also provides an innovative GWholesaler enterprise software platform which is used by other vendors for a fee.
In 2018, GrubMarket acquired the So Cal Farm Network, which served as the leading purchaser and provider of Farm identified, seasonal produce in the Southern California region. Additionally, GrubMarket announced its acquisition of Chasin Foods, a wholesale distributor of produce, dairy, meats, seafood, and provisions.  In the past few months, the Company has made multiple acquisitions in the fresh food space, including regional farms, distribution companies, and organic food logistics firms. In April 2020, it acquired Massachusetts based Boston Organics, an online farm-to-table grocery delivery service for homes and offices. In February 2020, GrubMarket had snagged Organic Harvest Network, a West Coast firm that handles crop planning, sales, marketing, logistics, and accounting for growers in Northern California. The Company has also added San Francisco-based Eating With The Seasons in January 2020 and Michigan-based Doorganics in November 2019 in its burgeoning portfolio.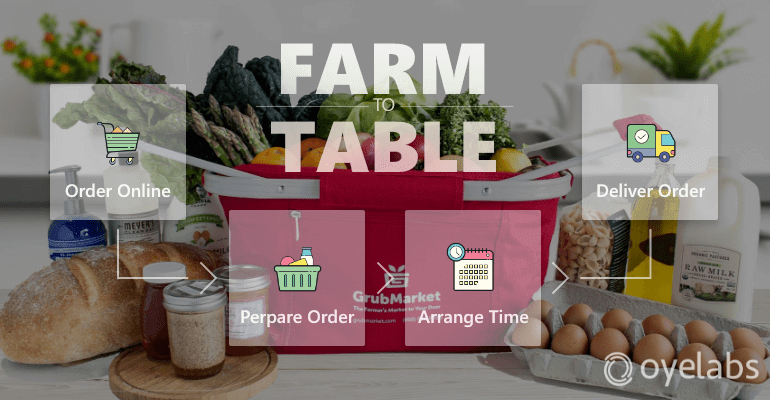 Business Model of GrubMarket
GrubMarket is trying to capitalize on the growing Farm-to-table trend by removing the inconvenience of going to a farmer's market and consumer inclination towards having all things delivered to them.
GrubMarket works as a hybrid model. The company has blended organic food delivery to businesses such as restaurants, supermarkets, and companies with a burgeoning consumer-based eCommerce operation through a marketplace where consumers can buy food from local farms and producers.
See also: Business Models For On-Demand Food Delivery Apps
Grub Market advertises its products at 20-50% off; consumers can shop ad hoc for everything from meat and produce to shelf-stable items from the start-up's app or website.
Users with GrubMarket's membership get discounts on different products, earn points on the amount they spend and get free deliveries irrespective of the cart's size. Users get first delivery free and are charged a delivery fee for orders below $39.99.
GrubMarket takes a commission of between 20-25% per transaction. Since launching its operation in the Bay Area, GrubMarket has expanded to Southern California, Portland, Detroit, Denver, and Chicago, with customers numbering in the thousands and include offices, grocery stores, and restaurants.
READY TO LAUNCH YOUR APP?
With Customized On-Demand Solutions by OyeLabs
How GrubMarket Differs from Competition
Once they've chosen from different options, GrubMarket does the work of picking up those products from local producers and delivering them to consumers.
GrubMarket does not work on the warehouse model, where goods are required to drop the produce at a centralized warehouse where it is sorted and packed before being shipped to customers. The start-up drivers go to the producers to pick-up orders — from goat's milk and cheese, grass-fed beef to baked bread and brownies — and deliver directly to customers in refrigerated vans.
GrubMarket believes that this approach allows them to efficiently plan pick-ups and deliveries while saving on the overheads that come with operating a warehouse to store and distribute goods.
As per a study, out of every dollar spent on food items, the farmers receive only $0.16, with the remaining amount spent on transportation, storage, and food processing.
GrubMarket's model generates more profit for farmers by delivering directly to customers instead of selling to third party distributors.
Since GrubMarket does all the pick-up and delivery, it has low on-the-ground operations costs. The company takes a small portion of sales, which means better margins for the producer.
The trade-off is that GrubMarket cannot make quick same-day deliveries like many same-day delivery apps. According to the GrubMarket's CEO, wait time for goods is typically one-to-three days but varies based on the location of the food producer and whether the company will pick up from other nearby farms or producers. The waiting time also depends on the processing time taken by the food producers.
GrubMarket model allows it to expand quickly into new territories as it does not have to incur the significant upfront cost associated with building distribution centers and warehouses. GrubMarket can get up and running once it hires a few drivers and onboards local food producers.
Another radical approach the company does is it does not spend heavily on adverts as it found customer retention rates to be low through this medium. Instead, the company incentivizes salespeople for new sales and customer retention. GrubMarket has also developed an educational app called Farmbox, which allows you to collect points while playing, which can then be used on GrubMarket.
Related Read:
Guide to building a farm-to-table food delivery app like GrubMarket
An on-demand fresh food delivery app is divided into four sections:
Customer App
Admin Panel
Delivery Agent App
Producer App
The order cycle starts with the customer placing an order on the app or the website. Since some of the products have a waiting time, the estimated time details are shared with the customer. Once the customer transaction is done, the product details are conveyed to the requisite vendor.
Once the order is received, the producer starts taking out the items ordered if available, notifying to the admin, or sharing the estimated date. The admin assigns the order to a delivery agent and shares location details on the scheduled date of delivery.  The driver goes to the farm and loads the ordered items in the designated delivery vehicle. In the meantime, the app sends real-time notifications to the customer and the Admin about the order progress. The driver tracks the exact location of customers' addresses and proceeds by utilizing turn-by-turn navigation through the app. A delivery confirmation message is sent to Admin and customers once the order is delivered to the customer's address.
Customer App
Registration: A user can register as either a buyer or producer of food.  Customers can sign up by filling details such as their name and contact information. The app can also allow social media integration where users can log in via social media accounts.
Ease of Finding Products – The app should allow ease of finding local-sourced food products. The app enables them to shift through a list of categorized foods to find the specific item they are searching for and provide additional details such as reviews, locations, pick-times, and quality to assist consumers in making a purchase. For example, a buyer could click on the category for grains and flours, then bread, to see a list of all sources in the area for local bread.
Social Media – This feature allows consumers to share pictures and messages about their favorite local foods
Calendar – This feature will provide details of community events, such as farmers' markets and restaurant and brewery events. The app allows users to sign up for custom notifications for their favorite farms and receive community events alerts.
Tutorial Section – This feature would host different articles to educate users on the benefits of eating local and relatable topics.
Delivery Scheduling – The customers can specify the date and time they want their orders to be delivered to the specified address.
Real-Time Order Tracking – This feature provides the customer with the order's shipping status until it reaches their doorsteps.
Re-Order – This feature provides added convenience to the user to re-order for the earlier purchased items in a single click.
Real-Time Notifications – The customers get push up notifications related to their order status, offers, discounts provided by the owner to attract and retain customers.
Order Status – The customer can check all the orders, delivery status, bills, and information associated with present and past orders.
Multiple Address Options – This option allows the customer to add multiple addresses and select them while placing the order.
Digital Invoice – This feature shares the digital copy of the invoice with customers once the order is placed.
Multiple Payment Options – Customers can go through the payment process with various options such as net banking, stripe, PayPal, credit cards, debit cards, and bitcoins.
Ratings & Feedback System – Customers can provide ratings, reviews, and feedback on orders based on their experience and satisfaction level.
Customer Care – Customers can contact the support team and ask them any query regarding fruit or vegetable delivery service.
Favorites – This feature allows customers to add their preferred products in the Favorites list, which will enable them to order them quickly.
Admin Panel
Vendors and Staff Management – This feature allows the Admin to maintain records of new vendors, drivers, and employees.
Listing – Admin can adjust the price of different products and categories. The app allows them to add articles, categories, and products conveniently. 
Real-Time Tracking – This feature allows the Admin to keep track of the delivery agent's real-time movement. This feature increases transparency and reduces the problem of delayed delivery.
Customer Management – Admin has access to view and manages the customer data and other information from their profile.
Real-Time Notifications – This feature enables Admin to send real-time notifications for promotional activities such as discount coupons, special offers, loyalty programs, which helps retain past and current customers.
Multiple Payment Gateway Integrations – This feature enables acceptance of payment through multiple options because of in-app integrated multiple payment gateways, such as debit card, credit card, net banking, PayPal, Stripe, Bitcoins.
Ratings & Reviews – Admin can view and manage the reviews and feedback shared by customers. It helps them to improve their service quality.
Analytics –  Admin can get data insights from the in-app integrated analytics such as customers' reports and statistics, daily sales, and expenses, to help them take business decisions accordingly.
Reminders – This feature allows the Admin to send reminder SMS or email and remind them of the product delivery.
Producer App
Profile – The sources will be able to develop a profile to showcase their products by uploading pictures and a short bio about their Farm. For added convenience, the sources will add an address and scheduled pick-up times to their profile.
Product List and Cost Management – This feature allows the vendors to easily add, update, and delete items present in their store. They can also update the price, categories, and subcategories as per availability.
Real-Time Tracking – This feature enables to track the order status and delivery agent location and their activities with google maps.
Reports – The store manager can generate insightful reports and analytics graphs that provide the business's present and future financial state. It helps them to make a plan for how to run the business more effectively.
Customer, Sales, and Market Analytic – Analytics graph in the dashboard can help store managers to analyze the business operations better.
Inventory Management – The store manager can efficiently track the sales and expenses regularly to satisfy customer demands, and reduce ordering and transportation costs.
Featured screen – It would give farmers a chance to advertise their food products by getting selectively featured for an additional cost. This page would also feature restaurants and local, seasonal food.
Track Payments – Store owners can add account details, view successful and pending payment settlements in one place.
Order Reports – Store owners should get real-time information about their business performance so they can take action accordingly.
Driver App
Profile Management – The delivery agents can create and maintain their profile and add their contact number, email id, and photo.
Delivery Status Notification – The delivery agents will get the notification when a new order arrives. They will update the delivery status from "order processing" to "order delivered".
Live Tracking Path – The delivery agent can track the real-time path of the customer through GPS.
Track Payments – Store owners can add account details, and view successful and pending payment settlements in one place.
Order Reports – Store owners should get real-time information about their business performance so they can take action accordingly.
Technology Stack
The technology stack used to create an app similar to GrubMarket would depend on the skill-set and the budget fixed for mobile app development. Still, some of the standard technology stacks is mentioned below:
Push notifications – Twilio, Push.io
Database – Mailchimp Integration., MongoDB, HBase, Cassandra, Postgress
Cloud environment – AWS, Google, Azure
Payment methods – eWallets, PayPal, Stripe, Braintree
Real-time Analytics – IBM, Apache Flink, BigData, Cisco, Hadoop, Spark
Phone verification, Voice, SMS – Nexmo, Twilio
Cost of Building an App similar to GrubMarket
The cost of on-demand app development depends on the features/functionalities, native, or hybrid app. It is also based on the type of software solution required, such as a ready-to-use model, custom app development, or a monthly/yearly subscription model. Besides, the price depends heavily on the development team's location as the cost is charged on a per hour basis and changes progressively from Asia to Europe and, finally, the highest in North America.
| | |
| --- | --- |
| Geography | Per Hour Cost |
| India | $10 to $40 |
| Eastern Europe | $30 to $100 |
| United States | $70 to $150 |
Developing an on-demand delivery app similar to GrubMarket would take approximately 1900 to 2400 hours. This can then be multiplied by the development rate to get a fair estimate of the development cost. On average, we can say that the cost to build a GrubMarket-like app can be anywhere from $20000 to $80000 or more. Apart from these additional costs, such as Play Store registration, marketing, Update, and maintenance, will also have a significant bearing on the budget.
FAQs
What's the Value Propositions of the GrubMarket platform?
GrubMarket is an innovative platform that connects farmers with customers directly, and customers can choose from a variety of fresh, organic grocery items which they wouldn't get from their typical stores. Despite the quality enhancement, the prices of these products remain impressively low. Similarly, for farmers, the platform provides a way to connect with a broader audience.
What should I keep in mind for app development?
Make an app that is user-friendly and easy to navigate without compromising on the essential features. However, make sure to add your twist to the mix. You don't want to copy-paste the standard industry app model. Test the app thoroughly before launch and focus on every aspect of marketing.
How much does it cost to make an app like GrubMarket?
Typically, an app like GrubMarket can cost you anywhere from the US $30-40 K (or more). The cost of development can vary depending on a variety of factors such as Platforms (iOS, Android, Both), Developers working on the projects, Features, Complexity of the design, and so on.