Custom On-Demand Delivery App Development Cost Breakdown 2022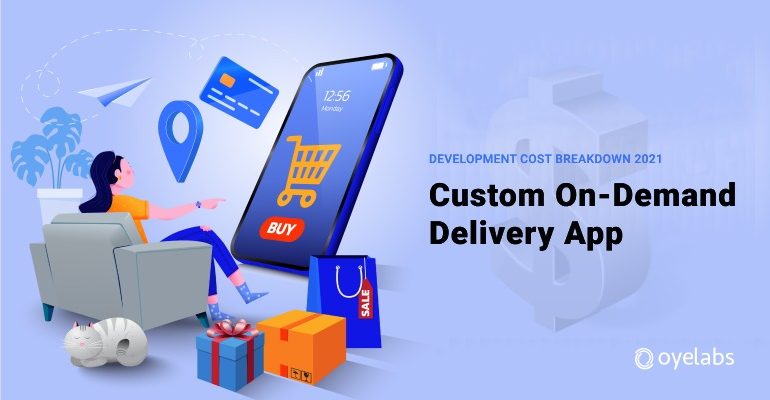 Custom On-Demand Delivery App Development Cost Breakdown 2022
Last Updated on July 13, 2022
With each passing day, the on-demand app market continues to develop and reach new heights. Recently, there has been a lot of talk about on-demand mobile app growth. Uber was the first to pioneer the on-demand market. Fortunately, on-demand applications have simplified the lives of ordinary people by allowing them to access more services with just a touch of their key.
People now love on-demand applications because they have instant satisfaction and the ease of doing something, everywhere, and at any time. The on-demand movement has grown in popularity by bridging barriers between end-users and companies.
On-demand applications make products accessible in a matter of seconds and have aided companies in expanding their reach beyond their physical borders. As a result, it's past time to give the company new dimensions. Working with our on-demand app production business would help you meet a large audience and put you in the benefit zone.
Any company looking to grow in the mobile space aspires to strike a balance between high quality and low development costs. A mix that is easier to obtain in Eastern countries like India, where hourly rates vary from $25 to $80, as opposed to Western countries, where hourly rates range from $100 to $350. Now, whether the app is built for $25 per hour or $350 per hour is dependent on a number of variables.
Here is the overview of the article: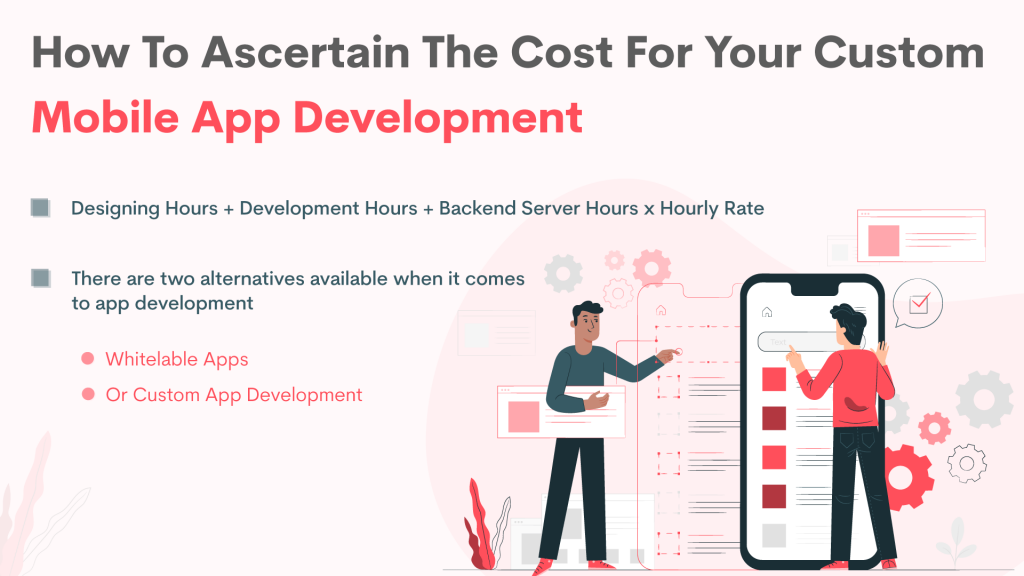 How To Ascertain The Cost For Your Custom Mobile App Development
Calculating the number of hours it will take at each stage of the production process and multiplying it by the billable hours of resources is the formula or solution to the question of how much it costs to make an app.
Designing Hours + Development Hours + Backend Server Hours x Hourly Rate
However, the cost of the app also depends on the route you take while getting your app developed.
There are two alternatives available when it comes to app development
Whitelable Apps
Or Custom App Development
White label smartphone applications are standardized technology platforms that can be personalized with the company's name, branding, and facts about your products or services. The app's functionality, activities, configuration, architecture, and other elements can be subject to your partial or complete influence. Mobile applications in this category are typically simple; you won't find an advanced, cutting-edge interface with a polished user interface in this category (UI).
The majority of white branded smartphone applications are hybrid, which means they can run on different operating systems. However, while these applications aren't designed to be overly creative, they often lack the native plugins that make a hybrid app shine. Since most white label apps are easy and intuitive to begin with, the effect on the app's usability could be negligible.
Most white label application developers "get you" when it comes to customization since they would charge exorbitant prices to customize the app. Furthermore, a white-label app will never really be yours. The creator retains ownership of the source code, leaving you unprotected. You will have no option if the creator disappeared from the face of the planet or tripled the monthly charge. You'd also miss all of the time spent curating the app's content. This is particularly important for those looking for an eCommerce app since entering an entire store's worth of items takes a considerable amount of time.
The cost of developing a white label application varies depending on the type of product. The e-commerce niche accounts for a considerable majority of white label apps, and in these situations, the application maker is likely to charge a recurring fee in addition to a share of your sales income. If your business is strictly service-oriented, you will be able to merely pay a subscription charge to keep the app going.
Expect to pay a significant up-front charge for "initial configuration," which may be perplexing given that most white label developers need clients to configure and set up the app themselves. You basically fill in the blanks with the business name, text, and goods while you use a customer portal. Some might also let you select from pre-made "skins," layouts, and color palettes.
Thus, on an average, your Whitelabel app could cost anywhere between $15,000 to $30,000 depending on your app's complexity and developers. Whereas in case of custom app development – the story is a little different. 
READY TO LAUNCH YOUR APP?
With Customized On-Demand Solutions by OyeLabs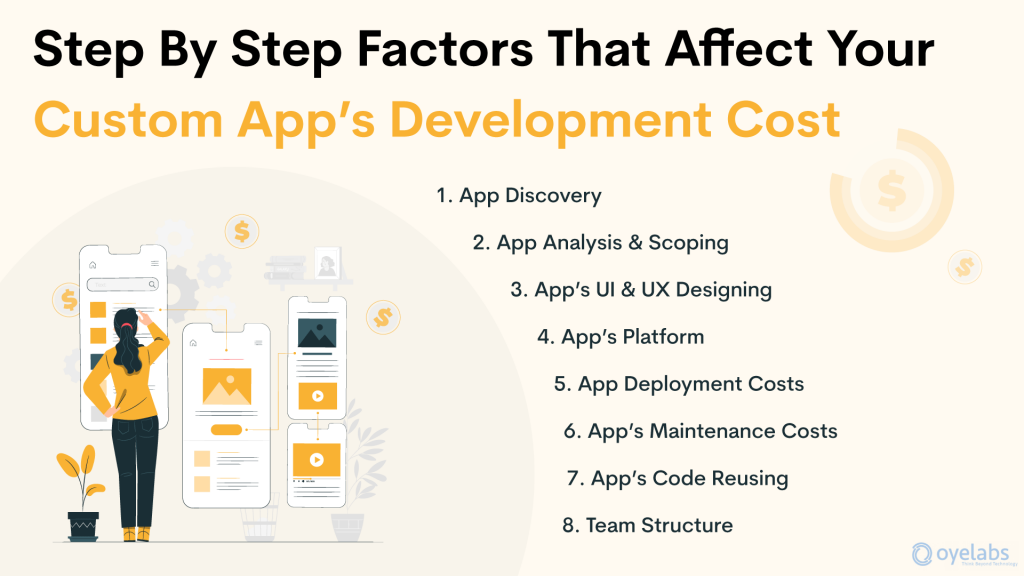 Step By Step Factors That Affect Your Custom App's Development Cost
1. App Discovery
The app concept is checked before the team begins planning for the months-long period of mobile app creation and well before the preliminary calculation is shared with the customers. App development firms employ a variety of approaches to test the concept they've been given, including looking at rivals, assessing the customer persona, and even testing the marketing capitalization.
When we're at the point of app concept validation at Oyelabs, we use the Design Sprint method to test an idea. If we've gauged the level of enthusiasm at the conclusion of the 5-day Design Sprint, we move on to the next step: researching the demand for the app concept.
At this point, we just do a few things. Including identifying the platforms on which the app's users function to reviewing the functionality they like using and leaving in applications that are similar to our client's, we've done it all. Competitor Analysis is also an important part of our Market Research methodology.
Many variables, such as app size, UI/UX, features, and consumer demographics, differ from one user profile to the next, making this research relevant in the mobile app development cost breakdown framework. In User Persona, we examine and draw this information.
In the same way, as a company's value is determined by its market cap in the corporate world, the application idea's worth is determined by its market cap. Information is collected about how much the project is worth in terms of how many customers it will draw, how much money it will raise, and also how much support it will get. The aim of the Product Discovery stage is to test an app concept before sketching out a rough list of features that will set it apart from the competition.
The time it takes to complete App Discovery is estimated to be between 40 and 80 hours.
2. App Analysis & Scoping
This is where the guide detailing what the app will do, the functionality it will use to accomplish its goals, and the technologies it will use is created.
The number of functionality used in an app is what defines its sophistication.
Simple Apps – those with minimal features and a very simple backend, usually a pre-defined prototype with basic analytic features – include standard UI components and a very simple backend.
A basic app can take anywhere from 600 to 900 hours to develop.
Mid-Complexity Apps – A Mid-Complexity App is defined by API integration, custom UI, real-time messaging, and a basic backend structure.
A middle complexity takes between 900 and 1600 hours to develop.
Complex Apps – These have a lot of features, such as custom animation, media editing, real-time sync, a dynamic backend with various types of network relationships, and so on.
For manipulating the hardware, most IoT apps need very low-level interfaces with the firmware. They do, however, need collaboration with the hardware in order for users to be able to seamlessly pull data and send commands and receive a response.
Finally, since they are computationally intensive and require special ROMs or exact device specs, they are more expensive than on-demand applications.
An app that is heavily reliant on technology, such as an IoT app, costs between $30,000 and $40,000.
3. App's UI & UX Designing
App Design is the next consideration that affects the response to the question, "How much does it cost to make an app?" User Design must be given special attention if you want your customers to spend time on your app. We usually have two choices when it comes to app design: custom and standard UI. Customized user interfaces are more complex to build and implement than standard user interfaces, making them more costly.
Wireframing, which we create with applications like Balsamiq, Photoshop, and MARVEL, is used to format the user interface map and functionality. To build a final app screen flow, the client must accept each wireframe.
The cost of building a wireframe is not included if the customer already has one.
We use Material Design to incorporate the spirit of imagination and straightforward boldness in our Mobile App Designs in all of the Android Apps that we create.
In terms of iOS app growth, we take advantage of Flat Design's transparency and depth.
Some games, such as gaming or social media apps like Snapchat, use a lot of animation. The creation and coding of animation is a time-consuming process that raises the app design expense.
The cost of app design varies depending on the factors listed above. It may be an easy one that takes 150 hours to complete or a complicated one that takes 400 hours.
4. App's Platform
The direct response to this question is the application Platform and the number of OS Versions your app can have. What does it cost to make an app?
Naitve Apps (Android & iOS)
Although there isn't much of a cost differential between Android and iOS applications, Android app costs appear to rise when many devices with different OS versions are involved, which is seldom the case with iOS. In terms of programming languages, iOS apps are written in Swift and Objective C, while Android apps are written in Java and/or Kotlin.
When opposed to native applications, Progressive Web Apps and other types of Web Apps are far more cost-effective. Web App Development Costs vary from $15,000 to $30,000 in terms of construction costs.
Cross Platform App Development
The new cost-effective trend is to get an app built for both iOS and Android at the same time. The platform offers a number of advantages, including the use of a single code base and reduced development time. Currently, the cross-platform market is split between the Flutter and React Native systems.
Flutter is a recent entrant in the industry with its own set of benefits, including a full Native experience, comprehensive metadata, and a 60 FPS game running time. However, since the application is still relatively young and Dart programmers are scarce, the cost of Flutter App Development is on the higher side.
The cost of developing a Flutter app ranges from $15,000 to $40,000.
Over time, the term "React Native" has come to mean "Cross-Platform App Development." A variety of brands have adapted the Framework in order to have a presence on both Android and iOS at the same time. React Native App Development is far less expensive than Native App Development and Flutter App Development.
The cost of developing a React Native app ranges from $15,000 to $50,000.
Hybrid apps combine the best features of both native and web apps. It is built in the same way as a native app, except it is run in a web view component.
PhoneGap, Ionic, and Sencha Touch are the three most common platforms for developing hybrid apps. Hybrid Apps, on the other hand, have lost ground to Cross-Platform Native App Growth, which is provided by React Native and Flutter.
However, since Hybrid apps are roughly half the price of Native Apps, there are still brands that want to see them created.
Blockchain-based apps are one of the most common phenomena in the world's industries. The shortage of Blockchain application experts and technicalities are the two factors that increase the overall app development hours and therefore the development rate.
When it comes to Blockchain App Development Platforms, there are two kinds: Permissioned and Public. Although there is only a small price gap between the two, Permissioned Blockchain is somewhat more expensive than the Public version, owing to the fact that it considers a higher degree of encryption.
The cost of developing a blockchain app ranges from $30,000 to $1,80,000.
5. App Deployment Costs
An app that has taken a lot of time and work to create must follow the App Store and Play Store's strict guidelines. When an app is denied and unable to proceed to the acceptance level due to non-compliance with A, B, or C requirements, we test it against the standards checklist that we have implemented at every step of the mobile application development process.
A one-time charge of $25 is required when submitting an Android app to the Play Store. Apple, on the other hand, charges $99 for a year's worth of service.
6. App's Maintenance Costs
Expenses do not, without a doubt, stop at the end of the mobile device creation process. Businesses will have to keep updating their application to keep up with industry changes and the latest smartphone and OS models, which will cost money.
Bug Fixes And App Updates
There is no such thing as a smartphone app that is bug-free. In certain instances, glitches are only discovered after the app has been released. You'll have to keep your eyes peeled for those bug fixes. Regular app updates are needed to fix any possible glitches or introduce new features or themes to engage more users.
The one aspect of a smartphone app that starts to get outdated and avoids enticing consumers is the interface. If a company wants to keep its customers engaged, it's critical that its app design doesn't get obsolete.
The cost of app maintenance is estimated on an annual basis at a rate of 20% of the total app production cost.
7. App's Code Reusing
It's one of the reasons that lowers the cost of app growth. When a company decides to reuse an existing app's code and just change the branding features, the expense of developing an app drops dramatically.
However, at Oyelabs, we encourage companies to reuse only the most popular features, such as Contact Us, Login, and so on, and to build the remainder from scratch, as maintaining a separate brand identity will become impractical.
When current protocols are used, the cost of product creation is 20-30% smaller than if the application is coded from the ground up.
8. Team Structure
The cost of creating a smartphone device varies depending on who is developing it – a freelancer or a large-cap application development firm.
A freelancer or a startup company with 5 to 10 staff will charge less to help them build their portfolio, while large-cap firms with thousands of employees to manage will rely on customers willing to invest hefty sums in the interest of mobile device growth and rollout.
The cost difference which comes because of varying team size is significant.
Apps created by large app development firms of teams of 3000+ experts cost somewhat between $450,000 and $1,500,000.
Apps created by Mid Cap App Development Companies, with a team of 500 to 1000 professionals cost between $25,000 and $2,00,000.
Whereas, apps developed by freelancers or small businesses with a team of 10 to 50 specialists cost between $2000 and $25,000 to develop.
9. Team's Location
The cost of app development is heavily influenced by the location. When you travel from the West to the East, the cost of living varies drastically. When we talk about rate fluctuations, we're concerned about per-hour costs.
North America – $100-$150
South America – $30-$50
Russia – $25-$45
Asia – $20-$40
Australia & Europe – $60-$95
Related Read: On-Demand Grocery Delivery App Cost Breakdown