How to Build an Errand Runner App | A Step-by-Step Guide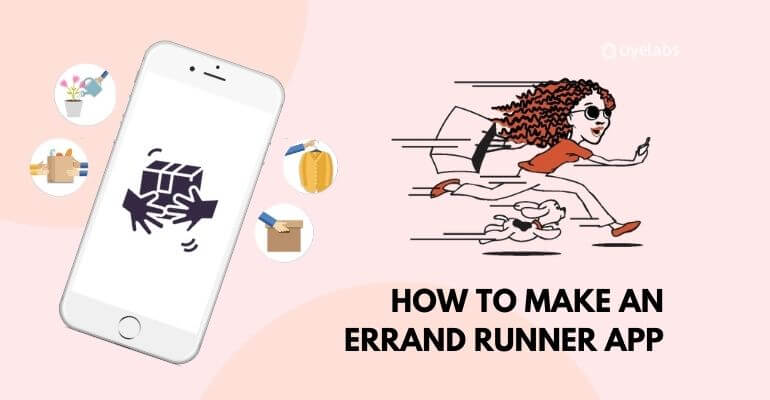 How to Build an Errand Runner App | A Step-by-Step Guide
Last Updated on May 27, 2022
Having someone always ready to finish your chores that you can't do yourself, or don't want to; that's a relief! Well, if you've ever wondered about putting on your entrepreneurial hat to provide an on-demand service that caters to an audience that wants that same experience, now might be your time to shine!
In this time of super connectivity, a lot of things that seemed impossible to most people only a few decades ago, now have become a part of our daily routine. From ordering food online, to booking a ride, taking a course online, to watching a movie or your favorite show; it's all the new normal! So, when you wonder about a service that can get help for your everyday chores, it is not at all something farfetched. There is a long list of services that do just that and provide people with assistance in their everyday tasks. 
Are you interested in bringing such a service to the market? If so, this is just the article for you!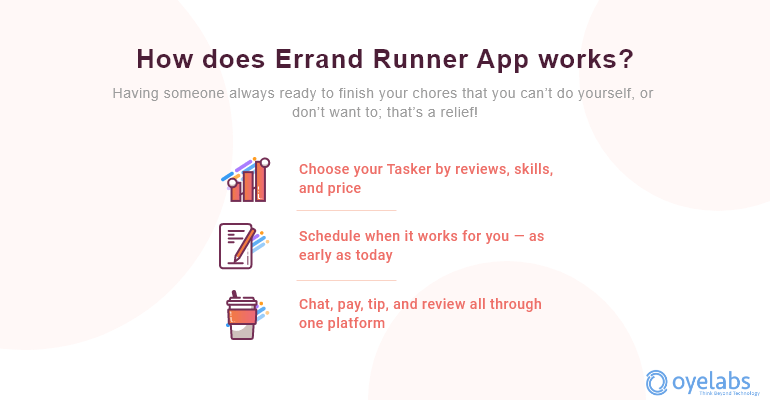 What is an Errand Running Service?
It is just what it sounds like in its title. An errand running service is a service that helps people who are looking for help with their everyday errands and connects them with the right people who can help them by doing said task. 
That is the basic idea behind an Errand running service. There are a lot of different services up and running right now that follow this premise and provide unique solutions to people. Some of these being TaskRabbit, Airtasker, Zaarly, FieldAgent, NeedTo, etc. 
TaskRabbit is a well-known name among these, and we'll try to understand this app to see how this all works, and what you need to develop your errand running service.
What's TaskRabbit?
TaskRabbit is an Online and mobile marketplace based in the United States, and it acts as a connecting platform for freelance labor and local demand. Users of the app can easily find immediate help for a variety of tasks such as cleaning, packing and moving, shopping, delivery, handyman work, and so on. 
In 2008, Leah Busque got the idea for TaskRabbit when she was occupied with something one day and didn't have time to buy Dog Food. Wishing she had someone nearby who could take care of that slowly became a concrete idea from a simple wish at a busy time. So, in 2008, TaskRabbit was launched after Leah put in her energy and resources into making that idea a reality. Initially, TaskRabbit was called "RunMyTask" and began with 100 runners in Boston, Massachusetts. 
Slowly, the market for the company spread to various cities in the US, UK, and in 2018, the company also started serving in Canada. TaskRabbit has been through a lot of changes, and as a result, has become one of the leading, if not the leading, errand running service in the areas it serves. When life throws curveballs at you, you adapt to the motion and take your shot. TaskRabbit's journey will surely give you insights into what it is like to have, and grow, an Errand Running Service. So, let's find out a little more about TaskRabbit.
TaskRabbit was founded in 2008 by Leah Busque and has generated $37.8 Million in funding to date. 

Every Task on the platform is insured up to $1000,000.

Every tasker is brought onboard with extreme care. 

Over sixty thousand Independent workers provide their services through the platform. 

Along with the US, TaskRabbit is also operational in select cities in the UK and Canada. 

IKEA acquired TaskRabbit in 2017. 
READY TO LAUNCH YOUR APP?
With Customized On-Demand Solutions by OyeLabs
Business and Revenue Model for Errand Running
To know the business model and how online errand service businesses earn money, let take an example of TaskRabbit, an errand running app. It has a simple business model that serves two segments that the platform helps. Before we get into how it works, let's find out more about the sections that TaskRabbit helps. 
TaskPosters
TaskPosters are the people who want help with their tasks, and they are the ones who post jobs on the application to recruit help from the available taskers. This segment includes –
People who want professional aid available on the platform for their tasks for a reasonable amount. 

People who want the best people for their needs regularly and quickly. 

People who want to enjoy the convenience of the online economy. 

People who need dependable aid from a platform that thoroughly checks people before bringing onboard as taskers. 
The Taskers
Taskers are the people who have signed up with the app to finish the available tasks on part-time or full- time capacity. This segment includes-
People who are out of a job and are looking for a full- time job opportunity. 

People who are interested in working odd jobs for some extra income. 

People who are professionals out of work and looking for a platform to get work that aligns their capabilities. 
To be a tasker, interested men and women can apply online through LinkedIn or Facebook. TaskRabbit will check their background thoroughly, and then the ideal candidates will be selected for a personal interview. After being shortlisted, the candidates can specify their field of expertise, skills, and interests and get on the TaskRabbit Database. Once in, people looking for help can get their info and act according to their needs. 
These are the segments that are on and benefit from the TaskRabbit platform. Now, let's see how the model works. 
How does it work?
TaskRabbit has been through some changes when it comes to its operating system. With its initial model, the process was focused more on the benefit of the task posters. They would post a job on the site, or the app and taskers would then bid to be selected by the task posters. It created a lot of complications as sometimes task posters would post a job with low prices, and they would downplay the actual amount of work. Taskers would still have to contend with the amount that they got, and they had many of the taskers feel a sense of no control in the whole process. 
TaskRabbit did make a system, but the system seemed to be failing the taskers. 
The decline in accepted and completed tasks on the platform made TaskRabbit notice the shortcomings in their model, and they made the required changes in 2014 that changed the platform's performance drastically. Here's how TaskRabbit works now.
Firstly, anyone who's looking to get a job done from a professional that's on the platform can put up the job, with their specifications. TaskRabbit suggests three contractors, and by checking their profile and hourly rates, task posters can "invite" taskers to fulfill their tasks. 

The taskers get the notification for the invite from the task posters, and within thirty minutes, they have to confirm whether they are going to do the job. Depending on their preferences and availability, taskers can choose to accept or refuse the task. 

After being picked up, the task is completed by the tasker within the required time frame, and the payment goes through the TaskRabbit Platform. 
Same Day Delivery 
Another recent change that happened to TaskRabbit is the introduction of the same-day delivery system. Now, users don't need to wait more than one day to get their job done. Many same day delivery apps have come up in recent years.
Users can post a job, and within five minutes, a tasker will pick up their task. What's more? Within ninety minutes, the tasker will finish the task. With this new step, TaskRabbit expects to win the trust of more users who need their jobs done quickly.
That is how the TaskRabbit System Works. Now, let's find out how TaskRabbit makes money. 
Errand Running Apps' Revenue Model
Again, let's take an example of Taskrabbit. TaskRabbit has a simple Revenue model. It generates revenue but charges around 15% on every successful transaction that happens on the platform. Before, TaskRabbit also provided taskforce to local businesses and billed them for taskers, but the company later discontinued this service. At the moment, TaskRabbit only charges money on successful transactions. TaskRabbit also charges a 7-5% trust and support fee, which the task posters pay.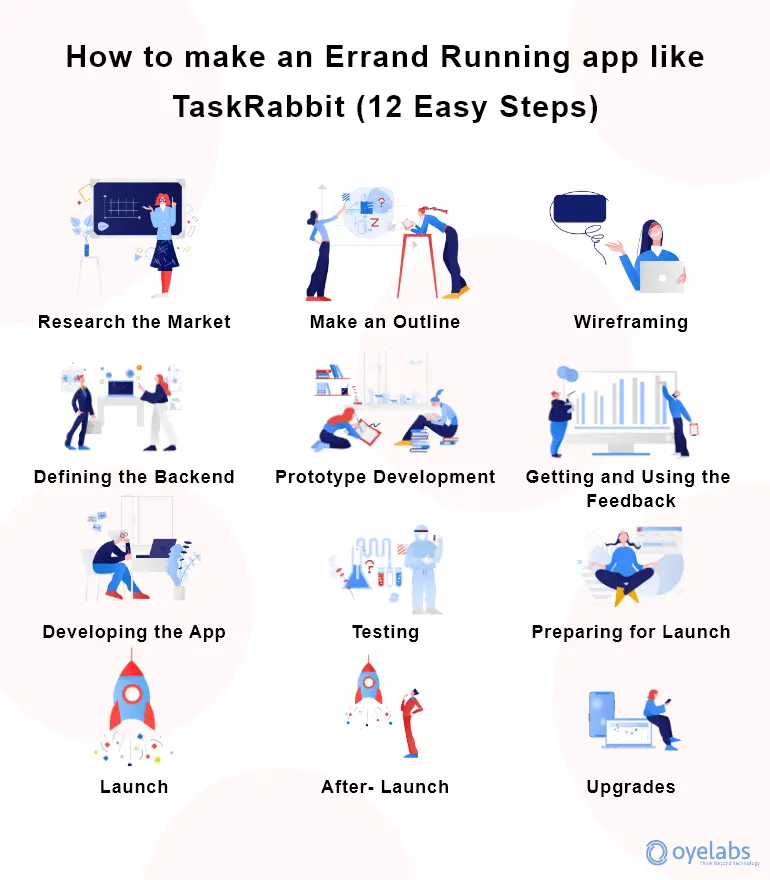 How to make an Errand Running app like TaskRabbit (12 Easy Steps)
When you're making an app like TaskRabbit, there are a couple of things that you should keep in mind to ensure you have a successful service that can truly take its place in the highly competitive on-demand economy. 
Step 1: Research the Market
First and foremost, do your research!
Just because you see a particular strain of app doing well in the market does not mean that you should immediately start developing one. It is not about what kind of app you're making. It is about the unique solution that you'll bring to the table.  If that is the need of the hour in your market, you can hope to see success with careful follow through. 
Find out more about the industry that you'll be getting into and the scope of such an app in your target market before beginning. 
Step 2: Make an Outline
Now that you're clear on the potential of your idea, you can sit down and start outlining your app. It is essential because you will need to present your vision of the app to any developers that you might hire for developing the app. This phase is an intellectual exercise as you develop the idea and refine it in detail.  You can ask yourself the crucial questions such as; what is it that you want to accomplish with the app, who is your target audience, and how is your idea better than similar apps that already exist out there. Think out the business and revenue model in as much detail as you can, and decide which platform/s you'd like to open in. 
Step 3: Wireframing
After having done the appropriate research, you can take your idea and draw the digital outline for your app with wire framing. There are a lot of online resources that can help you in doing that, such as Miro, Adobe Xd, Justinmind, and so on. This way, you can have a better design for your app, and you can see your idea in a much better light with wire framing. It is easy to figure out, and you can do it yourself if you want, or contact someone who has an idea about it.
Step 4: Defining the Backend
When you have your wireframe, you can start outlining the backend of your app, which is the support system for your app. It involves mapping out the backend structures that you'll need to support your app, such as Data Diagrams, APIs, Data Integration Servers, Push Notifications, and so on. 
It is the testing ground for your wire framing as well, and if you do get some resistance while testing, you can modify your designs accordingly to move ahead. 
Step 5: Prototype Development
Now that you have your idea and design ready, it is time to get into the ring. But you cannot go all out right at the start. First, you need to make a prototype of your design and see how the app is going to look. App development is a lengthy process, and it is unwise to waste a lot of time developing an idea that's not going to get good reception. You can make a prototype with light functionality to show to the investors, potential customers, and so on. 
Step 6: Getting and Using the Feedback
After you've made the prototype, you can show it to your friends, family, investors, potential clients, and so on, and gather feedback on various aspects of the app. Assess the criticism and praise carefully, so you can get an unbiased idea about your app. Go to people you trust with their opinions. DO NOT look for blind approval, as it can prove fatal later on. 
The point of this whole step is to make sure that the app that you're building is user- friendly, easy to navigate, and effective in providing its intended solution. 
Step 7: Developing the App
Now is the time for your developers to shine.  After finalizing the most worthy design, developers can begin the app development process. It will take a lot of time, and there are a lot of steps involved in the process. You can keep yourself informed on each step of the process, and provide your feedback whenever necessary. Look at every aspect of your app, and with your team, make an app that's user- friendly, aesthetically pleasing, easy to work with, and quick to respond. 
Step 8: Testing
After developing the app, it is wise to test it in a variety of real-life scenarios. It is your time for final touch ups to your app. If you've made a seamless app, you'll have no problems anywhere. But as that is unlikely, you'll get useful insights from this, and you can now make your app seamless and ready for launch. 
Step 9: Preparing for Launch
 Before you launch, there are a couple of things you should keep in mind. Thoroughly review the official submission checklist. Creating a landing page for your app should be handled by now. Have your social media channels ready for marketing (if you haven't started already), and be careful about the marketing content, including the text, visuals, and video. Create a press kit. Stay ready to engage in various places to plug your app, and have everything prepared before the launch date. 
Step 10: Launch
The official launch of your app is going to probably be the most exciting, as well as the most nerve-wracking experience of your development journey. But, having followed every step until now carefully, you can afford to be cautiously relaxed as your app goes live on various platforms. But, this is not the time to rest.
Now, you need to launch your marketing strategy involving blogs, Email chains, video advertising, and any other medium to get your app out there. MAKE SURE you have a neat response page where users can record their initial reactions and concerns. It is going to help you in assessing the initial response from your target audience, and if there's an aspect of the app that requires improvement, you can quickly get to it. 
Step 11: After- Launch
After the launch, you need to follow a couple of things to make sure your app stays on the right track in its journey. App store optimization is for getting your app noticed in the App store. There are so many apps in the Appstore, and ASO can help your app stand out. Keeping up with the press and spreading the word about your app is crucial. Develop ways to get more users engaged and monitor their response closely to get an idea about what's working and what's not. 
Step 12: Upgrades
Apps are a dynamic medium, and with a lot changing in the on-demand economy, you'll have to be ready to come out with regular upgrades. From the user- feedback, metrics analysis, and market trends, you can get an idea about the changes you need to implement. From the aesthetics of your app to its functionality, everything needs to be on the point at all times. Regular updates ensure that and your users also appreciate your efforts.
Tech Stack You Can Use For An Errand Running App
Application & Data: Javascript, NodeJS, React, NGINX, CloudFare, PostgreSQL, Redis,Ruby, Google Drive, Android SDK, Heroku,Dropbox, Pusher, ExpressJS, Objective-C

Utilities: Google Analytics, PayPal, Twilio, Mixpanel

Business Tools: Slack, G Suite , Skype, Zendesk and Balsamiq

DevOps: GitHub, New Relic, Crashlytics, Browser Stack, CircleCi
Conclusion 
Developing a Task- running service in today's on-demand economy does not sound like a bad idea. It is probably one of the best times to jump into the ring. However, you do have to be careful about how you go about doing that. 
First and foremost, make sure that you're providing a useful and reasonably unique solution. There's a lot of competition in the market as it is, and your unique idea can impress investors, as well as your target audience. By following a few things mentioned above, you can ensure that your errand running service is up and running in no time. We wish you good luck with your venture!
Frequently Asked Questions for building an Errand Runner App (FAQs)
Que. What are some examples of an errand runner app?
Ans. Some examples of an errand runner app are DoorDash, ShiptShopper, Eaze, TaskRabbit and PostMates among others.
Que. Who keeps the code after development?
Ans. You, being the owner of your property, get to keep the finished product in all its entirety. However, you are going to need experts on the backend and for keeping the app running smoothly.
Que. How do such apps make money?
Ans. The operation of errand service is similar to that of on-demand handyman service. Here, the errand runner charges a fee on an hourly basis and a certain percentage of it is charged as a commission by the app.