How To Build An App Like TaskRabbit In 10 Easy Steps
How To Build An App Like TaskRabbit In 10 Easy Steps
Last Updated on November 17, 2023
Taskrabbit: Introduction
TaskRabbit is an on-demand online marketplace that is meant to assist customers in finding the required services such as plumbing, carpentry, gardening, deep house cleaning, etc. It forms a bridge between customers and service providers. This is beneficial to the people who prefer a quick service over cost. It lets people outsource small jobs or tasks in the community and help them make some money too. 
People have saved 4million hours by hiring taskers through TaskRabbit in the past 10 years. The app was launched in 2008 by Leah Busch and has become one of the top home services app startups today. TaskRabbit is also recognized as an innovative website that provides them with a helping hand to get neighbors together. This app runs about 47 cities in the US, 4 cities in the UK, 1 Canadian city in this period. Yet, with its special, innovative idea of managing the small tasks, it has also made a popular mark in the on-demand economy.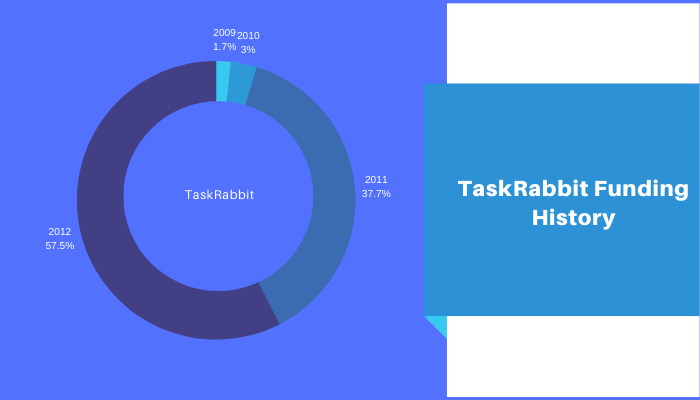 Here are some facts about the company
| Founders | Founded on | Headquarter | Total Funding Raised ($) |
| --- | --- | --- | --- |
| Leah Busque | 2008 | San Francisco, California | $1.8 million |
Segments of TaskRabbit User
1) TaskPosters
TaskPosters are the people who are willing to outsource certain jobs who can post their job requirements on this app by linking them to the skilled professionals who are eligible for support here. 
2) TaskDoers
TaskDoers are the people who are unemployed, or underemployed, or could be those who are ready to build some extra money for themselves by just signing up for the TaskRabbit app. However, to become a tasker, your background will be scrutinized, viewed and followed by a quiz and an interview. Taskers will be offered a job and they can either accept it or can neglect it as per their needs.
The network includes more than 140,000 Taskers. 70% hold a bachelor's degree, 20% hold a master's degree and 5% hold a doctorate.
TaskRabbit is present in nearly 47 US towns, 4 UK towns, 1 Canadian town (October 2018) and still counting!
Related Read: How Does Taskrabbit Work?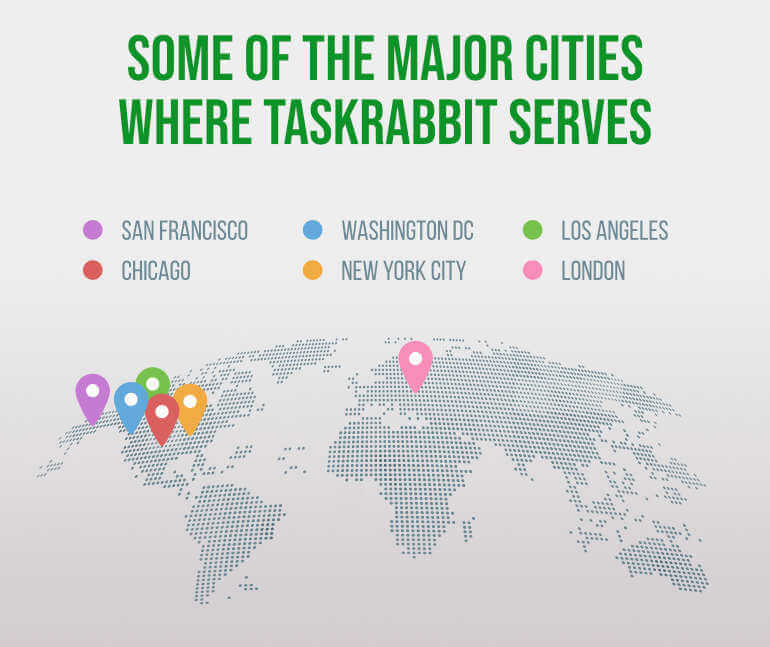 Some of the major cities where TaskRabbit serves:-
Atlanta
Austin
Boston
Chicago
Dallas
Denver
Houston
London
Los Angeles & Orange County
Miami
New York City
Philadelphia
Phoenix
Portland
San Diego
San Francisco (Bay Area)
Seattle
Washington DC
Payments
Taskers in the US earn an average of $35 / hour.
Taskers in the UK earn on average $23 / hour.
Taskers are paying $32 / hour on average in Canada.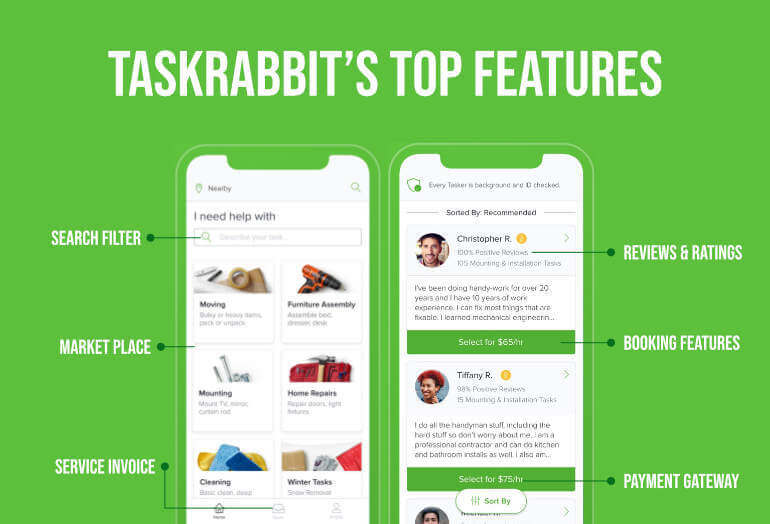 TaskRabbit's Top Features
The aim of posting this section is to provide an overview of the on-demand home service application features and functionalities. The creation of marketplace apps includes three distinct tables. One for end-users, the other for service providers, and the third for administrators.
End-User Panel
The first unique feature in your on-demand services apps such as TaskRabbit is a marketplace. You should list the services to be preferred to the users in the opening screen itself. This feature should be a forum to display all your services.
By clicking on the various categories, users will go to the specific page of the category listing all service choices.
In the booking process, evaluations and feedback received from the customer by the service providers play a very important role. Of course, the greater the ratings and favourable feedback, the higher the reservations received by a service provider.
In order to allow this, your users should be given the opportunity to leave comments and opinions on the service provider's experience.
There is no disagreement about the importance of messages in calls. In the on-demand home services, even the same importance is preserved.
Also in your application, you should be able to contact users and service providers in the in-app chat facility in real time. One thing that should be noted here is that a secure, encrypted interaction platform should be provided to them.
The functionality is ideal for end-users as well as providers of services.
End-user reservation function: users can use the function to reserve a service immediately or schedule it for later. You can also reset the service if it is not possible to do so within the time limit.
Reservation functionality for service providers: the providers can access the reservations they have made via this application. You will have the option to approve or cancel your reservation.
Your end-users should be able to monitor service providers – how far they reach the destination and where they are. This gives you a good picture of the time for your visit.
You can give users the ease to pay by offering a safe payment gateway within the application. While the options for paying for the services at home are still available to consumers, nothing stacks the convenience and ease of having a payment feature in the app.
By giving your users the ease to pay on a safe platform for their service, you give them an additional incentive to visit the app.
Automatic creation of invoices that can be forwarded/accessed at any time after the operation. When the service ends, you can send the customers the invoice for the same. You may also send an invoice to them by e-mail or by a short SMS, along with a separate section under the Orders tab.
This feature is used to help the users to access their reservations and their payments, as well as the details of who the service providers were.
The feature gives the consumer two advantages on the usability front.
You will see the past of your service and
You will easily decide which service provider to call for the service again.
You and your partners must maintain a very clear communication line. The application's support or communication section should be explicitly identified on the menu list in order to discourage stakeholders from wasting time looking for it.
This feature in the application should also include a FAQ where stakeholders can themselves, with minimal support, find answers to their questions.
You and your partners need to maintain a very direct line of communication. To prevent stakeholders from spending time searching for it, the help or contact portion of the application should be clearly listed on the menu list.
This feature in the application should also include a FAQ where stakeholders can find answers to their questions themselves, with limited help.
Search filters can be added to ensure simplicity which helps a client find the right contractor.
Freelance Service Provider Panel
Service providers or taskers shall share the background check information. The following specifics may be included in the panel.
Class Job
Hourly Tariffs
Bio of the personnel
Social security number /Registration Number
State of availability
Metro region where they are working
Invoice Service
The history of bookings
Notification
Help Support Section
In-App Chat or In-App Talk or Calling Feature
Bank Specifics making payments
Admin Panel
Both the End-User and Service Provider Panel features will turn out to be harmful if any reliable technology does not back them up. The characteristics below help to keep all parties in sync:
Dashboard admin
Service provider management
Client Management
Reports and Review
Promotional Offers
Adjust Honors and Rates
Related Read: Complete Home Services App Features List
How To Build An App Like TaskRabbit In 10 Easy Steps
Step 1- Set Your Goal
Move away from some sort of technology and get a pen and paper out there, and decide what you want to accomplish with your application.  The starting line in the word for app creation is a pen and paper, not complicated encoding and design. Ask yourself the following questions, to gain better clarity on this thing:
What exactly do you want to do with your app?
How would you make the appeal to users?
What issue can your application solve?
How does that improve people's lives?
How are you going to market your App?
Step 2 – Gain More Clarification On The Same
To make your TaskRabbit like application a success, you need to be clear about the following topics:
An app should always be built in the mind of an application's target users. Enhance an app's performance ratio by providing a specific vision of the target audience.
Your Supported Mobile Platforms
Mobile platforms and devices should be selected with respect to hardware performance, battery life, robustness and the peripherals required. Some considerations that need to be taken into consideration when choosing mobile platforms and devices include availability, user support, performance and other features.
The demand for technology is booming, as never before. To ensure this resource and generate revenue, the app developer must choose the appropriate home services business model according to the requirement. There are various revenue generation methods from mobile devices that include paid devices, separate freemium apps and in-store, ads, subscription and pay for a download. These strategies can be used to generate revenue. However, the method of the developer must be in line with the standard. Attracting the customer and investing money on the different aspects of the application is highly important for the developer.
Step 3 – Wireframing
In the world of technology, a wireframe is a glamorized storyboard of your application. This is where you take your sketch and concept idea, and add a little more clarity and functionality to the idea. That will become the basis for the creation of your apps, so it's really a crucial step. There are hundreds of wireframing websites that you can use to help put your drawings with features like click-through and icons into digital life. The trick is to find one you like and that's easy to use.
Step 4 – Define The Backend Of Your Application
You left off with your wireframe so you've got a storyboard at this stage in your app creation about how you want your app to function. Now it's time to start testing features using the storyboard.
You'll need to delineate your servers, APIs, and data diagrams using your wireframe. There are some trusted developers at Oyelabs that can give you the resources to do this with ease. And also do if it's about you. If you're not sure what this technical jargon entails, you should probably hire a good mobile app development company.
Whatever method you want to use to build your app, it is important that simple diagrams are developed, as they serve as instructions for anyone working on your project. If you are having some technical problems, revising your wireframe should represent some changes.
Step 5 – Get Your Prototype Made
Next step, a prototype is built after the solution has been established. In reality, it is the process of taking your concept and translating it into an application with some simple functions. A prototype makes it easier to sell your application to potential customers who can now see the concrete benefits rather than just imagine or read the product description. In attracting investors and collaborating with producers, and seeking licensees, it is very effective. 
You can also share with beta testers the concept app to get an idea of what needs to change to make it a good mobile app. Particularly while working on a project, ensure that you take action against unauthorized use and access to data to protect your product.
Step 6 – Check Your Model
This is where you have to call in the troops. Present your demo to friends, family, and everyone else able to make critical critiques of you. Do not waste your time on people who are going to tell you, "Oh, that's cool." Watch out for those cynics and detractors. At this point raw honesty is key.
Don't be afraid to take a peek over their shoulder while they review your prototype to see how they're doing stuff. If you have to change some of the configurations or navigation routes, do so. Keep in mind your users, and try to suit their reasoning, not yours.
With this phase, your end goal is to finalize the framework and foundation of your apps. Before you start adding functionality you need to have your app brains working to prevent confusion later in the process.
Step 7 – Release The Application
Launching an app requires that release movement be prepared, scheduled and regulated for testing and living environments. Deployment Management's main goal is to ensure the credibility of the live environment is secured and to release the correct components. Creating a basic MVP in the start with only the required features is more advisable as you can get proper feedback from customers and upgrade accordingly.
Step 8 – Capture The Metrics
Mobile apps consumers have gone up dramatically in the last decade. The need to collect reliable measurements is therefore of utmost importance. As the number of customers using mobile apps is gradually growing, it is becoming increasingly important to collect reliable metrics from these. Unfortunately, web analytics uses many of the approaches used to calculate apps.
Major metrics we should keep in mind:
Study of funnels means that users struggle to perform desirable user behaviour like in-app purchases or ad clicks
Measuring social networking means what features of your app can attract your users ' attention
A link between demographic data and consumer behaviour
Time and location monitoring gives you insights into the contexts in which your app is being used
Finally, it is important to capture the changing behaviour of your user base
Step 9 – Upgrade Your Application Over Time
After seizing the metrics, it's possible to enhance your app with improvements and unique features. A mobile app with no advanced features will lose its long-term usability. Upgrading your app with innovative features enhances its accessibility along with downloading the app. Also make sure that you keep updating your app to meet the new guidelines offered by the various platforms, don't let your apps stagnate.
These are among the steps that should be taken into account when developing the app. Using these steps, you can make an app to ensure long-term success. However, it is almost impossible to lay down the exact steps that are important for the overall success of the app.
Step 10 – Make Your Application "Right"
Although this does not come under the steps of "making" an app, making your app effective is certainly crucial. If you do not market your app well once it has been released, there is a high chance that it will be lost in the multitude of apps available in different stores. So make sure your app market is good. This is a bonus step to creating a successful mobile app, but it is highly recommended that you use it for your own benefit.
READY TO LAUNCH YOUR APP?
With Customized On-Demand Solutions by OyeLabs
Technology Stack Of TaskRabbit
Application and Data: NGINX, MySQL, Ruby, Amazon Cloudfront, Rails, CameraTag
Utilities: Google Analytics, Amazon Route 53, Mixpanel, Elasticsearch, Mandrill, Optimizely, Braintree, Looker
DevOps: New Relic, Bugsnag, Server Density, Solano CI
Business Tools: G Suite, AdRoll, SnapEngage, Mad Mimi
How Much Does It Cost To Build An App Like TaskRabbit
TaskRabbit 's estimation of the cost of creating apps would depend on a variety of factors, but the most noticeable ones are the choice of platform and the cost of designing the mobile app.
| Complexity | Features | Time Estimate |
| --- | --- | --- |
| Simple | No API integration |   |
|   | No back-end |   |
|   | Basic UI components |   |
|   | Simple features (email subscription, social login, calendar, etc.) | 400+ hours |
| Medium | Custom UI/UX features |   |
|   | Build-in payment gateway |   |
|   | API integration |   |
|   | Back-end server | 500-800 Hours |
| Complex | Multi-language support |   |
|   | 3rd-party integrations |   |
|   | Custom animations |   |
|   | Complicated back-end |   |
|   | Custom UI/UX design |   |
|   | Real-time features via database integration | 800-1500 Hours |
App development costs on the basis of developer's location
| Regions | Rates |
| --- | --- |
| India | $20 – $40 per hour |
| Australia | $100-$150 per hour |
| North America | $110 -$170 per hour |
| Western Europe | $60 – $150 per hour |
| Eastern Europe | $100-$150 per hour |
Now if you want to adopt the collection of technology and the feature lot we listed in the article to its maximum extent, the cost of developing the TaskRabbit clone app will be in the range of USD 35,000 to USD 50,000.
But what's important to remember here is that there's a way to increase or decrease this cost, mainly in platform choice and front design. When built on Native platforms, the cost of creating apps like TaskRabbit – either on an individual Android or iOS platform – will cost far more than the one created on a cross-platform system either React Native or Flutter.
The other factor which decides on costs is the design of mobile apps.
Although the method of fixing the design after completing the Design Framework and UX research process is typical for all aspects of the app, it is the form of inclusion of design elements that raises or lowers the cost of mobile app design for on-demand home services.
| FEATURE | TIME ESTIMATE |
| --- | --- |
| User Login | 20+ hours |
| Push Notification | 24+ hours |
| Navigation Bar | 40+ hours |
| GeoLocation | 24+ hours |
| In-App Messaging | 60+ hours |
| Database | 26+ hours |
The more comprehensive or creative the concept, the greater the cost of creating apps such as TaskRabbit will be. Another aspect that helps in determining the cost of creating the TaskRabbit-like app is the size of the team that will be involved in its development process.
Frequently Asked Questions for building an app like TaskRabbit (FAQs)
How To Make Similar Apps Like TaskRabbit?
To make a clone of the TaskRabbit app, the procedure to follow will need you to get in contact with mobile app development firms who understand the on-demand home service industry inside out. It will help you to completely understand the feature list and the software stack.
How Does Apps Like TaskRabbit Make Money?
There are two ways you can get back the money that you spent in making an app in the name of production costs: charging transaction fees, charging peak pricing. You could choose to gain money on your application, one of the two choices.
Que. How should I choose my development team?
A)When it comes to choosing a team for your app, you can either for an in-house team of developers and staff or, you can outsource the workforce. Assembling an in- house team that compliments your vision is a good idea but can often prove time- consuming and exhausting. Other than this, you have the option of outsourcing the work to an independent App development company, or you can contact freelancers as well.