DoorDash Pricing Model and Strategy Explained (2022)
DoorDash Pricing Model and Strategy Explained (2022)
Last Updated on May 24, 2022
DoorDash is one of the leading on-demand food delivery services that has erupted in today's scene. It is gaining momentum in today's changing economy and has generated employment opportunities, as well as made the ordering experience a lot more convenient and quicker for people. It has proved to be a smart solution, saving time and energy for consumers, and giving an extensive reach to businesses. Building an app like Doordash during this time is an amazing idea.
The internet boom has disrupted the majority of industries, and businesses have slowly embraced the online economy. It is a neat solution, but it is still very much a work in progress. 
See also: 
DoorDash is a prominent example of a technology company filling in need of the moment. The company has smartly maneuvered its way through the harsh competition and other obstacles. During the 2020 Pandemic, it has not only kept itself afloat, but it has also successfully embraced the situation and become part of the solution that's sustaining the everyday lifestyle of people in areas in which it's active. 
It will not be a surprising thing to see DoorDash doing even better in the coming time. Growing businesses that are on the same path can learn a lot from the DoorDash model, along with anyone with an entrepreneurial spirit. 
Launch Your Food Delivery App in 2 weeks
With Customized On-Demand Solutions by OyeLabs
We have DoorDash's business model earlier. In this article, we'll be discussing DoorDash pricing strategy. We'll also explore recent developments that have left a mark, as well as what the future holds for DoorDash. So, without further ado, let's get into it!
What is DoorDash?
Founded in 2013, the DoorDash is the conception of four Stanford students Tony Xu, Stanley Tang, Andy Fang, and Evan Moore. It all started when the team was helping a store owner with her technology for her business. She told them how the delivery had been a problem since she had no delivery system. In the coming days, they found the case to be true in other store owners in the Bay Area, and that sparked an idea, which culminated in the inception of Palo Alto Delivery on January 12th, 2013. In half an hour, they had their first order!
Keeping on the same track, the team initially did everything themselves, gathering data from their experience. Later in June, the name changed to DoorDash. 
Today, DoorDash is worth more than $13 Billion and is currently the largest third-party delivery service in the USA. It has plenty of big players backing it like SoftBank, SV Angel, Khosla Ventures, Charles River Ventures, Sequoia Capital, GIC, and Kleiner Perkins, to name a few. To date, DoorDash has raised more than $2.5 billion to its name. Between a myriad of controversies and legal battles, DoorDash did not slow down. In 2019, it surpassed the then market leader GrubHub to become the largest third-party delivery service in the USA.
Here are some interesting facts about DoorDash. 
DoorDash started in January 2013, with the name Palo Alto delivery. 
In March 2013, Y Combinator became the first to invest in the business with its $120, 000, in the seed funding round.
The company opened DoorDash LA in June 2014, and DoorDash Boston in September 2014.
It was in 2014 that the company included cyclists to their delivery force. 
The company introduced its first logo in November 2014, which was inspired by the Shinkansen (Japanese bullet train). 
In November 2015, DoorDash announced its partnership with KFC, a day after In N Out sued DoorDash for trademark infringement and unfair competition. Two months later, the suit got dismissed, but DoorDash agreed to stop it's In N Out deliveries. 
The company also started its services for Toronto (Canada) in November 2015. 
In June 2016, DoorDash started the Alcohol delivery services in Southern California, in a partnership with Anheuser-Busch. 
By December 2016, the company was active in 28 markets across more than 250 cities and had launched DoorDash Drive, which allowed businesses to deliver in areas outside the DoorDash marketplace. 
DoorDash started tests to integrate delivery robots into the company's operations in January 2017, after its partnership with Starship Technologies. 
In April 2017, the company partnered with zero-emission electric bike company GenZe, and in September the same year, it acquired Buying Rickshaw, the same day local delivery platform.
In the same month (September 2017), DoorDash introduced a group delivery system for its iOS and Android apps.
By April 2018, the company had partnered with Walmart and ventured into grocery delivery. 
By December 2018, DoorDash had surpassed all its competitors and was second only to GrubHub. 
The company had expanded to more than 4,000 cities and had 340,000 stores across America and Canada, as of May 2019. 
In August 2019, DoorDash had Acquired Caviar and Scooty Labs, and partnered with Mercato, an e-commerce platform. 
In 2019, DoorDash left GrubHub behind and became the most extensive third-party fool delivering service in the USA. 
On February 27, 2020, DoorDash announced that it confidentially filed to go public. 
In April 2020, it launched the Convenience category on DoorDash, which now has more than 2,500 convenience shops across more than 1,100 cities nationwide.
Let's have a look at DoorDash's current financials. 
DoorDash has raised 2.4 Billion in total funding until now. 
In the latest fundraising, the company raised $400 Million. 
Right now, DoorDash's market valuation is $16 Billion. 
As of December 2019, DoorDash's revenue is $900 Million.
DoorDash's Net income as of December 2019 is 450 Million. 
Now, let's find out how the DoorDash works its magic!
Business and Revenue Model for DoorDash
The Business Model 
DoorDash follows a Y Shaped business model, which includes three segments of the population, managed by DoorDash. What are these three segments?
Users 
These are the people placing the orders using the DoorDash app. It is basically "the customer" section that businesses want to reach, and DoorDash provides a way for these people to get to their favorite restaurants without leaving the comfort of their space. This segment comprises the following demographic. 
People who are working and don't have time to leave their offices, home working space, etc. 
People who are too tired to go out, or don't like to go out much. 
People who need quick delivery from their favorite restaurant but which does not deliver. 
Those who do not have the space to cook, or don't know how to cook are also part of the DoorDash consumer section. 
People who are on a lookout for a desirable offer from restaurants or the app. 
It's anyone who is not able or willing to go out and get the order themselves. The customers look up their desired food places on the app, place their orders, and pay. Users can see the progress of their orders in real-time. To make the service more desirable to this section of their model, DoorDash has plenty of convenient features in the app. 
The app lets users know what's popular in what restaurant, and users can choose directly from these items if they don't have anything particular in mind. 
If you want a planned delivery, you can schedule it beforehand using the app as well. 
If you use the app frequently, it remembers your preferences and suggests orders that you might like to try next. 
You can see the progress of your order live, thanks to the live tracking feature in the app. 
The app lets users rate the food and delivery, as well as the delivery personnel separately to express their whole experience better. 
If there's an issue with the app, delivery, or any other aspect of the whole experience, users can also contact the twenty-four-seven customer care that DoorDash provides to its customers. 
Businesses
DoorDash has proved to be a blessing for establishments all over the country, notably smaller food places that don't have a lot of means to reach users who are far away from where they serve. Here are the main characteristics of this segment of the structure. 
Food Places that don't have their delivery system. 
Food Places who want to tap into the on-demand food delivery user base. 
Food Places that want the marketing boost from the app. 
Food Places that don't have enough space to host their customers. 
Now, there's another crucial part of this equation. Let's discuss that. 
The Dashers 
These are the individuals who pick up and drop off the orders from the businesses to the consumers. It is the delivery force of DoorDash, who work hard, especially in today's environment, to give the best experience to the users, without compromising the reputation of the businesses associated with DoorDash. This segment includes- 
People who are looking for full- time employment as a delivery person. 
People who are looking for flexible job hours. 
People who are looking for a side job. 
People who want to work for added incentives that come with a job like, added incentives, tips from the users, along with what they make. 
These are the various segments of DoorDash. 
How it all comes together
First, users place the order from the extensive options they have on the app. Users can see the progress of their orders in real-time. 
After having placed the order, users need to pay before their order is confirmed. That order now goes to the concerned restaurant, where the process starts. 
After it is prepared and packed, a dasher picks it up from the restaurant and takes it to its destination. 
After the delivery, users have the option to rate the food and delivery, as well as the delivery personnel. If a user likes the effort of a dasher, they can pay them a tip of their liking. 
If you're wondering how DoorDash makes money in all this, we're coming to that now!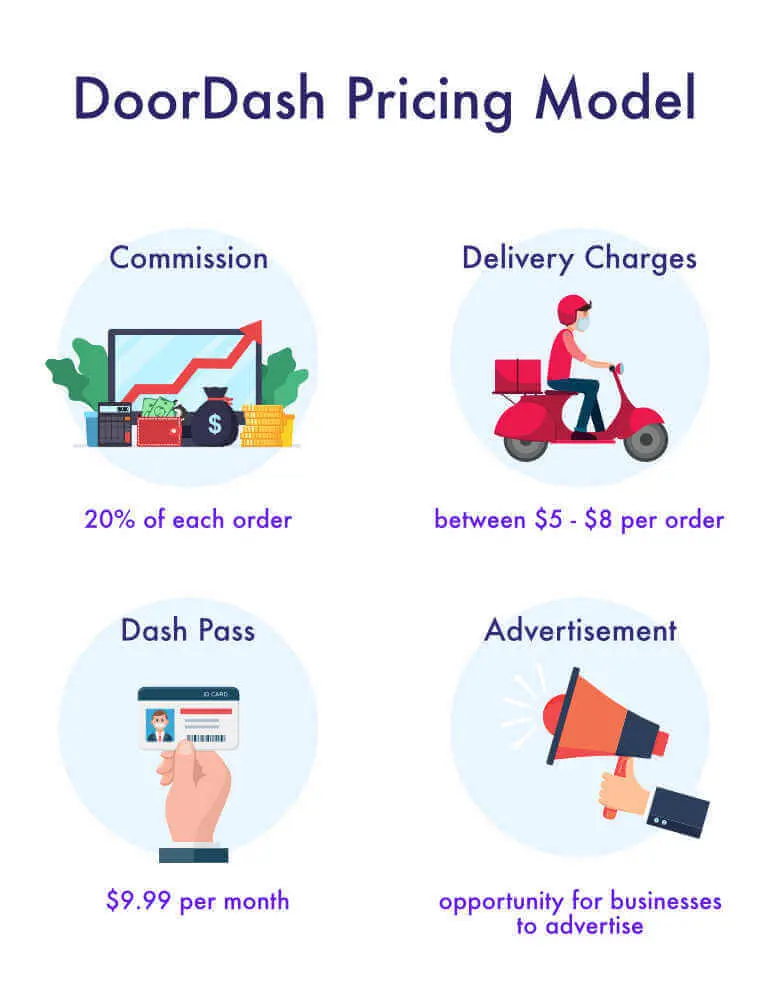 Doordash Pricing Model
Every successful business has a revenue model that works for them. That certainly seems to be the case with DoorDash. Here's how the company earns its keeps. 
Delivery Charges
DoorDash provides its delivery personnel, and technical support to the whole operation, among other things, and they charge the customers delivery and service fees to compensate for these offerings. The delivery fee for each order can range from $5 to $8, whereas the service fee depends on the order subtotal. Service charges are there to compensate for a variety of costs, including marketing, payment processing, technology development, and so on. 
Commission from the Businesses 
To connect food places with customers, and for providing delivery support, DoorDash charges a commission from the businesses. This commission is about twenty percent of each order. The Restaurants have a lot to gain from this small investment, as they get to tap into the changing on-demand economy at minimum risk to their own business. They get an online customer base, and also a dedicated delivery structure at their disposal at all times. 
Advertising  Services
Along with charging Restaurants commission on orders, DoorDash also earns by providing businesses an opportunity to advertise themselves on the platform. It is convenient for Restaurant owners as their marketing needs are handled by DorDash, further increasing their sales. At the same time, it generates revenue for DoorDash as well. 
DashPass
DoorDash also offers its subscription service DashPass. Using Dash Pass, users can save a lot of money on delivery and service fees. People who use DoorDash frequently find it convenient to have the pass, and that gives DoorDash another revenue stream.
It costs users $9.99 every month, and according to DoorDash, it can save them $4-5 on each order. Customers who have the Dash pass don't need to pay delivery charges on orders that are above $12, and they pay considerably low service charges. However, not every restaurant is part of this offer. 
Launch Your Food Delivery App in 2 weeks
With Customized On-Demand Solutions by OyeLabs
After getting a better understanding of DoorDash's business and revenue model, let's move on to the pricing strategy of DoorDash, and bring that to a better light. Let's begin!
The Pricing Strategy of DoorDash
When it comes to the pricing of items on DoorDash, it depends on a variety of factors. What a customer has to pay depends on factors that are subject to change. But still, there's a general path that each transaction follows, as we've discussed earlier. Here, we'll discuss these various factors, and will determine, exactly how the subtotal comes to what you pay. 
The total cost of an order from Doordash includes- 
The price of the items available on the menus that are on DoorDash, along with the taxes.
Then there is the delivery fee that is there for the delivery of a particular order. 
There's also a service fee that is charged, depending on the restaurant. 
If the user wants to pay an additional tip to the dasher, that's also an added cost. 
If you have a smaller order (less than $10), you might incur a $2 charge. 
These are the costs that comprise the final subtotal. These costs, however, keep changing, based on factors such as these. 
Restaurant
Depending on the Restaurant that you're ordering from, the cost of the order can change. Every restaurant can set their own prices, but they are encouraged to keep consistent pricing for users. 
Distance 
The cost of delivery also depends on the distance that is between a particular customer's home, and the place of order. When calculating the final charges, this factor also comes into play. 
Demand
On certain occasions, the demand can go high, and therefore, charges like service charges can also go high. It is the restaurant's choice to decide what sort of service charges they're going to apply. 
These, among others, are the most noteworthy factors that can affect the total cost. 
Now, there are certain ways users benefit from DoorDash, such as these. 
If a user has any coupon or promo code, they can apply that to the order of their choosing (if applicable), and they can get a better deal. It's a great way to save money. 
Then, there's the DashPass. It is the DoorDash subscription which enables users to save on delivery charges on any order over $12. The services charges are also considerably lowered thanks to this pass. Users can get the subscription for $9.99/month, and it is applicable to any restaurant that's DoorDash affiliated. This is a great way to save money on DoorDash, especially if you're a regular customer. 
This is the gist of how pricing on DoorDash works. The breakdown of each cost is shown on the checkout screen. You can also see all this on the receipt. 
The future for DoorDash
DoorDash has made a lot of bold moves as it has moved since its inception. In recent years though, the company has expertly maneuvered through the hurdles in its way. Its focus seems to be on achieving longevity in the Industry. Whether it's the opening of its online convenience store, or its entry into the on-demand grocery delivery section, DoorDash has proved that it is here to grow. Not only that, but the efforts of the company for supporting local businesses and communities also shows its commitment towards the different people and communities it serves. DoorDash has proved, repeatedly, over the years that it does not shy away from taking a step back when it's time. For instance, after getting a backlash for the tip management for drivers, the company recently decided to give the tips directly to the drivers. 
What future holds for DoorDash and businesses like DoorDash seems to be uncertain for now, but DoorDash has proved its worth during this strange time of 2020. 
Conclusion
There are a lot of similar businesses in the market at the moment, but DoorDash seems entirely focused on building its roots, all the while growing its branches. That analogy seems to make sense when you look at its efforts for the local communities, as well as its growth in new directions. DoorDash certainly is on a roll at the moment, but let's see what the future holds for this online food delivery giant.
Frequently Asked Questions For Doordash Pricing Model (FAQs)
Q1) How do apps like doordash make money?
A1) Apps like doordash make money mainly through the following methods:
Premium Subscription
Delivery Fee
Commission from Partner sellers
Q2) How do I find the most suitable developers for my app?
A2) To find the most suitable developers you can start by searching for experienced developers in your locality or can contact developers online who have a good track record and who understand your vision. You can discuss your idea with them and get a quote.
Q3) How can I develop an app like Doordash?
A3) To develop an app like doordash ,first you need to get in touch with a mobile app development firm that has knowledge about the on demand apps market and who can help you understand the required features and software stack.