Instacart Pricing Model and Strategy (Explained in Details)
Instacart Pricing Model and Strategy (Explained in Details)
Last Updated on November 3, 2023
Introduction To On-Demand Delivery Segment
On-Demand delivery isn't a novel concept. It has been in the market for a few years now.  It means exactly what it says- Delivery on demand. 
You receive your order in just a few hours, which means it is beneficial for both – the consumers and the businesses. The consumers get their items on time, with refreshing offers, and an extended set of variety; whereas the businesses can expand their reach,  and keep up with the dynamic nature of the market.
Consumers are of two kinds – The Economical Buyers and The Comfort Buyers.
The Economical buyers seek items that suit their budget, they are attracted to the lowest prices, best deals, or discounts. The Comfort Buyers wish to receive their products as soon as possible. They'll search for the product online, find the closest store that has it, and then go buy that. On-Demand delivery is an additional advantage for such buyers. It is not just convenient but fast too. Online shopping offers the economical buyer an opportunity to be able to look out for the best deals and incentives. 
See also:
On-demand delivery is pulling both the economical and comfort buyers towards a single new class of shoppers.
How On-Demand Delivery Affects Businesses Around The Globe?
According to the Harvard Business Review, more than 22.4 million consumers spent more than $57.6 billion on on-demand services. It includes spending about $36 billion on on-demand businesses, $5.6 billion on cab services, and $4.6 billion on food/grocery and retail services annually.
As per another report, 51 percent of the people providing online services in the on-demand market have seen their financial status increase, while 64 percent are looking for a change in the future.
READY TO LAUNCH YOUR APP?
With Customized On-Demand Solutions by OyeLabs
Customers expect versatility, personalization, and responsiveness. And honestly, not every business has a choice to decide whether or not to indulge in on-demand delivery. The ball is already in your court. Walmart started doing home delivery and Target needs to do something about it now.
Business owners must think about personalizing the consumer experience. What is unique about your business? What is unique about your businesses' online experience? What is your specialization and how are you going to integrate that with the on-demand segment?
As coronavirus continues to propagate into the lives of U.S. citizens, a lot of people have not been able to go out and shop for the most basic necessities. They aren't willing to risk their own or anybody else's life. And that clearly means a complete dependency on delivery services. 
Instacart is one of the biggest, most commonly available grocery delivery services, and we figured it would be a perfect idea to look at how it operates and find out all the important things people might care about and know.
What Is Instacart?
Instacart was introduced to the market in 2012. This is one of the most recent technological advancements that rocked the market through Instacart's business model. Considered a pioneer in the on-demand market, Instacart has earned substantial funds to grow its grocery delivery throughout the United States. Instacart is a well-known name amongst the United States' audience. It is one of the biggest, most readily accessible grocery services. Instacart has partnered with most retailers, local shop owners, and big stores such as Costco and BJ's Wholesale.
Instacart is like an Uber for grocery delivery.
You can shop online from your registered local grocery store. It then sends a 'personal shopper' to buy and deliver you your listed items, the same day. Instacart doesn't own a massive warehouse, instead, the shoppers shop at other registered local grocery stores in your area. 
Most of its shoppers work part-time, they'll pick up everything on the list and then drive that to you in their own conveyance. Amidst the whole Coronavirus pandemic, the company is facing challenges to meet the high demand for grocery delivery. And therefore, on April 8, Instacart launched its two new features to speed the deliveries. Fast & Flexible and Order Ahead. (We'll discuss them later in the blog)
How Instacart works?
Instacart helps shoppers to shop in nearby grocery stores with a mobile app or their website, creating a virtual shopping cart that would be completed by a "personal hopper" on the selected day. Normally, Instacart delivers within a five-hour span on the same day to consumers who need delivery earlier rather than later.  
Shoppers can buy the listed items from their choice of store and deliver the orders on the scheduled dates. Instacart doesn't run a grocery story of its own and therefore if any of the listed items aren't available, it'll work with them to find the replacements.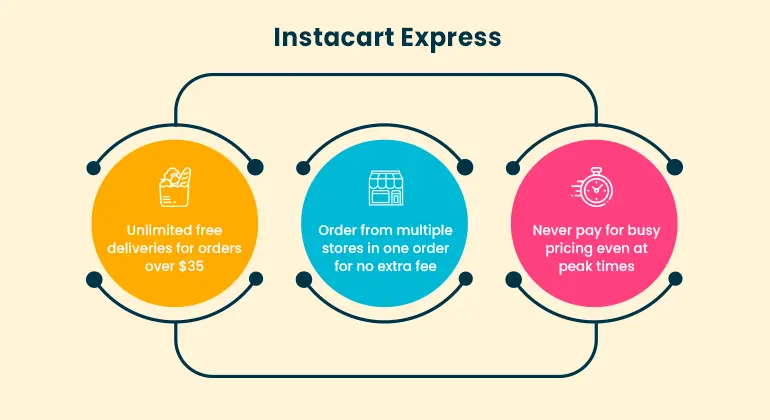 Instacart Revenue Model Explained?
Any order shipped by Instacart that is over $35 is subject to a regular shipping rate of $3.99 for planned or 2-hour shipping and $5.99 for 1-hour delivery.
Orders under $35 are charged at $7.99 for regular or 2-hour delivery and $9.99 for 1-hour delivery.
You can buy Instacart's annual membership called 'Instacart Express' for $99. The members receive free deliveries for the whole year with a few terms and conditions.
The revenue generated from the mark-up prices helps Instacart pay their shoppers. For instance, some stores sell their products on the app at the same price as their in-store prices. But a few of them have a mark-up of 15% or more from their in-store prices. 
Instacart's pricing and revenue structure have evolved a lot since its launch in 2012. For starters, in 2013, Instacart did not disclose it's grocery sources. As per a report, in 2014, Instacart was found to have slightly higher prices than most online supermarket providers.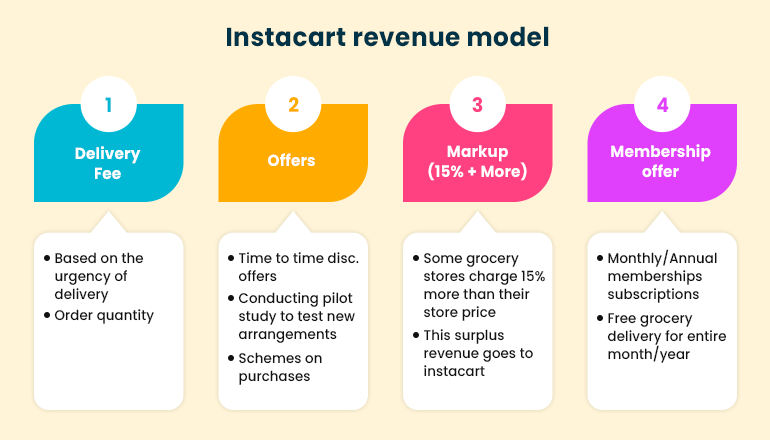 The Revenue sources of the company include:
Delivery Charges

Premium membership fee for 'Instacart Express' 

Markup on retailers' local store prices

Commission from partner fees
READY TO LAUNCH YOUR APP?
With Customized On-Demand Solutions by OyeLabs
What is Instacart's pricing strategy?
Instacart was named "America's Most Promising Company" in 2015, according to a report by Forbes Magazine. It received a $220 million investment and was valued at $2 billion. Instacart follows a sharing economy-based business model as we mentioned in our previous blog, to connect consumers with their personal shoppers. Due to these reasons, Instacart got launched in other cities in just 2 weeks. 
Instacart grew rapidly. In 3.5 years, it turned into a company with 300+ employees, partnerships with over 100+ retail stores, and thousands of shoppers across 18 cities in the US, which included San Francisco, Boston, Los Angeles, Seattle, Chicago, and New York. Although they did not openly announce sales, it is possible that Instacart became the fastest-growing online grocery app in the US over the last 24 months on the basis of new local business entry alone.
In December 2015, Instacart revealed price changes in a blog post. 
2 hour delivery window: from $3.99 to $5.99 (50% increase)

1 hour delivery window: from $5.99 to $7.99 (33% increase)

Instacart Express membership fee: from $99/yr to 149/yr (51% increase)
Instacart Mark-up V.S. In-store prices
As per Instacart's website, the prices of some grocery items differ from the usual in-store prices. For some retail partners such as Whole Foods, the prices are the same. But for stores like Costco, Instacart has a 15%+ markup. According to Instacart "the average price of items on Instacart is 15% higher or more compared to the average price of that retailer in your local area." 
Instacart V.S. Online Grocery Market
The competition is high. It is evolving. The demand for online food and grocery stores is increasing. This global pandemic has ignited the whole competition. We have tried to cover a few points on how Instacart can improve their services to further enhance consumer satisfaction:
Shoppers prefer Instacart because of the comfort it offers. Instacart has to reassure shoppers that the quality of support they offer is worth the price that they spend. Instacart claims to have collaborated with more than 100 merchants and work in more than 18 markets. They need to continue to scale but also keep up with customer expectations by offering exceptional services.
Support Additional Grocery Stores
Shopping grocery online is easy because it saves consumers the time they would personally drive long distances to get to their local grocery store. Instacart can provide value by further increasing the range of grocery stores and expanding their services.
Although Instacart does not aspire to be a market leader, offering pricing consistency and transparency can contribute to consumer loyalty and satisfaction. An overview of Instacart's alleged deceptiveness in its demand markups was released in 2014, and an article in the New York Times accused Instacart of covering additional costs. Instacart could further improve its customer loyalty by relying further on pricing consistency, meaning that consumers could have more trust in the usage of the app.
Attune Online and In-store stock availability
As per the current model, when an item is not in stock, Instacart's personal shoppers can replace it with a substitute item or provide a refund when no substitutions are found.
However, this can deter consumers if the requested item is an unsatisfactory replacement or the personal shopper struggles to find a similar one. Minimizing product inventory problems, possibly by synchronizing the online stock availability with the real in-store stock availability, may greatly distinguish Instacart from other online grocery shopping services.
How much does Instacart cost for its consumers?
Instacart helps you to place orders for grocery delivery even if you are not a member of one of its memberships, like Instacart Express, which is available at $99 a year or $9.99 a month. Shopping without membership often results in higher delivery and service charges per order, which may vary depending on the subtotal of your order and how quickly you need your grocery deliveries.
More about Instacart Stores…
Instacart promises speed deliveries. Depending on where you live, Instacart will deliver you your requested grocery items in no time. Not just local grocery stores, small and medium-size liquor stores or gourmet butchers can partner with the app and deliver goods through personal shoppers. Big names such as Food Lion, Publix, Kroger, Aldi, Wegmans, Giant supermarkets, Harris Teeter, and Safeway have partnered with the app and are serving its customers satisfactorily. Customers can seamlessly place their orders in 5,500 cities across the United States, offering more than half of the grocery stores throughout Canada and the U.S.
Instacart collaborates with membership-only stores as well. Such stores offer bulk items, such as BJ's Wholesale, Sam's Club and Costco. If there's a Costco in your region, you will be able to shop at Costco via Instacart without any membership. 
The company just added two new features to make it easier to shop: 
Fast and Flexible and Order Ahead
Instacart introduces two big changes-
With this new feature, customers need not check for delivery windows. They can place their order right away and have it delivered by the first available shopper. Customers don't need to schedule their orders for a specific delivery window. When you choose the Fast & Flexible option, you can see the approximate shipping date and will be alerted when your order is picked up by your personal shopper and ready for delivery.
As per the company's testing of this new feature, Fast & Flexible expanded the available delivery windows by 50%. It also improved and increased the delivery time, with 85% of all Fast & Flexible orders arriving during the earlier portion of the expected delivery period.
Instacart is introducing new buying solutions aimed at opening further delivery slots in the light of a rise in demand for its online grocery service due to the outbreak of COVID-19. The company is adding new features, to help move the lower-priority orders to the schedule. That, in effect, helps Instacart shoppers to concentrate more on consumers with more pressing needs while also ensuring time slots for those in less hurry.
The Fast & Flexible feature is valid on all orders except those including alcohol sales, due to laws in some states that restrict the time during which beverages can be ordered.
Amidst the whole coronavirus chaos, many consumers faced difficulty while placing their orders. Instacart announced the launch of the above-mentioned features, to deal specifically with the growing demand for grocery delivery. It needed to boost the speed of their services and open up more delivery windows for their customers. 
Because of the nation-wide lockdown, people were more inclined towards ordering everything online instead of stepping out of their houses. And this resulted in non-availability of time slots. According to some resources, Instacart saw a surge by 300% in the volume of orders placed year-over-year since people were unwilling to step out of their homes themselves. And also the Instacart's personal shoppers, the ones already working part time were concerned about the safety measures amidst the whole COVID crisis. They even went on a strike recently to improve the conditions. 
Surrounded by heavy demand, the Fast & Flexible feature will allow Instacart to manage deliveries keeping in mind their customers.
What else?
The other new feature is an extended "Order-Ahead" option, that allows customers to schedule their order for up to two weeks in advance, instead of only one, as before. "This new functionality allows customers to build their digital cart well in advance of when they need their groceries or goods," the company states. For instance, this will be beneficial for people who plan their meals and place a large order in accordance to their payday. 
As per some resources, Instacart's community has grown from 200,000 – 350,000 active users. The increase in the number of new customers has also contributed to a number of problems with online shopping for groceries. Many customers tried to add heavy tips in advance in order to get a shopper to grab their order first. This system hack called 'tip baiting' led to chaos. The shoppers can see tips before claiming any order and so the customers started adding larger tips only to bring those down to a smaller amount after the order got delivered. 
Apoorva Mehta, Instacart's founder and CEO, said that the company saw customer demands rising. The customers have been ordering more than ever from the past few weeks. "The launches of Fast & Flexible and Order Ahead allow us to speed up our delivery service for customers and ultimately offer more flexibility based on how people are shopping right now," he says.
Instacart During the Coronavirus
COVID-19 has not impacted operations, but Instacart officials say there are a few things the customers can do to help find available delivery time slots amid the latest coronavirus pandemic.
Despite public health authorities now urging people to keep out of grocery stores for the next two weeks whenever they can, many of us are searching for options to shop from  grocery stores without leaving our houses. Other than that, Instacart also added a no-contact, "Leave My Door Delivery," which allows shoppers to place the order at their customer's doorstep within a designated period instead of getting an in-person hand-off. 
Because of the current situation, their website states: "We are currently experiencing higher chat and call volumes. To avoid longer wait times, please try searching our help center." 
How Much Does it Cost to get groceries delivered by Instacart?
Your first purchase is free. It doesn't include any delivery charges. It is not necessary to be a member to shop with Instacart. Nevertheless, if you sign up for "Instacart Express" you can avail free deliveries on orders above $35. The membership for the same starts at $99 for a year or $9.99 for a month. To avail same-day deliveries, the non-express members need to pay $3.99 for orders above $35.
Instacart does not decide or set the prices. The price of the items depends on the individual stores. As per the given data, customers usually have to pay a little more than the actual price. Although the customers can take advantage of the in-app offers or discounts available on the store of their choice.
Tips are highly appreciated. The shoppers do their job risking their lives in between the whole COVID-19 crisis. It is but natural that they're working and providing their customers with all the necessary items because they need money. Make sure you tip well.
Is Instacart delivering during the global pandemic?
As per a statement issued by Good Housekeeping, Instacart is delivering all the requested products despite the Coronavirus chaos. In addition to that, Instacart added almost 250,000+ shoppers to keep up with consumer demands and run the company's "one-hour and same-day delivery". 
Instacart launched a range of new initiatives, including extended COVID-19 sick leave and incentives for all part-time workers and full-service shoppers, and in-app check-ins for shoppers in need of health and safety packages. In order to help secure shoppers and consumers, it required shoppers to place orders outside rather than conventional face-to-face delivery.
The Pros and Cons of Ordering through Instacart
Pros
Convenient. For people who're sick or have little kids and are not able to go out and shop.

Multiple options to choose from.

Choose from a variety of grocery stores.

Order from Costco, without a membership!

The shoppers are in direct communication with the customers, and therefore the whole ordering process becomes smooth.
Cons
The prices may vary. They may be a little more expensive than the actual in-store prices. 

The mark-ups may vary from store to store and therefore, some items are more expensive than the rest.

Instacart doesn't accept/follow any store coupons, discounts, or offers.
Conclusion
In the next coming years, we'll see a smaller number of customers in retail shops since almost everyone will start shopping for everything online. Improved delivery systems such as drones and robust logistics would contribute to the development of online grocery shopping. This is the perfect time for anyone to start their own online venture by using a ready-to-run solution. 
Frequently Asked Questions On InstaCart Pricing Model (FAQs)
Que. How much does it cost to build an app like InstaCart?
Ans. To create a custom app like Instacart, the budget is around $25,000 to $40,000. The cost might vary depending on your feature requirements. A readymade grocery app may cost you approximately $10,000.
Que. Does InstaCart offer same day delivery?
Ans. Instacart offers same-day delivery for customers who need groceries. Normally, a few-hours window is offered to these customers
Que. Does OyeLabs offer a readymade grocery app?
Ans. Yes, Oyelabs does offer a readymade grocery app solution to clients looking for a quick grocery app launch. Apart from buying a ready-made solution, you can opt for Subscription based SaaS product development, GoodGrocers, where you pay a monthly fee to take your grocery business online. You can get in touch with us for more information.
We at OyeLabs, offer solutions that are going to be the best fit for your business. Planning to start your own Instacart? Call us. Now.