How TaskRabbit Works: Business & Revenue Model Explained
How TaskRabbit Works: Business & Revenue Model Explained
Last Updated on May 24, 2022
Get Household Work Done Easily With TaskRabbit: Business Model And Revenue Model
We live in a world of abundance where we need new stuff almost every day. We also have the means to get all that we want. When somebody wants something done or needs to buy something, our minds ask us whether there is an app that can do that task for us. This is how the changing times have affected us. We want everything that the world has to offer and we don't even want to lift a finger in order to get that.
It would seem impossible to get things done without having to move from your seat, but I guess that's the power of on-demand. It has made doing tasks easier and can also make humans lazier at the same time. It has made people realize the importance of time and it has also made them open up to the idea of paying someone else money to do stuff for them and investing that time towards more profitable ventures. 
The online home services market size is forecasted to grow by USD 4.75 billion from 2021 to 2026 with the market's growth momentum accelerating at a CAGR of 60.77% according to reports published by Technavio.
See also:
One app that helps people with routine work around the household is TaskRabbit. TaskRabbit is an app that was founded in the year 2008 to help people with their routine household tasks. It handles jobs that are home related and deals with moving furniture, home repair, handyman, and other errands around the house. It is an easy way to pay someone more qualified and stronger than you to do tasks around the house. It offers the benefit of finding a skilled and trusted person; generally, a professional to help you with your household tasks at a cheap cost.
TaskRabbit connects you to freelancers and agencies dealing in household jobs. It is a great way to generate demand for these companies and freelancers and at the same place create a marketplace for its customers. The entire premise behind the app is for its customers to post tasks that they want to get done and then select a tasker from the pool of freelancers they see near their location. You can additionally check the pricing of these freelancers, their rating, and expertise to make a better selection. TaskRabbit is a great app for the on-demand utility business.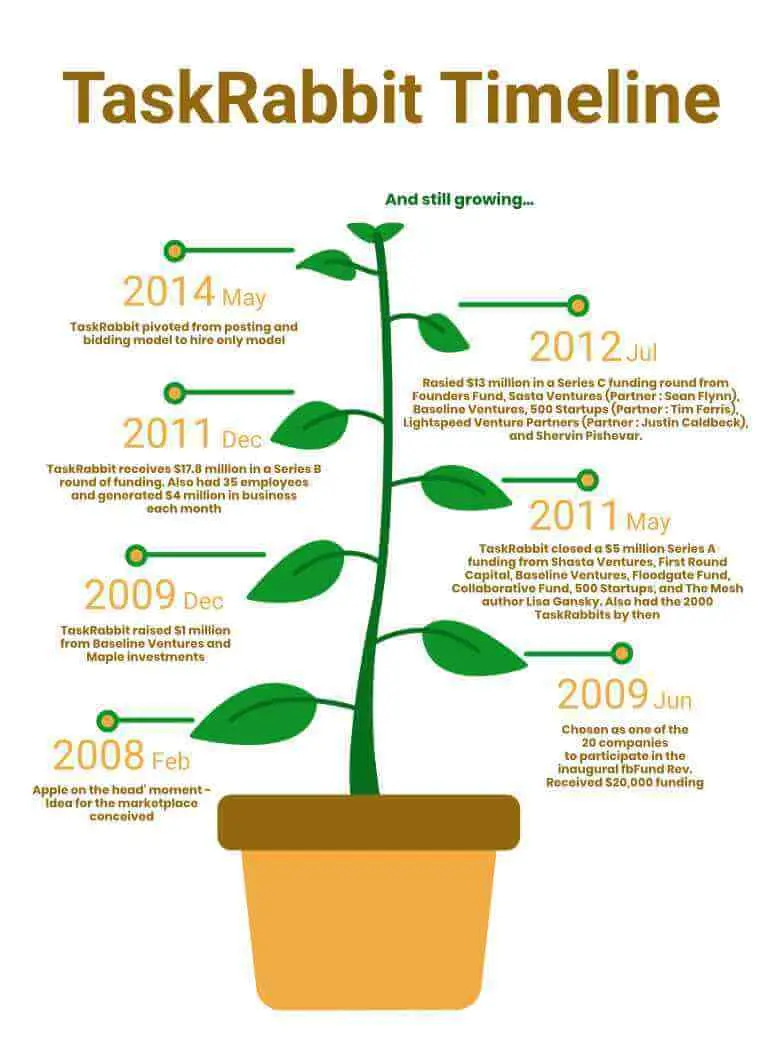 About TaskRabbit
The app was introduced in the year 2008 and was made available in Apple devices. Although the app saw some tough times in its initial years because of the mindset of its consumers, it soon gained popularity. By the year 2011, the company had received funding and that's when it actually took off. As per 2019 reports, the app generated around $5.7 million in revenues and gathered funding of $37.8 million till then. In an attempt to grow further, the app was acquired by IKEA in the year 2017. By 2020 the app became so popular that it had more than 140,000 taskers and more than 60% of these were millennials. This itself shows that there is scope for a future in this business, as millennials are starting to look at apps like TaskRabbit as a source of income. 
Here are some stats about the company
| Founders | Founded on | Headquarter | Total Funding Raised ($) |
| --- | --- | --- | --- |
| Leah Busque | 2008 | San Francisco, California | $1.8 million |
There are multiple tasks you can perform on the app, these fall under the following category- cleaning, furniture assemble, shifting, handyman, repairing, etc. It is a great way to get work done because you get connected to people in your vicinity, which means speedy completion of work. 
Features Of The App
Every on-demand app needs to have certain features in order to satisfy its customers. These features are what differentiates the app from the herd and help the company create a name for itself among the plethora of competition in the market. Some features of TaskRabbit that help it differentiate itself include:
Availability to choose a category- TaskRabbit allows its customers to choose a category of tasks they need to get done. This filter helps the app narrow down its search and show the best results to its customer.

Creation of a marketplace- With its efforts, TaskRabbit has been able to create a marketplace filled with freelancers, companies, and agencies. This workforce abundance is what the whole system depends on. If there aren't enough tasks willing to do work, customers won't be satisfied and hence they won't post their tasks in the future. 

Well, thought-off design- The customers open the app and see a screen where they can choose the category, this leads to a detailed category page which allows customers to fill in complete details and then go on to compare all freelancers available in their area.

Push notifications- These make sure that the users are engaged in the app. Push notifications are available for both taskers and task posters.

Booking history- This feature allows customers to check previous service bookings and take a look at the reviews, payments, etc.

Geo feature- This feature allows the customers to see how far the tasker is and how long they will take to reach.

In-app chat- Before selecting a tasker, customers can chat with them to discuss the details of work as well as the pricing. This helps in ensuring that there are no problems while doing the actual task.

Online payment- TaskRabbit also allows customers to make direct online payments.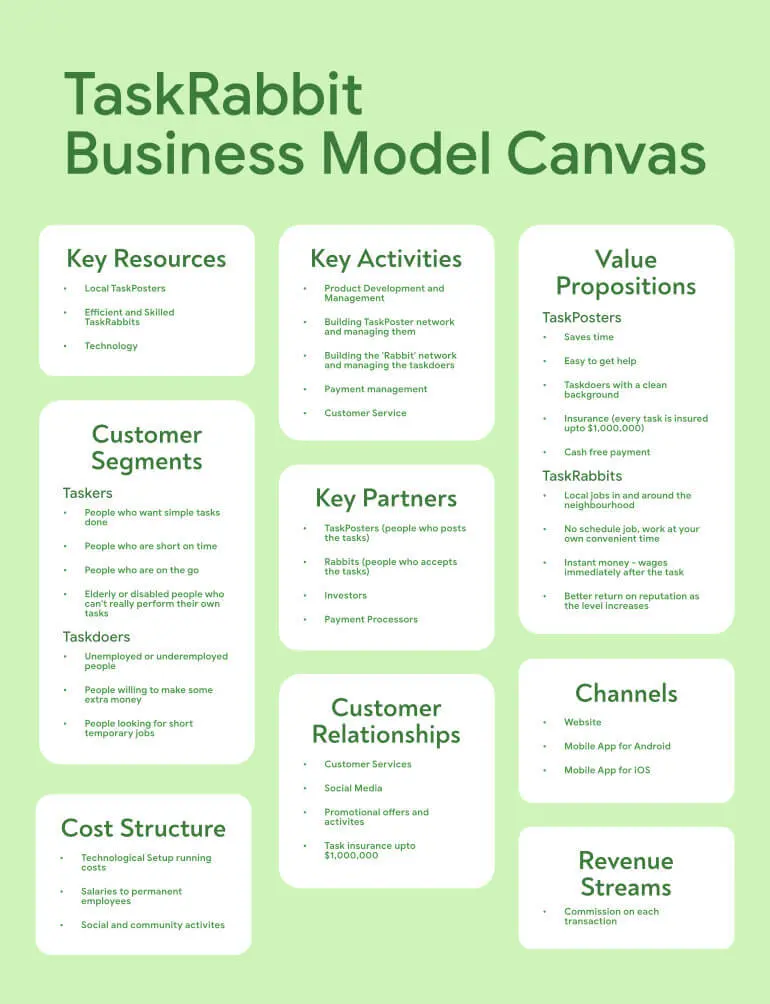 The TaskRabbit Business Model
By creating an app like TaskRabbit you can act as a middleman between people who need help and people who are willing to work for some extra money. In this way, these apps create a supply of services. They also offer a variety of options to the customers to make sure they can select the person they like best without having to compromise as a result of a lack of choice. The best part about the app is the variety of options it provides; to its taskers as well as task posters. 
This model is generally called the aggregator model where the company doesn't hold any tangible assets or inventory of its own.  Its main purpose is to connect with each other. TaskRabbit does that by connecting task posters to the best-suited taskers for them while taking minimum time and effort. When it comes to household tasks, TaskRabbit is a major player in the market and has been for several years now. The main work done by the app includes:
Acting as an aggregator between parties

Offers customer support to aid their selection process

Manages the cash flow between the parties and offer an online portal for payment

Build a network and add more taskers on the app

Keep updating the app to make changes depending on the changing needs
TaskRabbit is great with updating the app according to times. When it first came, the taskers would accept the task request and then complete the work on a future date. Because of the increasing need for efficiency and real-time work TaskRabbit now makes sure that taskers complete the work as soon as possible
.
READY TO LAUNCH YOUR APP?
With Customized On-Demand Solutions by OyeLabs
Users Of The App
The app has two different user segments that it caters to, we are already familiar with them as taskers and Task posters. The app acts as a mediator, and hence like all mediators it needs two parties to be on either side of the exchange. Both the users have a separate interface offered to them by the app. This is done to make sure that the app interface is optimized for their needs. Let's discuss a little about these user segments-
Taskers– These are the people who actually undertake the work posted by the task posters. They are generally freelancers who are willing to work for a short period for some money. They generally sign up on the app and fill their personal details. Their profiles are then approved before they can take up a task. This process generally covers a background check, a quiz, and an interview. These taskers are generally freelancers willing to work on a temporary basis, unemployed people or are people willing to work for some extra money. They are selected for tasks automatically by task posters and can then either accept or reject the job.
Task Posters– The app allows users who need help with household work to find taskers willing to do the same. These can be people who are either elderly, need help with some work, or are just busy doing other work. 
How Does The App Work
TaskRabbit interface is divided into two sides, the customer side and the tasker's side. The customer interface is where tasks are actually posted and the other interface is where a tasker checks the job that has been assigned to them. The main customer app is the one where tasks are posted. The way this app works is pretty simple: you post your job with details, you match with a professional and then you finally get the work done. Here, you post your requirements and the details and get parties interested in your task. Let's understand how this process works.
Choosing Category-

 When a customer opens the app, this is the first thing they see. They see the various categories of tasks they can post and hence have to select one of these categories in order to post their tasks. These categories can be divided into packing and moving, handyman, cleaning, and personal assistance, etc.
Add Description

– Once you select the category, you need to add more description regarding your task. These details include details regarding the work, date, and time for the work, address, skills required, etc. Once you have filled all the details, you can go ahead and post your task.
Compare Taskers– Once you have posted your task, you will be able to see the different taskers available in your vicinity who have the skills that you require. You can go through the list of these freelancers and their details. This means you can compare these taskers and check their hourly rates as well as previous reviews before selecting one. You can see these details by clicking on their picture. Once you have finalized your tasker, you can select them.
Chat With The Selected Tasker– Once you finalize a tasker, you can select the confirm and chat button. Here, you can communicate with the tasker and exchange any required information. Now it's up to the tasker to either accept or reject your work request depending on their availability. 
Completion Of Task– Once a tasker is selected, they will come to your address at the specified time to complete the task. Once completed, you can make the payment directly through the app.
This also shows us how the tasker's side works. A tasker registers on a different interface by filling personal details. These details are then cross-checked, and once the background check and interview process are done the profile of the tasker is updated on the app. From here on, taskers can add details regarding their hourly prices, location, etc, and then wait for a task poster to select them. The app also offers these taskers an opportunity to either accept or reject the task offered. 
Value Propositions Of The App
The app offers various value propositions both to its task poster and task doers. Both these value propositions are equally important as the app would not work without both its users. These users play an important role for the app to work and one cannot survive without the other. Hence the company needs to offer certain unique propositions to them. Some of these propositions include:
Value Proposition For The Task Posters
TaskRabbit offers customer support all throughout the day

TaskRabbit ensures every task

It provides users to help with household work and get them connected to freelancers available in their local areas

It makes sure task posters provide complete information about the work and the pay so there are no problems in the actual delivery

It offers them a pool of taskers far better than any other app available out there

Offers the security of information and reliability of task completion
Value Proposition For Taskers
A great opportunity to earn extra money

Jobs are offered locally as the task posters want the work to be completed as soon as possible

Instant payment as soon as the work gets done

Flexible work without having to offer a long term commitment

Taskers are given a choice to either accept or decline the task assigned to them

Taskers can leave the platform whenever they want

Hourly rates of payment
Related Read: Must have features for home services apps
TaskRabbit Revenue Model
TaskRabbit like other on-demand home services apps acts as a mediator between different users. This means that the app does not have any tangible assets or inventory of its own, all it does is it connects people who need each other. This makes TaskRabbit an intermediary, and like most intermediaries, TaskRabbit majorly earns by offering a platform to its users. Without earning this money, the company won't be able to survive for long. Let's see how an app like TaskRabbit earns its revenues:
Commission Fee– For every task that is completed on the app, the company receives a commission. This is one of the most common ways in which TaskRabbit earns its revenue. The commission that it charges is an expense for the platform that the app offers, it is also paid for the maintenance, insurance, customer support, and other services the app offers. The service fee that TaskRabbit charges is calculated as 15% of the amount paid to the tasker. This fee is included in the hourly fee promised to the tasker which means the hourly fee you see for the tasker is inclusive of the service fee. Once the task poster makes the payment online, 15% is taken by the company and the remaining is directly transferred to the person
Trust And Support Fee– On top of the service fee, TaskRabbit also adds a 7.5% trust and support fee to each invoice, and this amount is directly paid by the task poster to the company. This fee is a charge for the company to make sure they can facilitate the exchange and offer support to the task poster.
Peak Pricing– If certain services or categories are in higher demand, TaskRabbit can also add peak pricing. This is done because the demand for certain services is extremely high during certain times, hence this makes sure that the people who are willing to pay peak pricing get priority. 
Advertising Charges– Users who want to be shown on the top of the searches pay advertisement charges. This helps them get more visibility and hence more work.
On-demand apps have surely made the lives of people a lot easier. They have given people a means to earn money, an opportunity to get flexible jobs, and easier means of getting work done. People are starting to use these apps for their daily work not just because it is easy but also because it supports their busy schedules. People have understood that time is as important as money if not more. They have now started accepting help from others by paying them a minimal amount, and in exchange, they utilize the same time towards more profitable ventures. This means they can still get the work done by someone else and use the time they save for something better. 
Time has become an important luxury nowadays and hence we can expect to see more apps like these. It's better to give in and use them because the entire world is soon going to become online and everything will be done on-demand and in real-time.
Frequently Asked Questions for TaskRabbit Business Model (FAQs)
Que. Who keeps the code after development?
Ans. The owner ,i.e., you keep the complete code with yourself. However, you are going to need experts on the backend and for keeping the app running smoothly.
Que. How do apps like TaskRabbit generate revenue?
Ans. Some methods used by such apps are Commission Fee, Trust and Support fee , Advertising charges and peak pricing.
Que. How do I get started with my own business like TaskRabbit ?
Ans.  All you need is an idea, and a team of experienced developers to make it into an app. But, before you begin, you should first research the market to see if your TaskRabbit-like app has demand and target audience, and also if you have an excellent unique value proposition.