How Does Shipt work – Insight into Business & Revenue Model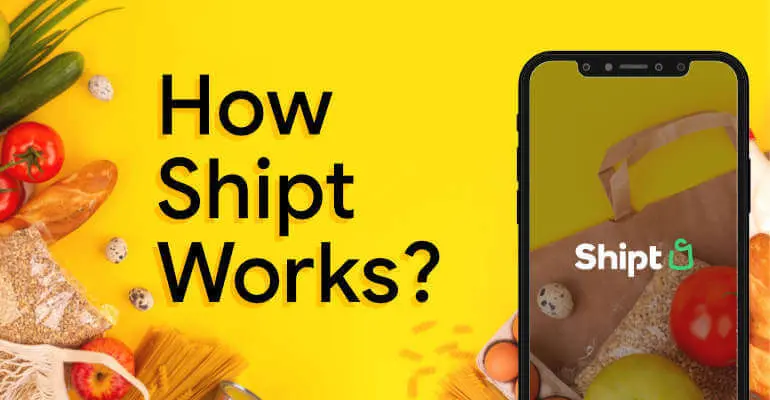 How Does Shipt work – Insight into Business & Revenue Model
Last Updated on May 24, 2022
Buying groceries for your home is an everyday affair. No matter how hectic your schedule or busy your day was, this is something you can never put off. Having a helping hand to get the groceries delivered at your doorstep can prove to be a great help. There are many online groceries delivery applications to help you with it. Opting for an online platform not only presents you with additional offers and discounts but also helps you in saving a lot of time that you might end up running from one aisle to another in the supermarket. Even though this is completely different from that of the traditional grocery buying process and delivery may or may not be free. But these applications make it up for the fact that they are more personalized and organized than ever. They provide you with a wide range of products and produce which you might not be able to get at a store.
See also:
Introduction to Shipt
If you order groceries online to save you from the hassle of spending a lot of time in the Walmart, then it is very likely that you might have come across Shipt. Grocery shopping could never have been any easier than this. Shipt is an on-demand grocery delivery platform facilitating doorstep deliveries of groceries nationwide. The application has become prominent among the masses for the convenience it offers to its customers.
Here are some quick facts
| Founders | Founded on | Headquarter | Total Funding raised ($) | Valuation |
| --- | --- | --- | --- | --- |
| Bill Smith | 2014 | Alabama, USA | $40.0M | $200m |
Shipt is an America based company with its headquarters in Alabama. The grocery delivery service is owned by the Target Corporation. The estimated revenue of the service in 2018 was about 1 billion USD suggesting tremendous growth and prominence as it was founded back in 2014 by Bill Smith. The application is available both for iOS as well as android. Other than that, you can visit the official website of Shipt to place an order.
Shipt has been successful in creating a reputable position in the on-demand sector. More and more budding entrepreneurs are looking to develop more such businesses and applications to ease the daily life of the consumers. This fascination with Shipt is primarily because of the business model which has helped Shipt to emerge as one of the most promising leaders in the on-demand economy.
How does one become a Shipt member?
If you wish to free yourself from the hassle of spending hours in a store to buy groceries, it is highly advocated that you should connect with Shipt and buy your groceries online. If you are a traditional buyer and feel a little doubtful opting for an online grocery delivery service, there is nothing for you to worry as Shipt ensures a personal buyer would go out and shop for you from certified stores that work in coordination with Shipt so that you can be carefree about the quality of products and produce that reaches you by the end of the day.
Shipt has a network of participating stores all over the nation. All you have to do is find the participating store in close proximity to your location. Once you finalize the store, you need to come up with the shopping list. After the submission of the list, a personal buyer would visit the participating store and buy every single item on your list and in case of unavailability of any particular products, you will receive a notification. Then, the personal buyer would update your order and deliver the groceries at your doorstep. You get to decide the time slot for the delivery so that you are there to check if everything is fine with your order or not. There are some particular locations that offer pickup service as well to offer more convenience.
In order to avail such amazing service, all you have to do is download the application from the play store. Buy a membership plan, you can either get yourself a monthly or an annual plan as per your convenience. If you choose the annual membership it will end up saving you a lot of bucks. You can have a trial membership for a month and then get it upgraded to an annual membership so it does not burn a hole in your pocket.
Launch Your Grocery Delivery App in 2 weeks
With Customized On-Demand Solutions by OyeLabs
How much does Shipt cost?
The Shipt application is absolutely free for you to download and install from the play store but if you wish to place an order, then it is essential that you must have a valid membership. There are two membership plans for you to choose from. The monthly membership plan would cost you about $14/month while the annual membership plan would cost you $99/year, which on calculation would work out as $8.25/month which is little more than the half of what you would pay for a monthly membership. If you do the math right, you would conclude that the annual membership is a way better deal than that of the monthly membership.
If your order is over $35 then you do not have to pay for any delivery charges, however, for the orders which are below $35, there is a flat $7 delivery fee which would be eventually added to your total. The price of the products that you buy through Shipt would be slightly different from the store price. This is just done to cover up for the convenience that you are offered and the company is transparent and even vocal about the pricing.
List of stores working with Shipt
One of the multiple reasons for the bombing success of the innovative grocery shopping application is the participation offered by numerous grocery stores all over the United States of America. This amalgamation has worked in the favor of both the parties as the Shipt gets to serve in numerous locations and the stores are treated with increased sales. Offline stores have been presented with an opportunity to be benefited from the on-demand economy. Thus, this is what segregates Shipt from other on-demand delivery services as a futuristic app. The following is a list of stores that have been successfully working with Shipt. Read on to plunge into the details.
 HEB
 Meijer
LIDL
Target
Winn Dixie
Costco
Lowes Foods
Piggly Wiggly
ABC Fine Wine
Spirits
 CVS
Office Depot
Petco
Publix
Safeway
These are the major stores working with Shipt currently, you can enquire about the stores near you that work with Shipt with the help of the application.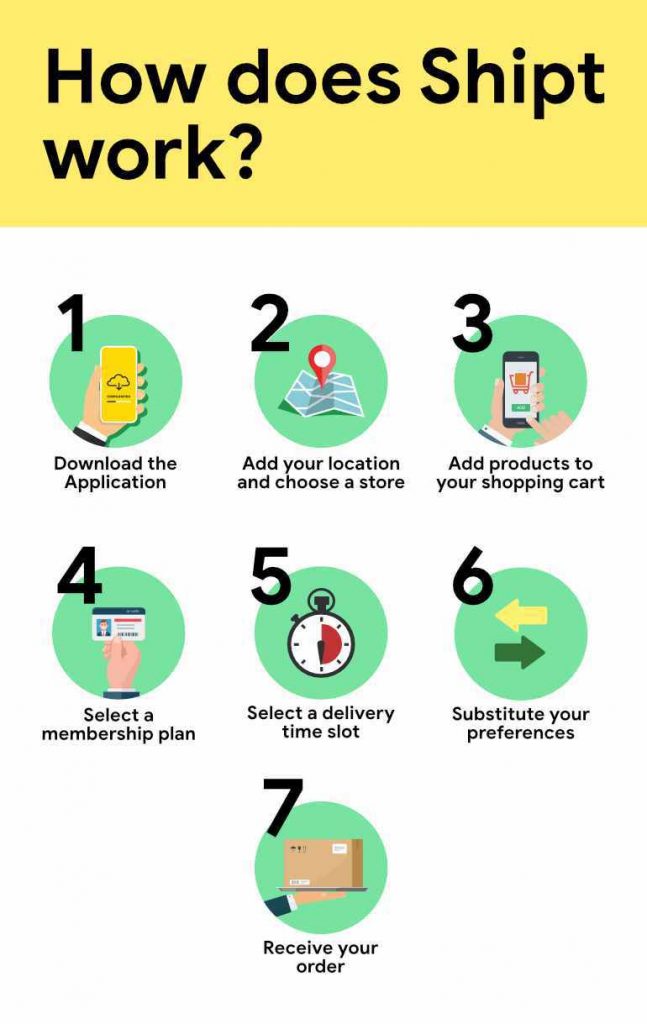 How does Shipt work?
Shipt goes through an intricate process to make sure that you get nothing but the best services. However, before you can avail all the benefits you need to go through steps to make sure that your groceries reach you in your expected time slot without causing any inconvenience to the shopper, store and you. The following is a list of pointers to explain to you how Shipt works. Without any further ado, read on to plunge into the details.
The primary step is to set up an account. You can do so by downloading the Shipt application from the play store. The app is available in iOS as well as an android variant. If you are accessing the website through your PC or laptop, you can also sign in and create an account. All you need to do is provide the application or the website with your credentials. This usually includes your name, email address and a strong password and your account will be created. You can access your account any time through your PC or phone. It does not cost you anything to create the account.
Add your location and choose a store
After you have created your account and you are logged into the system. Add your location, you can use the GPS or manually enter the address where you wish for your groceries to be delivered. After you have entered the location, you will encounter a list of stores that work in coordination with Shipt. If you come across a store where you already own a membership card or reward points, you can specify that information into the system so that you can avail those benefits as well.
 Add products to your shopping cart
Once you are through with the process of selecting a particular store where you wish to buy your groceries. Start browsing the products that you want to buy. In order to make it even more convenient for you to shop, the products are segregated into categories. You can also determine what products are on sale. If you have used the application before, it will provide you with a tally of previously ordered items and based on that, there is a section of recommended items as well to accentuate your shopping experience. Once you have settled on the product you want to buy, select 'add to cart', once you are through, you can review your products by the end of it and checkout.
Even though it does not cost you anything to download the application, if you plan to place an order then you must buy a valid membership. The monthly membership will cost you $14 every month and the annual membership is available for you only at $99 for a year. Since groceries are a daily utility item, hence, it advocated that one must select the annual plan as it would end up saving you a significant amount of money while offering you convenience at the same time as you do not have to go through the hassle of paying for your membership every month, you can get it done once a year and be done with it.
Select a delivery time slot
After you have opted for a membership plan as per your convenience, the only thing left to do is place your order and checkout. Then you are required to add your phone number, confirm your delivery address and select a payment method. You can either use a debit card or a credit card to make the payment as all the orders are prepaid only. Then you need to select a delivery slot. There is a high possibility that you might get the groceries delivered on the same day but it clearly depends on your location and the time when you have placed the order. You can benefit yourself from a delivery window which is valid up to three days ahead. Then you must determine whether it is fine for the shopper to drop the groceries or not
Substitute your preferences
Sometimes it might happen that the specific product that you have asked for is not available at the store. For this contingency, it is essential you are provided with three options to choose from. Read on to know more.
Contact me so I can choose
Choose for me
Do not substitute
Of all the options, whatever you choose will be applicable for your entire order and then you can finally place your order after verifying all the information that has been provided.
When the shopper reaches the store to start with the shopping you would receive a notification, you can make any changes until the shopper is working on your list. In case of any substitution, you will receive a text message from the shopper.
If you have declined the offer for a drop-off and you rather would check your delivery, make sure that you are available for the delivery slot. When the shopper is on his way to drop your groceries, you will receive a text message. In most of the cases, the groceries get delivered within the first 2 hours of the delivery slot.
The business model you want to adopt is an important step for starting your own grocery delivery business. Shipt's business model analysis is below for your reference.
The Business Model for Shipt
There are three entities involved in the business model of Shipt- the users, the shoppers and the stores.
Users
The users are provided with a smartphone application that enables them to choose a store to get the groceries in a specified time slot for which they would pay online.
Shoppers
The shoppers are responsible to add personalization to the mechanical plan. The shoppers receive orders from the application. The shopper assigned to get a particular order depends on the proximity to the store as well as the end-user.
Stores
Stores have a tie-up with Shipt to help them increase their revenue and sales.
The following is a detailed business model of Shipt that revolves around the above-mentioned entities. Without any further ado, read on to plunge into the details.
Key Entities 
Key Activities
Local Market Management
Customer Management
Delivery Services
Key Resources
Technical Backend support
Tie-ups with local stores
Efficient and skilful shoppers
Cost Structure
Commissions to the shoppers
Cost to keep the tech up and running
Management Staff
Accessible Channels
Website
Mobile Application for android
Mobile Application for iOS
USPs
The ease of getting groceries delivered at your doorstep saving a lot of time. This could be a great proposition for the elderly who cannot go out on their own.
Bring your love of shopping to some good use and work as a freelancing shopper.
Offline grocery stores can benefit from the on-demand delivery market and skyrocket their sales.
Related Read: Best Grocery App Business Models
How does Shipt Generate Revenue?
Every business requires some room to generate revenue otherwise it gets almost impossible for the business to survive. As far as Shipt is concerned, the following is a list of pointers explaining how Shipt makes money. Without any further ado, read on to plunge into the details.
In order to place an order, you need a valid membership plan.
The prices offered on Shipt slightly vary from that of the store prices.
Shipt charges you a delivery fee of flat $7 if your order total is less than $35. 
Wrapping Up
You should choose a business model for your grocery delivery app carefully as per your needs and target audience. The grocery delivery business is booming especially after the post covid era and it is the right time to leverage the potential of this market by starting your own grocery delivery app. You should look for an experienced grocery delivery app development company to create a perfect app for you as per your vision and industry standards.
Frequently Asked Questions for Shipt Business Model (FAQs)
Ques. What are some apps similar to Shipt?
Ans.Some apps similar to Shipt are InstaCart, FreshDirect, GoPuff, Rappi and Burpy among others.
Que. Who keeps the code after development?
Ans. You, being the owner of your property, get to keep the finished product in all its entirety. However, you are going to need experts on the backend and for keeping the app running smoothly.
Que. How can I start a business like Shipt?
Ans. All you need is an idea, and a team of experienced developers to make it into an app. But, before you begin, you should first research the market to see if your Shipt like app has demand and target audience, and also if you have an excellent unique value proposition.