TaskRabbit's Changing Business Model- New Vs Old Compared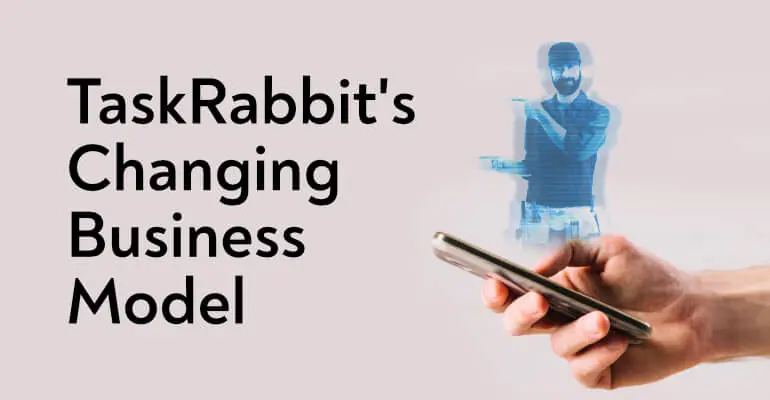 TaskRabbit's Changing Business Model- New Vs Old Compared
Last Updated on May 17, 2021
TaskRabbit has become a recognized name in recent years. With the rise of online consumerism, it has not only kept pace with the changes, but it is also effectively evolving itself into a force to be admired. You might have heard of the app, might have even used it. But if you've been out of touch with the app, the new and improved TaskRabbit might surprise you.
Launched in 2008 as RunMyErrand, TaskRabbit is the brainchild of Leah Busque. The idea came to her one day when she needed dog food but didn't have the time to do it herself. It all started with the initial 100 runners, and today over 60, 000 independent workers use the app for their services.
In the recent past, TaskRabbit tweaked its business model to keep pace with the changing on-demand economy. TaskRabbit did not shy away from changing its approach in the US after its launch in the UK. Initial criticism by the taskers was severe, but the company stuck with its decision and saw improved results. Is the new business model going to be as lucrative for the company as the last one? Only the future will tell. However, the company has not yet faltered in its commitment to better service. So, we can assume that the results are going to be interesting.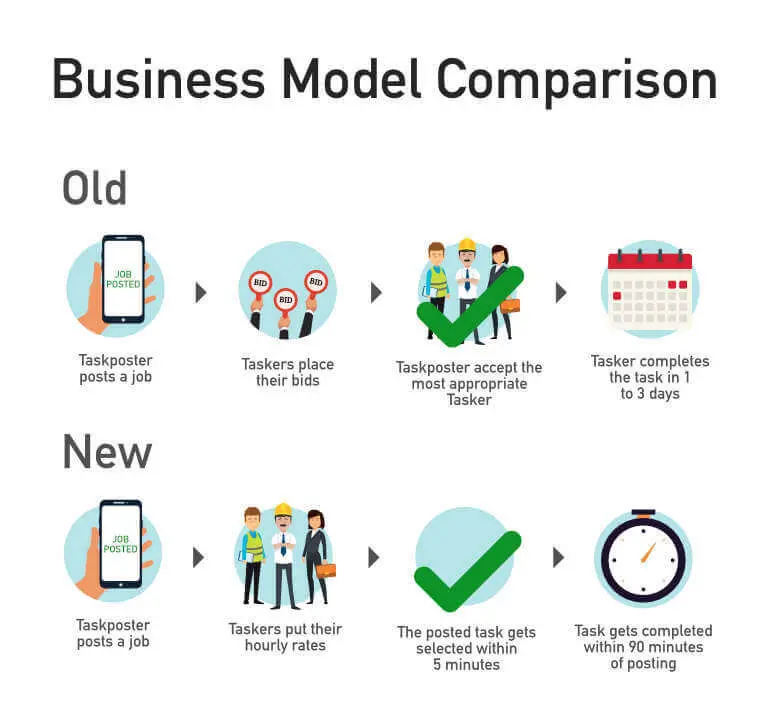 We'll be discussing the changes in TaskRabbit's business model, and the need for that now. But before that, let's have a look at how TaskRabbit worked till now.
TaskRabbit's Older Business model
TaskRabbit connects two segments of the society and is of benefit to both. Here's more about these segments.
Taksposters
It is the segment of people who need to take care of a particular task, but don't have the time or the resources to complete it themselves. TaskRabbit provides them with a platform where they can recruit able help and get the job done within a specific period. After their task is taken care of, they pay the taskers.
With TaskRabbit, this segment would quickly get help for their tasks, from verified workers. However, the duration of task completion was subject to various factors.
TaskRabbits/Taskdoers/Taskers
This segment comprises experienced workers, who are vetted thoroughly by TaskRabbit before signing the on. These are the people looking for flexible work, and to utilize their skills to earn some extra money. It is not unusual for some taskers to do this full time. Previously, TaskRabbits posted their bids for tasks, and it was some time before they knew whether they got the job or not.
How it worked
In the past, task posters would post a job, and experienced taskers would accept the job. The taskers would then complete the task shortly (one to three days), in understanding with the task poster.
It all operated as a bidding system, where taskers would place their bids, and task posters would accept the most appropriate one for themselves.
How Taskrabbit Earned its Money
The way TaskRabbit earns money has not changed drastically. TaskRabbit charges a cut from each transaction that happens on the platform. Additionally, TaskRabbit also had opened a portal for local businesses to recruit taskforces from its database and charged them for it. But, it soon stopped that operation.
The New Business Model
There have been some changes in the business model of TaskRabbit, and it is, without a doubt, an improvement on its predecessor in ways that matter in today's evolving on-demand economy. Let's have a look!
The Taskposters
Most of the details about the demographic have not changed, and the process for posting a task is still the same, with the difference being a new app. The app is operational in 19 US cities and London, UK.
With the new app model, users can easily post their requirements, and within five minutes, a tasker picks it up.
The TaskRabbits/Taskers/Taskdoers
Now, with the new app model, there's no need for Taskers to wait for their bid to get selected. They can put in their hourly charges, and they get a notification when an opportunity suitable for them is available. It makes the whole process quick and easy.
How it works
The new model has made the whole process easier for both segments of TaskRabbit's business model. Taskposters have to post their requirements, and within five minutes, their task gets selected. They do not need to go through the long bidding process. Not only that, but their work is also complete within ninety minutes of posting.
If we're talking about taskers, they do not need to bid on various tasks. They can put in their hourly charges, and the notification for any work that's suitable for them will appear to them.
The revenue model has not changed drastically. TaskRabbit's earnings are still from charging 23 percent on each completed transaction. However, Taskrabbit expects a boost in traffic for the app with its new model.
READY TO LAUNCH YOUR APP?
With Customized On-Demand Solutions by OyeLabs
Why the need for a new Model?
With the recent changes in the online economy, on-demand services are all the rage. Quick gratification is getting services like Uber, and other similar names popular. A shift to a Real-time platform makes all the sense right now. The viability of TaskRabbit has been proven not only in the US but also in the UK and Canada. By embracing these new changes, TaskRabbit wants to cater to the same crowd that has made Uber, DoorDash, UberEats, and other on-demand services popular. Time is of the essence, and TaskRabbit seems to get it.
Conclusion
The recent changes in TaskRabbit's business model seem to signify the company's willingness to adapt to the changing scene. That is a good sign since it's rolling with the punches approach that has made many of the big names in today's on-demand economy what they are today. Is this approach a suitable choice for TaskRabbit? It does seem to benefit the users, as well as makes the process a lot easier for taskers as well. There's no reason to doubt the effectiveness of this approach just yet.
Frequently Asked Questions for TaskRabbit (FAQs)
Que. What are some apps similar to TaskRabbit?
Ans. Some apps similar to TaskRabbit are Airtasker, UrbanCompany, ThumbTack and HouseJoy among others.
Que. How do Apps like TaskRabbit make money?
Ans. There are two ways you can get back the money that you spent in making an app in the name of production costs: charging transaction fees, charging peak pricing. You could choose to gain money on your application using one of the two choices.
Que. How to develop an app like TaskRabbit?
Ans. To make a clone of the TaskRabbit app, the procedure to follow will need you to get in contact with mobile app development firms who understand the on-demand home service industry inside out. It will help you to completely understand the feature list and the software stack.