How Postmates Works – Business & Revenue Model (With Growth Timeline)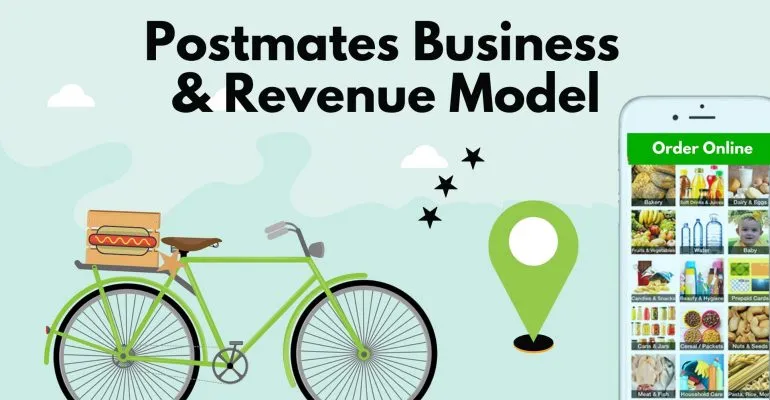 How Postmates Works – Business & Revenue Model (With Growth Timeline)
Last Updated on June 21, 2022
In the busy schedules of our day-to-day lives, are you also too caught up to perform basic tasks such as buying a gift for your boyfriend, buying that new bomber jacket you have always wanted, or preparing a good gourmet dinner? Yeah, most of us are living this way only these days, we both know at least we do.
Well, we live in a diverse world, where we often wonder how we find an adequate amount of time so that we can fulfill our need for sleep. On the contrary, we are trying to control these fast moves every day, where we can find solutions to anything with just one tap. Our smartphones have become magic wands to get all the services we want right at your door. Okay, of course, we aren't magicians. We only use on-demand service applications to get our jobs done.
One such amazing application is Postmates – which helps you get anything and everything – from food, groceries, and even alcohol at your place anytime you want, anywhere you need. According to Statista reports, Postmates is expected to have a market share of 9% of the total food delivery market in the USA.
In one of our previous articles, we have covered the cost of building an app like Postmates. In this article, we'll be studying more about Postmates, how do they work, what their working model is, and everything. So let's dive into it.
What Is Postmates?
Postmates is an on-demand delivery platform that enables customers to order and receive anything and everything right at their doorstep from their favorite stores for a small fee. Postmates is currently operating in more than 100 metropolitan areas in the USA. Their business model is often defined as very similar to Uber, but Postmates enables customers to purchase products from local stores instead of taxis right from the comfort of their homes. With the help of their networks of human couriers, Postmates deliver goods and allows people to order anything from anywhere in town. As with drivers from the Uber mobile network, Postmates couriers receive order alerts and the company uses GPS to balance demand and supply as quickly as it can.
Here are some stats about Postmates
| Founders | Founded on | Headquarter | Total Funding Raised ($) |
| --- | --- | --- | --- |
| Bastian Lehmann | May 1, 2011 | San Francisco, California | $1.0 billion (2018) |
The dynamic and innovative business model for Postmates has earned a significant volume of investment funding and helped the company build a broad base of customers. Postmates were released in 2011 and became an immense success in a short period of four years. In such a short time period,  Postmates has already officially tied up with Apple, Mcdonalds, Starbucks, Walgreens, Chipotle, and a vast variety of other prominent businesses.
Besides all this, Postmates has already acquired 3 different organizations in a time span of 4 years. The most recent one is Bold which was acquired on 10th July 2020. It is a platform dedicated to writing long-form content.
Related Reads
History Of  Postmates: How It All Started
After leaving college, Bastian Lehmann launched his first startup in Germany. It was a website that listed discounted items that were difficult to find and which ended up being one of the earliest flash sales websites. But the business was not accepted by the masses well, thus losing a lot of revenue, sadly, so Lehmann had to shut the company down. But not much later, Lehmann met Sam Street and Sean Plaice, two young budding entrepreneurs who wanted to do something big.
Together they brainstormed the concept behind Curated. by, a website that would crowdsource content and edit it in line with the desires of the user. This was the project which let them get into the early rounds of the incubator program AngelPad. Nevertheless, they were told that it was a bad idea when they came to Silicon Valley to raise capital for their project. The guys came back to the office.
In Germany, Lehmann was thinking of his life back. He hired a service to transport his stuff to a new address while he was moving. They failed to include his snowboard, which afterward made them think about the difficulties they had in shipping. Which got them into thinking – why isn't there a system which would let the locals traveling to any destination deliver things when needed.
Inspired by the question they had – the trio started a service company named Postmates which would enable local people (known as 'couriers') to transport stuff from one place to another, or one person to another as and when the request is submitted.
The guys decided to work in San Francisco with messaging companies to use their workers. The alliances failed mostly unfortunately and they had to recruit their own personnel. And eventually, it became much easier for them to register merchants and customers to get their goods shipped.
Now the locals aka couriers will purchase, deliver, and then charge customers through the app to purchase orders for customers. Initially, Postmates was intended for non-food supplies only. But when the customers started placing food orders (restaurants and grocery shops) to such a high degree the company accepted. Their popularity, driven by word of mouth, helped them to raise funds and ignited many copies.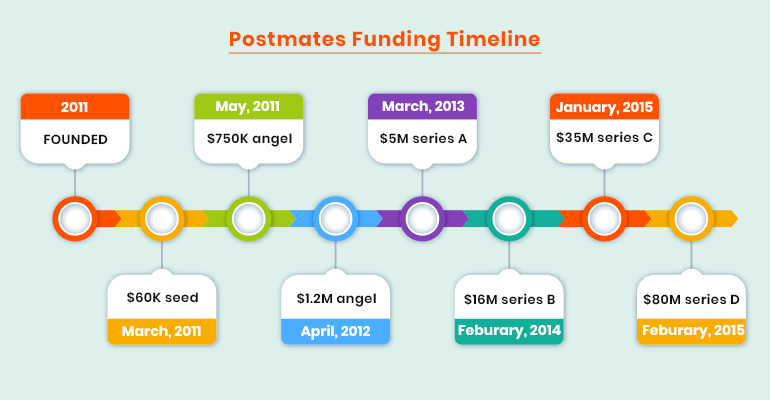 Postmates' Facts
Founded:

1st May 2011

Founders

: Sean Plaice, Sam Street, Bastian Lehmann.

Funding received:

$681.5M (as of August 2019)

Headquarters

: San Francisco, California, United States

Valuation:

$1.85 Billion

Operates the largest on-demand delivery fleet in

44 major US metropolitan markets
READY TO LAUNCH YOUR APP?
With Customized On-Demand Solutions by OyeLabs
Postmates' Features That Make Them Stand Out
Besides the fact that the company Postmates was perfect for the market, other outstanding features make the performance of the application much better. From the outset, the business model of Postmates was intended to differentiate itself from the market. The only explanation why this application came into the limelight so early was that it's covered in special and striking features the owners envisioned it to have. These are the characteristics that help the app stand out in the market:
Unlike any other application, Postmates let users order literally anything and everything from anywhere in the city.

They include all sorts of stores for their customers so that they are able to deliver anything one could feel like ordering online.

Another interesting feature of Postmates is the low fees that the customers pay to the couriers. The fee generally depends on the distance between the pickup spot and the delivery spot.

Their speedy delivery system makes them really unique – as they complete almost every delivery within an hour.

Another feature that attracts users is the Postmates pay structure. $5 is the lowest delivery fee for Postmates but offers sometimes include a lower fee.

Besides all this, Postmates allows their customers to monitor the delivery person's location through GPS to see how far the product has reached and the estimated time of the delivery remaining.

The latest launched feature of Postmates is the 'Pick up' option that was launched with the motive to expand.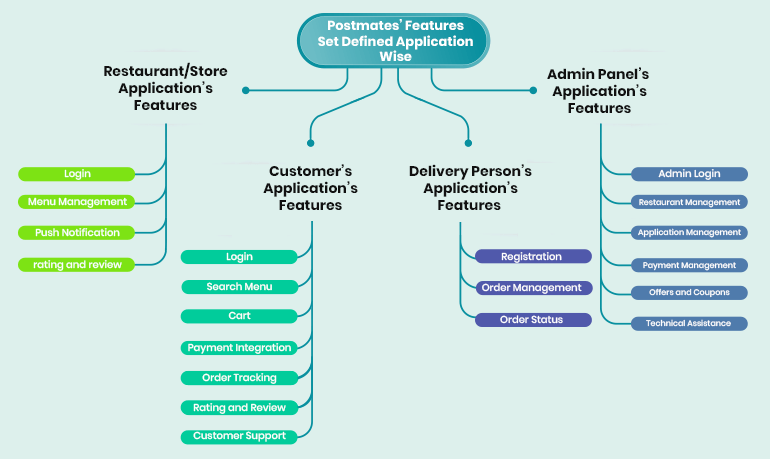 Postmates' Features Set Defined Application Wise
Well, when we talk about the features of Postmates, they can be broadly classified into 4 major categories. They are:
Restaurant/Store Application's Features

Login

Menu Management

Push Notification

Checking rating and review



Customer's Application's Features

Login

Search Menu

Cart

Payment Integration

Order Tracking

Rating and Review

Customer Support



Delivery Person's Application's Features

Registration

Order Management

Updating the Order Status



Admin Panel's Application's Features

Admin Login

Restaurant Management

Application Management

Payment Management

Discount Offers and Coupons

Technical Assistance 
Related Read:
Postmates Business Model
The business model of Postmates can be divided into 4 major steps. They are:
Finding/Creating The Need:

 
This is the first step in making money for Postmates. Frameworks have been developed for businesses that track consumer needs through major technology companies.
At the time of order, payments shall be made. Depending on the distance between the collection and departure points, the delivery fee will be added to the total amount and the result indicates how much Postmates cost.
The 3rd step is matching. What is the responsibility of the Postmates fleet? The notice in the product details is forwarded to the messenger near the shop after the order is placed by a user. The knowledge is accurately balanced by the recipient when the product is ordered in order to meet the exact needs of the customer. The order must be purchased and shipped within an hour at the user's doorstep.
Postmates do have an excellent feature, namely that users can see where the messengers are with their goods. After the orders have been completed, users can also submit their feedback. Another choice allows users to advise delivery guys that rely fully on the user. This is one of the ways in which postmen make money for their suppliers.
Related Read: Best Grocery Delivery Business Models
Postmates Customers Relationship
A good relationship with customers is key to growth for any company irrespective of the size or industry.  Postmates – an on-demand food supplier with an excellent customer support service that helps with questions and complaints. Their website also provides responses to some FAQs, such as 'What is Postmates?' 'How do Postmates function? and "What is the cost of Postmates?' and much, much more.
The powerful social media presence of companies is another way of winning the hearts of the masses – and Postmates has cracked this pretty well. Social networking is an excellent way to create brand recognition and direct consumer followers. To add to these, consumers want to see if companies are up to date to keep them up to date.
It is not a misconception to suggest that people are curious about how a business like Postmates has become this popular and what is the business model Postmates follow. The messengers on various websites answer these questions as well, providing a clearer picture regarding the same.
Feedback is the way for any organization so they will hear what its clients think about the business. Postmates have provided its clients with the ability to study, provide reviews, and provide ratings.
Segments Postmates Serves: Customers, Merchants & Delivery Persons
When we talk about the segments Postmates serves: they generally serve 3 main segments – the Customers, Merchants & Delivery People. How? Let's find out:
Postmates' employees work with a number of general merchants to provide a platform for an enormous audience. The merchants or the dealers they work with are usually more than happy to pay a tiny amount of the total bill to contribute to Postmates' total revenue. This is how Postmates operate with merchants. And it is because of this thing that the customers find this so much more economical to share a small portion of their income with Postmates rather than hiring a delivery boy.
Postmates cooperate with merchandisers and connect them and customers who request their products through their medium. Traders give Postmates for their door-to-door delivery service a percentage of the order bill. It is economical for companies to share part of the purchased goods in the distribution network instead of employing their own staff to carry the products to their customers.
The delivery people are paid out for the deliveries they complete according to the formula for your city. 
The earnings for each delivery include:
An amount for each completed pick-up

An amount for each completed drop-off

A per-minute-waited rate for the time you spend at the pick-up location

A per-mile rate for the distance between the pick-up and drop-off locations
100% of the tips you earn.
Customers also inquire about Postmates' fleet and suppliers are the response. Postmates' messengers follow a rule of 80-20 with the company. The structure of the payments for Postmates staff is 80% of the delivery fee for the delivery staff and 20% for the company. The beneficiaries will receive up to 25 dollars/hour. This ratio answers how much Postmates pay their messengers.
Postmates Pickup Model
In order to tackle the market competition, the company recently launched the pickup feature. The idea behind the takeover is to increase the partner merchants' retail experience.
This allows customers to order before they enter the restaurant/store and to make the food/product ready. This three-stage model can explain its functioning
Customers will buy the food and other items on the Postmates platform when they arrive at the store. An additional fee is not applied to pick-up orders.
The customers get real-time updates on the preparation status of the food they've ordered.
They reach the store only when their order is ready. Postmates help you when you miss the line and reduce waiting time.
After reviewing how Postmates operate, let's get into the earning aspect of the model. The business model in which Postmates work is designed to recover the costs you have paid for the food delivery service in only a few delivery cycles
Here's the model about which we've been talking.
Postmates Revenue Model
For a company as big as Postmates, there can be a wide number of revenue sources. As per the revenue sources, Postmates also has its respective pricing models. Some of the most prominent sources of revenue for Postmates are:
Postmates are not using its website to label the products they deliver. The fees, therefore, play a major role in Postmates' business model. Every order you place is charged by the company. The major fees charged by the company are  the following:
The distinction between Postmates and other on-demand services is that it allows you also to order from outside traders.
If you buy from a partner dealer (one of them with a green check-mark next to the name), Postmates charges a delivery charge of $3.99 and all other dealers of $5.99–$9.99. This distribution charge shall be shared by the manufacturer and the client in a ratio of 4:1, where the company takes just 20% of that obtained.
The service fee shall be the variable percentage fee levied on the order (usually between 9 and 19%). It is not popular with everyone and is solely geared towards the company's smooth operations.
If you have a purchase order under $12, you will receive a small cart charge of $1.99. This fee is charged, according to the company, to ensure you can always get what you ordered so that you don't end up being disappointed.
Like other on-demand start-ups, Postmates uses a complex pricing methodology to raise costs by several when supply-demand exceeds online deliveries. This feature provides a powerful financial incentive to make Postmates available when they are most needed.
Including in its own business model, the organization has introduced another subscription service structure. Postmates Unlimited are subscriptions that give the following advantages:
A shipping fee of $0 for all $20 orders

No surge pricing.

No fixed price for the basket fee.

When buying from a partner retailer, no service charge is charged if you have this membership.
This policy helps not only subscribers but also the company receives a decent amount of clients, who eventually place their orders from Postmates due to their subscription.
You will subscribe at $9.99 per month or $95.88 a year for Postmates Unlimited.
Having a partnership with Postmates opens many new doors for restaurants and other stores to a whole new digital on-demand environment. They receive more orders, avoid credit card processing fees (every order is processed by Postmates), and focus on their core businesses because delivery is outsourced to Postmates. Postmates have numerous arrangements with numerous trading partners. But one common feature is that for any order from its website the company charges an amount.
Postmates generally pays the pre-tax amount of the total goods price between 15 and 30 percent. The fee also depends on the arrangement they have entered into with the client with each partner. The commission will not be charged to non-partner dealers (compensated by a high customer service fee).
Postmates has published its API, which enables companies to integrate a leading local delivery platform into their application. This API also allows the partner to use Postmates' fleet to supply its goods in the geographical areas of Postmates.
Several leading businesses, such as Starbucks, Target, and Instacart, have come to deliver their products with this API using Postmates Fleet of couriers.
Such collaborations provide the company with additional revenues and allow it to use its fleet to the full.
Postmates Marketing Model
Customers are like gems for any company, the more, the better. A business will prosper or decline because of its customers and thus, that is why they are so valuable for businesses.  Even after getting the attention of a wide audience, it is another obstacle for businesses to turn them into consumers.
Postmates used a lot of marketing tactics to collect a client base in the beginning. Digital marketing, online and offline ads, promotions, and other marketing tools were also used by them intensively. As shown by the digital marketing funnel, it is the first job companies pay attention to.
The second step in the funnel is to involve and make customers understand the company. This is where the company must convince the spectators to allow them to do so.
When Postmates have acquired customers through conventional and new marketing methods, their audience is inevitably increasing. One of the most critical ways it developed was by word of mouth. Word of mouth is extremely helpful for entrepreneurs, but businesses must improve their efficiency and upgrade their services to continue to receive them.
The Future Of Postmates
Postmates have always from the very beginning has got super tough competition from Uber, GrubHub, Amazon, and even small on-demand start-ups, a rough rivalry constantly. However, the business model and business strategy are well-defined and have made it possible for them to become the most relevant on-demand company start-up.
The launch of API opened a new path for the growth of Postmates and the company also talked about the merger with Doordash, according to the reports, to avoid Uber, GrubHub, and Amazon. In addition, Postmates were number one in their own niche through other major Instacart and Walmart partnerships.
Wrapping It Up
An excellent business model does not come from a large revenue source, but from several small sources of income. Creativity continues to be important.
In the absence of innovation, you can not lead the industry. Targeted customers focus on the advantage of different categories. The best thing about Postmates is financial satisfaction and quick ordering on the part of the customer. Postmates have created from where it began a considerable history. Postmates have learned the recompense to win hearts and will flourish in their scope by bringing it all to their customers' doorsteps. And they have a long way to go.
Frequently Asked Questions for PostMates Business and Revenue Model (FAQs)
Que. What are some apps similar to Postmates ? 
Ans. Some apps similar to Postmates are InstaCart , Grofers, FreshDirect, Talabat, El Grocer among others.
Que. What is the estimated cost of starting an app like Postmates?
Ans. The price of making an app like Postmates can cost you anywhere from $30- 50K (or more), depending on the various factors involved in the development process. Pricing may depend on various feature requirements.
Que. Who keeps the code after development?
Ans. You, being the owner of your property, get to keep the finished product in all its entirety. However, you are going to need experts on the backend and for keeping the app running smoothly.
Que. What kind of products does PostMates have?
Ans. You can get literally anything delivered from postmates anything from headphones to fresh shirts to grocery!