How to Build An App Like Postmates in 2022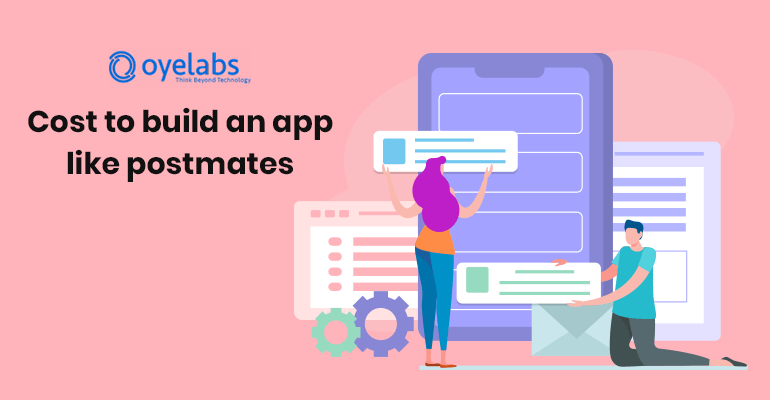 How to Build An App Like Postmates in 2022
Last Updated on November 3, 2023
Certainly, smartphone devices have become a crucial part of people's everyday lives. Believe it or not, but people use their mobile phones all day long. Right from booking a cab to movie tickets, from shopping for their clothes to making a doctor's appointment – mobile applications are now used for almost anything and literally everything.
Indeed, the whole digital age has transformed time into one of the most important assets that people can have. And for this very reason, individuals and organizations are actively finding ways of conveniently managing their own routines as well as reducing waste of time or even any empty slots at the same time. Considering the aforementioned scenario, it is no surprise in this reality that on-demand services are gradually becoming the next big thing in the field of technology and consumerism. Because of the on-demand economy now,  you can have any item or services you are in need of in no time at your doorstep,. There are a number of  delivery services applications available these days, which are constantly making the way logistics work much more convenient and pushing it's potential higher.
This has been the reason for the massive rise in the number of on-demand applications available on the play stores! 
Ever wondered how much does an app like Postmates cost? The development of food delivery apps is becoming more common, in particular. People do not typically have time for buying groceries or cooking at times or in some cases, they simply don't want to waste their limited time.
Instead, many urban people choose to order and enjoy their favorite meals through online food delivery apps. It has driven the development of the food ordering app as the best food ordering app is required. Postmates is one of the most popular on-demand food supply apps in the United States.
What Is Postmates?

What is the Postmates application? Why is everyone talking about it so much all of a sudden? Well actually, it's more like a courier service. The Postmates founders merge innovations and a non-standard business approach for the purpose of digitalization in the on-demand economy.
Here, you must be wondering what does 'non-standard approach to business' means? The distinctive feature of the service is that it will function as a messaging service which somehow resembles Uber's driver relationship model.
You just have to fill in a simple form to become a courier. In fact, you don't necessarily have to be a car owner, since there are many distribution schemes for the business.
The method of ordering is as simple as the smartphone. Upon placing and payment of an order, one of the closest couriers to the destination accepts it and begins completion. With their approach to business processes and the development of the on-demand food app, they have hit a double bullseye- create flexible workstations and provide users with what they really need — doorstep delivery within an hour.
Some facts about the company
Founded: 1st May, 2012

Founders: Bastian Lehmann, Sam Street,Sean Plaice

Revenue: $1 Billion

Headquarters: San Francisco, California, US

Total Funding: $ 763 Million

App Downloads: 10 million +
Factors To Consider Before Getting Your App's Development Started

You should research and evaluate your concept idea before you start developing an app such as Postmates to find out how practicable and feasible it is. To minimize possible errors, follow these steps.
Carrying Out A Good In-depth Market Research
You should perform a market data analysis and evaluate all your competitors involved in on-demand food delivery services. You must find out how to create a food supply device such as Postmates. Also, you should be aware of the fact that Postmates, Zomato & Ubereats are your direct rivals. See how successful they have been and how the product has been promoted – you can learn a lot from these companies. Remember not to forget to test the key statistics, available metrics, etc. of these applications. Note that you can only compete with pioneers in the industry through extensive analysis. You should understand the types of food delivery apps and how they can become successful.
Figuring Out The Business Model
This is a way of visualizing your business model. The entire canvas is divided into different segments For beginners, the model helps them get a deeper understanding of their business from various angles. Another important thing is you must consider all kinds of issues connected to the physical part of your app before you reach the on-demand food delivery app development. After all, it's cooperation with shops and restaurants when you talk about a Postmates-style app.
Of course, big businesses can ignore your plan for their own in-house delivery systems, so you have to concentrate for a while on those without delivery. Demonstrate to your customers all the advantages and numbers that would be obtained from your service by working with you.
Payment must be considered one more thing. Because all Postmates payments are made with credit cards, you need to develop a plan to pay for the items by the courier. Building an internal payment system with your partners is quite reasonable. In this way, restaurants will get money for the products and the payment from the bank account of the business would be paid.
You can simply provide your employees with cards to buy goods to avoid the costly development of a payment system. However, the security question arises because you have to ensure that an employee can only buy the goods actually ordered by users in a restaurant or shop.
Related Resource: Top Food Delivery App Business Models
Come Up With Something That Makes You Stand Out
Want to make your product exclusive and marketable? You should come up with a unique innovative set of features or prizes which are missing on the market (or at least look at them from a different perspective) in order to find out how to build a food supply application similar to Postmates. In order to execute this, research is strongly recommended about what your target population really misses.
Your specific value proposition should stand out and help consumers to understand why they should select your app against the competition precisely.
Keep Up With The Prevailing Trends
Well, this move is all about helping you build a unique value proposition, as they are closely related. In order to develop food ordering applications, the following trends can be great:
Chatbots, voice recognition and speech technologies have always been encouraged and welcomed by people with their arms wide open because they urge people to use the app. Bear in mind, however, that these developments would inevitably affect the final cost of growth.
Build a different customer and partner program. This is done by Uber and numerous other services and offers a unique user experience for every target group.
There is an infinite number of cases of AR use: from food viewing to navigation via mobile mailing app. It's not cheap again, however.
Those three basic steps will, therefore, help you make a wonderful implementation of your idea.
READY TO LAUNCH YOUR APP?
With Customized On-Demand Solutions by OyeLabs
How Much Does It Cost To Build An Application Like Postmates
Well, the best way to start is by investigating the market in the geo-location where you plan to launch a delivery service like Postmates, so that you know what people want and then you eventually build something the consumer actually uses. You should communicate and collaborate with vendors who do not have their own supply services. We believe that comprehensive market research & analysis is the basis for every amazing delivery application. Once you're done with the research – then it's time to start writing down the functional specifications.
Then the next step for you is to hire a trusted app development team and start developing your application. You should hire developers who regard your project as theirs, who know what they're going on and have their way with it.  It is better to start with the MVP, so you can reach the market at the lowest cost possible within the shortest possible period.
Ideally, the courier service application and customer-end application should be the main constituents of your Postmates-like application.
There are going to be two main applications here
The Courier App
This application is majorly going to be for the courier people who'll be making the deliveries. There will be 3 major functions that this application is going to perform. They are:
Delivery Requests Reply

: Accept or Decline

Order Status Updates:

Pickup or Delivery

Delivery History
Development Time & Cost
| | | |
| --- | --- | --- |
|   | Time | Cost |
| UI/UX Design | 5-6 Weeks | $3,000-$4,000 |
| iOS Development | 10-12 Weeks | $9,000-$12,000 |
| Android Development | 10-12 Weeks | $7,000-$10,000 |
| Web-Panel Development | 10-12 Weeks | $7,000-$9,000 |
For calculating the total cost of the mobile MVP messaging app, if you take the production rate of $30 an hour, it will cost you from $26,000 to $35,000 and it takes 15 to 18 weeks for the product to be developed.
The Customer App
The customer-end application is going to be a lot more feature-packed as compared to the courier-end mobile application.

Some of the features will be:
Registration

Cost calculator

Payment Processing

Push Notifications.

Location Services 

Reviews and Rating

Order Tracking

Order History
Development Time & Cost
| | | |
| --- | --- | --- |
|   | Time | Cost |
| UI/UX Design | 5-6 Weeks | $5,000-$6,000 |
| iOS Development | 10-20 Weeks | $12,000-$16,000 |
| Android Development | 10-20 Weeks | $14,000-$18,000 |
| Web-Panel Development | 10-20 Weeks | $20,000-$22,000 |
The consumer MVP App is built for between $51,000 and $62,000 and will take between 15-26 weeks to develop if you consider the food supply app development cost of $30 an hour.
Thus, you can say that the average cost of getting an app developed is generally about $75,000 to $1,00,000.
Related Resource: Custom On Demand Delivery App Cost Breakdown
Advanced Features You Can Include In An App Like Postmates
The application owners have the option to make their application a massive success, attract & retain customers like never before, and make their application stand out from the rest – by developing an application with excellent functionality quickly and the company offers on-time service. Below are some advanced features to consider when designing the Food Delivery App, which will give your users tremendous value:
Gamification is a functionality that is becoming more common in the industry thanks to numerous food orders. It essentially uses the gameplay mechanics of the online food orders to grant its users the completion of tasks.
You can use it to build challenges for your app users and would really help you with increasing engagements.
In the food delivery sector, Chatbot is not a novel technology. A chatbot is an AI-driven software that automates user interactions without a human's help and answers the most general queries of the users. The use of AI does not suggest that chatbots are just answering machines. Instead, they brought personalization to a different level. This feature will stand out on the market for your app.
Customization is important not to draw new users these days, but also to maintain older users. You may monitor and review users' behaviors to provide individual feedback and messages with this application. It can make your customer relationship a win-win feature.
Preordering & Order-Customization
Every day or on a daily basis, a specific set of people need food or need to order for the future. This feature must be included in your application so that users can place custom orders in advance. Features such as this will make the development process of your food supply app on-demand productive.
Another advanced functionality you can include in your app is social media integration. It may lead to mouth-marketing interaction and phrases because people these days are heavily indulged in social media platforms and they love to share stuff online. So having a good type of social media integration is a smart idea.
According to Statista, 37% of consumers actively look for good discounts for a mobile food ordering service. 26% of users use the app to earn loyalty points. That is why businesses now pay particular attention to their loyalty programs. Starbucks is an unbelievable example.
Technology Stack Of Postmates
Application and Data: Javascript, jQuery, Python, React, NGINX, CloudFlare, PostgreSQL, AngularJS, Amazon EC2, Django, Kafka, Markdown, Go, Elixir, Rust, Celery, Erlang, AWS Glue, Cloudfare Workers, Domino

Utilities: Postman, Stripe, Twilio, TensorFlow, Mapbox, CloudFlare Spectrum

DevOps: GitHub, Docker, Kubernetes, New Relic, Grafana, Terraform,Sentry, Helm, Jaeger,Prometheus, kops

Business Tools: Slack,Mailchimp
Revenue Models, You Can Adapt For Your Postmates Like App
Well, if you have done your research you might know that there are a number of ways through which you can monetize your on-demand delivery applications. Some of the most famous ones are:
Many restaurants don't have home delivery facilities. In such cases, you are most likely to get the delivery costs if you offer your home delivery staff on request.
For example, Deliveroo earned a profit of a massive 164 million dollars last year as one of our market models for handling home on-demand delivery. And it's not just Deliveroo, there are numerous on-demand food supply apps that are mainly based on food supply revenue as their main source of income.
Established brands such as Zomato, UberEats, and GrubHub are set to rise in prices if demand rates are too high. In such a case you generally limit the menu choices and add an extra charge when placing the order. Although the incoming demand rate could decrease, the volume per delivery increases significantly.
If we have to recommend one single model for the long run for your application – this is the model to go with. charging commission from the restaurants you have partnered with is the best way to monetize your restaurant-centric on-demand food delivery app.
They contribute to a long-term partnership between the brand and the associated restaurants as well as to generating high revenues.
Media attention or righteous advertising is one of the most secure opportunities to produce high income. Eateries can be a mode of income generation by placing an ad of them in the Featured section or running a video for them on the home app screen. Apps can also earn to a significant degree on the platform by running Google Adsense.
Premium Subscription Model
You can divide your application into two versions – free and paid. Then you equip your paid version with a number of premium features and can keep it completely ad-free. Thus, you'll be able to charge your uses with some amazing additional functionality for a fixed price or subscriptions.
What Does The Future Hold For On-Demand Food Delivery Apps
The potential applications of the online food ordering system and the advancement of the food delivery app are classified by the future trends and developments in the food supply that today appear only minor but will all change the industry by the time we reach 2023 or 2024.
Let us consider the possible trends in food supply to which you have to concentrate on making the food supply app for 2022 available for the coming years. 
An advanced edition of the food supply is the only way food supply apps can go from now. Businesses like Postmates have been highly competitive with companies aiming solely to deliver food from a restaurant to customers. The response to how Postmates operate is found in the app, which is a solution on demand for customers to order food, food preparation equipment, and alcohol in real-time. We also recommend that you study Postmates, the business model, and then talk to your partner in the on-demand application development company about developing methods for your Postmates like apps.
New Food Ordering Channels
In addition to the common food ordering channels like websites and mobile applications, users presently discover new platforms for placing orders every now and then as the free and unlimited usage of the internet. Channels such as Social Media, VI, Smart Objects-TV, wearables, etc.
The on-demand food delivery framework will also look at emerging developments in the coming times in addition to the constantly expanding ordering options available. The delivery options are evolving in a way that now supplies food that drones, parachutes and robots. You must also make sure that the mobile food supply technology you are investing in is flexible to be incorporated into these modes.
It's an opportunity to make the stupid restaurant app clever and AR / VR is the only technological way to play a key role. Although they are mainly based on the mobile app's marketing edge, they are ultimately used as a significant mode of user loyalty by keeping users on the phone, even though their food order takes time to ship.
Big data is now known in the food industry as a high niche group, however, if it changes in the future. In the future, a lot of strong technological improvements to the food industry will be seen.
When it's used correctly, Big Data fairly shortly will provide a number of benefits such as better estimation of delivery times, increased knowledge of consumer feelings, custom marketing, and definitely a better prognostication of demand for food delivery.
Bonus Tips On Building Your App The Right Way
Begin by addressing your target audience and then construct your application accordingly. Personalize your offerings to suit the community's needs, providing options not found in all restaurants. For example, it would have a broader scope if the menu for your app contains vegetarian, gluten-free, or kosher food options.

Invest in good connections with local farmers and grocery stores. Invest in good long-term countable relationships. And never ever try to underestimate word of mouth's power: it takes time to develop credibility and a solid reputation in the market, but you can receive additional exposure for free through partnerships with restaurants.

And lastly, don't put all your eggs in one basket. This means that you should combine a team of full-time staff with freelancers part-time alongside.  This offers ample flexibility, workforce, and talented people for your delivery services while minimizing your costs.
Conclusion
It appears that online food delivery applications are here to stay, so their range on the market is continuing to increase. However, there will always be a demand for mobile applications and web services that provide something new, higher service, or simply different. 
It is not that easy to build a food delivery app on-demand like Postmates. Comprehensive industry research, market, and domain study is necessary. Therefore it is vital that you carry out extensive research on all these components with the support of experts before you plan on entering the development phase. 
You just need to come up with an amazingly unique idea and then hire a company that meets your needs for the creation of a mobile app and we promise, you will be good to go!
FAQs
How can I start a business like Postmates?
All you need is an idea, and a team of experienced developers to make it into an app. But, before you begin, you should first research the market to see if your Postmates like app has demand and target audience, and also if you have an excellent unique value proposition.
How should I find the right Developers for my app?
You should start by looking for trusted and experienced app development experts in your local area. You're looking for people who can understand your vision and are willing to work as per your needs and have a good record. You can also reach out to developers online, discuss your idea, and get a quote!
Who keeps the code after the development?
You, being the owner of your property, get to keep the finished product in all its entirety. However, you are going to need experts on the backend and for keeping the app running smoothly.
What's the typical cost of making an app like Postmates?
The price of making an app like Postmates can cost you anywhere from the UK $30- 50K (or more), depending on the various factors involved in the development process.