How GrubHub Works – Business and Revenue Model Explained!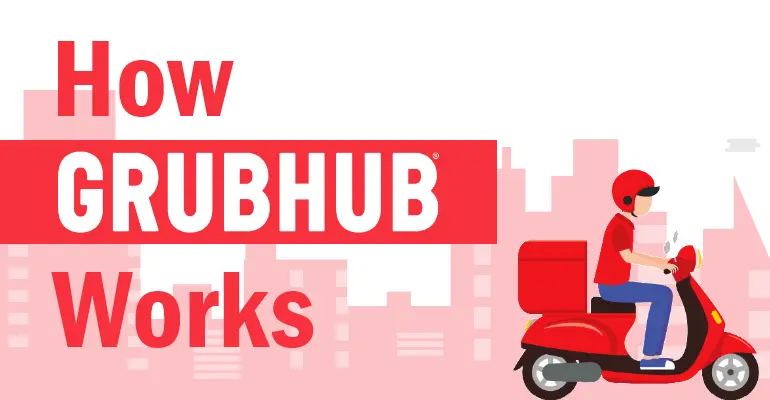 How GrubHub Works – Business and Revenue Model Explained!
Last Updated on June 21, 2022
Let's be honest "going out" is not going out of style anytime soon. However, in the age of Instant delivery, it is far more tempting to have a Netflix and chill date than a fancy wine and dine in a high-starred restaurant. The app innovations have not only made it easier to pre-order your favorite dishes but now, instant delivery to your doorsteps is a crucial component of that whole design. Just get your phone out, select the restaurant, choose your meal for today, pay, and get ready to eat your meal in less time than you'd take to get ready to go out. The boom of On-demand apps across sectors is a positive sign for the growth of this trend. 
One of the major players in the On-demand Food- delivery has to be GrubHub. A fierce competitor, GrubHub, is one of the most popular On-demand apps on the ground, blowing up. According to reports, as of April 2021, the company had the highest share of sales in New York City, which accounted for 37% of sales total meal delivery services sales. Grubhub was the most used  You might have heard of its name, along with DoorDash, FoodPanda, Postmates, Ubereats, etc. 
Other Famous Food Delivery Apps and How They Work:
So, what makes GrubHub a success in such a competitive industry? We'll be exploring GrubHub in detail to understand just that. Without further ado, let's get into the intricacies of the Food ordering giant that is GrubHub.
What is Grubhub?
Founded in 2004 by Mike Evans, Roman Gaskill, and Matt Maloney, the company has headquarters in Chicago, Illinois. GrubHub is an American Online and Mobile prepared food delivery platform, which allows people to connect with their favorite local restaurants to order food. 
The idea for GrubHub originated one night in 2004, when one of the founders Mike Evans, was hungry. Probably one of the best reasons to start a food- ordering franchise turned giant. According to Matt, Mike ended up coding the initial version of the business that night. And, from 2004 to 2020, GrubHub has had a long road to travel.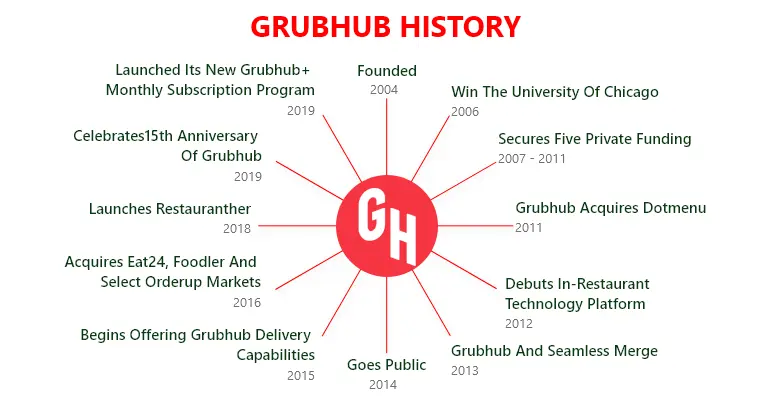 The growth timeline of GrubHub
The GrubHub concept came to be in 2004, as two hungry web- developers in Chicago sat flipping through Menus. 
With ten investors, the company has generated $281.1 M (as of 2018) in funding. 
In 2013, GrubHub acquired Seamless, a similar on-demand food delivery service. 
In June 2014, GrubHub began offering delivery for restaurants that don't operate their delivery service.
In 2014, GrubHub went public and started trading on the New York Stock Exchange under the ticker, GRUB. 
GrubHub's portfolio of brands includes Seamless, AllMenus, MenuPages, LevelUp, and Tapingo.
In February 2015, GrubHub acquired DiningIn, which was an online ordering and food delivery company based in Brighton, Massachusetts. In the same month, Grubhub also acquired Restaurants on the Run, which was a corporate food delivery company based in Aliso Viejo, California.
By 2016, the company was delivering in more than 50 markets across the US.
In 2016, the company announced new branding, visual identity, and logo for GrubHub. GrubHub incorporated Apple Pay and Google Pay in the payment system. In the same year, GrubHub acquired LABites. To make things more engaging, the company unveiled its new ratings and reviews system to give diners and restaurants. 
In October 2017, the company finished its acquisition of Eat24, and late next year, it shut down the brand. It also partnered with Yelp, Groupon, TripAdvisor, InterContinental Hotels Group, and Amazon Alexa to reach diners in more places, the same year. 
By July 2018, Grubh=Hub expanded its delivery capabilities to 28 new cities in the US. 
Also, in October 2018, the company concluded its acquisition of OrderUp. It acquired Level up, a diner engagement and payment solutions platform based in Boston, in September 2018. In November the same year, the company acquired Tapingo, a San Francisco-based platform for campus food ordering. 
In 2018, the company also Launched the RestaurantHER initiative that was in support of the women-led restaurants. The same year the company entered a National partnership with Yum! Brands, including $200 million investment. The Donate the Change feature went online as well, to lend a helping hand to those in need with restaurants. 
In February 2020, GrubHub launched its new GrubHub+ monthly subscription program.
 On June 9, 2020, Just Eat Takeaway announced it would be purchasing GrubHub for $7.3 billion in an all-stock deal.
Launch Your Food Delivery App in 2 weeks
With Customized On-Demand Solutions by OyeLabs
Some interesting GrubHub Stats 
In a total of 8 funding rounds, GrubHub has raised $284.1M (as of 2018). 
The company has had 13 acquisitions so far. 
In 2019, GrubHub had revenue of $1.3 Billion. 
The company was $18 Million in losses, as of 2019. 
It has around 225,000 Restaurants that users can choose from at the moment. 
The gross food sales of the company as of 2019 is $5,9 Billion. 
The company's valuation is at 7.1 Billion, as of 2020. 
The company provides for 22.6 Million users (as of 2019). 
GrubHub employs about 2,750 people and is available in 4000 US cities. 
The first loss the company saw was in 2019, which, according to the company, was due to its expanding delivery system. 
After merging with the food delivery giant Just Eat takeaways, the combined revenue of both companies stands at $3 Billion a year, making them the largest food delivery operator in the world. 
Now, let's have a look at the Business model for GrubHub. 
Business model 
GrubHub's business model is quite simple to understand. We need to take a closer look at the various components of the model to get the whole picture. Here are the different segments involved in GrubHub's Business.
The User base
It is a crucial segment in GrubHub's Business plan and includes people ordering the food through the app and enjoying the quick delivery from their favorite restaurants. The consumer drives the demand, and more people ordering food through the app, the better results for the overall business. It's as simple as that. Here are the fundamental markers for the user base of GrubHub. 
People who are tired and unwilling to go out for food can order in through GrubHub. 
People who are busy at work, unable to cook for themselves due to no time at all. 
People who are relaxing at home, trying not to do anything. 
Students who have busy studying schedules.
 People who don't have a kitchen, or who cannot cook themselves. 
People who are enjoying a holiday. 
These, among others, are some of the characteristics of GrubHub's user base. It is a fast-paced world that we inhabit, and time is of the essence. That is the main reason why people tend to favor on-demand apps Like GrubHub in general. GrubHub's also quite convenient and usually offers prices that most people can afford and are willing to pay for the overall service. To sum it up, let's go through the value propositions GrubHub offers its Customer base. 
GrubHub provides a wide selection of delicious meals from local restaurants. Users can choose and order anything they want from the listings. 
Along with quick delivery at the door, GrubHub offers reliable customer service. 
Real-time tracking of the order. 
Customers can rate and review restaurants, delivery service, and tipping is optional so that delivery people have an incentive for better service. 
Users can avail various offers and coupons. 
These are some of the central value propositions GrubHub has to offer to its user base. Let's move on to the next segment-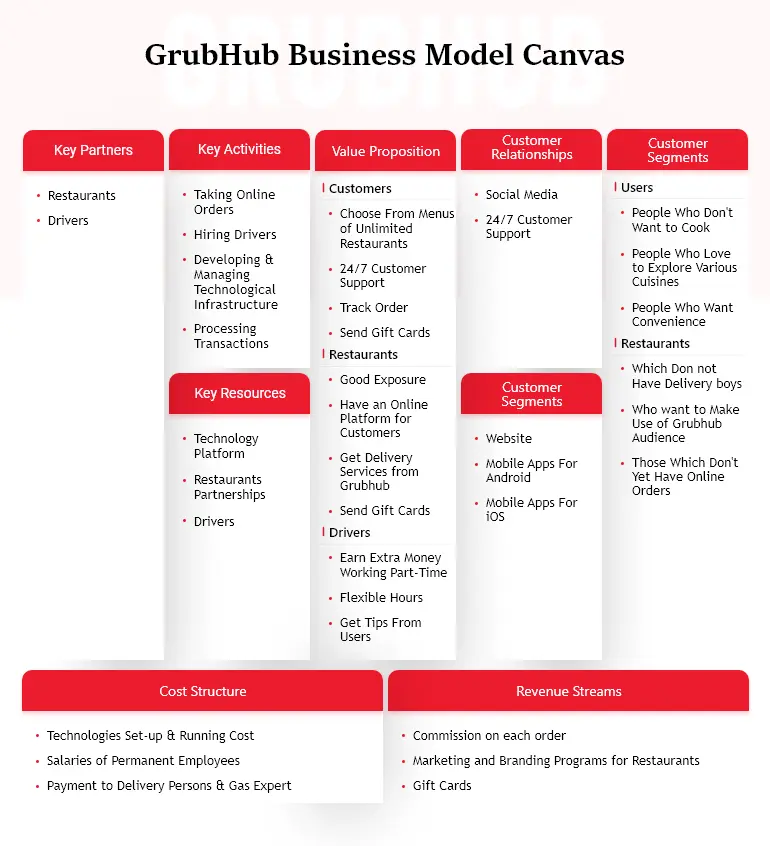 GrubHub's Business Model
The Restaurants 
All the demand needs supply, and for GrubHub, the supply network consists of the local Restaurants and Eateries that are willing to work with the GrubHub model. Here's more about this segment. 
Restaurants, trying to reach out to the on-demand customer base. 
The restaurants that do not have a delivery service. 
It is also ideal for small diners that want to cater well to rising demand. 
Here's what GrubHub can offer to this segment of their business model. 
GrubHub provides a trustworthy delivery service to the restaurants. 
Increased traffic for their business, for an affordable cost. 
Thanks to the thoroughly structured platform, the restaurant reaches out to the most relevant audience. 
Promotional services are available for interested restaurant partners. 
Thanks to GrubHub's efficient model, the overall efficiency of the restaurants is also increased. 
Businesses can benefit a lot from the valuable insights that are gathered by GrubHub. 
Let's move on to the final but crucial segment, the delivery personnel. 
The Delivery Personnel 
These are the people who act as a link between the user base and the restaurants. An efficient delivery network is one of the top reasons for GrubHub's growth and continuing success. Let's find out more. 
This segment consists of people who are looking for part-time to full-time job opportunities in the delivery sector. 
People who want a more flexible working routine. 
People who are motivated by the added incentives like tips. 
People who are doing it to complement their other career opportunities. 
To this segment, GrubHub has a lot to offer as well. 
Flexible working hours. 
All the tips go to the drivers. 
There's no work pressure like many traditional jobs. 
Option to make it a full-time career and earn well. 
These are the segments that keep coming together to make the excellent machine that's GrubHub. 
Wondering how the wheels turn for this on-demand giant? Let's find out!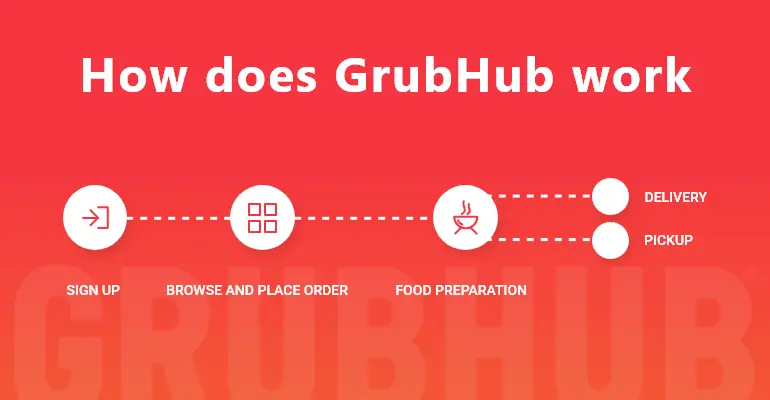 How does it work?
Grubhub is an on-demand prepared food delivery service, which allows users to order their favorite dishes from local restaurants. There are a lot of aspects involved in the overall functioning of the GrubHub. Let's go through how the platform works for each segment. 
Users 
The food ordering is a lot easier for users thanks to Grubhub. For users, the process is quite simple. Let's take it step by step. 
Users can begin their GrubHub experience by installing the user app from the Playstore. 
After signup, users can browse through a multitude of local restaurants listed on the app. Users can choose the dishes of their liking and add them to their cart.
After selecting everything for their order, users can put in the delivery address and confirm their order, and move on to the next step. 
The next step is paying for the order, and there are a lot of ways users can do that. Users can pay using their credit/debit cards, or Paypal. Cash on delivery is also an option.
Once the payment is processed, users can sit back and wait for their quick delivery. Users can track the progress of their orders in real-time. 
Restaurants 
For restaurants, the process goes something like this. 
After the users successfully place the order, the restaurant's role in the system begins. The restaurant gets a notification as soon a user orders something through their GrubHub app.
After making sure that they can get the order ready, they take up (confirm) the order, and notifications go to the users and the nearest delivery personnel. 
After finishing the preparation, the order is properly packed and sent on its way with the delivery staff. Restaurants have to be quick in their procedure, and ideally, by the time the delivery staff arrives, the order should be ready and packed for delivery. 
Delivery Personnel
There's another component to the GrubHub working machine, and that's the delivery personnel. For them, this is how it works. 
Delivery personnel get a notification on their app about a nearby order, and if they're able, they can confirm the order. 
Once the order is accepted, delivery personnel need to get to the restaurant as soon as possible. 
Upon arriving, they collect the order from the restaurant and update the status on their app. This way, the users know that their order is on its way. 
Delivery personnel can contact users for direction or in case of a delay. Upon arrival, they hand the order to the users, and if the user is happy with the service, they can collect their tip as well. 
GrubHub PickUp service
GrubHub also allows people to place an order in advance so that they can pick it up later. It is an ideal option for people who live nearby the restaurant but don't want to sit and wait for their orders. They can place their order through the app, and wait for it at home, and then go and pick it up. 
Related Read: Top Food Delivery Business Models
When it comes to generating revenue, here's how GrubHub earns its keeps.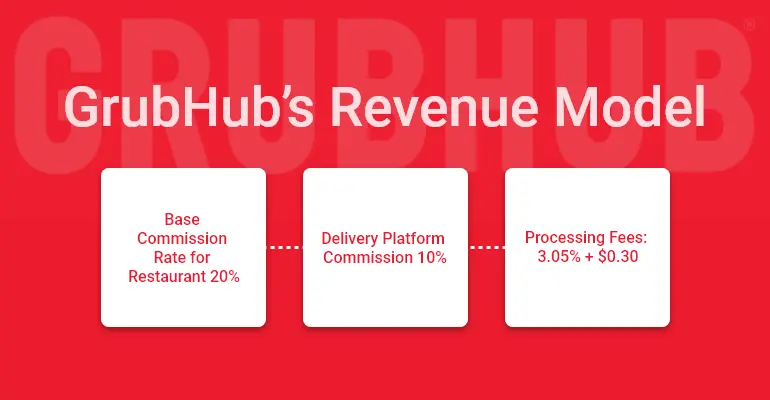 GrubHub's Revenue Model 
The revenue model for GrubHub is quite simple but has been able to propel GrubHub to be one of the big dogs in the On-demand food delivery scene. Here's how it generates revenue.
Delivery Charges
On each successful order, GrubHub charges a delivery fee from the customers. Typically, this fee goes towards the delivery personnel, but the company charges a small commission on it, and this adds to the overall revenue of GrubHub. 
Restaurant's Commission Fees
GrubHub charges a fee on every order that goes out from any of its affiliate restaurants.  Since there are no added charges for the restaurants to be on the platform, restaurants do not mind a commission on each order, adding to the overall revenue of GrubHub. 
Promotions 
GrubHub allows the restaurant's the opportunity to promote their business on the platform. Since there are a large number of the restaurant on the application, featured restaurants stand out and have a higher chance of engagement. GrubHub charges restaurants for special features on the platform. 
GrubHub+
GrubHub's monthly subscription is also a way that the company generates revenue through. It is available for users for 10 per month.  With this subscription, users can get free delivery on orders that cost $12 or more. The service also allows for 10 percent cash back on orders. 
So, this is an overview of the pillars of GrubHub's revenue model.
Related Read: Types Of Food Delivery Apps and Their Secret To Sucess
What the Future Holds?
GrubHub has had a long journey, but even amidst the chaos of 2020, GrubHub has continued its evolution. GrubHub's state of the plate shows that in 2020, there has been an impressive increase in demand. Many items, including Chicken sandwiches (299 percent), Plant-based burgers (291 percent), Vanilla Shakes (273 Percent), iced Lattes (261 percent), and a lot more, have seen a surge in demand this year. 
User- engagement for GrubHub seems to be at a great place. Grubhub's initiatives like RestaurentHER, Donate the Change, have been helping out communities, building trust for the brand, and its smart acquisitions throughout the years have made it a force to be reckoned with for its competitors. 
Since its merger with the delivery giant Just Eat takeaways, the combined revenue of both companies stands at $3 Billion a year, making them the largest food delivery operator in the world. 
The future for the company seems to be bright, and if it can avoid the controversies that seem to surround it time and again, as many of the on-demand giants, and keep moving at the same pace, it can be much bigger still.
Conclusion 
With every facet of GrubHub explained, you can see how it works and generates revenue. GrubHub has been in the industry for a long time and has evolved successfully with the changing times. The smart maneuvering of its circumstances, and smart financial choices, has kept the GrubHub vehicle moving. After its recent merger with the European food delivery service Just Eat Takeaway, it has become even more prominent. It'll be interesting to see what is next for GrubHub.
FAQs
Is a food delivery app like Grubhub worth investing in, in today's changing e-commerce scene?
The changing e-commerce scene is the main reason behind the increasing quantity of on-demand outlets that have been popping up, especially in the recent few years. People are willing to pay extra for quick delivery, and if you can provide a solution that is both practical (for you and your target audience) and which you can scale as per the results. 
What happens to the code after development?
When the developers you and are okay with the final version, it, in its entirety, becomes your property. For the most part, the first rights of the code go to the authors (developers) or the employer who has employed them.  
How much is it going to cost me to build a food app like Grubhub?
The cost to build a food delivery app can be anywhere from $20,000 to $60,000 or more, depending on a variety of factors, i.e., locations app features, development team, platforms involved, etc. 
What are the hidden costs of developing an on-demand app like GrubHub?
With any basic to the medium-sized app, the post-development costs of app development can be anywhere from $5,000- $11,000. These costs include Servers, CDN, Image  Data, Push Notifications, App Update Submission, and so on. These costs can be more or less depending on who taking care of app maintenance for you and what resources they are using. 
Should I be working with local developers? What are my options?
You have a lot of options when it comes to finding a team of developers for your app project. However, you should find out the best team for your idea, based on more than just proximity or any other restrictive factor like that. The team experience, their take on your idea, your budget, time- period, your market; you can consider all these things before you make up your mind.