Top 3 On-demand Home Services Business Models Explained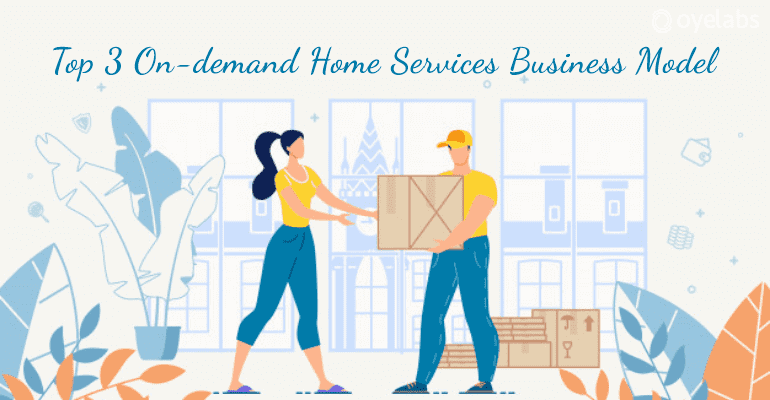 Top 3 On-demand Home Services Business Models Explained
Last Updated on June 21, 2022
Introduction
Visualize that in your kitchen you will be accompanied by stinky plates, a filthy room, some dirty laundry, and a lot of other items on the floors. And look, it's 10:00 already and you have to hurry to your office.
What are you going to do? Cleaning?

No way! No way! No way, if that was what you were planning to do!
We have tiny angels in our pockets in the 21st century who will help us handle all these dull homes when we are able to go out to do things that require our vital attention. These angels are branded "home service apps" by innovators and busy people worldwide (just like us).
See also:
Not only helping users to deal with busy and modern life, but these applications can also have certain opportunities for service providers and home services companies, to hire someone to carry out these duties (cleaning, cooking, plumbing, and more). For both sides, this means a win-win situation as one gets their job done and the other gets a job to do!
Therefore, whether you are an entrepreneur who plans to extend or improve your company online, or if you plan to develop a comprehensive on-Demand home service application, you will benefit from that different application in various ways. 
Let's see how. 
Why The On-Demand Home Services Apps Are The Next Big Thing 
With lives growing quicker and simple domestic services being needed, domestic on-demand services are becoming more popular. The comparison with the new Internet market now, which existed almost a decade before, is a clear example. A simple example. With the Internet age the digital scenario has changed massively and only certain firms, who have an extra advantage, can survive the competition.
In the past few years, businesses such as UrbanClap (currently the Urban Company), Uber, etc. have benefited from their work.
According to a report by Technavio, the US market for on-demand home services is expected to grow at a CAGR of 60.77% from 2021-2026.
As the internet's leading customer, the current generation is also the main consumer of home on-demand services. In the coming years, that will also lead to unbelievable business growth. The unchanging relationship between a vendor and a customer is also a crucial driver for the growing success of on-demand applications. There are also plenty of cost-effective options that can help you develop an uber for handyman app. And the smallest of the smallest budget startups will then set up and run their business in no time.
Some of the other benefits of On-Demand Home Services Apps
Modern life desires luxury and on-demand platforms deliver the same thing. Apps such as Urbanclap, Housejoy, and TaskRabbit are all common since all home-oriented services are accessible on one side, making living worldwide convenient.
Users will search multiple service providers, analyze them on the basis of feedback and feedback, employ someone according to their needs and pay for services – all on one single website.
Home Service Apps Have A Much Lower Cost
Cost is typically the buyers' key driver. And home service networks on sale deliver cheaper costs than conventional vendors. As a result, there are many home service applications on the market that are booming.
Home utilities applications operate as a bridge between vendors and customers. These applications also handle money transfers and purchases to let consumers pay with one tap which will improve their convenience of them in the future.
Apps for home utilities on demand know what the customers want. They also seek to offer services as easily and as the customer wants. For example, consumers may create a time limit for use of the service or get a sense of the expense of the service simply by adding a couple of specifics.
Although home service applications give consumers many benefits, they also support service providers and home service firms. 
If you wonder why, here are some of the reasons why you can understand its main benefits, so you can decide better before you invest in its development:
Mobile applications now not only keep the current business users in touch, but they also help to draw new clients by improving brand exposure. This allows you to further scale the business. You will 10X the popularity of your home service company on demand by creating an on-demand home service app.
Mobile apps provide current and future users with direct marketing opportunities. The apps provide a vast array of services, booking forms, rates, search options, and more for general information. In exchange, this benefits marketing firms. Functions such as pushing reminders about available offers and promotions will also improve company sales.
It is of the utmost importance in today's dynamic environment for the target customer to understand more about your brand and establish a compelling picture of it. By building brand awareness, you can benefit from a mobile home service app.
Customer Relationship Management
The improved quality of customer care is one of the key benefits of smartphone technology for companies. You can address your customer complaints in your app by a chat with the home service application, or you can embed a chatbot with your mobile app to provide your customers with 24/7 assistance.
The home service application production industry is booming tremendously as a result of these advantages and the number of players in the market is rising exponentially. See the following figures, which tell us a lot about Home Service Apps' reach and demand.
When we talk about the business models available for the on-demand home services applications, there are 3 key business models which you can adapt.
Top 3 On-demand Home Services Business Models
1. Lead-Based Business Model
Customers collect quotes from manufacturers who have paid for their shipping with a lead-based model. A client, for example, can like a re-titled roof. The website or aggregator put together a variety of professionals who apply for the deal that is available if they are available and consumers will pick the quote they think is best.
They obtain an online presentation and an idea of industry dynamics and pricing from a supplier's viewpoint. From a consumer point of view, it is possible to make a more educated decision by collecting quotes from many competing vendors.
From the aggregator view, the customer base is increasingly growing as the developer is not responsible for quotes. This large client base also encourages vendors and the number of suppliers along with customers to join the network.
Thumbtack had dabbled with a subscription and a transaction model before opting for the lead-based solution, one of the most popular brands in the lead-based model approach. Thumbtack is currently paid by professionals to reach customers using Thumbtack credits, and skilled customers then submit quotes. Service suppliers are only payable on quotations, except for work that they do or potential employment for the same client except for referrals, Thumbtack does not charge any fee.
2. Transactional-Based Business Model
The aggregator or service provider on the market takes a portion of each sale that is paid by the network under a transaction-based service model. In other words, the more sales you paid, the more profits you received. This helps make your platform scalable.
This model is very good for consumers since customers pay only when anything is needed, and vendors are employed only. Which lowers the start-up costs with low profits and risks contributing to a rise in supply and prestige for both manufacturers and consumers.
Taking TaskRabbit as an example is a company that began in Boston in 2008 as a necessity to build a forum for those who needed service and those who wanted to give their time for those services. Over the past 10 years, TaskRabbit has shifted from a concept to a business earning more than 40 million, $with over two million active customers and thousands of vendors in 40 locations around the United States and abroad. Taken as a wholly-owned independent IKEA subsidiary in 2017, TaskRabbit was licensed from the IKEA Company.
3. Subscription-Based Business Model
For works that do not require a one-off charge such as laundry or domestic support, clients offer facilities at their discretion on a recurrence basis while routinely paying for them.
The great thing about a subscription service for a service provider is that the odds of keeping clients are very good. Cross-selling and marketing have a very high reach and sales estimation is virtually straightforward.
From a customer's point of view, this takes the frustration of continually looking for and paying for utilities. Simply put, the monthly bill for operation means that the work is completed without difficulty. It also lowers the expense of booking services separately for consumers.
Alfred, a New York-based corporation, was awarded prizes and over $60 million in financing by Marcela Sapone and Jess Beck in 2014. A winner of the SF TechCrunch Disrupt 2014, Alfred has provided people with the support that they once needed to do something they didn't have time to do. Hello, Alfred delivers home maintenance services and is proud to explain how about 50,000 demands should have been made, which would have taken around five years to achieve in less than eight months.
Related Read: Complete Guide On Home Services App Features List
Conclusion
The Home Services device is the latest creation of the on-demand smartphone market. However, for businesses that can be sought and launched, there are also many openings on the market.
The integration of essential features and a powerful message would popularise the product through proper market analysis. The market is rising over time for the home services app. This criterion must be used in a proper manner that requires professional advice.