How Gojek Works – Business Model and Revenue Model Explained
How Gojek Works – Business Model and Revenue Model Explained
Last Updated on November 3, 2023
Introduction
Founded by Nadiem Makarim in 2010, Gojek had a fleet of motorcycle drivers that used to provide on-demand rides to passengers. Along with bike rides, the startup was into food delivery and courier services at later stages.
The startup didn't get much traction in its initial years. But in January 2015 everything changed for this Indonesia's ride-hailing and on-demand services startup Go-Jek when it launched an app.
See also:
Recently, it has become a unicorn after its US $550 million fundraisings. The company has raised $5.3 Billion in 13 rounds as of 2021 according to Crunchbase. With the backing of acclaimed investors like Google Mitsubishi, Astra International, Northstar, and more, Gojek became the first unicorn company in Indonesia. 
Some facts about Gojek
Total number of riders: 200.000+
Operation: 14 cities
Valuation: $l.3 billion
Services provided: 20 on-demand services. Like motorcycle taxis, food delivery, courier service etc.
Founded: October 13, 2009
Headquarters: Jakarta, Indonesia
Current CEO: Andre Soelistyo, Kevin Aluwi
Founders: Nadiem Makarim, Michaelangelo Moran, Kevin Aluwi
Growth Timeline
The journey of Gojek has been crazy. The startup has seen tremendous growth over the past few years. Want to know how it all started? Here's what happened
October 2010: Gojek started with a call center and a fleet of only 20 motorcycle riders.
Mid 2014: Investors were interested in Gojek, seeing the rising popularity of Uber.
January 2015: With 400 riders, launches an app with transportation, shopping and courier services for Jakarta and cities nearby. 
March 2015: 2,000+ riders at Jakarta and cities nearby. Also, it expands to Bali with 300 riders. Expands to Surabaya within 3 months.
April 2015: Launches go-food service and expands to Bandung
May 2015: Has 3k riders. Grab bike, a competitor, enters the market.
August 2015: With mass recruitments, it now has 30k riders and expands to Makassar.
September 2015: Launches go-mart, an on-demand shopping assistant.
October 2015: Get funding from Sequoia Capital and some other investors. Launches new services like go-box, go-massage, go-glam, and go-clean along with go-busway, a service that connects people with public buses.
December 2015: Launches go-tix, an event ticket booking service, and the company expand to Balikpapan, Jogja, Palembang, Medan, and Semarang.
January 2016: Line app Integrates Gojek into its chat app to enable ride-hailing service
February 2016: Acquires 2 Indian startups, Codeignition, and C42 startups. It now has 200k riders.
May 2016: Collaborates with a major Indonesian taxi company BlueBird. GoJek expands to Samarinda, Solo and Malang.
June 2016: Launches go-auto to provide mechanic services on demand. The company now expanded to Manado.
April 2016: Launches go-car to expand its ride-hailing from motorbike fleet to cars.
READY TO LAUNCH YOUR APP?
With Customized On-Demand Solutions by OyeLabs
Gojek works smoothly, and that's the reason why it is at the level of success that it is. For anyone who's thinking of starting up something similar, it is worth looking into the inner workings of Gojek, how it operates and generates revenue 
Gojek Business Model
Gojek is a multi-service platform, and it has a few segments that it caters to, i.e., Consumers, Merchants, and Drivers. By understanding how the app works for these different segments, we can understand the business model of Gojek. 
Gojek for Consumers
This segment comprises the people who use the variety of services that Gojek has to offer. Gojek provides a reliable and straightforward experience to its users. Gojek consumer segment includes-
People who are looking for quick access to multiple solutions. 
People who want reliable service at a reasonable price. 
People who want a variety of choices. 
People who want to enjoy safe and fast delivery. 
For this segment, here are the value propositions from Gojek.
One-stop-shop for multiple needs. 
A varied selection of reliable retailers and service providers. 
Safe transactions. 
Here's how Gojek works for customers
Defining the Need 
First, users can identify a need and then search for a viable solution on the app. There are several excellent solutions, such as GoFood, GoRide, GoSend, GoShop, and more than twenty such services. Depending on the call of the moment, users can commit to the apt service among these. 
Booking Apt Option 
Once users are clear about their needs and the service that they are going to use, users can then book the service to finalize their decision. Users can select their purchase and add one or more to the cart. Once the cart is full of their desired buys, users can move on to the next step. 
Paying the Bill 
Once the consumer cart is full, they can move on to the payment option to pay for their purchase. Users can choose to pay online, or cash on delivery is also an option. Cash on delivery option may cost users a little more than paying online, but the company does this to minimize false orders and eliminate risk as much as possible. 
Receive your Services 
After the payment is complete, whatever service the customer is using, whether it's a food delivery service, or grocery delivery, etc., the package arrives at their door, or the work is done, and so on, at the stipulated time. The timing can vary, depending on the service in use.
Gojek for Merchants 
There are a lot of Merchants that come on board the Gojek train. These are new-age businesses, and even many traditional, old- school businesses and service providers who want to take advantage of Gojek's popularity. Merchants are interested in Gojek because of a variety of reasons. 
It is one of the best platforms to be in the online space. 
It provides a varied user base to the merchants on-board.
The venture is quite profitable and is one of the biggest growing businesses in the world. 
It adds value to any business to have a Gojek connection. 
Merchants that are aware of the platform and find it useful to their business strategy sign up with it, and rest, as they say, is history. 
How Gojek works for merchants
Receive order/request
When the consumer places an order or request successfully, merchants receive it on their mobile app. Once they have the order, they begin the process of getting it to the customer. 
Preparation 
Whatever the service might be, the merchants/service providers start the process of preparing the order or move out for any help that is needed, like packing and moving, cleaning, etc. It is the crucial phase where the artillery comes out. 
Delivery 
In the case of orders such as food, grocery, etc., drivers get notifications about an order, and they swing by to collect the order as soon as it is complete. They pick up the order and take it to its intended place. Merchants can pay the drivers through the app. 
Gojek for Drivers 
Drivers are an essential part of Gojeks operations, and interested individuals or groups can sign up with Gojek to become driving partners. 
Gojek has a lot to offer to interested drivers –
There are a lot of different opportunities available for the drivers to choose from at this platform. 
It has an easy to sign-up process, and drivers can work with ease.
There is no rigid work schedule. 
The monetary aspect of delivering for Gojek is also quite lucrative. 
How Gojek works for the drivers
Downloading the app 
The first step for drivers who are signing up with Gojek is to download the app. Drivers can check to see if the app is working correctly in their work area since network availability is directly proportional to the amount of work they can deliver. 
Sign-up 
After the download is complete, drivers can sign up with the platform by filling in their details. There are a lot of opportunities for drivers on the platform that they can sign up for, i.e., they can sign up as a cab, or motorcycle driver, or they can sign up as delivery personnel with one of the various other services, depending on their preferences. 
After they initiate the Sign-up, drivers get an OTP (one-time-password), which they can use to verify their account. 
Defining the Profile 
At the time of registration, the drivers need to provide a few crucial documents like their vehicle registration proof, identity proof, etc., to complete the process successfully. Drivers can also add more information about themselves and keep their profiles sharp. After turning on the online button, drivers can begin working with the app.
That is how the various components of Gojek work, and now, let's see how this smooth operation earns its keeps. 
Related Read: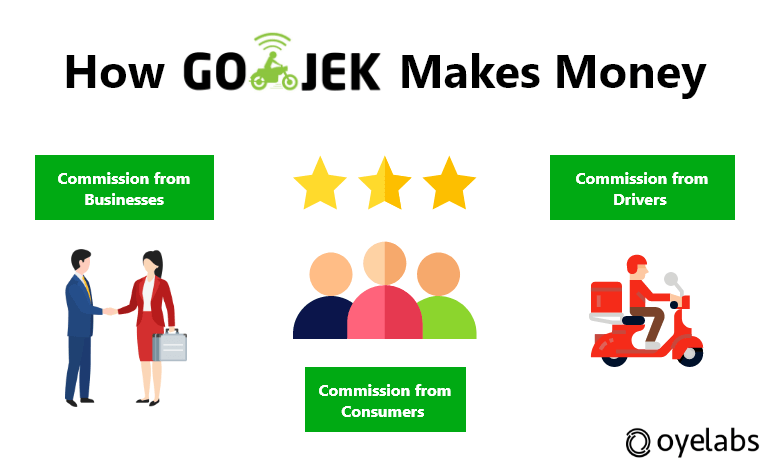 Gojek Revenue Model
Gojek has a pretty impressive turnover each year, and there are a few ways it can do that. 
Commission from Businesses 
Several businesses sign up with Gojek to enjoy its smooth operation to benefit their sales. In turn, Gojek charges a small commission fee on each successful order that happens through the app. 
Commission from the Consumers 
Gojek is a one-stop-shop for its users and provides a convenient solution to a variety of problems. It eliminates the trouble of having to go to different apps for different needs. For this offering, Gojek also charges a minimal fee from its consumers on each order, which users are glad to pay to enjoy Gojek's convenient and reliable offerings. 
Commission from Drivers 
Individual drivers or any delivery partners with Gojek also pay a small commission to the platform for each order they get to deliver. Considering the perks that the platform has to offer to the drivers, a small commission fee is a pretty decent bargain.
Frequently Asked Questions (FAQs)
How much does it cost to build a super app like Gojek?
Starting cost for a multi-service on demand app like Gojek can be anywhere around $10000 to $20000. IIt can go upto $50k and beyond depending upon client's requirements. The total cost will depend on the platform selection, technology used, UI of the app and other factors. Oyelabs develop super apps at a very competitive price. Final project cost estimations are based on the features and functionalities requirements from the client side.

What are the various services provided by Gojek?
As of 2020, Gojek Super app is providing approximately 20 on demand services. These are –
– Go-Food: On-demand food delivery
– Go-Mart: On-demand grocery delivery
– Go-Med: On-demand medicine delivery
– Go-Send: On-demand courier service
– Go-Ride: online taxi service
– Go-Car: on-demand ride-hailing
– Go-Glam: On-demand grooming
– Go-Blue Bird: On-demand metered taxi
– Go-Clean: On-demand house cleaning
– Go Tix: Entertainment ticket selling service
– Go Auto: On-demand auto care
– Go-Box: For pickup and delivery, truck service
– Go Massage: For on-demand massage
– Go Pulsa: Mobile phone credit top-up service (paid by Go-Pay)
– Go Pertamina: For on-demand fuel-delivery
– Go Points: Loyalty program 
– Go-Pay: For cashless payment transactions
– Go Play & Go Studio: For video streaming
– Go Bills: For bill payment

What are the advantages of building a super app?
It is a budget friendly solution for Providing multiple services. Here are some of the major benefits you can provide your users with a super app
– It saves customers' time & effort: by providing multiple services in one app, a super app enables – customers to do more with minimal effort.  
– As users are on one app for multiple needs, it gives them a consistent user experience.
– Saves Storage Space and internet usage as users won't have to download several apps. From grocery shopping to payments to ride bookings and more all can be done in just one app.

Can you name some other apps that are similar to Gojek?
Similar to Gojek, some of the other major market pliers are Grab, WeChat, and Zalo to name a few.

What features do I need for an app to be a superapp, just like Gojek?
As from orders, bookings to payments everything is done using all in one app. Social Media Integration, Schedule Bookings, Live Vehicle Tracking, In-App Push notifications, Multi-Language Support, Payment Gateway Integration are some of the most essential features you need in a super app like Gojek.