Step-by-Step Guide to Build an App Like Rappi & How Much Does It Cost
Step-by-Step Guide to Build an App Like Rappi & How Much Does It Cost
Last Updated on June 6, 2022
Rappi is a Columbia based on-demand delivery app that markets itself as Latin America's everything store. The start-up aims to deliver everything on-demand, from groceries, food, alcohol, medication, apparel, electronics, and has branched out into bike rental, travel, and rudimentary banking services such as paying bills and delivering cash.
Here are some stats about Rappi
| Founders | Founded on | Headquarter | Total Funding raised ($) | Valuation |
| --- | --- | --- | --- | --- |
| Felipe Villamarin, Sebastián Mejía, Simón Borrero | 2015 | Bogota, Colombia | $1.4B | $2.5 B |
Rappi was founded in 2015 by Simón Borrero, Sebastián Mejía, and Felipe Villamarin. The start-up initially started operation as a food and grocery and delivery app; however, over the past few years has grown into a whole ecosystem and was recently valued at an estimated $3.5 billion and is backed by Japan's SoftBank. Rappi currently operates in 55 cities across seven Latin American countries including, Brazil, Argentina, Chile, Colombia, Mexico, Peru, and Uruguay, and serves more than 13 million users.
How Rappi Makes Money
Rappi enables users to order groceries, food, or drug store medications, as well as withdraw money from their bank account via ATM and deliver cash through its App. Through the App, customers can also request for errands such as provide personal belongings transportation, including keys, purses, wallets, etc. Additionally, the App also offers services such as dog walking.
Rappi generates value to all the players in the ecosystem by using an innovative business model:
Rappi makes money by charging merchants commission on each order. Rappitenderos (Rappi's courier boys) don't receive any part of this cash; they are paid directly by the delivery fee charged to customers. As per the Company, a delivery person makes approximately $4,700 pesos per order ($3,700 pesos for delivery and $1.000 pesos as a tip).
Rappi has also built a secondary revenue stream by creating partnerships with consumer-packaged-goods (CPG) companies. Rappi charges CPG company's marketing fees to guide consumers to their products and display ads. Furthermore, to increase courier utilization during non-peak hours, the Company offers CPGs the opportunity to deliver sample products. By leveraging Rappi's consumer data, CPGs can select specific customer profiles to send their product samples.
Rappi has another value-add service which is Rappi pay, an electronic payment system through which users can transfer money and make payments to merchants with their phones. Rappi continually adds new categories to the platform to achieve higher ticket transactions.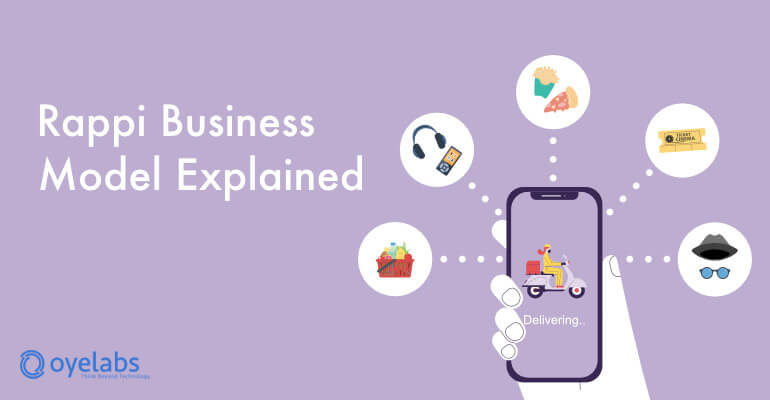 Rappi Business Model
Rappi's business model has seamlessly combined numerous services that are offered by multiple apps in other countries.
1) Grocery Delivery: Rappi was initially launched with grocery shopping as its core functionality with a small number of supermarkets available on the App. Gradually the Company expanded into other areas and has struck partnerships with major players in the retail market. Two of Colombia's largest supermarkets, Éxito and Carulla, are available on the App.
2) Food Delivery: Food Delivery was also part of Rappi's initial launch, and that helped the company stand out, as the competition were focused on only one function, i.e., delivering groceries (Mercadoni), or food (Domicilios.com or Uber Eats). Rappi provided added value to its users by offering both services on a single app.
3) Mobile Money Transfers: Rappi's payment service RappiPay allows users to transfer money from their accounts to other users by using their credit card or credits (RappiCreditos) on the App's digital wallet. RappiPay is convenient to use and does not charge any transaction fees, unlike transferring money via bank, thereby increasing its popularity.
4) Errands: Rappi enables users to get almost any tasks completed through the App, whether it is delivering a package, exchange products, and even getting a 4th player for your FIFA game
5) Micro-mobility: In September 2019, Rappi entered a partnership with Grin, Latin America's leading scooter start-up. Through this partnership, Grin users can rent scooters inside the App, allowing Grin to scale through the region with the help of Rappi.
Rappi employs more than 50,000 Rappitenderos that each complete more than 30 orders per month. The couriers can work on the App as long as they wish and get paid per order. Many people with lower education can earn 2x the minimum wage prevalent in the country by working on the App. Rappi's couriers are self-employed and make money through delivery fees and tips. This allows Rappi to avoid all employee-related expenses such as vacation days, pensions, and insurance.
Apart from these services, Rappi offers more than 20+ functionality, such as delivering cash, buying tickets to a music event, over the counter drug delivery, and paying for vehicle insurance through the App.
What Drives Rappi's Success
In the hyper-competitive App market where multiple providers are vying for your attention and money, success often hinges on finding unmet consumer needs or developing better solutions than existing in the market. Most importantly, once you have the customers hooked, it is of utmost importance to keep them engaged.
Rappi's success is not entirely dependent on technology. The App stands out by offering its services to the right people at the right time. With a laser-like focus on the user experience, Rappi has been able to solidify its position in the market.
From selecting the right technology partner to investing in the right type of marketing strategies, identifying, and working on actionable insights, there is a lot of work in the background.
Experimentation is the key: Rappi has continuously been working on improving communication with users. The experimenting and risk-taking endeavors have served them in gaining new customers and retaining the old ones.
Add-on offerings: Rappi offers periodic discounts, offers, loyalty points, and additional offerings to increase the number of orders and ticket size.
Regional Targeting: Latin America is a highly diversified market. What works in one region may not work in another. Operating in different countries, Rappi focuses on region-specific languages and terminology.
Using data to optimize and enhance customer experience: Rappi utilizes data-driven insights to understand how their product experience impacts users. Analyzing conversion metrics has enabled them to comprehend the conversation better.
Improved conversions: With the help of intelligent insights, Rappi consistently optimizes its ROI strategies. For example, they can programmatically extract cohorts of new users on an hourly basis.  Actionable insights also assist Rappi in real-time targeting, driving an increase in the number of users and a decline in the cost of acquisition.
Rappi Rewards:  Rappi uses a tiered profile system, "more you use the more you earn," where transactions and activities completed via the App rewards users with points and access to additional rewards.  Rappi uses a metal-themed scheme, moving users through bronze, silver, gold, and diamond tiers. Points are earned per transaction, while its Prime service users make double the number of points earned per transaction.
As users move through the ranks, their benefits and chance to earn points increase as well. For example, customers in the silver bracket receive 10% additional cashback using ATM services, while diamond users can access priority slots with the highest-rated delivery drivers. All these features keep app users incentivized to use Rappi's services more often and build a sense of loyalty by offering its most frequent users' access to more premium services such as fast-tracked customer support or delivery slots with the highest-rated drivers. Thus, Rappi employs a combination of direct incentives to keep retention levels high and a steady stream of new, tailored to gain new users, helping to build retention and a long-term user base.

Launch Your Grocery Delivery App in 2 weeks
With Customized On-Demand Solutions by OyeLabs
The Super-App Experience
Blackberry CEO Michael Lazaridis coined the term "super app" in 2010. It became a popular buzzword in Southeast Asia after the rise of prominent tech start-ups, WeChat, Grab, and Gojek.  A super app is a one-stop place to manage and meet consumer's needs, made possible by the amalgamation of multiple services from social networking, eCommerce to goods delivery and financial services onto a single platform. The super app business model has grown well beyond its original range of offerings to cover services, including lifestyle, entertainment, and financial needs.
The Super App allows mobile users to integrate third-party merchants' services without downloading separate apps. Instead of installing multiple stand-alone native apps for various products and services, disparate solutions, such as messaging friends, ordering food, booking a taxi, shopping online, querying and booking events, transfer money, etc., are consolidated into a single app!
Examples of Super App
WeChat: Tencent Holding Ltd.'s WeChat regularly logs more than 1 billion monthly active users. The super chat app has created a successful blend of commodification and convenience by combining multiple functions. WeChat allows users to chat with friends and access numbers of third-party services such as hailing a cab, playing games, buying movie tickets, ordering food, paying bills, and transferring money.
Alipay: Alipay is the payment solution arm of Chinese e-commerce giant Alibaba. Alipay wallet provides easy mobile access to shop and payment for products and services from local restaurants, shops, and other outlets, obtains discount e-coupons, and shares product recommendations and red envelopes with friends, among other features.
Gojek: Indonesian start-up Gojek initially started operations as a motorcycle ride-service app. The Gojek Business Model offers a full suite of services from ordering food, digital payments, hyper-local delivery to fintech, getting a massage, and two dozen other services.
Related resource: Guide To Build A Super App Like Gojek
Advantages of Super App
Seamless integration of additional features and services in a Super App makes it easy for people who find it challenging to remember multiple sets of credentials for frequently used apps. Also, it makes using your phone for your work and personal life a little bit easier.
Create Consistent User experience: One App for different services ranging from grocery buying to flight booking. The app experience would be consistent with everything. With the right design and features, you can win customers' hearts.
Utilize Data to Deliver Better Services: A super app generates a wealth of data from across services. Using analytics, the Company can derive actionable insights to improve customer experiences and create effective marketing strategies.
Save Phone Memory & Internet Usage: Customers need not download multiple apps for different services saving phone resources.
Offering Additional Services: With Super Apps offering digital payment services, it creates new avenues in the financial services industry.
Why Do You need a Super App?
A successful all-in-one super app strategy drives growth, builds additional avenues to engage with existing customers, create new customer bases via partnerships, and reduces re-acquisition costs by retaining users.
A super app operates at the intersection of logistics/hyper-local delivery, commerce, payments, and social. To achieve the status of a Super App, it should perform at least two functions to scale rapidly, and once you have a user's buy-in, gradually add multiple services to gain loyalty.  Once you have direct offerings, the next step is to partner with third-party companies to build on a loyal user base. Instead of making separate apps, you can host your offerings on a single platform.
According to Statista, over four million apps are available on Google and Apple platforms, making it difficult for them to gain user attention, especially in countries with limited smartphone memory and a saturated market. A super app eradicates this imbalance, by sitting on top of a mobile OS and reducing the time taken to complete tasks and improving productivity.
Building a super app is beneficial as adding new revenue streams may become risky; the costs may not justify the returns
Shared growth concept — with maturing product offerings, a Super App can instead partner with third-party service providers, thereby creating additional avenues for revenue generation and keeping the customer engaged.
Reduced capital expense — Since a super app offers multiple services, it improves customer engagement due to the expanded offerings — thereby increasing the ticket size and average revenue per user.
Related Read:
How to Build a Super App Like Rappi
The Super app generally starts with core functionality, whether it's on-demand food delivery, messaging, or ride-hailing. As they scale up, they add "Mini Apps/Mini Programs" by partnering with third-party service providers. This enables the mini-programs to access domain functionality, such as the user base of the host program.
A Super App can be built-in a couple of ways. If the Company wants to expand into many verticals but control the entire App and its development, including the new verticals, they can build the whole thing itself as one monolith. On the other hand, if the Company wants to share some risks and costs of building the entire App, it can enable third parties to develop new verticals in the form of Mini Apps.  The overall cost, implementation strategy, and risk vary vastly based on this decision.
An effective, comprehensive technology stack is mandatory for the growth of an on-demand delivery business. It should be robust and reliable enough for ordering seamless, delivery on time, and management efficiency.
To efficiently run the online delivery business, Rappi's tech-suite comprises of:
Customer Module
This enables customers to order the listed services from multiple stores anytime and schedule the delivery as per their convenience
Register/Login: The first interaction with the customer starts on the registration page. Registration can be completed by email id and phone number or even social media. The App should maintain this database complying with all security standards, ensuring comprehensive confidentiality.
User Profile Management: The customer needs to create their profile comprising contact details, age, etc. The App should be capable of identifying and tracking personal user preferences, that will help provide targeted user services.
Product Browsing Amenities – The mobile app interface should provide a hassle-free browsing experience and be optimized effectively (lite versions for budget smartphones, low data speed).
Tracking and Delivery – Real-time monitoring allows the customer to update about their delivery progress.
Push Notifications – This functionality allows the App to transmit information about best offers, seasonal discounts, coupons on the customer's screen using push notifications.
Payment Gateway Integration – Payment gateway integration enables the customers to make payment through the various available options. 
e-Wallet Integration: The App can add an e-wallet, where the user can load funds, which will make the check-out process seamless and quick.
Scheduling Orders – Scheduling the delivery, tracking the status of the order, and knowing when it's going to be delivered.
Delivery slot selection:  This option allows the user to choose a time-slot for delivery as per their convenience, and decide whether to go ahead with the order if it is not available in the requisite time frame.
Discount Vouchers & Coupons:  This option allows the user to view and apply the discount code at the time of payment on the App.
Order History: This option facilitates the customer to make a repeat order or choose a product from the prior history, thereby providing a seamless user experience.
Help & Customer Support:  Customers should be able to reach out to the support team if they face any challenges. 
Location-Based Product Listing: The customer can pick a store from multiple grocery stores based on his location to order products.
Order Cancel, Return, and Replacement: If the customer is not satisfied with the product or service, they should be able to lodge a complaint, a return, or a refund request from the App
Pick Up & Drop – The customer can choose the pickup and drop-off location of order within the App based on his/her location or by manually adding an address.
Driver Module
Provides instant notification request to drivers to accept the delivery and the product or service place and customer location
User Registration – Registration for delivery boy, is done on the mobile App through phone number and email address, and they can be directly onboarded to start taking delivery orders.
Delivery Boy Login: Once the delivery person logs into the App, all his assigned orders are displayed that allow them to plan and proceed accordingly.
Accept/Reject Delivery Requests: This feature enables the driver to accept or decline a particular order for a specific reason, for example, if the customer's location is far away.
Push Notifications:  Push Notifications can be sent to drivers to update them in real-time about order delivery information, such as new and canceled and the account debit information
Geo-Map Services: Map Integration is one of the Grocery App's critical features. These services help the delivery person to pursue the buyers' location efficiently. There are several geo-location service providers, such as GPS, Apple Map, and Google Maps, that can be integrated into the App.
Route Optimization – Through this feature, the App recommends the shortest and fastest routes to the delivery person based on the customer's location to help in on-time delivery 
Scheduling Availability: This function lets drivers schedule the time when they would be available for delivering orders.
Work History: The details such as total trips undertaken, distance traveled items delivered are shared with the driver so that they are aware of their performance metrics on any given day.
Earning & Reports: The invoice and earning details of the delivery boy should be readily available inside the application.
Merchant panel
The merchant panel enables store owners to manage order and the entire business.
Delivery Request Notification – Once the buyer confirms the order, the vendor will receive the request for deliveries, the order number, and required details such as a delivery address, contact number, etc.
Items Management – Store owners can add/update their product listings, prices, minimum order quantity and amount, and make the products available for ordering.
Order Management- Store owners can check the order status (completed or under process), the total amount collected on each order, and take actions accordingly.
Order Alerts – Store owners get real-time notifications for new orders and can further action.
Track Payments – Store owners can add account details and view successful and pending payment settlements.
Order Reports – Store owners should get real-time information about their business performance so they can take action accordingly.
Add Products – The store manager can push new items to the store via this App and see the changes reflected in the App in real-time.
Receive Orders – This feature assists the store manager to receive the customer orders of different grocery items.
Admin Module
It is a feature-rich, one-stop place to control, manage, and track every business activity seamlessly
Manage Customers: The Admin can add or remove users or change their active status. This feature enables the Admin to view complete information linked to users such as their contact details, address.
Payment Management: This function enables the Admin to view and manage all the transactions that have taken place in the App, including refunds. The Admin can also manage tax and commission related information in the super App.
Order Management: The option allows managers to assign orders once they receive a request from the customer.
Driver Management:  This feature enables the Admin to observe all necessary information related to drivers such as their contact information, trip details, a commission earned, availability, login time.  The Admin can add or remove drivers, modify their information, and check their current status.
Modify Elements of the App: The Admin should manage the entire process – start from the users and product information to changing the design of the application.
Reset Passwords: The App maintains the driver and customer database, and the Admin should be able to reset the passwords on user request.
Campaign Management: To attract and sustain customers, the App should have a facility to plan and run SMS, email, and Social Media marketing campaigns.
Plan Discounts & Promotions: This app feature allows Admin to add or run promotional offers or discounts on the App. 
Manage Stores – This feature enables the Admin to add or remove stores on the App. The Admin can check the active status of stores and manage them. 
Feedback Management – This feature enables the Admin to view customers' ratings and reviews and check their feedback.
Manage Payments & Commission – Admin can track all the accepted online payments and set the commission rates with every Store partner.
Reporting and Analytics – By leveraging real-time Analytics, the Admin can obtain actionable insights to manage the business effectively.  The data assists the Admin to plan strategies to boost sales and user experience. Admin can monitor what discounts are gaining traction, what products are moving quickly, and optimize their offerings accordingly. 
Tech Stack
To support the multiple functionalities, the tech stack should be robust enough to operate and manage various functions seamlessly.  
The Tech suite comprises of:
Application and Data: Javascript, Node.JS, React, Java, PostgreSQL, MongoDB, Typescript, Redis, Firebase, Android SDK, Spring Boot, Kafka, Swift, Go, Amazon RDS, Scala, Kotlin, Amazon SQS, Amazon DynamoDB

Utilities : Elasticsearch

DevOps: Git, Docker, Visual Studio Code, Kubernetes, Bitbucket, Android Studio, Xcode, Grafana, Gradle

Business Tools: Slack, Jira
Cost to develop an On-Demand Delivery App like Rappi
Building an on-demand delivery app may take approximately
| | |
| --- | --- |
| App Development Milestones | Number of Hours |
| Backend development | 700 – 800 hours |
| iOS Development | 500 – 600 hours |
| Android Development | 500 – 600 hours |
| UI design | 200 – 300 hours |
| UX design | 100 hours |
| Testing | 400- 500 hours |
Based on the above conservative estimates, the cost of developing the App ranges from $20 per hour in developing countries such as India to more than $150 per hour.
If you decide to launch a Minimum Viable Product, the cost may range up to $10000. A mixture of pre-set solution + basic customization will cost between $15,000-$25,000. For a turnkey solution, with all features built from scratch, will range between $50, 000-$100,000.
Frequently Asked Questions for building an app like Rappi (FAQs)
Que. What are some apps similar to Rappi?
Ans. Some apps similar to rappi are InstaCart, GoPuff, Shipt, FreshDirect, Burpy and Grocer among others.
Que. How much does it cost to build an app like Rappi?
Ans. To create a custom app like Rappi, the budget is around $25,000 to $40,000. The cost might vary depending on your feature requirements. A readymade grocery app may cost you approximately $10,000.
Que. Where is Rappi's headquarters located?
Ans. Rappi's headquarters is located in Bogotá, Distrito Especial, Colombia.