How to Develop A Multi-Services On-Demand App Like Maxim!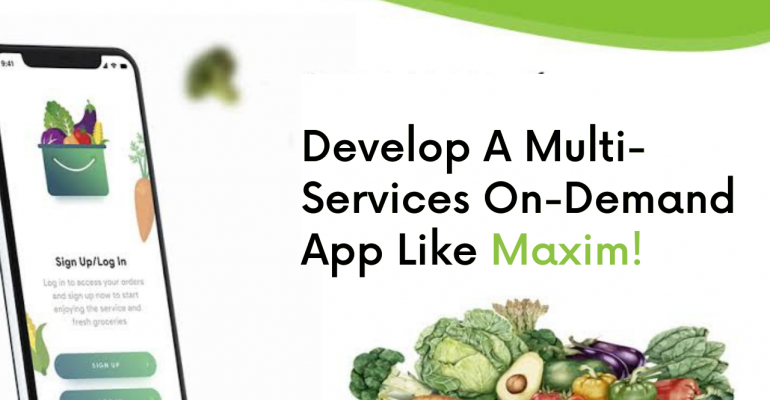 How to Develop A Multi-Services On-Demand App Like Maxim!
Last Updated on November 3, 2023
The On-Demand Economy is a business model that allows technology businesses to meet consumer demand by providing products and services on demand. On top of the existing infrastructure network, an effective, in-built digital mesh drives supply. The On-Demand Economy is changing how supply chains operate and how people see newer technology.
The number of firms, the segments they cover, and the industry's growth are all at a rapid rate. The businesses of this emerging economy are the culmination of years of technological advancement and consumer behavior progress. Customers have enthusiastically embraced the latest on-demand models, which allow for real-time distribution of goods and services. The debate is no longer whether the on-demand Economy can change the way people trade, create thousands of jobs or change regimes. This is now taking place.
See also:
It's a question of "whether" the economy's programmes will help people who aren't tech-savvy. Fast-moving technology firms competing in this battleground have created newer models that are disrupting markets that have been unable to evolve in the past.
In the on-demand environment, the retail, supermarket, and food markets are prime examples of fast-growing categories, with expansion due in large part to the deployment of emerging technology over traditional infrastructure. On-demand applications have shaped successful market structures that can fulfil customer demands in far more profitable, flexible, and resourceful ways than their predecessors.
The new on-demand companies have made more use of technologies while taking advantage of existing networks. Suitability, competence, and ease of use have all been important factors in procurement as a result of the always on, always wired "smartphone boom."
Smartphone use has been boosted by messaging applications, news, and gaming, and mobile commerce would follow suit. Daily mobile purchases will result in one of the most disruptive shifts in customer behavior in history: for the first time, users will be able to buy whatever they want at any time with a tap on the device. The confidence of the unified investor community in the on-demand economy is unmistakable.
Car services, the most volatile sector of the on-demand economy, are assisting citizens in determining the market capitalization. Given the level of awareness of on-demand car services and on-demand dispatch services, Uber's rise is much more impressive. Feastplan, on the other hand, is a significant challenge to the $683 billion US restaurant market. On-demand delivery systems, on the other hand, have expanded a business' presence well beyond its geographical venue.
Introducing Maxim – The Game Changer
Maxim is a Russian multi-services firm that provides a variety of on-demand services. The company first entered the market in 2003, providing ride-hailing and freight transportation services. Currently, the company offers a variety of services, including ride-hailing, freight transportation, roadside assistance, and delivery.
To be good, an organization or a service must have something unique. In the case of Maxim, the firm offers a variety of price points. Their "Economy" journeys, for example, are useful to people who travel on a regular basis. The rides are inexpensive, as the name suggests.
Aside from that, the firm hires female drivers. If a passenger prefers a female driver, she may choose the "women" alternative. First and foremost, the rating will be shown until the ride has been verified. One lesson that entrepreneurs can benefit from Maxim is that they have a variety of pricing options so that people can choose the one that best suits their needs.
How To Get A Maxim-Like App Developed?
Switch on to stage two if you already have an app concept. If not, keep reading. Want to make an app but don't know what to make? Problems are what you really like, and they're everywhere!
Successful executives find innovative solutions to challenges that we might never have expected. Any product and service you use was designed to solve a challenge, if you look around you. You bought a car and you needed to get from one location to another quickly. You bought planes to get from one country to another quicker.
So, look for issues in your everyday life and make a note of each one. Once you've compiled a comprehensive list, consider how you'll fix them and shortlist the options that make the most sense. Look at your competition like Gojek and how they work to understand what would be unique about your approach.
Validation will demonstrate that there is a market for your app. You will test your hypothesis by using the Google Keyword Planner app to see how many people are looking for what you're trying to do. You may also create a landing page that illustrates your app concept in general and ask for user interest with an email signup.
READY TO LAUNCH YOUR APP?
With Customized On-Demand Solutions by OyeLabs
Layout The Flow & Features
Your app concept has been validated, which means it is something that users want to use. Now is the time to outline your product on a document, or use a wireframing technique if you want to go the extra mile.
Remember to be as specific as possible when setting the proposal down on paper. Including the user's journey through the app as well as all of the updates planned. This will assist your creator in fully comprehending your requirements.
Now Get Rid Of The Non-essential Features
Start searching for functionality that you can delete from the flow and features document you planned. Only present the central meaning of your app concept. Start by creating a simple MVP with basic features. Don't have "good to have" features in the first version; they can still be introduced later as an upgrade. This will help you keep your production costs down and bring your product to market faster.
Many developers have told me that they want a simple interface and want to concentrate solely on creating an app. They are completely incorrect! Design isn't just about how the app looks; it's all about how a customer interacts with it. "Design is a way of making technology useful," says Vinod Khosla of Khosla Ventures. As a result, look for a developer that prioritises architecture (including user interface and graphics).
Hire A Good Development Team
Look into an experienced app development team that has a strong design team as well as a strong development team. Check out a developer's reputation and previous work on the internet when recruiting them. If you liked an app from their app design portfolio, they could be the best fit for your product.
Create Your Developers Accounts
To market your product on the respective app stores' platforms, you must first have a developer account with them. You can register as an entity or as a corporation if you already have one established.
For your mobile app, analytics can help you monitor downloads, customer experience, and retention. Be sure you're using online software like Flurry and Localytics, which all have free and premium versions.
Get Your Feedback & Improvise
The first collection of consumers' usage and behavior will give you insight on how to refine and optimize the product until it's live on the app store. Still, be on the lookout for improvements and updates, so keep an eye on customer reviews and keep building.
You developed version one with only the main offering and minimal features. Now is the time to assess and implement the remaining functions that were not included in the original release. You'll be able to see if the features are still applicable based on metrics and reviews.
Related Read: Guide to making a super app like Gojek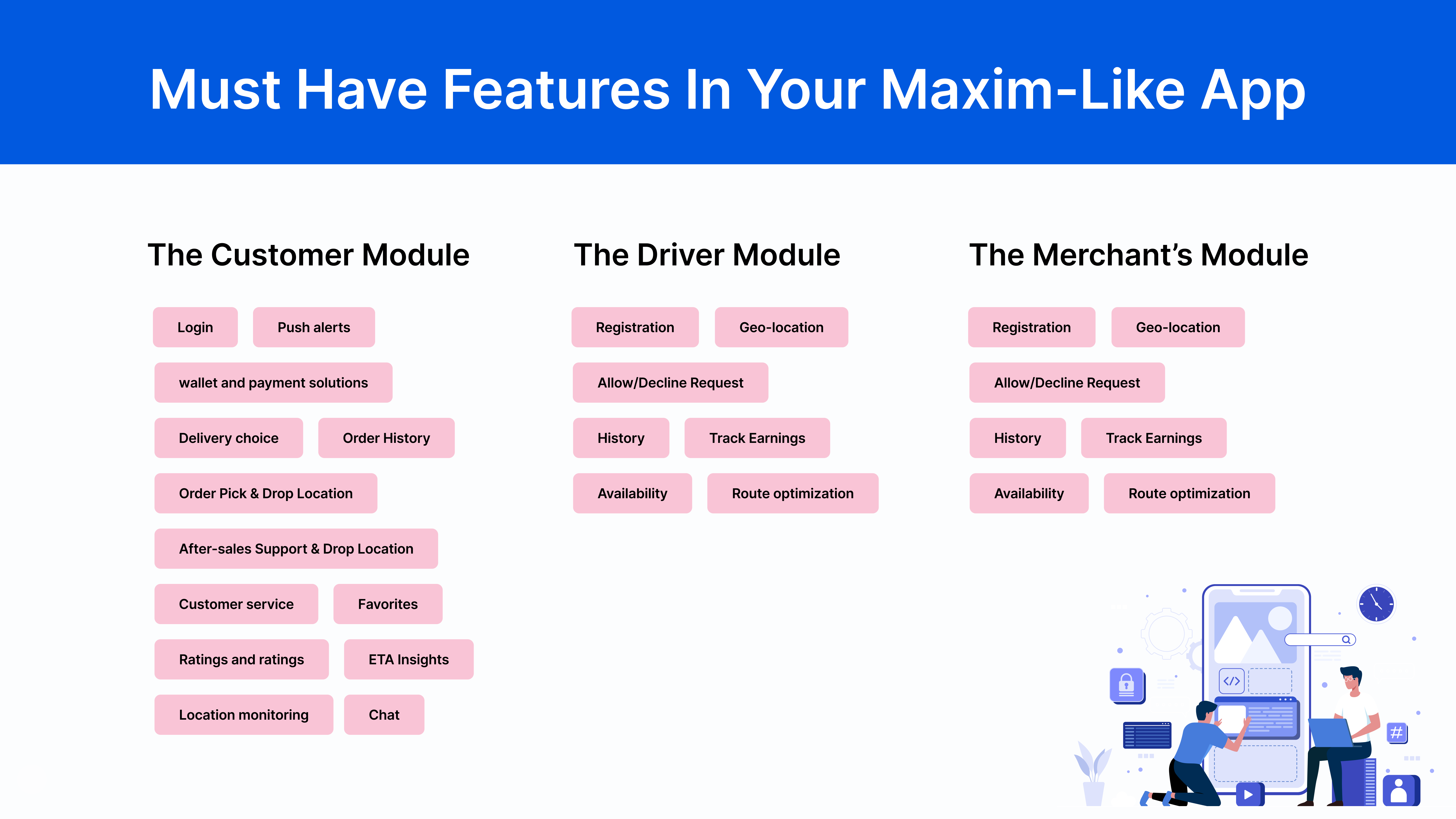 Must Have Features In Your Maxim-Like App
When creating an app, it's usually best to start with the MVP (Minimum Viable Product) and then add more functionality in later updates. We recommend that you apply the following functionality to your framework in the form of the Customer, Driver, Retailer, and Admin modules.
This module allows customers to purchase the specified services from different retailers at any time that is convenient for them. This should include:
Login

– The login page is the user's first contact with an application. Users can sign up for the programme or log in using their email addresses, phone numbers, or social media handles. Ascertain that the software manages the archive in accordance with both security and confidentiality requirements.

Push alerts

– This functionality allows the app to send information to a user's phone through push notification about the best sales, promotional prices, coupons, or seasonal offers.

E-wallet and payment solutions –

E-wallet functionality allows users to load cash into the app's wallet, which speeds up and simplifies the checkout process. In addition, payment options enable users to choose a payment method during checkout, such as credit/debit card, net banking, or COD.

Delivery choice –

This feature allows the consumer to choose a delivery time slot that is convenient for them, and to decide whether or not to complete the order if it is not possible during the intended time frame.

Order Pick & Drop Location –

The customer may use this function to choose the pickup and drop-off location of their order inside the app based on their location or simply input an address.

Order History

– This function helps the customer to position a repeat order or a new order based on previous orders. This functionality provides a pleasant and consistent user interface.

After-sales Support –

If a customer is dissatisfied with the product they received, they will use this function to file a query, a recall, a substitution, or a refund request directly from the application.

Customer service

– If users are lost or have complaints, they can use this function to contact the support staff and get help to solve the problem.

Favorites

– In this section, the consumer can save services provided by companies that they like.

Ratings and ratings

– This section allows users to rate and review the service they received.

Location monitoring

– As soon as the order is picked up by the delivery agent, the customer can search their current location with this tool.

ETA Insights

– When placing an order, customers will get an idea of when their order will arrive and how much it will cost.

Chat

– In the event of a query, the customer will chat with the shop owner and delivery agent directly inside the app.
The driver module assists providers in ensuring position drop-off and a variety of other facilities. Some of its features are:
Registration

– Distribution executives will register with the app by filling out a questionnaire that asks for simple details including their name, phone number, and email address. Executives will also sign up for the app via their social media accounts to begin taking distribution orders.

Allow/Decline Request

– Distribution executives may use this function to accept or decline a delivery request for a specific purpose. For example, the venue is too far away or for a variety of other purposes.

Geo-location

– One of the best things an on-demand app can provides is geo-location functionality. This feature aids distribution executives in precisely positioning customers' positions. You can connect different GPS location providers, such as Google Maps, Apple Maps, or some other service, if you like.

History

– This function gives distribution executives a comprehensive history of cumulative trips made, total distance travelled, and total orders fulfilled. This tool allows distribution personnel to track their success and results on any given day.

Track Earnings

– This feature allows distribution executives to keep track of their daily earnings as well as earnings from any given period.

Availability

– Delivery executives will toggle their availability on and off using the toggle mode. Trust us when we say that this function is one of the most useful for drivers in the app.

Route optimization

– The application's GPS maps show the customer's position to the delivery user. This feature, on the other hand, offers the best route for the delivery person to take in order for them to arrive at the customer's location on time.
This module helps the shopkeeper manage the orders as well as the business at the same time. It must include features such as:
Request receipt

– When a customer makes an order, the shop owner receives information such as the order size, what the customer needs, the shipping date, and the customer's phone number. Aside from that, the retailer has the right to refuse the order for a variety of reasons, including stock availability, after-hours availability, and so on.

Add Products or services

– Using this tool, merchants can update their product listings with newly released products from the app. The retailer will see the update in real time, which means the commodity is ready for order as soon as the merchant adds it.

Track payment

– To collect purchases from the app, customers, and drivers, merchants may enter their account information. This feature also allows retailers to keep track of pending and completed payments.

Order limit

– This feature allows retailers to set a minimum order limit for consumers to shop for their favorite items.

Product cap (min/max)

– This feature allows retailers to place a limit on how much consumers will order at any given time.

Settings

– The most critical aspect of any application is its settings. Merchants may use this function to schedule or adjust the store's opening and closing times, as well as other critical settings.

Order history

– All information about executed, cancelled, or pending orders, as well as invoice files, will be shown in this feature.
Technology Stack You Can Use For An App Like Maxim
Application and Data: PHP, React, Java, NGINX, Bootstrap, jQuery UI, ASP.Net, Amazon Cloudfront, Microsoft Azure, Microsoft IIS, Apache Tomcat, Backbone.JS, Handlebars.JS, Moment.JS, Next.JS, Akamai, Data Tables.

Utilities: Google Analytics

DevOps: Varnish

Business Tools: Google Fonts, Font Awesome, Drupal, Adobe Experience Manager.
Cost of Building A Platform Like Maxim
An on-demand application like Maxim may cost $10,000 to $30,000 to develop, which is fair as compared to other service apps such as dating apps, ecommerce, social networking, and so on. However, if you want to tailor the on-demand app to meet your own needs, such as adding ranking and evaluation options, referrals, coupon codes, promotional deals, payments, and mobile wallets, the cost of a custom on-demand app may vary.
This trend will continue to grow in the coming days, with new developments in the area of on-demand apps. On-demand apps are a fun and lucrative enterprise to work on because they are easy to reach and use.
Frequently Asked Questions for building an app like Maxim (FAQs)
Que. What are some apps similar to Maxim?
Ans. Some apps similar to Maxim are Trevo, TaxiF, Delive, Wolt Courier Partner and Tada among others.
Que. How can I start a business like Maxim?
Ans. All you need is an idea, and a team of experienced developers to make it into an app. But, before you begin, you should first research the market to see if your Maxim like app has demand and target audience, and also if you have an excellent unique value proposition.
Que. How to search for the most suitable developers for my app?
Ans. You should start by looking for trusted and experienced app development experts in your local area. You're looking for people who can understand your vision and are willing to work as per your needs and have a good record. You can also reach out to developers online, discuss your idea, and get a quote!