Your Guide To Building A Food Delivery App Like Deliveroo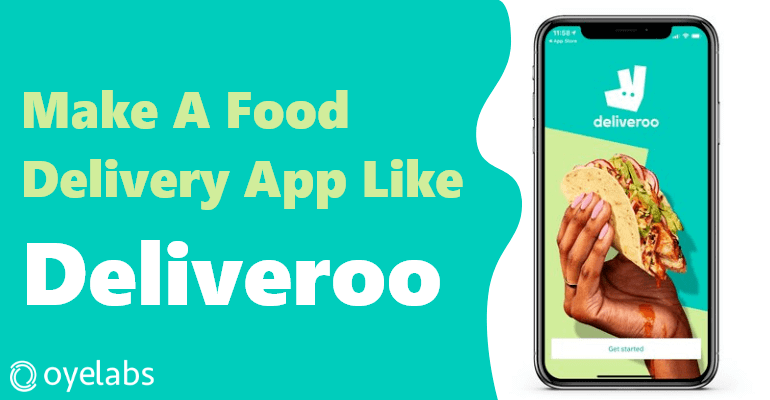 Your Guide To Building A Food Delivery App Like Deliveroo
Last Updated on June 1, 2022
Chinese takeout was a concept long before online delivery came into the picture. Bachelors with long work hours, a busy schedule, and no knowledge of how to cook, depending on food delivery from restaurants. In earlier days, people would personally go to the restaurants and order takeout for themselves, the only thing that has changed is that now they don't have to go anywhere. Online food delivery has made it possible for you to treat your stomach with anything you want without having the knowledge of how to make it. Because of this ease, a concept that was just famous among bachelors is now widely used by people all over the world.
Why Food delivery? Online food delivery has become so popular over the last few decades because it combines two things that people cherish the most; comfort and food. If you gave people an option to just chill all day and their work will be completed automatically; I am sure they won't hesitate to take this option. Human beings will do anything to get out of doing something and online delivery is just another way of saying that you can just chill at home and someone else will handle your work for you.
Since the inception of online delivery, there have been multiple companies that have come up and ruled over the world, one such company is Deliveroo. Deliveroo has been a popular food delivery company for 7 years, it started in London and now has operations in 84 plus cities. The app takes food orders from customers, showcases a variety of cuisines and restaurants, and then delivers food from these restaurants to the customers. Apps like Deliveroo create a framework of restaurants, customers, and delivery guys and makes it possible for everyone to get their needs fulfilled.
Facts Regarding The Food Delivery Industry
We live in times where no one has the energy to cook three meals a day. Most of us have to work 10 times harder due to increasing competition. This leaves us with no time for ourselves. Although cooking might be great for relaxation, we don't have time to devote to cooking. This is why people gravitate towards online food aggregators. For this very reason, the online food delivery market has been constantly growing for the last few years. It has doubled since 2015 and will continue to grow at a rate of 28% till 2023 as per Statista. 
The market is most successful in the US, China, and India as these countries have the maximum number of app downloads. It was also found that on average 26% of the users order online food at least once a week. Apart from this, 34% of users also spend at least USD 50 per order. This tells us a lot about the frequency of orders and how popular these orders are all over the world. 
If you are interested in the world of online food delivery and like where it is headed, this is the right time to hop on and build something that can take over the industry. You might think it is difficult, but all you need is the intent and an idea, and the technology part can be handled by one of the multiple companies out there.
There are different types of food delivery apps that have adopted their own method to becoming successful as per market needs. 
Different Types Of Food Delivery Apps
In today's online economy, food delivery models can be divided into these types of models, aggregator model, Restaurant model, and platform with logistical support model. 
Aggregator Model
An aggregator model is suitable for people who are looking for the least investments into fixed assets. An aggregator model supplies the technology that makes online delivery models. Under this model, you provide a platform where restaurants can connect with consumers without actually supplying the logistics for the same. Under aggregator, the delivery support is given by an external party, and the parent company is not involved in the same.
Restaurant Model
Under a restaurant model, a single restaurant or cafe opens up its app where they can deliver their food exclusively. This model allows restaurants to reach out to a wider audience and target even the customers who cannot physically visit the restaurant. The delivery part can be handled by the restaurant itself or it can be outsourced to other aggregators. If you own a restaurant, don't forget to check out our detailed article on Creating a takeaway app for restaurants.
Logistical Support Model
This model is an improved version of the aggregator model where the company provides a platform to its stakeholders and also handles the logistical part along with this. Under the platform with a logistical support model, the parent company provides a variety of choices on their platform, takes customer orders, takes care of the delivery, and makes sure that all the parties are satisfied. This is an improved version of the aggregator model because restaurants don't have to worry about the delivery aspect of the orders. 
Launch Your Food Delivery App in 2 weeks
With Customized On-Demand Solutions by OyeLabs
Features List – Necessary Features For A Food App Like Deliveroo
Online food delivery apps have multiple stakeholders that they need to keep satisfied. They deal with customers, restaurants as well as delivery partners. Apps like these need a separate interface that caters to all these stakeholders. Hence, it becomes important to have features for your food app that can satisfy all these stakeholders. This can be tricky, hence we are giving you a list of all the features that are necessary in a food delivery app along with the features that are required for separate stakeholders. 
a. Easy Ordering
Food delivery apps are generally used when people are hungry, this means they need to be efficient when a consumer is ordering food. If they don't allow these customers to order food easily then it can lead to them being frustrated and hence choosing other platforms in the future. 
b. Easy Payment
Ease of ordering means providing multiple payment options to the customers. These options allow a customer to pay in cash, electronic money, and even use rewards earned for payment. You can also add promo codes and offers to entice customers to pay using a certain method. 
c. Easy Onboarding
The sign-up process on a good delivery app should be easy and effortless. This means allowing customers to sign up without much effort and then asking for details only when they order. This allows them to navigate easily without any fuss and then actually make the commitment of filling in details once they are satisfied by what they see. 
d. Provide Proper Information
Online delivery also comes with uncertainty. Users can't see where the delivery person is, hence it is up to the company to make sure that customers are provided with complete information regarding their food, its preparation, and delivery time. This means giving information regarding the current location of the delivery person and a way to contact them if the customer wants to. Deliveroo does this by embedding information regarding the total time the delivery guy spent on the road and how long it took for him to get you your food. 
e. Ease Of Navigation
Easy navigation is necessary for all stakeholders. Customers should be able to see the different restaurants and have the ability to bifurcate them on the basis of different cuisines, pricing points, locations, and reviews. Restaurants, as well as food choices, should be grouped into categories so customers can navigate through them easily. This also means providing a search option in case the customer isn't able to find what he needs. 
f. Pickup Option
Providing extra features gives you an edge over your competitors. Pickup Option is one of those features. Along with food delivery, you can also add an option to pick up food directly from the restaurant. This means customers can order before they reach the place and they won't have to wait for their orders once they reach the place. 
g. Real-Time Customer Support
Real-time customer support means solving all queries in real-time. It allows customers to sort out their complaints and issues on the spot while reducing the chances of them being unsatisfied. 
Other features that can be added to individual panels:
Customer App– Allow rating and review, order tracking, payment integration, and login via social accounts. 
Restaurant App– allow menu management depending on availability, provide the option of push notifications, and provide them with proper reports regarding demand and customer satisfaction. 
Admin App- Allow the app to send out notifications for various purposes, make it easy to handle different panels, handle surge pricing, and get payment reports. 
Revenue Model Of An Online Food Ordering App
Any online aggregator app has a few different ways in which it can earn its revenue. As the food is not prepared by the app, they cannot directly earn the money that comes from the food payment, what the company can do is charge the stakeholders for the comfort and ease that the app provides to them. Without the app, the customers wouldn't have a wide variety of options in one commonplace, the restaurant wouldn't have the exposure to the same amount of consumers and the logistics team wouldn't have the same amount of work. Hence, the company charges for making lives easier and creating a platform where food can be displayed and ordered from. A few different ways in which the app can use this to earn revenue is included below:
Delivery Charges: The easiest way for aggregator apps to earn money is to charge the customers for providing them with the delivery option. The app takes full responsibility for delivering food to the customers on time and for the same they charge a percentage of food orders as the delivery charge. 
Commission Charges: Commission is generally charged from the restaurants. The app is giving them a platform to showcase their food and reach out to a wider audience, for the same they charge the restaurants on the basis of the business bought for them. Commission charges are generally calculated on the basis of the number of orders the app brought in for the restaurants.
Surge Pricing: Surge pricing is added to orders when the demand is too high and the company does not have enough delivery personnel to fulfill the same. This tells the customers how in demand the restaurant is and hence in order to get food from them the customer might have to pay peak pricing. Peak/surge pricing is added so that the app can prioritize a customer over others and the peak price is a charge for the same.  
Advertising Charges: Food delivery apps can also prioritize restaurants and make sure customers see them over other competitors. For this feature, the restaurants may have to pay advertising charges. These charges allow the company to add restaurants in the featured section, show ads about their food or even show them above other restaurants when a customer searches for something they have. 
Technology Stack Used In An App Like Deliveroo
Application & Data: Python, NGINX, CloudFlare, Ruby, Amazon EC2, Redis, Amazon S3, Go, Amazon RDS, Scala, Kotlin, Linux , Amazon SQS, Snowflake and Amazon Aurora
DevOps: GitHub, Webpack, Docker, Sentry, Kubernetes, Terraform, Amazon Cloudwatch, CircleCi,Datadog, TrackerJS and PagerDuty
Utilities: Google Analytics, Mandrill, Amazon Kinesis, Looker
Business Tools: Jira, G Suite, Zendesk, Slack
Cost to Make an Online Food Delivery App Like Deliveroo
Developing an app like Deliveroo is easier than it sounds, there are multiple SaaS-based technology companies that can help you with that. These companies have already created app codes for similar companies and all they need to do is alter the app interface depending on the features you need. 
The first step to creating an app is to be sure of your offering and have clarity as to what features you exactly want in your app. These features will have you give direction to your idea and make it easy for any developer to make your dream come to life. The development costs of creating a food app like this will depend on the technology partner you chose. Some big development companies can charge you a hefty amount, on the other hand, an inexperienced freelancer can completely waste your money. Hence it is necessary to have the right balance to make sure you are aware of the previous work done by the developer that you select. On the basis of the level of sophistication, you are looking for and the number of iterations required, an app like this can cost anywhere between  $30,000 to $50,000. Please keep in mind this is a rough amount and some development companies can even charge more than this. 
Similar reads:
Steps For Building An App Like Deliveroo
The starting point to create an app like Deliveroo or even a better competitor is to be clear about your offering and your vision. For a developer to create an app, you need to have an idea as to what the app should look like and the features it should definitely have. These features and necessary offerings will form the basis of all decisions. The development process can be broken down into the following:
A Clear USP- Your application should have a unique selling proposition for it to be different from your competitors. Your USP is what sets you apart. The development company can use your USP to create a strategy regarding your app.
Creating Strategy- Strategy begins with understanding the business, its features, offering, building a roadmap, and analyzing the demand. On the basis of this, a budget is calculated. 
Project Prototyping– This involves creating a user interface for the apps required for different stakeholders. The UI and UX will vary depending on your core offering and how you want to offer the end product. It also focuses on how the app should look, what colours should be used, decisions regarding how minimal the design should be, etc.
Iterations– Once the MVP is created, it is time to show the client the results and take inputs. In order to create an app, it is necessary to put out your MVP as early as possible. This allows the customers to check your ideas and give out inputs before too much time is invested. Once you are on the right track, iterations can be made depending on the needs of the customer.
Quality Assessment– In this stage, a quality assurance person checks how the app is functioning on all devices and points all any minute issues or problems with the interface. This makes sure that the app is perfect and that all issues are resolved before the launch.
Continued Partnership– In most cases, development companies don't just leave their clients once the app is made. They stay in touch, solve any problems that may appear after the launch, and work on updates on the app depending on changing needs. 
If you follow everything that we have given above, you will have the next food delivery app with the capabilities to take over Deliveroo. Just keep in mind to make the customer the focus of everything and make sure you are working towards making life easier for him. Once you focus on the customer and make sure your app is solving a problem for him and helping him out, you can put yourself in his shoes. Putting yourself in his shoes means working towards his betterment, and when you focus on your customer, they will give you the love back and choose you over any other competitor. You need an experienced food delivery app development company to successfully understand your needs and bring your idea to life.
Bonus – Future Trends In The Industry
The industry of food ordering and delivery has been affected to a huge extent due to the COVID-19 pandemic. While restaurants were being shut, online food delivery became one of the only sources of getting food. This change also came with its own challenges. People were exercising more caution when it came to deliveries, they were worried about the food quality and whether precautions were followed for the same. Where on one hand, due to governmental policies, online food delivery became the only source of getting food from restaurants, it also meant restaurants and food delivery apps had to make certain changes in order to keep their customer's beliefs intact. This lead to multiple changes in the industry, these changes are going to rule the industry in the years to come-
Contactless Orders: The pandemic has made people more and more cautious, they don't want to touch menus that customers before them may have touched. The need to make sure people don't catch viruses led to contactless orders. Under contactless orders, QR codes are used for ordering food from the menu. Once this QR code is scanned, people can view menus on their phones and order food directly from there. 
Virtual Kitchen Tours: Skeptical customers made restaurants introduce the idea of virtual kitchen tours. In these tours, the restaurants show how the food is prepared in their kitchens and how they follow all safety procedures. This was made to ease the minds of the customers. 
Safety Precautions: Safety precautions like adding sanitizers to all seats, making sure surfaces are disinfected regularly, and reducing commotion in areas of the restaurants with high traffic can lead to improved customer confidence. Along with this, it has become mandatory to make sure all staff members are wearing gloves and masks.
Virtual Queues: Apart from ordering using QR codes, restaurants are also allowing customers to make orders before they reach the venue. This gives them an order number and they can collect their food from the restaurants whenever their order number comes without actually having to form a queue outside restaurants. Virtual queues are also possible for dine-ins. 
Frequently Asked Questions for building an app like Deliveroo (FAQs)
Que. What are some apps similar to deliveroo?
Ans. Some apps like deliveroo are ubereats, doordash, zomato, swiggy, grubhub and postmates.
Que. Who keeps the code after development?
Ans. The owner of the code, that is you get to keep the whole code though you need people at the backend for regular maintenance and to ensure that the app runs smoothly.
Que. How to search for the most suitable developers for my app?
Ans. You should start by looking for trusted and experienced app development experts in your local area. You're looking for people who can understand your vision and are willing to work as per your needs and have a good record. You can also reach out to developers online, discuss your idea, and get a quote!