Step By Step Guide To Build Dark Grocery Store App Like Gorillas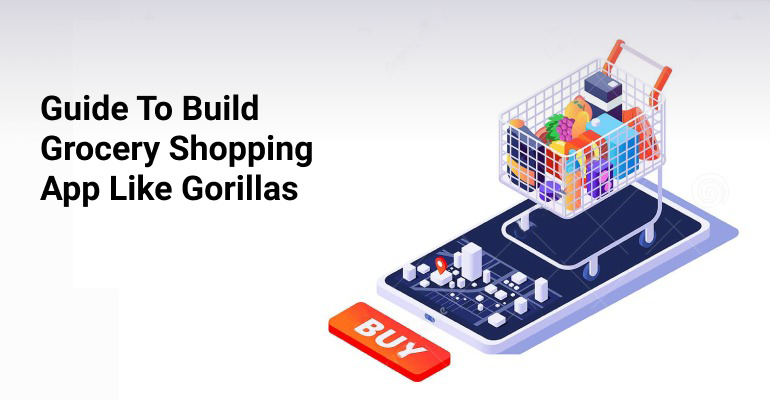 Step By Step Guide To Build Dark Grocery Store App Like Gorillas
Last Updated on June 7, 2022
Purchasing medications, doing dishes, and purchasing food are only a few of the things that we face on a regular basis. We also reached an environment that runs on our devices thanks to the internet's ease of use. Our everyday tasks can now be completed with only a few clicks and no effort.
According to a recent report, the US digital grocery delivery market will be a $243 Billion market by 2025. Because of these numbers, Grocery Delivery App Development is gaining traction and paving the way for consumers to have a more exemplified and enthralling experience when purchasing everyday products.
Enable your consumers to skip the long lines at the grocery store with a well-designed and user-friendly grocery delivery app. Offer them a way to skip this time-consuming process and get everything they need to be shipped to their door in just a few taps.
Grocery delivery app companies like Gorillas, Instacart, Shipt, and AmazonFresh have now carved out a sizable portion of the billion-dollar on-demand grocery delivery market. Furthermore, the industry category's customer base is growing by the day, so there's no question that food delivery app companies will thrive in the coming years.
As a result, joining the market with an app that assists you in building a dedicated user base will be a wise decision. The cost of developing a grocery delivery app is a vital consideration to weigh when making a decision. Even if mobile app production is beyond your budget, doing any research beforehand will be beneficial.
Before we go any further, let's explain that facing fierce competition, using a food delivery app is a smart idea.
Gorillas: A New Page In The Story Of Grocery Delivery
Gorillas grocery delivery was established in 2021, and their USP is supermarket delivery in under ten minutes on average. They do that by using hyper-local fulfillment centers, also known as "dark grocery stores" which are close to dark kitchens that double as delivery-only restaurants. Gorilla is now expanding the nearby delivery-only grocery store network. Riders are also employed by the firm.
People who need to stock up on fresh groceries and the occasional kitchen item, as well as those who neglected to buy a key ingredient for a dish they're preparing at the time, or who are out of daily essentials like milk, are Gorillas' target market. Big supermarkets, according to Gorillas CEO Kaan Sümer, prefer to organize their distribution services around the supply chain rather than the demands of the customer. Supermarkets rely on products with a longer shelf life for a weekly shop in this model.
Gorillas isn't the only company looking to get into the hyper-local distribution market. We also covered a New York two-hour delivery service and a London company that guarantees delivery of a small range of goods in 15 minutes at Springwise. However, goPuff, based in Philadelphia, has a leg up on the competition. They've now earned €1.11 billion for their 30-minute delivery concept, and they're already in over 500 cities across the United States.
Some facts about the business, Gorillas
Founded: May 2020

Founders: Jörg Kartner and Kagan Sümer 

Headquarters: Berlin, Germany

Total Funding : $335.4 Million 

Monthly Website Visits: 20,649
Why Build A Grocery Delivery App Like Gorillas?
When it comes to grocery delivery app growth, the concept can seem cliched, but it is quite popular. The general simplicity with which the concept is provided to consumers is what makes it famous. Furthermore, the cost of developing a supermarket app is low, ensuring a high return on investment as opposed to other initiatives.
Here are some of the reasons why grocery delivery smartphone apps have become increasingly successful in recent years.
Any grocery delivery app will allow users to handle their everyday chores with only a few clicks. Instead of waiting in long lines to pay and carry big shopping bags, shoppers will spend their time doing something constructive and fun.
If you own an offline store, you can't afford to ignore the pattern. For a small investment, hire an on-demand grocery delivery app development company and grow the client base.
An affordable Business Model
If you have a small budget and want to start a new venture, the dark store business model requires very little investment. The price of an online dark store service is determined by the functionality used in the app.
In today's world, the grocery distribution smartphone app production service is booming. Humans have packed lives and a never-ending need to succeed. When it comes to the expense of developing an on-demand grocery delivery app, there are a few factors to remember, including features and business models.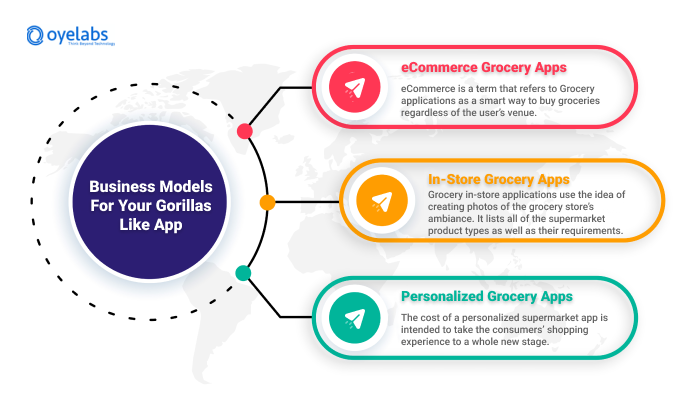 Business Models To Choose From, For Your Gorillas Like App
The various business models for grocery delivery discussed here will assist you in determining which one best suits your company's needs and determining the price of your supermarket app.
eCommerce is a term that refers to Grocery applications as a smart way to buy groceries regardless of the user's venue. Customers can, in turn, select delivery times based on their preferences and convenience. These apps are mostly adopted by grocery store partners and used by communities that provide distribution services.
Grocery in-store applications use the idea of creating photos of the grocery store's ambiance. It lists all of the supermarket product types as well as their requirements. These supermarket applications assist in digitally reconstructing a natural vision of the location in order to give shoppers a basic understanding of the nature of the grocery items. As a result, when the customers are close by, the message along with the coupons and discounts, as well as the store's location, is sent.
Personalized Grocery Apps
The aim of a personalized supermarket app is intended to take the consumers' shopping experience to a whole new stage. These tools assist customers in creating shopping lists, sharing them with stores, and allowing them to schedule purchases. This allows consumers to get the things they need at the time they need them.
Choose one of these templates and have your tech associates measure the expense of your grocery app. It's important that the decision you make is in line with the company's goals and allows you to make a lot of money. If you're having trouble deciding which of these templates is right for you, you can always reach out to our application developers for help.
Launch Your Grocery Delivery App in 2 weeks
With Customized On-Demand Solutions by OyeLabs

Step By Step Guide To Building Your 'Dark Grocery Store' App
Step 1: Planning & Research
The planning stage should begin as soon as you have conceived your app concept. The planning stage should try to address some high-level questions about the viability of your project in the existing market room, rather than choosing how your app will look or how you will program it.
Market analysis and a feasibility report are usually part of the planning process. There must be answers to questions like "are there any applications that do what mine can do?" "is there a need for my app?" and "what is my app's value proposition?" Before you invest significant money in developing and selling your product, you must first determine if there is a commercial niche for your app concept. Research the top grocery delivery apps in your niche and how they work.
Since you haven't spent much money yet, don't be afraid to spend a lot of time here. It's better to be secure in the app's marketability before releasing it than to release it and find you should've targeted a different demographic or not spent your time making it at all.
Step 2: Designing
Since there are so many aspects to the design process of application growth, we'll just touch on a few of the most significant. To begin, your UX and UI designers will need to refine the approved wireframes. This includes things like putting and crafting UI components, determining user flow, and appreciating the meaning of element hierarchy, among other things. You can now create high-fidelity mockups that your developers will use to create a functioning app, as well as info about what happens when components are clicked, swiped, pulled, and so on.
Step 3: Development
The development stage is where you start writing the code for the app's "final" version. This is where you apply the input from the wireframes and make any final, potentially significant decisions. This is where waterfall and agile methodologies can be applied. In general, when designing a smartphone device, an agile approach is preferable.
During this process, it's also important to integrate an analytics engine into your app. Create events for all future user experiences so you can see how the app is being used and how people are moving about. When the application is available to the public, you can use this knowledge to learn more about your customers and iterate on the concept to make the best experience possible. This is why it is advisable to launch an MVP with basic features first and then update as per user feedback.
Step 4: Testing
Testing can, ideally, take place concurrently with the production stage. To hold post-release costs down, it's critical to monitor often. Unit checks, user interface tests, and integration checking are all vital to catch any big glitches or oversights as soon as possible. Test cases can add time to the production process, but they can drastically decrease the time and money expended on repairs and service in the long term.
Testing would also save you money in the long run when it comes to app maintenance. You will run all your test cases to find whether the modifications could have broken other aspects of the app without having to have a person physically walk through each test case when you make a small adjustment.
Step 5: Launch 
This is where you can upload your app for acceptance to the App Store or Play Store. This is a vital method to learn because you will be repeating it every time you release a new update of the application. You should have sorted out most of the big problems discovered by your testers by this stage in the production process, and you should have a quality app that meets the criteria for the store where you'll be posting it.
Step 6: Maintenance
This stage should start at the same time as the release and proceed in the same direction. Maintenance is the process of checking on the state of the app, fixing any glitches that might have appeared, and ensuring that it continues to function properly. Updating the app to accommodate new hardware or new versions of the OS is also part of maintenance.
Your app's ongoing maintenance is never complete. You will be running the app permanently until you wish to stop supporting it (potentially leaving your users).
Related Read: Guide To Make A Dark Grocery Store App Like Cajoo
Basic Features For Your Grocery Delivery App
Given that most food delivery apps aren't especially creative, it would be a waste of money to spend a fortune on delivering a full variant without first doing thorough testing and planning. Before jumping into transition, you and your basic grocery application development company should examine your logic and look for a great opportunity. 
Client application
Client profile
Rundown of stores
Menus/things in stock
Truck/request page
Installment door
Request status
Request history
Warnings
2. Delivery application
Profile
Rundown of requests (demonstrating things and conveyance addresses)
Guide for route
3. Administrator Panel
Client information
Rundown of stores
Menus/things in stock
Income Tracker
Related Resource: Features List For A Grocery App
Technology Stack, You Can Use For An App Like Gorillas
Google Analytics, Google Font API, Apache, HTTP/2, Javascript, Google Tag Manager.
Backend– Redis-PostgreSQL,GraphQL,Apollo,Nest JS,Python
Frontend– TypeScript
Devops-Heroku
Mobile-React Native
These are the main features of the app that can inform you how much it will cost to create a dark grocery store app like Gorillas.
Cost of Building A 'Dark' Convenience Store App Like Gorillas in 2021
This would be determined by a variety of factors, ranging from the unpredictable nature of the smartphone platform to your favorite mobile application developers, however, we will provide a rough estimate for key features.
The precise response to the question of how much a simple on-demand delivery application development costs is a figure that we can only have after we've broken down your market requirements and goals for the company.
If you look at the list of capabilities and the application stack that we referenced above, you'll get a number in the range of USD 40K to USD 50K — which includes all three application forms that we looked at — if you're hoping to know the simple food item application development cost in India.
On the other hand, the number will change depending on how the need changes.
When fully evaluated, the cost of the staple distribution application would range between $ 7,000 and $ 40,000 for a single point. If you want the cross-stage staple application upgrade, though, you will have to pay more. The cost of the improvements would range from $15,000 to $60,000.
Frequently Asked Questions for building an app like Gorillas (FAQs)
Que. How much would it cost to build an app like gorillas?
Ans. To create a custom app like Gorillas, the budget is around $25,000 to $40,000. The cost might vary depending on your feature requirements. A readymade grocery app may cost you approximately $10,000.
Que. Does OyeLabs Offer an app like Gorillas?
Ans. Oyelabs offers both a custom-build as well as readymade delivery app solutions. Our product GoodGrocers is a solution for online grocery services.
Que. Where is the headquarters of Gorillas?
Ans. Their headquarters is located in Berlin, Germany.