How To Build An Online Grocery Store Like Peapod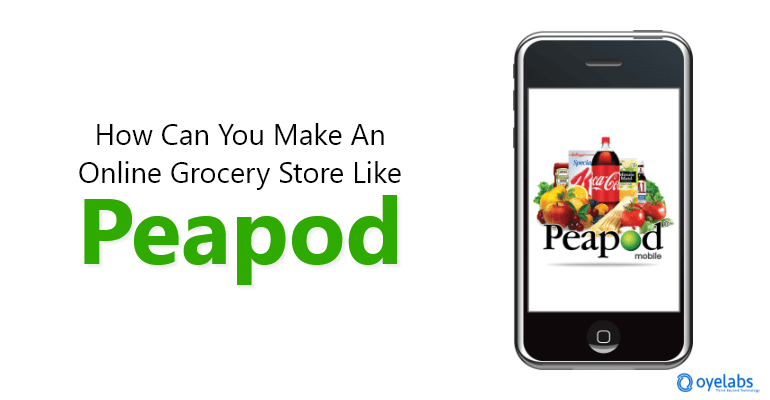 How To Build An Online Grocery Store Like Peapod
Last Updated on November 25, 2023
Grocery shopping has become less of an enjoyable weekend activity and more of a chore. These shops have become one of the most crowded spaces over the weekend. If you step inside one, you have to be willing to spend more than an hour there. On top of the time required to scroll through all the aisles and select what's required, the billing line can take up to 15-20 minutes at least. What generally happens is that people don't go with a pre-prepared grocery list and they end up picking up more items than they actually require.
Grocery shopping requires strategy and physical grocery stores generally make people impulsive. As a result, they buy more stuff than required and because some of it is easily perishable, the stuff goes bad before people can actually use it. All this makes grocery shopping more of a headache and less of a fun activity. People have been constantly looking for an easier way to buy groceries; something that saves them time but also allows them to keep a track of how much they are buying and spending on groceries. This is why convenient, time-saving grocery shopping apps have been able to gain popularity so easily. Going to an actual grocery store and seeing the products in real life leads to a temptation to buy which is not present in online grocery shopping. Top Grocery Delivery Apps like peapod allows you to order your grocery list items without actually having to move an inch.
Here is a quick overview of the article :
About Peapod – An Online Grocery Store
Peapod is an online grocery delivery app that was founded in 1989, an idea that was way ahead of its time. It has been one of the oldest online grocery stores that many other competitors look up to and follow if they are interested in joining the industry. By being an online store, Peapod brought convenience to grocery shopping and made customers aware of how much they are buying. Unlike most grocery delivery apps, Peapod has an inventory of its own, which means it can cut down on additional moving costs and provide customers with groceries at the best prices. Apart from being an innovative idea, Peapod has also been able to foresee the changes in the industry and has adapted to all of them over the years.
Why Should You Shop Groceries Online?
Grocery apps have been in demand for a really long time. Mobile technology has changed the way people do so many things and grocery shopping is just one of them. Online grocery apps have completely flipped the dynamics of grocery shopping and have allowed customers to shop with maximum convenience, increased choices, and the option of home delivery. There are also some grocery apps that help customers with planning the quantity required based on their previous consumption habits. Many of these also automatically deliver the same essential items to the customers at a particular interval. Many brick-and-mortar stores have also shifted to online delivery because of the increased demand from their customers and also reduced revenues from physical shopping. According to reports, the digital grocery sales this year will amount to 11.2% of the 1.32 Trillion worth of grocery sales in the USA.  It is also expected that by the end of 2022 more than 30 million US adults would be using grocery apps like Peapod. These figures are enough to prove that the industry is on an upward trajectory and will most probably keep on growing in the coming years.
Although all look good for online grocery apps, there are also some concerns that these apps might have to face. One of those worries includes the fact that customers are now looking for more and more sophisticated solutions for their everyday needs. This means that grocery apps will have to continuously keep upping their game and adjust to the advancements in the industry. Anyone who fails to do will immediately see a shift of customers to apps that are inculcating these changes. Another worry of concern is that customers in the industry are buying items that get perishable very easily, it is, therefore, necessary to keep the delivery time as fast as possible. If these companies want to sustain, they will have to keep delivering food in the least time and make sure that they are only delivering grocery items that are fresh and up to the quality standards of their competitors.
It is also necessary for these companies to add an element of personal touch into everything they do. When all competitors in the market are offering similar features, the one thing that can set a company apart is how they treat their customers and what kind of special features they add for their users.
Why Peapod Like Apps Are Becoming Popular
Peapod-like apps allow customers to select their groceries from the comforts of their home and at the same time get them delivered to their doorstep. Apps like these have made it easier to shop grocery more frequently. Now customers don't have to specially go to grocery stores on a holiday and stock items until they can go next. With the advent of grocery delivery apps, customers can meal prep for a week and then simply open a grocery app on the weekend and only order items they would need for the coming week. Apps like these reduce hoarding behavior and impulse buying that can happen when buying groceries physically. Adding to this, actually seeing the products in the cart and calculating the total amount to be paid makes it easier for customers to analyze their carts and then remove any unnecessary items, which is difficult to do with traditional shopping.
Launch Your Grocery Delivery App in 2 weeks
With Customized On-Demand Solutions by OyeLabs
Another great thing with online apps is that all your previous shopping habits are stored in one place and most of these apps are amazing at predicting your buying behavior and then telling you what you need to buy in the future. Peapod-like apps also save a lot of travel time and can cut down on the petrol bill. The time and energy you save from not going to a grocery shop can then be utilized for something more useful. Another thing grocery apps are good at is discounts and offers. These apps continuously provide customers with promotions, offers, loyalty points, and other options to save money.
Features of a Peapod Like App
Online grocery apps like Peapod generally have different stakeholders they need to worry about. These stakeholders include final customers, delivery agents, and producers/suppliers. It would be very difficult to tackle all these stakeholders with just one app, which is why most grocery delivery companies have different apps for these stakeholders. These apps allow Peapod-like companies to service them in the best way and also make sure that the data collected from various stakeholders are kept separately for a better analysis. Although there are different apps for the stakeholders, all these apps are fully integrated because the operations of the stakeholders are integrated. Meaning, a customer making an order will do so using the customer-facing app, but the supplier will have to receive this on the supplier interface.
In order to fulfill the needs of these stakeholders, grocery companies must have certain features on their apps. These features can be divided into:
Features for customer facing app
Features for supplier facing app
Features for driver facing app
1. Features for Customer Facing App
Login using social media
Sign up with mobile and complete full details only when you order
Filter options for better grocery selection
Search option
Division of grocery into separate sections
Product listing according to popularity, discounts, and ratings
Multiple payment options plus cash on delivery
Easily visible add to cart option
Push notifications at different steps
Favourite items for later
Subscription options
Time slots for delivery
Accurate delivery tracking
Customer support and chat option
Order history for all transactions
Pre-ordering of groceries
2. Features for Supplier Facing App
Order Management
Product management in case any items go out of stock
Option to add a description to products
Allow them to send promotional messages via mail, text, or social media
Discounts and promotional offers
3. Features for Driver Facing App
Push notifications
Availability option
Integration of address with the map
Option to accept/reject delivery
Receive clear details from the customer
Earning and analysis reports
Work history
Rating and reviews from customer
Related Resource: Features List Of Grocery Apps
Why Is It Necessary To Have A Peapod Like App For Your Grocery Business?
We have already discussed why grocery delivery apps have become popular. It is obvious that the benefits that these apps provide to the customers far outweigh the benefits that traditional grocery stores provide. Apps like these were born because of the fact that traditional grocery shopping is not the most convenient thing. Apps like peapod have been able to understand the problems with traditional shopping and have hence created an ecosystem that provides different benefits to the customers but at the same time also focuses on solving the problems associated with traditional shopping. It has been able to add the element of science to the shopping process and hence made it much more convenient and customer-focused. Online grocery shopping has become popular because of the following benefits:
Time-Saving- It is obviously one of the biggest benefits of online grocery shopping. Gone are the days when customers had to take 3-4 hours out of their weekend for grocery shopping. Now, grocery shopping can be done in just 15 minutes without having to leave the couch. With the saved time, people can indulge in more profitable activities and use their time more wisely.
Convenience- Convenience is also an aspect that attracts customers to online grocery shopping. With the help of apps, the customer can order groceries from anywhere and then select a delivery slot when they will be at home. Online apps only need a smartphone and internet, you don't even need to have the money; you can just pay using your cards or even pay in cash when the delivery arrives.
Saves Money- Physical shopping makes customers not realize how much stuff they have actually purchased. This leads to impulse buying. On the other hand, with online shopping, you can actually see the list of products selected and the total cart value, this makes you conscious of how much you are actually spending. There is no temptation when it comes to online grocery shopping.
Easy and Secured Payment- You can pay online using various modes of payment on the basis of your preferred option. The payments made using your cards are secure but if you are ordering for the first time, most of these apps also allow customers to pay in cash.
Reduces the Need for a Store- Having an online grocery shop reduces the need to have a traditional store. This can help cut down on unnecessary fixed costs and make the company more profitable. When they earn more, they can offer more offers to the customers making everyone more satisfied.
Competitive Strength- Having an online app gives grocery stores a competitive edge over other competitors. It can help them gain a wider audience and satisfy customers they wouldn't otherwise be able to service.
Excellent Shopping Experience- Unlike traditional shopping, customer experience can be controlled under online grocery shopping. Companies can easily offer more services that will improve the overall shopping experience of the customer. And once you show the customers that you care about them, they end up becoming loyal users of your app.
Launching a grocery delivery app is also useful for the company because they reduce the need for employing people at the store or warehouse, they provide better CRM, and also offer analytical benefits among others.
How do Online Grocery Delivery Apps Works?
Generally, before starting an online grocery delivery business, one crucial question that every person needs to think about is whether the company wants to have its own warehouse and store its products or if they want to rely on local suppliers for fulfilling the demands of their customers. This is a crucial aspect of the business because further operations and the layout of the app will depend on this decision. If the company decides to have its own warehouse, it will have to think about inventory management. On the other hand, if they depend on local suppliers, they will have to bring them on board and then coordinate with them to make sure their products are currently updated on the app. This decision will also impact the delivery mechanism of the company. Apart from this, an online grocery business goes through an entire shopping process when fulfilling the demands of its customers. This process consists of multiple aspects including:
Inventory management- The first step to opening an online grocery business is either buying inventory or managing/listing the inventory you are already selling in your online store. This inventory is where the customer will buy from. In an online ecosystem, it is also necessary to make sure that the inventory listed on the app has enough variety. Customers come to the online store for the variety, prices, and sorted selection, hence it is necessary to make sure that you have all these.
Sign-up and selecting products- Once your products are listed on the app and you have enough stock, customers will start coming to your app. Here, the initial step is signup by customers. Once the customer signs up on your platform they can browse the selection you have and choose the grocery items they like. Because the items are sorted into categories, it gets easy for the customers to select the products they want. They can also use the search and filter options to sort the items.
Add to cart and payment- Once you have selected the items you want to buy, the next step is to add these products to the cart, check what you have added, and then place the order for the items.
Delivery of the products- One reason why an app like Peapod is so popular is that it allows customers to specify their preferred delivery time. The app offers large slots that customers can choose from and then receive items at discounted prices. The reason why this works so well is that the company can then bunch up different orders in nearby areas and deliver them at the same time, which reduces the delivery charges.
Push notification and navigation- Customers generally specify their current delivery location which makes it easier for the delivery agent to navigate. The app also sends push notifications to the driver as well as the customer informing them of the arrival time of the delivery as well as notification regarding current updates.
Review and analysis- After the delivery is made, customers get to rate and review their order as well as the driver. This allows the company to have a constant check on its quality standards. Once this is done, all transactions get saved on the app, this allows the app to make analytical predictions about the customer and their buying behavior. These apps then use these behavior analysis methods to help the customer get better experience and order products continuously.
Related Read:
Features You Can Integrate Into Your App
Now that you know how a grocery app like Peapod works, you are ready to introduce your own app or business into the industry. Before doing that, you may want to find out the aspects that Peapod excels in. These grocery app features will help you identify the things you can add to your business to set it apart from your competitors
Unlike most grocery delivery apps, Peapod doesn't force customers to buy a subscription. Although some people may like the subscription model, others may see it as an additional expenditure which they are not willing to spend. Hence, it is necessary to give your customers an option to buy groceries without having to actually spend an additional amount on a subscription.
Peapod has its own grocery products hence you don't need to select a store or worry about the quality of the products. You are buying things directly from Peapod and you can be assured about their quality. This also allows them to cut down on additional costs that might occur from procuring products.
In addition to this, the Peapod app also allows customers to scan items from their pantry and directly add them to the cart. This saves the customers time and allows them to select the products that they generally buy.
You can also show your best-selling products separately to your customers. This lets them see the products that other customers generally go for.
Orders using historical data- You can use previous buying behaviour to tell your customers how much they generally buy and how long these products last. This will help customers make routine orders using their previous order history.
Apart from everything we have discussed, it is also necessary to have an overall knowledge of all the competitors present in the industry and knowhow of how their application works. This will help you recognize the features and aspects that the customers think are essential and the same can be used to build the perfect app for your grocery business.
Technology Stack To Build Online Grocery Store Like Peapod
Application and Data: Java, CloudFlare, AngularJS, Vue.JS
Utilities: Google Tag Manager, Google Analytics, Google Maps, Optimizely
Business Tools: Jira, G Suite, Zendesk, Slack
DevOps: GitHub, Webpack, Docker, Sentry, Kubernetes, Terraform, Amazon Cloudwatch, CircleCi,Datadog, TrackerJS and PagerDuty
How much does it cost to build an app like PeaPod?
To build a grocery app like Peapod, the total cost for the project will depend on various factors such as platform, tech stack, features list, developers' cost, and more. In general, developing a grocery app similar to Peapod will cost you between $10,000 to $50,000. This lower-end limit (i.e $10k) is usually for readymade apps as app features are already built-in with limited customization scope and the upper end is for custom apps as all the features in a custom-build app are developed & added as per clients.
The table below shows the number of hours needed for various app development stages-
| | |
| --- | --- |
| Milestones | Development time |
| App Discovery | 80-100 hours |
| Idea validation | 40-60 hours |
| Prototyping | 60 hours |
| Documentation | 60 hours |
| Design (UI & UX) | 130–190 hours |
| Android development | 500–800 hours |
| iOS development | 600–800 hours |
| Backend | 300 hours |
| Admin panel | 60 hours |
| Testing & QA | 60 – 120 hours |
| Total Time: | 1900–2400 hours |
Now depending on the hourly development charges of the company you hire, you would be able to estimate your total cost to develop grocery app like Peapod.
The right time to venture into the grocery business is now. If you wait longer for a better time, someone else will come up with a better solution and may also make your idea obsolete in the future.
FAQs
What are some apps similar to PeaPod?
There are many apps for grocery delivery in the market. Some of them are Instacart, Doordash, Walmart, Grubhub, FreshDirect, and more.
Does Oyelabs offer a grocery delivery mobile app like PeaPod?
Oyelabs offers both a custom-build and readymade grocery delivery app solutions. Our product GoodGrocers is a solution for online grocery services.
What is PeaPod's business model?
PeaPod works on the inventory model where it keeps all the items in-house and delivers through its network of delivery vans. This model allows the company to keep track of its own inventory and delivers the freshest food products to their customers.