The Best On-demand Home Services Business Ideas
The Best On-demand Home Services Business Ideas
Last Updated on May 13, 2022
Today, we all are so tired with our family and professional lives that we truly lack the time and motivation to do all our tasks and finish all our chores simultaneously.
However, the internet has been revolutionized by innovative on-demand technology. But the question is – what exactly are these on-demand services and their classes?
On-demand home services are something you can choose and get while you are at home. As its name implies, it acts as a platform to hire professionals at your fingertips for all your house chores and is built with all the essential functionality, just like all other requests. They are used to connect the gap between different customers and providers.
Through on-demand software solutions, these home services applications are a huge step in the right direction. And perhaps that is why more and more innovative business ideas and practical solutions are provided by new-age entrepreneurs to the problems faced by the users.
Here are our top picks for the best on-demand home services business ideas that you can start working on, right away.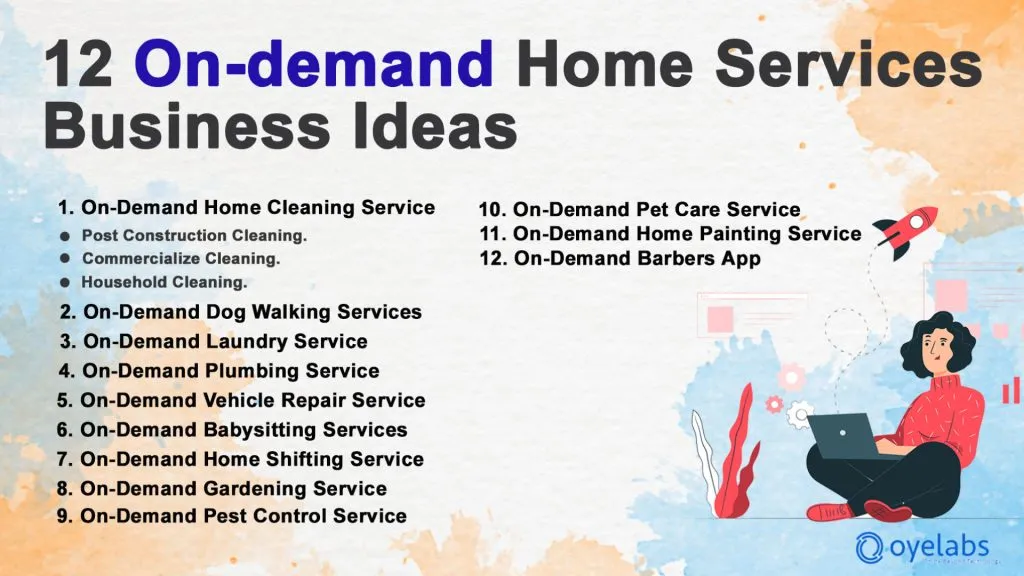 12 On-demand Home Services Business Ideas 
On-Demand Home Cleaning Service
An on-demand house cleaning service app is designed for people with a busy schedule who find it really hard to keep the house clean and hire maids, or housekeepers, every day for the solution.
Depending on the type of house that will be cleaned, the on-demand services are divided into three large categories:
Post Construction Cleaning.
Every time customers leave a mess after the end of their house construction. They can book the service for their refurnished house to get it completely cleaned.
This type includes that you can benefit from the marketing of the cleaning such as house sanitation, school and office cleaning, and so on.
This includes the possibility of reserving a home cleaning service such as cleaners, tiles for washing and kitchen cleaning, etc. 
On-Demand Dog Walking Services 
As with other on-demand applications, a dog walking app can be made to connect dog care providers to dog owners. That is to say, a dog owner registers and provides detailed information about a pet: breeds, food supplies, vets and medicinal products, necklaces, leashes, and harnesses. A user can then search on-demand, schedule or book an available hiking/sitting dog.
On-Demand Laundry Service
Consumers prefer pick-up at the door, simple booking, and delivery services that can facilitate their work.
This has brought a lot of popularity to the starting an on-demand laundry service app. This allows users to dry clean or wash their clothes without moving a bone unless we count the finger used for tapping. Instead of conventional services that require self-service, users prefer technical advancements.
On-Demand Plumbing Service
You no longer have to run around the plumber of your neighborhood. Find your plumber in the plumber application. He will surely visit you once you have booked the order through the app.
Through on-demand plumbing service apps, the right plumber is connected to the client with just the touch of a button. Once the user is registered in the app, the plumber offering service can be tracked in accordance with the customer's convenience.
A user can obtain a plumber immediately with the on-demand plumber app. The app allows customers to evaluate the services and to evaluate the service providers. This helps users to review reviews/ratings before reserving a specific service.
On-Demand Vehicle Repair Service
Any automobile mechanic can improve their sales with a good knowledge of car repair techniques and a list of references. All they have to do is simply put their company on the fast path by directly bringing their service to customer homes and business locations.
On-Demand Babysitting Services
As with the previous business model, a business model for connecting babysitters to new parents is called babysitting on demand. For extra assistance, parents need babysitters. 
A background check on their qualifications can help build a secure platform before parents sign on to the site.
On-Demand Home Shifting Service
Moving homes or moving from one place to another may occur due to several reasons, such as transfer, change of job, going abroad, for work or for personal reasons. Whatever the reason for relocation, it is essential to have a good and trustworthy name in the packer and mover industries. It includes the top packaging and moving companies that will help you move.
The Packers and Movers app is a hub to show which company you are supposed to rely on when moving from one place to another. It shows the top movers and packers who provide the best services and make sure your belongings are safely moved.
On-Demand Gardening Service
It may be a daunting prospect if you are interested in developing your gardening business and winning new customers. This is a difficult and confusing task for small companies, as factors such as the availability of time, finance, experience, knowledge, and resources can often mean that many are put off by the challenge.
But that is where an on-demand lawn care app can come into play, where you can set up your business online and have your clients reach you — with just a click of a button.
On-Demand Pest Control Service
A smart and well-maintained house is always free of pests, right? Not necessary. For different reasons, pesticides can be attracted to homes, many of which have nothing to do with cleanliness. Some common home invaders reveal their presence, while generations can hide without a peep. 
There are many reasons why every homeowner needs to take regular pesticide control into account. Pests pose real threats to health and damage property. In every household and office, controlling pests has become one of the main necessities.
An On-demand pest control app solves this problem by providing pesticide control agencies with an on-demand pesticide control application that can be used as a one-stop destination for app users to find all sorts of pest control services.
On-Demand Pet Care Service
As a pet groomer, snip, clip, and brush the way you want with the help of an On-demand Pet Grooming app. The convenience of the 'door-step pet grooming service is appreciated both by the pet and its owners. There are a lot of different pet care app ideas that can be implemented and are in high demand in today's time. A van and certain tools- start the barking of the correct trees by marketing your business in your neighborhood and others with the proper training and experience that you provide these services.
On-Demand Home Painting Service 
Your house reflects your character; it is speaking on your behalf. You can tell a lot about your character in how you design and paint it. You will probably select colours that you can most closely associate with. But, let us say, many people don't know the perfect combinations of orange and blue!
Who's going to let you know the entire theory of color? You must possibly contact a specialist, a painter for your house, isn't it? The real task of finding an experienced reliable house painter begins here.
In addition, on-demand apps for house painting services are now available. The user can reserve and receive services in a few hours online from the house.
On-Demand Barbers App
Barber-on-demand is a mobile app for the busy professionals who value your time and the experienced barbers who appreciate your art. Whenever the user wants a haircut, he will look for the barber and free time available for the service.
Barber Shops here also can have a platform for business exploration with the app. Barbershops here are approved by the administration and barbers can also connect with the other experts on the road.
A list with its prices would be shown and users should choose their services from the options provided. You can also allow users to choose their favorite barber and view their available time slot. You can also monitor your demand for a barber and your approval of service and your service schedule.
Concentrating on such applications eliminates the need for empty chairs in the barbershop which helps users leap out of the waiting space. Barbers and customers are also encouraged to comply with their schedules while expanding their scope.
READY TO LAUNCH YOUR APP?
With Customized On-Demand Solutions by OyeLabs
Bonus – Some other on-demand startup ideas if you are looking to enter a similar domain
On-Demand eLearning App
Increased use of eLearning helps teachers and students to always resolve obstacles. These concerns are applicable to various degrees in developed as well as developing countries. While most emerging regions focus on access and enhancement of primary education, developed regions aim to improve the involvement of students and customize the education of every student. E-learning application development could provide practical solutions to these problems.
On-Demand Event Planners
You should know how long it will take you to remember every single thing, such as decoration, invitation, food, and place, and link the pieces of the puzzle called a party together when you ever plan a party. It's easy to organize and find the whole staff you need to organize the party, such as clowns or food for a children's party. 
But what would happen if there were a single communication channel connecting all the clowns and firemen, food suppliers, and photographers? This would be a perfect solution with all services and goods classified into categories with a wide range of prices to satisfy any needs of customers.
Wrapping Up
Developing an home services app in any of the above sectors is a very profitable idea in today's time but it is however essential to know what your USP is going to be and which features are initially important to have. It is always advisable to build a basic MVP first with only the must-have features and gradually add in the good to have ones on the basis of user feedback.