B2B Marketplaces – How It Works & Famous Examples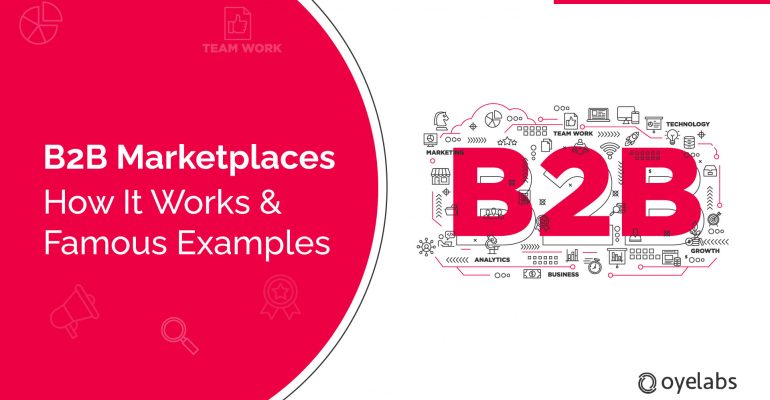 B2B Marketplaces – How It Works & Famous Examples
Last Updated on May 13, 2022
The internet in a modern scene, from the offline market to digital shopping, replicates everything. There are, of course, numerous business models to provide better services and maximum profit with the increase in requirements. E-commerce can offer anything today, ranging from products, services, rentals, and food supply, to on-demand beauticians.
One such dimension is selling B2B. The supply chain and the e-commerce market are maintained offline. B2B companies are more complicated and wider with larger purchases, trade rules, and various marketing standards.
It's worth more than 14.9 trillion dollars, according to Statista. Not only is the trade difficult but the revenue models are also multidimensional for B2B companies in the B2B arena.
Here is An Overview Of The Article:
The Meaning Of B2B Online Marketplaces 
B2B online marketplaces create self-service and digitally sourced environments in which several providers can provide business customers with products or services. Like with online B2C sites, B2B markets claim to facilitate the identification of the right supplier by simplifying and transparent transactions.
Purchasers obtain choice, value, and higher efficiency, while sellers gain access to a wider pool of buyers under pressure to grow their income – without the burden of marketing or the need for specific sales, fulfillment, transactional or logistical functions (depending on the specific market). Market procurement can also facilitate reporting and data analysis when implemented correctly.
Given that the category borders are not always sharp, four kinds of markets are currently visible. Every person is determined by the nature of his goods and services and who is responsible for them in the contract and in the guarantee.
Types of B2B MarketPlaces
The B2B Marketplaces can be divided into different sections, on the basis of 2 major points of distinction:
On The Basis Of The Business Types
On The Basis Of The Business Models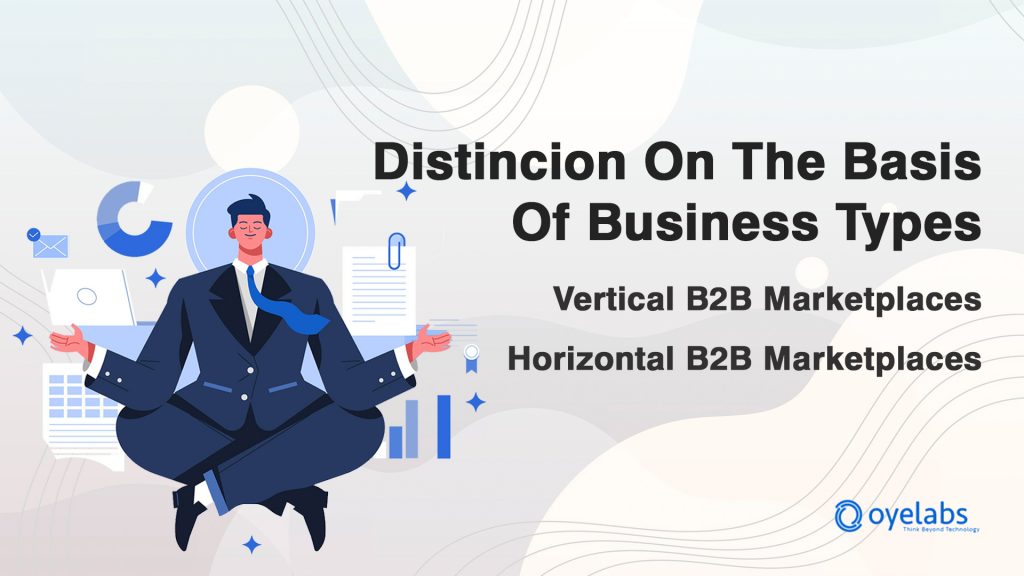 Distincion On The Basis Of Business Types
Vertical B2B Marketplaces
Here, only one segment of the market can buy and sell products. Such B2B markets only permit trade among specific segments of a given industry.
Auto, pharmaceutical, chemicals, electronics, buildings, etc. For example, say you're a construction company so that such markets can link you to all companies that are able to deliver products and services related to construction.
A very good example is the electronics marketplace Gazelle which facilitates buying and selling of electronic products,
Horizontal B2B Marketplaces
Horizontal B2B marketplaces sell products and services from various industries and segments as opposed to Vertical marketplaces. They connect companies across various segments.
For example, say that your company is in the building industry. In addition to building supplies and services, these markets may also allow you to connect with companies that can supply your new office fittings with bulk furniture.
A very good example is the second-hand products marketplace Letgo which allows users to buy and sell any type of second-hand product.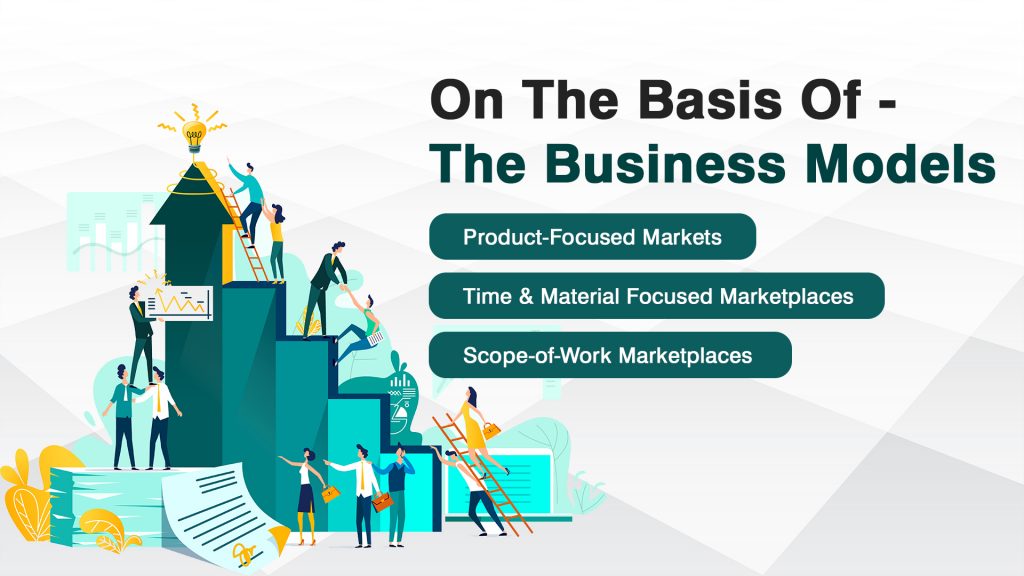 On The Basis Of The Business Models
Markets focused on products often focus on products such as office supplies, furniture and furnishings, and packaging. The best-known names are probably Amazon Business, Etsy, and Alibaba, although ThomasNet and GlobalSourcesDirect are also part of that category. A variant offers structured services such as maintenance, repair, and operation (MRO) providers with menu-type offers.
Time & Material Focused Marketplaces
Material and time markets typically offer freight services, travel services, IT and technology, temporary employment, and management of facilities. SAP Fieldglass and Concur, the expense and travel management site, are two well-known examples. This type is probably also covered by specialist players such as Excess Materials Exchange.
Scope-of-Work Marketplaces
The market for Scope of Work offers marketing, telecommunications, utility, rental and property, insurance, and professional services (such as legal and consulting). For example, global services focused on digital service sourcing and field engineering (FE), which provides information to telecom technicians and engineers.
READY TO LAUNCH YOUR APP?
With Customized On-Demand Solutions by OyeLabs
Famous Examples Of B2B MarketPlaces
Alibaba is the biggest B2B online marketplace in the world and also the best B2B  site for global wholesale. It has support for many languages, including German, Italian, Polish, Japanese, etc. Originally from China. It was launched in 1999 and is currently very much behind popular websites such as Amazon and eBay. In 2012, the two portals of Alibaba Group managed to generate sales of $170,000 million in excess of the Amazon-eBay combination. It also currently hosts over 35 million users.
AliExpress, Alipay, and Alibaba international are some of its other brands. Only that some companies are simply traders and not the manufacturer is the problem on this top website.
We can't start B2B Marketplaces without mentioning DesignRush — the leading online platform that connects brands and agencies in the US and worldwide. They have a network of over 10,000 professional agencies for top services such as web design, SEO, digital marketing, branding, software development, etc. 
Their Marketplace is a space for brands to share their projects and agencies to send proposals. These are evaluated and monitored by DesignRush to ensure legitimate leads & qualified agencies.
DesignRush also offers other opportunities to add credibility and value to agencies through dedicated articles, Best Design Awards, QuickSights press releases, and more.
The platform also ranks in Google's top search results for the services mentioned above, generating 50,000+ leads from organic traffic monthly.
And who would want to miss their new feature called Visitor Insights? It tells agencies which brands are interested in their profile and/or looking for their services!
For companies providing or looking for expert services, a more actionable ROI, and a reputable profile, DesignRush is your B2B Marketplace.
A B2B Sales and B2C and C2C e-commerce company via its portfolio. IndiaMart is the world's second-largest website after Alibaba and is the most important online marketplace in India. Economic Times marked IndiaMart. No one would have thought of seeing a marketplace coming from Uttar Pradesh as the great beast it has become today. In 2014, its revenue amounted to over 200 crores.
In conjunction with InterMESH, Dinesh Agarwal founded IndiaMART. Renowned as one of the most successful b2b websites in India, the company currently employs over two thousand people and, as of 2015, claims that there are over 3 million suppliers on the website.
EWorldTrade has quickly gained a good reputation fairly recently for the B2B industry. Reckon Media LLC's subsidiary, a US-based digital media and technology service provider. EWorldTrade has its own global operating unit.
It's the only B2B marketplace with up to 10 free leads when you sign up. This was an enormous point of sale for companies, and in only a few years, it has grown rapidly. However, China is the majority of its manufacturers, and its partners include companies from the United States, India, Malaysia, and Pakistan.
You've got to know another famous and one of the best B2B sites. Focus Technology Co., Ltd. developed it and operates it. It is a leader in the electronic business industry in the country of China. Either in China or Taiwan, all their products are made.
Made-in-China had some problems, however, when a broad range of Chinese consumer goods was issued by the US, Canada, Australia, and the European Union during 2007.
However, it is still one of the world's best-selling websites for businesses.
Global Sources is a Hong Kong-based, NASDAQ, and GSOL-based e-commerce company. He is a pretty old player with Merle A.Hinrichs and C founded in 1970. Joseph Bendy has grown enormously this year as a Trade Media Ltd. Global Sources, which currently houses more than 1 million global buyers. Global Sources have an unbelievable sales strategy for B2B and that is why it has lasted so long and grows every day. The online B2B marketplaces generated revenue of $231.7 million at the end of 2012.
DHgate is a leading wholesale website for good products produced in China. It has a fairly consistent record of goods and services of quality and offers prices not found elsewhere. Again, the company is Chinese but also promotes the language of English.
DHgate, like eWorldTrade, also supports small and medium-sized manufactured products. It offers a secure international logistics and payment system. Its offices are located in Beijing, China but its offices worldwide include the United States, the United Arab Emirates, the Philippines, and India.
It is an Indian company with its headquarters in New Delhi, as its name implies. It currently has more than 3 million registered users and is one of the best websites worldwide for the acquisition of Indian products and worldwide trade. Trade India surely has a huge range of goods, from home decor, agriculture, and machinery.
It is a portal for small firms in India in particular. It was founded by Bikky Khosla in 1996 and has become an office of more than 1200 professionals in more than 35 cities and employees.
In essence, it functions for the global export/import community as an online directory service.
A very similar online marketplace to Amazon and eBay, where you can buy and sell something like the slogan 'A place to buy, sell, trade' says.
iOffer is a San Francisco-based online business, created by Steven Nerayoff. In 2002, it was started.
The website has established its place as one of the top b2b sites by claiming to have one million users, 75,000 sellers among them. It provides a free listing of products for sale, charging them only when sold or for premium listing services as a unique feature on this site. The difference between iOffer and eBay is that it provides little safeguards from fraud for buyers and sellers
The portal has expanded to No.1 Trade Leader, with over 10,00,000 members providing online and offline services.
It is a South Korean platform and was created in 1996 by Inkyu Park.
It's probably the best b2b website full of trading information, product catalogs, and directories. The website contains a number of languages such as English, Chinese, Korean and Japanese.
Over the years, ECplaza has been growing slowly but steadily and has today built a global network with high brand recognition. ECplaza is a secure international trade online wholesale mall.
ECVV was founded in 2003 and is one of the best B2B websites in the world with the mission of making world trade easier. One of several Chinese companies which have been recognized as masters and dominate the business worldwide. ECVV is a fairly trustworthy buying platform. It provides global buyers with information on suppliers, products and packages of current and high quality.
It is a major international commercial promoter and the first end-to-end procurement platform in China. The ECVV is estimated at $5,000 million in annual trading volumes.
It had over 2 thousand registered users by the end of 2009 and received over 800 thousand buyers from more than 200 countries.
Bonus – Tips for starting a B2B MarketPlace
B2B marketplace offers market owners a broader arena for experimenting with various income models. While most business models don't just allow you to compete with competitors, a combination of them would be better.
The commission model alone cannot be expected to help you prosper such as Alibaba and Amazon, and you need a robust revenue stream balance on the Amazon Prime level or the Alibaba listing plans. Only a hybrid of the best prospects is capable of making a big name for you in B2B.
Whatever B2B marketplace script you select for your company, make sure all of the above streams can be accommodated. You don't want to miss even one chance to direct your revenue inside. To assure smooth operations, it is important to hire an experienced marketplace app development company to optimize all operations and build your dream marketplace app.
Frequently Asked Questions About B2B Marketplace Business Models (FAQs)
Q-What is an e-procurement platform ?
Electronic procurement, also known as e-procurement or supplier exchange, is the process of requisitioning, ordering and purchasing goods and services online. It is a B2B process.
Q-What are the differences between B2B e-commerce websites and B2B marketplace ?
A. The two of them represent an online platform which welcomes transactions between vendors and buyers. The only variation involves the presence of users (buyers and sellers) and the way they act.
On B2B e-commerce websites, there is usually only one vendor facing a large number of buyers. Alibaba, IndiaMart are some examples of B2B e-commerce websites.
B2B marketplaces have many sellers and many buyers. The best example for it is Amazon Business. A buyer could connect to a completely new vendor through each transaction.
-Q-Should I build or buy an ecommerce solution?
 A. Deciding if you should Build a custom platform or buy an existing one is a critical decision. 
You should work out and be ready for the long-term investment required for a B2B ecommerce solution. So, if you are ready with the staff and resources to continue to scale up your website as your business grows, then you're all set to build a website from scratch.