How to Make a Concierge Services App In 3 Easy Steps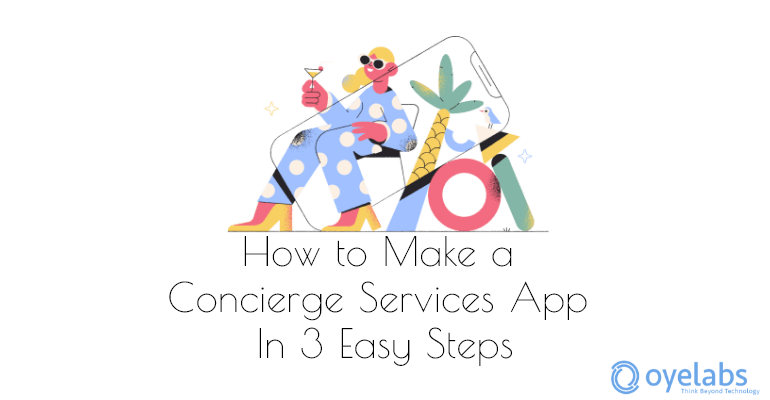 How to Make a Concierge Services App In 3 Easy Steps
Last Updated on May 27, 2022
Living in a fast-paced and hyper-competitive world, people are always on the run.  Due to this busy lifestyle, people value time more than money and want someone to handle their less important responsibilities. This has led to a rise in specialized concierge services. Today, customers look beyond basic services and desire unique, emotional experiences that turn their interactions over and above the normal.
Concierge services were earlier only available at luxury hotels, taking care of the guest's requirements discretely, and delivering exceptional service.  With the advent of time, concierge services have evolved into a profession and are widely available in many disciplines, with a broad clientele from large corporations, executives, VIPs, and celebrities, to well-heeled tourists. As per a study conducted by Grand View Research, the global market for concierge services totaled $537.6 million in 2018 and is expected to grow to $773.3 million by 2025.
Concierge Services Providers
By providing a responsive, efficient experience for customers, the concierge services improve guest satisfaction, loyalty, and strengthen your brand's connection. Some examples of digital concierge services include:
Private aviation:
U.S based NetJets specializes in providing individualized focus and personalized aviation services, whether celebrating milestones onboard to assuring the comfort of customers' pets. The business offers access to all its services, such as onboard catering, ground transportation, and accommodation.
Luxury real estate auctions:
Concierge Auctions is one of the world's largest online marketplaces to buy and sell luxury properties. The app enables customers to browse real estate, place bids, and watch auctions in real-time.
Shopping assisting services:
Personal Shopper Department (PSD) accommodates busy customers by offering access to stores all around the city. The app acts as a concierge and helps clients track down luxury items for those who require it. The app blends human-to-human interaction with mobile technologies. Users can send an image and a description of the wanted article and get the desired response with alternative suggestions from a team of online consultants.
Marriott mobile travel companion app:
Marriott International mobile app offers hotel booking capabilities and provides numerous features to make the guests' stay convenient and memorable. The app serves as a digital key allowing guests to seamlessly check-in, request additional toiletries and other standard amenities, and directly contact the front desk. It can also notify a guest when the room is ready, offer upgrade choices for loyalty program members, and also provides updates on special offers and events in and around the hotel. Through the app, hotel customers can explore dining options, make reservations, request valet services, or order a cab. After the chat-based concierge services were introduced in Marriott's app, the hotelier observed that 80% of the 10,000 mobile requests were made through this feature during the trial period.
Hospital services:
Paris based Happytal is a concierge service provider for hospitals. The platform enables patients, their relatives, and hospital staff to order deliveries and services by connecting with partners and ensuring timely delivery.
Errand Concierge:
Based in Malaysia, Goget is a marketplace for errands where users can share their tasks on-demand and the money they are willing to pay, and someone from the Goget community takes up the job and completes it.
Here's our guide to develop an errand running app
Challenges in providing concierge services through an App
Generally, the luxury segment is extremely conservative and is not very receptive to novel approaches. Elite lifestyle services offer concierge services as they better understand the customers' behavior and have resources such as a team of in-house experts to take care of their whims and fancies. However, there's a catch; these services are only available exclusively. Most concierge services come with a waiting list and charge thousands of dollars as membership charges. Even if you can afford the price, it doesn't mean that you can easily avail of their services. The user has to be invited and approved as a member before getting admission to the world of personalized services.
Even after rapid technological advancement, machines cannot wholly replicate human traits such as adaptive behavior. For example, algorithms can learn human characteristics; it is difficult for them to come up with an ability to surprise, such as an unexpected gift or last moment travel plan.
While it is undoubtedly challenging to serve such a clientele through an app due to extreme personalization, there is substantial scope for providing concierge services to well-heeled millennials who appreciate life's luxuries simultaneously getting things done on their smartphones. The app gives them direct access to a team of experts, who can provide a personalized response quickly, 24/7/365.
READY TO LAUNCH YOUR APP?
With Customized On-Demand Solutions by OyeLabs
Benefits of Building A Concierge App
A concierge app can help you create additional touchpoints, greater customer satisfaction, improve service level, and additional revenue sources. The app allows the business to save time and create new efficiencies. Visual and informative resources enhance customer experience, while artificial intelligence and familiar chat interfaces provide a competitive edge by offering increased accessibility, intelligence, and convenience. Automated concierge apps have several business advantages: They are more efficient, faster, and less error-prone. At the same time, business owners get a modern tool to improve their services and generate additional income.
Lower Operations Cost:
Concierge App is a cost-efficient alternative to the traditional resource-intensive method. By deploying the app, businesses don't need to hire, train, and spend money on concierges, or employees who are generally responsible for catering to such requests from the guests.
Understanding User Behavior:
Every interaction with the Concierge app gathers valuable data that help businesses understand what customers are looking for and help them make informed decisions. When you know what your customer wants, it is easier to meet their needs and exceed their expectations and increase customer loyalty.  Customers desire experiences that are memorable and tailored to their needs. A concierge app helps deliver those immersive experiences and simplifies tasks like ordering, finding information, and payment. Thus, it becomes easier for companies to anticipate and fulfill customers' expectations, increase loyalty to their brand, and maximize revenue.
Higher Customer Support Standards:
Since the service process gets completely automated, the waiting time reduces drastically, and customers can receive a solution for their queries immediately. Furthermore, you will be able to better target your customers with relevant services and offers.
Improved Productivity:
Smart automation enables you to keep track of the flow of incoming requests and the staff's productivity indicators.  Direct customer feedback can help you quickly identify the staff's problem and optimize accordingly.
Additional Revenue Source:
Besides attracting more guests and increasing the number of service orders, the concierge app helps you identify additional revenue avenues such as a partner program to attract third-party vendors or paid premium subscription services.
Automation:
By automating several earlier completed processes manually, the concierge app will considerably simplify your business and improve substantially overall efficiency.
Maintain Service Standard:
Unlike with real people, with concierge apps, it is possible to establish specific service standards and stick to them 24/7 365 days a year.
Related Read:
How to Build a Concierge App
Step 1 – Research and Finalization
Product Discovery
The product discovery phase includes a functional specification, UX/UI design, and a visual prototype that provides a clear vision of the end product. This phase helps you define a full scope of work and develop a roadmap for the project. On average, this phase takes 4-6 weeks.
Backend human team
While the app will carry the significant work, it would be ideal to have a qualified team that knows the business in and out, as in some cases, it may require interaction with real people. While it is possible to create an entirely AI-driven app, but as mentioned earlier, it will be much more useful to amalgamate technological know-how and supplement it with human intellect for additional assistance.
UI/UX Design
The user interface or UI includes screens, buttons, pages, and all other visual elements that help users interact with a device.  The User Experience or UX is based on the principle to provide a positive overall experience when users interact with the app. UX is responsible for a user's journey through the mobile app or website, which ultimately decides the companies' success.
The UX/UI Design plays a critical function in helping businesses increase sales and growth of the organization. For a concierge app, the UI/UX Design becomes critical, as it is crucial to create a lasting impression for users to return.
App Complexity
App complexity is defined by the number of different functionalities contained in the app. Higher the number of features, the greater the cost of development.
Step 2 – Features List
Features to be carried in a Concierge App
The app must carry the right set of features that will satisfy your target audience's needs. While the feature characteristic may vary based on the type of business the Concierge app caters to, some of the standard but essential features are shared below:
Registration and Login:
Registration on the app can be done by email id and phone number. Nowadays, social media integration is also widely used, making the process seamless. The app should maintain this database complying with all security standards, ensuring comprehensive confidentiality.
One-Stop-Shop:
The concierge app should showcase all the services available to customers, internally as well as those offered by third-party vendors, such as find the best dining options, choose the best sightseeing routes, etc., so that they don't have to 'Google it' or look for that solution in any other app.
Communication: 
Instant messaging is the most convenient way to interact with AI apps. The app should be able to recognize and understand natural language. Chat can be used to request a particular service or receive the required information.
Payment Options:
In-app payment options so users can pay for the requested services instantly.
Push notifications:
Timely reminders for scheduled services (spa, entertainment, restaurant reservations, etc.). The app can send out additional offers or promotional content based on the user's preferences and behavior.
Navigation:
It is beneficial to enable GPS and location services to help customers navigate themselves. It's enough for entry-level navigation to add a simple map, but you can implement geofencing technology for the top tier experience.
Customer Service:
Customer support is essential to maintain if a guest needs to speak with a real person, make a non-standard request, or solve other customer service-related issues.24/7 chats with real people if guests need something that's not on the drop-down list of standard requests.
One-Touch Service:
The concierge app replaces the need to call and request for services. A user should be able to select a list of services with detailed information at the touch of a button, such as one-touch order placemen, scheduling a service.
Tailored Suggestions: 
Users get personalized suggestions based on their recent in-app requests and other activities.
Digital Coupons:
The app can provide more excellent customer value by delivering digital coupons for discounts or other extraordinary and memorable experiences at local establishments.
Seamless integration:
With the concierge app, guests can also securely access reservation information, make requests, and perform pre-check-in functions to avoid queues when they arrive.
Payment Method:
The app should integrate third-party payment systems such as Stripe, safe and reliable, to seamlessly purchase services and experiences.
Data Security:
Since the concierge app will collect a lot of personalized data, it should have cutting edge security services to gain customer trust. It would be ideal for the app to be GDPR compliant.
Wish List:
With this feature, the user can shortlist that they would like to purchase in the future.
Order Cancellation:
Since customer satisfaction is of prime importance, the user should easily cancel an order if they are not satisfied with it or receive a faulty product. They should be able to lodge a complaint, a return, or a refund request from the app.
Admin Panel:
The admin panel is the centralized dashboard that manages all the internal processes of your application, such as data managing, income tracking, observing reservations.
Manage Customers:
The concierge app admin can add or remove users or change their active status. This feature enables the Admin to view complete information linked to users, such as their contact details, address.
Reporting and Analytics
By leveraging real-time Analytics, the Admin can obtain actionable insights to manage the business effectively.  The data assists the Admin to plan strategies to boost sales and user experience.
Related Resource: Home Services App Features List
Step 3 – Technology Stack
The technology stack used to create the concierge app varies from business to business. It depends on the skill-set and the budget fixed for the cost of mobile app development.
iOS:
Swift
Google Maps API
Apple MapKit
Core Location API
Core NFC API
MySQL database
Android:
Java
Kotlin
Google Maps API
Proximity Beacon API
Google Location Services API
MySQL database
Push notifications – Twilio, Push.io
Database – Mailchimp Integration., MongoDB, HBase, Cassandra, Postgress
Cloud environment – AWS, Google, Azure
Payment methods – eWallets, PayPal, Stripe, Braintree
Real-time Analytics – IBM, Apache Flink, BigData, Cisco, Hadoop, Spark
Phone verification, Voice, SMS – Nexmo, Twilio
Cost to make a concierge app
The price of developing a concierge app may vary depending on your requirements. The cost will be depending on the number of factors, including:
Projected time required for concierge app development
| | |
| --- | --- |
| Feature | Development time |
| Authorization | 70 – 90 hours |
| User profile  | 60 – 80 hours |
| In-app search  | 100 – 120 hours |
| Payment system  | 140 -160 hours |
| In-app messenger | 250 – 300 hours |
| Push notification | 40 – 50 hours |
| Frameworks integration | 70 – 80 hours |
| Admin panel | 200 – 250 hours |
| Third-party services  | 10 – 15 hours (per each service) |
| Total | 1100 – 1400 hours |
Location of App Development Team
The cost of app development is heavily dependent on the site of the development team.  Development costs are charged on a per hour basis and change progressively as we move from Asia to Europe and finally the highest in North America. 
| | |
| --- | --- |
| Location | Per hour costing |
| India | $10 to $40 per hour |
| Eastern Europe | $30 to $100 per hour |
| U.S | $70 to $150 per hour |
Developing a concierge app would take approximately 1100 to 1400 hours. This can then be multiplied by the development rate, and you will get a fair idea about the development cost.
Additional Costs
Please note that this would not be the final cost, as apart from the core development, it is also dependent on other factors such as:
App Marketing: Since the app needs to cater to premium clients, it needs to be promoted extensively, getting reviewed by publications, and create compelling ads to highlights its features to increase desirability, so you need to put aside a substantial marketing budget.
Maintenance: The app requires periodic updates with innovative features to keep customers engaged and draw new customers.  App Maintenance cost for a year can be assumed as 1/5th of the total app development cost.
FAQs
What are my options while creating a concierge app?
The concierge app can be for the Front- desk concierge app that can help the users with tasks like browsing rooms and their prices, Checking in- checking out, ordering room service, and so on.   Travelling Assistant concierge helps users with their travel bookings, browsing local attractions, city guides, and other aspects of traveling. For managing events and planning out the intricacies, a conference managing concierge app is ideal. Depending on your idea, you can develop the perfect concierge app for you.
How should I choose my development team?
When it comes to choosing a team for your app, you can either for an in-house team of developers and staff or, you can outsource the workforce. Assembling an in- house team that compliments your vision is a good idea but can often prove time- consuming and exhausting. Other than this, you have the option of outsourcing the work to an independent App development company, or you can contact freelancers as well.
How much time can I expect to finish my concierge app?
The development period of any app depends on the complexity of its design. It is possible to get a basic app done within sixteen weeks, whereas a complex app (medium) can take around twenty-five weeks. An advanced application takes longer to build, as it is more complex and can sometimes take more than forty weeks.
What are the various stages involved in concierge app development?
From business analysis to post-lunch considerations, there are a lot of different steps involved in the app development process. Business analysis and formulation of a basic layout precede the rest of the process. Building a winning UX/UI design for your app will be next. Then come the front end and back end development, after which rigorous testing and tweaking is the next step. App marketing is also a crucial part of the process, alongside app development.
After ensuring you have a quality product, you can launch it, and start with the post-launch support and maintenance, updates, push notifications, etc.