How To Create An OnlyFans App Alternative in 2022
How To Create An OnlyFans App Alternative in 2022
Last Updated on May 19, 2022
There are a bunch of content-sharing platforms that allow creators to make money online. As a result, OnlyFans is the least popular option because it allows creators to upload any kind of content, including pornographic content, and get paid for it.
While sex workers have been using OnlyFans to make money since 2016, celebrities such as Cardi B and Bella Thorne have also used it to make a decent cash. Besides these celebrities, other people generally have their fans subscribe to them on OnlyFans where they promise their fans exclusive content.
However, as per the latest news, OnlyFans bars the explicit content on the platform. So It'll be illegal for creators to post sexually explicit content on the company's website, which many sex workers use to sell fans explicit content, starting in October. 
Nevertheless, as long as they comply with OnlyFans' policy, they'll be able to post nude photos and videos to an extent.
This step taken by OnlyFans has left a number of 'content' creators baffled and therefore they have been constantly on a lookout for an alternative to OnlyFans which they can use in case OnlyFans completely shuts down the sharing of explicit content on their platform.
This opens a wide opportunity for people who want to build an alternative platform to OnlyFans and have content creators share their content there. So if you are looking for an idea about how to build an OnlyFans alternative — read on!
What Exactly Is OnlyFans?
British entrepreneur Tim Stokely founded OnlyFans in 2016. Its main objective is to assist content creators and artists in "monetizing their content while developing authentic relationships with their fanbase". Users can post content behind a paywall, which fans must subscribe to in order to view. 
If they wish, they can also "tip" to have content created on demand that is specifically tailored to their interests and tastes by paying more to communicate with the creators.
Social media users flocked to it to pay for exclusive access to photos, videos, and other content during the pandemic. More than 130 million people have joined OnlyFans.
However, this increased attention has prompted OnlyFans to position itself as a forum more for musicians, fitness instructors, and chefs rather than sex workers, However, a number of mainstream celebrities, such as Bella Thorne, Cardi B, and Tyga, have also set up accounts on the site to post videos of themselves engaging in sexual behavior
A growing number of banking partners and payment providers are pressuring the company to make changes, the company claims. OnlyFans is trying to raise $1 billion from outside investors and as their content guidelines must be updated to ensure the long-term viability of their platform so that they can continue to host a diverse community of creators and fans, the company's founder has decided to take this step.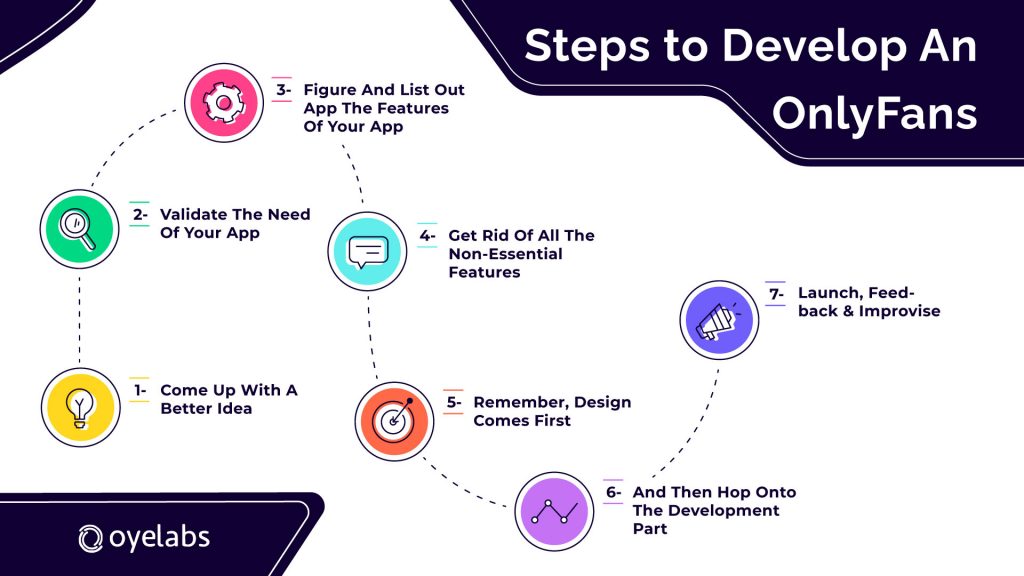 How To Develop An OnlyFans Alternative
Come Up With A Better Idea
The first step would be to come up with a better idea than OnlyFans which has better, richer features that you can use to lure customers into using your product. 
The reason is pretty simple, you want people to use your app, you have to give them something better than what they already have.
Validate The Need Of Your App
Using validation, you can determine whether or not there is a market for your app. Using the Google Keyword Planner tool, you can find out how many people are searching for what you're trying to do. You could also create a landing page that summarises your app idea and ask users to sign up for an email list to learn more.
Figure And List Out The Features Of Your App
If your app idea has been validated, then you've got something that people want to use and want to pay for. If you want to go the extra mile, you can use a wireframing tool at this point.
Remember to be as specific as possible when putting your idea on paper. The user's journey through the app should be described in detail, along with all of the features envisioned. Your developer will be able to better understand what you want.
Get Rid Of All The Non-Essential Features
As you review your flow and features document, look for features that you can remove. Offer only your app's core value. Features that are "nice to have" but can always be added later as an update should not be included in the first version. As a result, you will be able to reduce the initial costs of development and get to market faster.
Remember, Design Comes First
Numerous entrepreneurs have stated their desire for a very simple design and a focus on developing an app. They're all so mistaken! A user's experience is just as important as the app's appearance when it comes to designing it. Design is a way to make technology useful, says Vinod Khosla of Khosla Ventures. Find a developer who prioritizes design (user experience and graphics). 
And Then Hop Onto The Development Part
Look for an app development company that has a solid design team and a solid development team to help you out. Go online before hiring a developer to verify their credentials and the apps they have created. Chances are, if you liked one of their apps in their portfolio, they'd be a good fit for you.
READY TO LAUNCH YOUR APP?
With Customized On-Demand Solutions by OyeLabs
Launch, Feedback & Improvise
App store users' usage and behavior will give you insight into how to improve and enhance your app once it's live on the app store. Keep an eye on user feedback and continue to build. This is why it is always advised to start out by making a simple MVP with must-have features and later on add in other premium features as per the feedback recieved. 
Only the core offering was included in the first version, which had limited functionality. Time to evaluate and introduce the remaining features that were left out in the initial version of the application If the features are no longer relevant, you will be able to tell through analytics and feedback.
Key Features Of OnlyFans That You Should Steal Right Away
Going Live And Interacting 
Allow users to interact with their favorite creators and performers via live video streaming in addition to chat. The stream can be viewed at a later date.
Enable creators to share their posts on popular social media platforms like Facebook, Instagram, Twitter, etc. to increase your subscriber base.
Using digital badges, you can reward your most loyal users with access to absolutely exclusive content. As a result, user loyalty and retention rates will skyrocket.
Many people tip because they feel it's only fair. To put it differently, people tip because they feel they have received a service that they believe deserves a little bit of extra money.
Tip creators in streams, posts, and private messages. Tipping gives creators a second source of income, and it gives fans a chance to show that they care about what they're doing.
OnlyFans allows you to send Pay Per View messages to all of your fans at once. You can attach your media and set a price for it.
OnlyFans has a large number of full-time creators, as well as a large number of part-time creators who fit OnlyFans into their busy schedules. Just as Important, Because of OnlyFans' international reach and diverse time zones, creators can expect to have fans from every country and every region of the world! For these reasons, the ability to schedule posts is incredibly useful.
This feature allows you to create a queue of content that will be sent out whenever you want. Even though you do, your account doesn't need to sleep.
Creating Interactive Polls
As an OnlyFans creator, engagement is key. And there's no better way to get people to engage with you than a fun poll. To encourage your fans to participate, create a poll. What's more, you can let your fans decide whether the account should be free or paid, etc.
'A well-designed Facebook poll is one of the most powerful Facebook marketing tools available to today's social media marketers,' says Neil Patel, co-founder of Neil Patel Digital and New York Times bestselling author The same can be said about OnlyFans, if Facebook is any indication.
Photos, videos, and live streams are stored in the vault so you can repost them at a later date. You're giving your new fans a great opportunity to see exclusive content that they may have missed the first time around.
Also, in your direct messages, you have access to your vault. The vault icon is the second icon from the left in the message composer. To add media from the vault to your message, click on the button.
Stories are a great way to share the highlights of your day with friends and family members. Providing fans with their daily dose of content is quick and easy without the need for post-production. Even stories are only around for a short period of time, lasting no longer than 24 hours.
A user can pay for downloadable content from the creators through any available payment method.
To configure the commission rate based on market conditions and other important factors related to the user's interest, admins must be authenticated.
Check out our article on the Onlyfans Business Model for deep insight on how an app like Onlyfans works and generates revenue.
Technology Stack For An Onlyfans Alternative
Programming language– jQuerY,NGINX,Bootstrap,jQuery UI,Moment.js Kotlin, Node.js, Swift, Flutter, SocketCluster
Database-MySQL, Google Fonts
Cloud solutions-Amazon Web Services (AWS), Google Cloud Platform
Wrapping Up
Apps like OnlyFans are on the rise because social media giants like Facebook and Twitter are unable to keep up with the demand for alternative entertainment.
As a result of this, the former has been able to build a loyal following of users who have very different expectations and implications for a social media site. When it comes to photos and videos, people have grown weary of being restricted by censorship. 
They are attracted to the idea that one could forge an intimate, social connection with an artist while reaping the benefits of direct access to captivating content.
If you would like to get an app developed of a similar nature, feel free to get in touch with us.
Frequently Asked Questions To Build An App Like OnlyFans (FAQs)
Are the any country regulations on Only Fans?
Onlyfans only operates in a few countries and has its own set of rules, such as age restrictions. Some of the content on onlyfans may be legal in some countries but illegal in others.
What is the business model of OnlyFans?
OnlyFans' business model is straightforward: it provides a platform for creators to publish exclusive content and lock it behind a paywall. Users of the platform can access this content for a set subscription fee.
How can I find the most suitable developer for this type of app?
The most important thing is to find developers who understand your vision, are willing to work to your standards, and have a proven track record.The best way is to reach out to developers online, describe your idea, and get a quote!