Wayfair Business Model Explained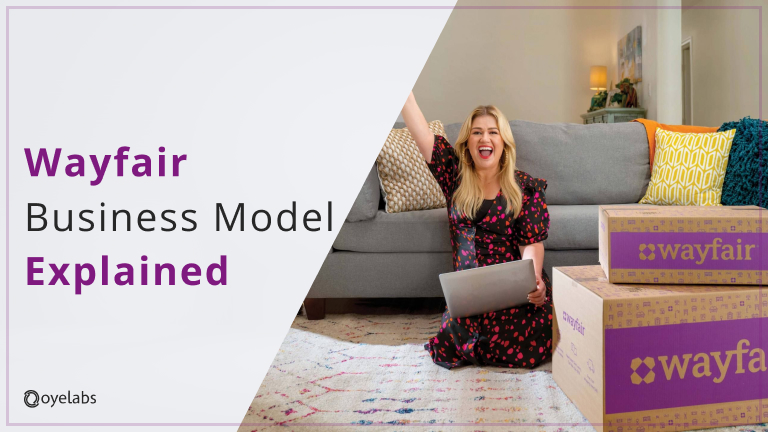 Wayfair Business Model Explained
Last Updated on August 25, 2022
What comes to mind first when you consider furnishing your home or purchasing a piece of furniture? Maybe the tiresome task of going to store after store in search of the ideal piece of furniture for your house.
Because they can browse and select the ideal piece of furniture for their home using a smartphone, home design applications like Wayfair are a tremendous source of comfort for such folks.
Customers' lives have been made easier by this online convenience, which has also enabled a number of furniture enterprises to find the success they had long yearned for.
Let's begin by discussing what the Wayfair app is before moving on to the subject of how Wayfair actually makes money?
But before that, let's talk about what Wayfair actually is.
Wayfair App — An Introduction
Furniture, appliances, and other items for the house are sold on the e-commerce site Wayfair.
Customers can actually choose from dozens of categories relating to the home, including tools for construction and pet and baby supplies.
The company collaborates with hundreds of brands, including Three Posts, Bosch, Kohler, Samsung, and many more.
Additionally, Wayfair owns and runs a few lifestyle brands, including Birch Lane, Perigold, Joss & Main, and AllModern. Last but not least, the company also offers exclusive Wayfair-branded goods.
Wire transfers, debit or credit cards (including Wayfair's own branded credit card), cheques, PayPal, gift cards, and even financing are just a few of the payment options available to Wayfair consumers (using lending providers like Affirm, Genesis, or Katapult).
By visiting its website or downloading its smartphone and tablet applications, customers may purchase on Wayfair (available on Android and iOS devices).
Wayfair has a dedicated Room Ideas area that offers users ideas for how to decorate their room in an effort to encourage purchases.
You might be wondering why we are discussing this app right now. So the solution is straightforward. It's partly because the Wayfair Shopping app is a perfect example of how next-generation technologies like AI and AR can revolutionize a brand and partly because the app has drawn a lot of interest from business owners who are curious about how applications like Wayfair Shopping app earn money.
However, the Wayfair shopping app is not the only one embracing the newly discovered CX trend of employing AR in furniture store apps. According to a Deloitte Report, 38% of businesses are using AR and VR technology to give their customers an immersive buying experience for furniture. By 2025, 75 percent of the world's population will reportedly be regular AR users.

Wayfair's Business Model Canvas
The Customer Segments at Wayfair
Like most multisided platforms, Wayfair has two distinct client groups:
Purchasers seeking household items

providers of household goods
Value Propositions of Wayfair
With its business model, Wayfair primarily offers the following value propositions:
Provide a large variety of products in a range of designs and price points;

Enabling you to locate the ideal thing at the ideal cost;

Enabling suppliers to provide their entire product range to a variety of customers
The mobile apps and mobile-optimized websites of Wayfair serve as the company's main channels. In addition, its well-managed Social Media networks and Gift Cards are worth mentioning.
Customer Relationships at Wayfair
Since Wayfair is a solely online store, its customer relationships are actually focused on delivering a fantastic shopping experience through its websites. It concentrates on providing a customized experience as a result, using a user-friendly website with an interface based on browsing and purchasing trends and habits,
In addition, Wayfair offers its customers special discounts, performs flash sales during certain occasions, offers 24/7 customer care, has a lenient return policy, and offers four different shipping options. Regarding suppliers, Wayfair enables them to ship straight to clients, saving them money on shipping as well as on the costs of developing and promoting their own channels.
The product sales, advertising, and revenue streams of Wayfair (as explored above). However, we should note that the United States accounts for 86% of revenue, or close to 30 million orders annually.
Without a doubt, Wayfair's tech platform, 11,000 suppliers, and 16,000 workers are its most important resources. Along with that, there are also:
Five of its brands

The agreements and contracts it has with its suppliers

Its algorithm and tracking system for customer patterns and behavior

Payment and logistical procedures that are automated
Primary Activities of Wayfair
Wayfair's core initiatives include expanding its furniture and home products collection as well as creating and sustaining its multifaceted platform, which connects customers and suppliers through a pleasurable experience. In order to do that, it must also:
Analyze consumer shopping patterns and behavior

Publish products created by professionals

Improve and update the algorithms

Be careful to deliver agilely

Keep the catalog up to date and managed

Offer client support

Deal with supplier agreements
The Cost Structure of Wayfair
The automated and drop-shipping business strategy used by Wayfair strives to reduce and streamline its cost structure. The company's largest cost drivers are labor, promotion, and marketing costs because it sends its products directly from suppliers to clients and does not maintain an inventory. In addition to operational, administrative, legal, technological, and other general costs, there are also the costs of research and development.

Business Models For A WayFair Like App
You can choose from three alternative business models to base your online furniture purchasing platform similar to Wayfair. In order for you to make an informed choice while creating your own online furniture app like Wayfair, we have given you an overview of each of these models.
Single Home Decor Business Model
For individuals that run a furniture business or a chain of stores, this business model has proven to be a fantastic choice.
If you create an online furniture shopping app based on this business model, you will be able to showcase your furniture online and appeal to a large audience. Online orders and payments can be made by customers utilizing a secure payment system.
Business Model for B2B Home Decor
This is the best option if you want to target smaller businesses that also sell furniture as opposed to focusing on customers.
You can create a B2B online furniture buying application so that small businesses can browse your selection of home decor items and place bulk orders.
Marketplace for Home Decor Business Model
In this concept, you only create a marketplace that serves as a link between the various home decor vendors and the clients.
Different providers can list their products in such a marketplace. The buyer can then investigate comparable products from several providers to choose which one is best for them.
READY TO LAUNCH YOUR APP?
With Customized On-Demand Solutions by OyeLabs

How Does Wayfair Make Money?
Wayfair generates revenue via the sale of goods, installation services, platform advertising, interchange fees, and interest charges.
At first, the business mostly used a dropshipping business strategy. Since then, it has shifted to a business strategy where it buys goods in bulk and then sells them for a profit.
In the section below, let's examine each of Wayfair's sources of income in more detail.
Simply put, the things that Wayfair sells on its online platforms account for the majority of its revenue.
More specifically, the company makes money anytime a product is sold at a profit by making bulk purchases from thousands of brands.
However, Wayfair continues to collaborate with certain of its partners on a drop ship basis. The brand or retailer is then in charge of shipping the product to the consumer after Wayfair routes the customer's order to them.
Interestingly, Wayfair will pay the entire cost of shipping. Wayfair does not impose any fees on those orders, either. Comparatively, Amazon charges its dropshipping partners 10 to 15 percent in fees (plus other associated costs).
Wayfair, in partnership with Handy, provides furniture assembly services for folks who lack great manual dexterity (like me).
The assembled product determines how much the service will cost. At the time of checkout, customers can choose to participate.
While Handy would collect the majority of the assembly fees, it is likely that Wayfair will also get a portion of the charge for referring more clients. The precise percentage share is not made public.
Like any contemporary online marketplace, Wayfair lets its supply-side companies (in this case, furniture sellers) purchase sponsored spots on the website.
These sponsored placements give brands more exposure. Wayfair has more than 33 million customers, therefore advertising on its platform has the potential to significantly enhance earnings.
On the site itself, there are many different ways to advertise. Products may first be given preferential placement within search results or category pages.
Native advertising (like that found on Wayfair's YouTube channel) and brand-specific content can be used as additional forms of promotion (also referred to as sponsored posts).
Following that, those advertisers pay Wayfair. Most likely, a predetermined cost is paid for sponsored posts. The sponsored products mentioned above most likely charge marketers based on clicks.
Two credit cards from Wayfair were introduced in September 2020. One is provided in partnership with Mastercard, while the other is provided in partnership with CitiBank.
The Mastercard can be used anywhere that accepts Mastercard payments, but the Wayfair Credit Card can only be used on the company's own websites.
Credit cards have a number of advantages, such as no annual fees, discounts on the initial purchase, and 5% Wayfair cashback rewards.
When you use your credit card to make a purchase, an interchange fee is charged. The merchant is responsible for paying exchange fees, which are typically under 1%. In this instance, Mastercard would be the one to charge the fee (since the Wayfair-branded card can not be used outside of its store).
After that, Wayfair would get a percentage of the payment in return for promoting the card among its users. The precise percentage share is not made available to the public.
Along with the interchange, Wayfair also assesses interest (commonly known as the Annual Percentage Rate, or APR), when cardholders use their available credit to make purchases.
When the order is fully paid for, interest is not applied. The following payback periods are used by Wayfair:
Finance for six months on purchases over $199

Financing for 12 months on purchases over $499

Finance for 18 months on purchases over $1499

Finance for 24 months on purchases over $2999
If clients don't make payments, a 26.99 percent APR is applied to the remaining balance. The smallest amount of interest is $2.
Wrapping Up
Customers at a place like Wayfair can quickly view the exact room at the location through the camera, select a product, and then set it in the room to see how it fits or appears there. Users may quickly switch between products and move them around to test out different angles and layouts. In other words, the app is a classic illustration of how technology should be used to elevate the consumer experience.
I hope you were able to find answers to the questions regarding the variables taken into account when determining the overall cost of developing apps like Wayfair. The following steps? Make contact with a company that specializes in developing eCommerce apps for augmented reality. Oyelabs is an experience eCommerce app development company that can help you successfully create your dream app.