Rover Business Model Explained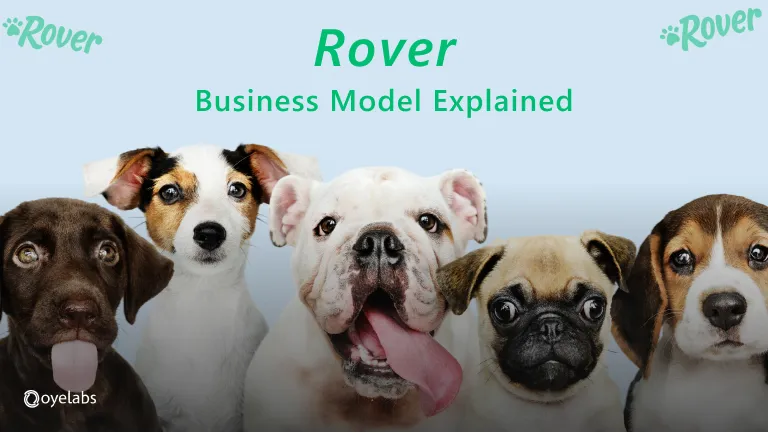 Rover Business Model Explained
Last Updated on August 25, 2022
The days of leaving pets with friends or family while going on vacation or giving their neighbor kids a few dollars for walking the dogs are long gone. Nowadays, technology has made everything easier, from ordering a cab to taking the dog for a walk.
Pet apps have transformed the pet care sector, facilitating the lives of owners and generating significant economic prospects. According to studies by Grandview Research, the market for dog walking services reached $1 billion in 2018. By 2025, it is projected to expand by a precise 2.7 percent every year to reach USD 202.6 billion.
Additionally, the dog walkers work 35 to 40 hours per week and make a staggering $2000 each week. You can see how profitable this market sector has gotten from the facts provided above. The dog walking app not only makes it convenient for pet owners to find a dog sitter, but it also has the potential to make your company a successful endeavor.
Do you want to create a comparable app but don't know where to start? We've got you covered, so don't worry. Here, we'll talk about how to create an app similar to Rover.
But first, we need to talk about Rover, an app that is already very popular in the market.
What Is Rover?
Since its establishment in 2011, Rover has been on the market for nine years and during that time has established itself as one of the top apps for dog walking in the Uber market.
Utilizing the Rover app makes finding a dog walker or dog sitter very simple. Through messaging within the app, users may communicate with the dog walkers and dog sitters. One of the advantages of this software is the simplicity with which payments can be made through it.
If the user wants to know the path the walker is taking the dog from, they have complete access. It also has extra features including a place to urinate or defecate, food and water, and private notes for walkers and caregivers.
Customers of the Rover app can use the services of more than 200,000 verified pet sitters in Canada and the United States for pet care, boarding, and walking.
The built-in texting capability and media sharing capabilities allow customers to maintain tabs on what their pet is doing at any given time. With the use of GPS tracking tools, the Rover app also makes use of position data in the background to track active services.
How Does Rover Work?
Users must create an account before using Rover, either by visiting the company's website or by installing the Rover app from the Apple Store or Google Play store.
Pet owners can utilize the search filter on the homepage after signing up to discover pet sitters by inputting the kind of service they're searching for while they're away, the drop-off and pickup dates, the "boarding near" zip code, and the dog size (if applicable). Users can message potential babysitters if they find one they like, arrange a meet-and-greet, and hire them by making a payment via Rover's platform.

How Does Rover Make Money?
Rover's business plan includes four different revenue streams: service fees, background check revenue, affiliate revenue, and sales of goods through their online store.
1. Admin Fees (from Booking Total)
The majority of Rover's revenue comes from the service fee it charges on each reservation made through its platform.
Page 69 of Rover's 2021 Form 10-K states that in 2021, Rover enabled a gross booking volume (GBV) of $521.9 million. From all of that, Rover obtains a combined service fee of 20 to 27 percent.
What are Rover's prices and costs?
A 5 to 7 percent service fee of the entire booking is paid by pet parents.

Pet care providers pay a 15–20% service fee of the total booking price (depending on if their account was created on or before March 1, 2016)
2. Revenue from the Background Checks
By charging their pet care providers to undergo background checks before being approved for work on the website, Rover, or Rover.com, generates revenue in another method.
As mentioned above, Rover's platform hosts over 660,000 pet care providers. Additionally, each of them had to pay Rover for a required background check.
Background checks are available to sitters in two (2) different price ranges: Basic and Enhanced. Nevertheless, only one (1) is needed. The prices of each are listed below.
Background Check Cost for Rover:
3. Selling goods at The Rover Stores
Rover makes money by selling its own goods through its online store, The Rover Store, in addition to receiving payments for services and background checks.
The prices of the pet-related goods available here, which include collars, leashes, dog toys, and more, range from $3.50 to $224.99.
4. Affiliate Income
Finally, Rover earns money from affiliate commissions.
How does Rover profit from its partners? Every time a Rover user reads one of their blog entries clicks on a link and makes a purchase from a sponsored affiliate, Rover earns money. Although it's not clear how much Rover makes off of each sale.
READY TO LAUNCH YOUR APP?
With Customized On-Demand Solutions by OyeLabs
Rover's Business Model
Dog Walkers

Investors

Technology Partners
Software Development

Marketing

Product & Service Design

Maintaining User Data
Pet Parents

Pet sitters & Dog Walkers – to start their own business with the platform they provide
Get instant insurance

24/7 Support

Guaranteed Reservation 

24/7 Emergency
Pet Parents without time

Pet Walkers or sitters who want to start their own business
Technology

Dog Walkers

Insurance
Internet

App Store

Mobile

Play Store

Website
Data Maintenance

Sitters Remuneration

Marketing

IT

Development
Revenue from services

Commission from pet owners
Rover's User Flow
Here is a summary of the Rover business model.
Following registration on Rover.com, dog owners wishing to hire a dog sitter can search for available sitters by their ZIP code and travel dates. Owners can read profiles and reviews of dog sitters in their area, add their own dogs, and then contact them for a face-to-face meeting or phone conversation.
After being approved by the Rover admin, users or other dog enthusiasts can sign up to be sitters. Once verified, sitters can change their profile information, including their personal information, services, rates, and calendar. They can even add their own dog.
The sitter will receive the service request in his or her inbox and be able to view information about the owner, dog, preferred time and date, and payment information, including the service rate, nightly rate, and commission deduction. The sitter will also have the option to change the booking's details or to cancel it. After two days of service, the sitter will receive the money in their rover account, from which they may withdraw it.

Important Features That Rover Offers
1. Features of the Customer App
Customers can use the search and filter functions to find the best dog walking services for their needs. The client can look for a certain company, dog walker, agency, location, or price range. The ability to filter results enables pet owners to weed out inappropriate dog and pet walkers and select the best match for their requirements.
Pet parents should have the ability to look at a dog walker's profile before hiring them by using a dog walking app. They can use this profile to conduct virtual background checks and make well-informed choices regarding boarding their cherished pets with pet services.
This tool assists dog and pet owners in receiving updates and documentation on the upkeep and health of their animals. Dog walkers are able to take pictures of their interactions with the animals and email them to the dog and animal owners.
Top applications for dog walking services like Rover and Wag offer this functionality, which is a requirement in any on-demand marketplace app. The GPS tracking feature gives dog and pet owners a sense of security by enabling them to track the whereabouts of their dogs and dog walkers in real-time.
With this function, dog and pet owners may keep track of all of their reservations, walking distance, dog and pet walker performance, and payments in a single location.
2. Features of the Dog Walker's App
Dog and pet walkers can do this to showcase their prior experiences and to briefly describe the care they provide for dogs and other animals. Before entrusting walkers with their dogs, dog owners can check their profile images and identity documentation.
Accept or reject requests
When dog or pet owners send requests to dog and pet walkers, they can review the job description to see the number of pets, whether they need to sit the dogs or take them to dog parks, or whether they need to take care of them in any other way. The dog walker then has the option to accept or reject.
Calendar or scheduling tool
A feature like this aids dog and pet walkers in organizing their bookings and arranging their dog walking tasks. They can keep track of their scheduled appointments and payments from dog owners thanks to this as well.
3. Features of the Dashboard
Manage Clients and Walkers
The administrator is in charge of the dashboard and has access to client and on-demand dog walker data. The administrator oversees the administration of the dog walking software and handles all of the technicalities.
The administrator handles the job requests that dog or pet owners submit. On the dashboard, job distribution must be both automatic and manual.
The admin also has access to all of the created reports, which he can use to monitor app activity. Every piece of information, from the number of made reservations to those that are accepted, canceled, or fulfilled, is available in the reports.
The administrator can control his commission from the service fee and pay the dog and pet walkers in accordance with that. Now that you are aware of the key features, let's look at the time and cost involved in developing the app.
Wrapping Up
This article should have provided you with an answer to your query regarding what rover is, and what is the business and monetary model of the app. Get a quote for the development of a pet walking app from us if you believe we have overlooked something.