Blockchain App Development Cost Breakdown in 2023
Blockchain App Development Cost Breakdown in 2023
Last Updated on May 5, 2023
Very much like in the case of mobile application development, the costs of building a blockchain app also differentiates on the basis of the app's functionality, efforts, and goals. We also evaluated the costs of blockchain deployment after considering a number of different factors, examples and definite numbers.
You can get yourself a blockchain app developed in a number of possible ways & the cost of the app varies every time, and each will come with its own advantages and limitations.
Some of the common ways of getting a blockchain app developed are:
In-house Development
Hiring a Freelancer
Hiring an Agency
Determining The Cost Of Blockchain App Development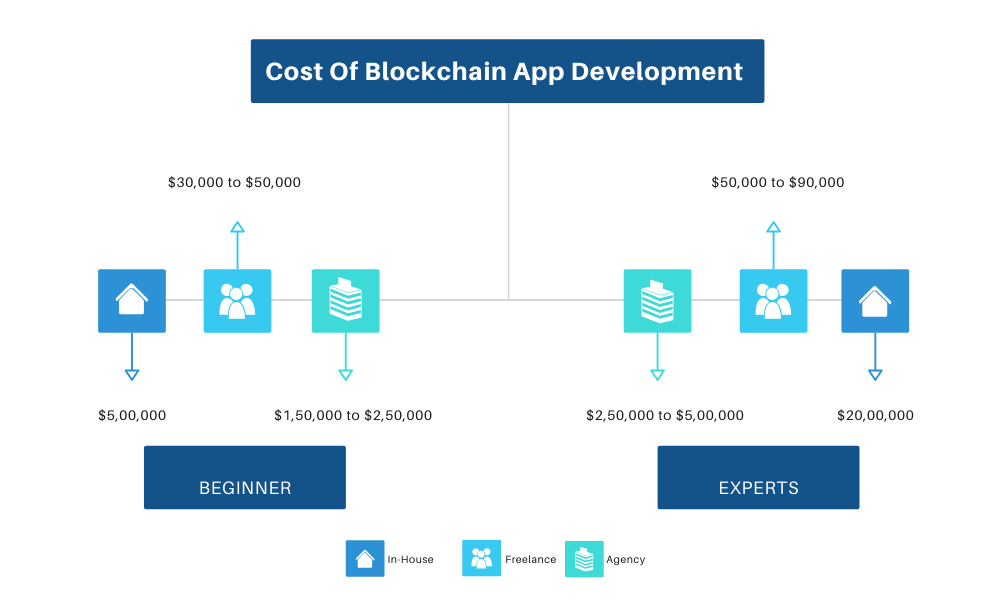 To develop a minimum viable product using development resources with varying skills, the table below gives a deep insight of Blockchain Development Costing:
| | | | |
| --- | --- | --- | --- |
| Skill Level | In-House | Freelancer | Agency |
| Beginner | $500,000 | $30,000 to $50,000 | $1,50,000 to $2,50,000 |
| Experts | $2000,000 | $50,000 to $90,000 | $2,50,000 to $5,00,000 |
The cost of the development depends on various factors, such as:
The Industry of the application
The complexity of the project
The kind of app you are asking for
Cost of the 3rd party tools used
Cost of people involved
App building process
Project management methodology
Continuous integration
Maintenance
Here's the breakdown in detail
1. The Industry of the application
Well, first and foremost the most important factor which impacts the  development cost of any application is the industry to which the application belongs to.
There have been a variety of costs impacting variables that differ from one sector to another – the sophistication of the dApp, the number of stakeholders that would interact with the app at any given point of time, and, amongst others, industry compliance requirements.
Well, a concise industry-wise cost distinction chart is summarised below:
| | |
| --- | --- |
| Industry  | Cost |
| Healthcare | $55-$100K+ |
| On-Demand | $40-$80K |
| Social Media | $45-$100K+ |
| Public Sector | $70-$100K+15t  |
| Finance Sector | $50-$100K+ |
2. The complexity of the project
When it comes to the complexity of a Blockchain mobile application, there are a number of factors which need to be considered to define the complexity altogether. The app's intent is the very first thing you need to consider. You need to have a decent clear idea of what challenges end-users are experiencing, what are the current solutions, what is the need to invest in developing blockchain apps, and how better services can be provided by your app. All this will help you identify the type of blockchain application/solution you ought to be investing in. 
Considering the following options might be of some help to you if you are an enterprise:
When it comes to developing a Blockchain application, there are more than 25 platforms which one can choose where they don't even have to start developing it from scratch. Some of the most famous ones are Ethereum, Hyperledger Fabric, BigChainDB, and Quorum. Thus, is it suggested that one should consider all the above-mentioned platforms and figure out what can actually go well with your application goal & then only move forward.
Well, each and every blockchain system includes a particular consensus algorithm (a method for allowing all participants to decrypt transactions) such as Bitcoin uses Proof of Work while some other arbitrary blockchain-based system might use Proof of Stake, Delegated Stake Proof, Proof of Elapsed Time, Federated, etc. And you need to assess which method is the ideal one based on your requirements. Other main elements such as user approval, reissuance process, asset issuance, key management and arrangement, atomic transfers, hand-shaking, signatures, and address formats need to be addressed in addition.
Well, this is a vital step to choose, therefore I'd be better to consult your development agency before finalizing one.
A separate set of blockchain programming languages and tools that you need to look for emerging with every platform. And also, each stack has its own advantages and disadvantages, which means that for successful creation you need to concentrate on the right set of stacks.
Although you may find various pre-constructed APIs accessible on the market for the development process, you may need to build an API for a particular case of use, which would be performing data authentication and monitoring, creating key pairs and addresses, stockpiling and collecting data, handling smart contract interaction with the system, etc. 
Once all the stuff about the backend is determined, the next move is to build a console for UI and Admin. The correct front-end programming language, servers, and external repositories for your app development process, etc. will be defined here.
Blockchain is still in its infancy, so it's best to go for the MVP approach to development. In the language of a layman, it is proposed that a workable solution with core features of the expected application be developed and tested instead of the complete solution being introduced.
All these were the technical aspects, but there is another way which helps with determining the complexity of a blockchain request, where several variables have to be taken into account. 
In short: Firstly, knowing the purpose of an app is really important. Get an overview of what challenges consumers face, then why you should invest in blockchain, what are the development processes in blockchain, and how an app can offer better services.
Low Complexity Apps

Basic Smart Contract Development App
Payment applications developed around current cryptocurrencies
Medium Complexity Apps

Semi-decentralized apps
dApps developed on the blockchain platforms like Ethereum, Hyperledger Fabric/Sawtooth, EOS and more
High Complexity Apps

Developing a blockchain platform from scratch
Developing an entire decentralized network
Besides the complexity of the blockchain application, the price of a blockchain app often depends on the personnel, equipment, technology, designing procedures and operating costs. Let us have a more detailed understanding of all these variables.
3. What kind of application do you need?
In order to bring productivity and growth in the business, every organization requires a digital solution. Either you need an application that adds value to your product or generates high income or you need to solve the general business problem.
A blockchain framework for businesses can provide trust, accountability and traceability while reducing costs for other intermediaries at the same time. Blockchain apps that apply to various areas such as education, lifestyle, healthcare, utilities, travel, gaming, and more. And to offer business subscription services, you may need a SaaS application.
See Also: Blockchain as a Service
4. 3rd Party Tools Cost
Amazon Web Services: Computing, Delivery, and Storage ($100 to $1000, depending on the number of users)
Monitoring Services like Uptime Robot and Statuspage.io: Sending notifications for downtime ($10 to $50)
Notification Services like Twilio, Kumulos, Amazon SNS:
Authorizing notifications within the app ($10 to $50)
Bug Tracking Tools like Instabug and Bugsee: Collecting and reporting live bugs ($10 to $100 per month)
Analytics with Flurry or Mixpanel: Analytics of data, funnel, insights and reporting ($0 to $150)
Since blockchain is still in its infancy, there is a shortage of qualified & experienced blockchain developers in the market presently. A blockchain developer has an average annual salary of $150,000. For contrast, for any company, working with a blockchain developer could turn out to be way more expensive, as compared to hiring a full-fledged company instead.
See Also: List of Blockchain Development Tools
5. Cost of people involved?
How many resources do you need to build an application? The cost of hiring a blockchain app development team contributes significantly to the estimated costs.
Related read: How to hire a blockchain app developer
The key costs are the wages of software developers. However, besides wages, there are other important factors, namely insurance, holidays, payment for promotions, payroll and holiday.
Don't forget to take into account the recruiting costs that may include management time and advertising to find the resources for the blockchain project. Since blockchain is new to several people, hiring experts can be pretty challenging. Organizations have to constantly invest a lot in training resources.
Training costs can include subscribing to online learning courses or attending major events related to blockchain.
6. Cost of the process
Cost of implementing blockchain is based on several programs or stages of the development process: 
Design: System Blueprint, user interface/experience design including wireframes, high-fidelity designs with a prototype and low-fidelity designs with app flow.
Development: Coding and Testing
Deployment: Delivery and DevOps, Deployment on Cloud Platforms
Migration: Moving the existing solution to the Blockchain platform
Maintenance: Maintaining new updates and testing that app runs smoothly on every OS release
Upgrade: Changes in Smart Contracts,  New features,
Third-Party Tools: Notification System, Collaboration, Hosting, Storage. 
In addition to the costs of blockchain developers and designers, the blockchain development process also includes costs are also borne by various tools and technologies.
7. Project Management
They use an agile method to hold regular meetings and weekly scrums in order to track ongoing sprints, tests, times, bugs and deliverables. The agile methodology can be facilitated using software such as Confluence, Trello and Jira.
The costs of these software tools also add up to the costs of implementing blockchain. For instance, in order to provide customers with action items and track the progress of our internal team, we use the Jira project management tool.
8. Continuous Integration
 To make sure that the code works seamlessly with everyone else's code, each developer should write and validate code in a shared code repository. The management of a quality software pipeline is critical.
An automated process is the best way to check this. The use of Bitbucket and Github for managing source code leads to the heightened cost of the blockchain app.
9. Maintenance
The blockchain technology is still in its early years and fairly new to the market, and new platforms are coming to the market every day. Because of this, should be switched to different platforms solely depending on the scalability, flexibility and the confidentiality of the same.
Also, Apple, Google and various blockchain platforms release new OS updates annually. The maintenance of a blockchain app normally costs around 30-35% of the overall project cost, and may vary depending on the complexity of the app!
Hence, we can conclude that hiring an agency is the most economical way to get your blockchain app developed as compared to any other option available like hiring a freelancer or developing the app, in-house!