How to Create a Grocery App Like CornerShop – 7 Easy Steps Explained
How to Create a Grocery App Like CornerShop – 7 Easy Steps Explained
Last Updated on June 1, 2022
Food is one of the most essential needs of humans. In the meantime, new consumers want to find the right stores that offer their favorite groceries easily and at a reasonable price.
Diner apps or grocery delivery apps are thus, extremely popular and fashionable. Such investments are quite significant, but the apps generate large profits, serving numerous demanding clients.
According to Statista, the number of adult grocery app users in the USA in 2022 is expected to reach 30.4 Million!
See also:
OyeLabs has outstanding expertise in the production of restaurant applications, such as CornerShop. We also created various restaurant apps that are designed to scan for easy and fast restaurants around the world to order meals and track orders.
The Business Model & The Project Structure
The creation of a food delivery app is usually done by an established restaurant chain or by a start-up. In the meantime, marketing tactics may be different for different restaurant search sites.
They can require either a marketplace or a marketplace and services for food distribution. Some restaurants, for instance, require numerous own dispatchers and couriers, operate vast fleets of cars and motorbikes. Other food outlets deal with private drivers or cab drivers. Not all restaurants, however, admit their sensitive companies to outside couriers.
In addition, not all activities at public catering facilities are automated today. Targeted applications, such as IIKO, R-Keeper, Ericsoft Risto or RedFin, SAP, Oracle (in India, Dubai, USA), are used by most of them.
Multiple restaurants operate in a freestanding model, especially small ones. Therefore even obtaining their menu details is very challenging for the food platform operators.
A part of the advertising campaign is the creation of a functional website and restaurant search app. Thus the creation of the following elements is included in a food distribution project:
A website;
A panel – for owners or moderators, the restaurant bar;
The collaborating restaurant administrative pages;
Mobile Application for Couriers;
And lastly, a mobile application for Android or iOS devices for the customer.
The restaurant search site, like any website, should be functional, user-friendly, glanceable, and appealing. In order to draw users and clients, high-definition pictures of dishes are necessary. Every day, moderators and operators search the posts, encouraging reviews to post or forward the orders. To prevent time-consuming processes, their tasks must be fully streamlined.
Nonetheless, scheme operators such as Cornershop work hard every day. Such companies regularly :
Make the consumer feel assisted;
Take care of conflict identification and resolving;
Assist in the resolution of technical problems.
Therefore, developers supply the company's workers with varying access tiers. A company owner and a website admin, for example, get direct access to both databases and services. Due to their roles and related duties, content owners, destination members, and operators get restricted access.
What is CornerShop?
Cornershop is a fast and convenient way to do your grocery shopping online. Enjoy delivery on-demand in less than 90 minutes or scheduled on your terms.
It allows you to buy from your local convenience stores or your city's exclusive retail stores, from pet stores and gourmet items to electronics, bakeries, and more. Currently, CornerShop is only operating in the United States.
CornerShop allows its customers a wide range of services. But noticeably, it allows you to:
Pick to order from your local grocery stores and speciality shops
In 90 minutes, bring food to your door or arrange a delivery time that suits you best.
Replicate previous orders quickly to make shopping much better for your pantry and refrigerator.
Multi-store checkout to enjoy
Invite friends or families to swap lists so that everyone has the items they need.
Get on-demand professional personal shoppers for yourself 
Contact-less delivery services, especially in such dire times of COVID
Gives periodic special offers on shopping
Allows you to buy sustainable bags for supermarkets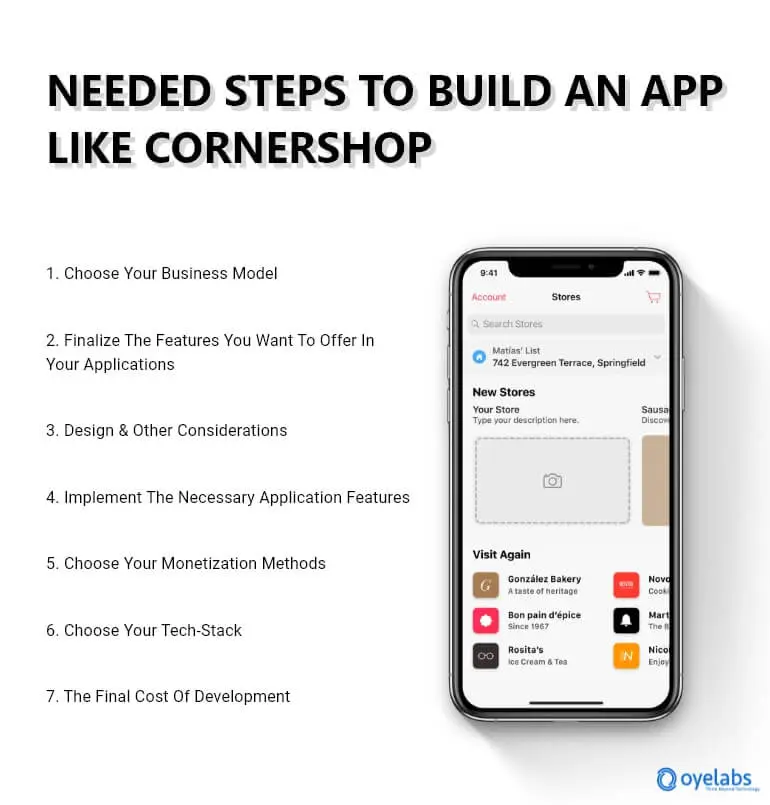 Steps To Build An App Like CornerShop
There are 7 easy steps to build an amazing food and grocery delivery application. They are defined below.
1. Choose Your Business Model
You have to realize that there are four different kinds of applications when you are thinking about how to create a grocery app. And these are:
Marketplace: In order to take orders and bring the food to the doorstep, marketplace applications have their own menus and delivery drivers. If you do not have a previous grocery business, but want to try a grocery app, then this is the most fitting form of an app for you. One such example that is popular in India is the Bigbasket online grocery shopping app.
Aggregator: All the local shops and their menus are identified by aggregators. This kind of app allows these specified stores to be created by the user's request. They employ partner drivers to supply the items, but the product's fulfilment depends on the store. Instacart, popular in the US and the competitive Flipkart grocery app in India, are one such example.
Grocery Chains: Big applications for retail stores such as Wal-Mart and The Kroger Smartphone Service have consumers with their own apps. Consumers can conveniently order their food and get it shipped to their home through these apps.
Single Stores: These applications, produced by the individual retailers, are exclusively for the store's daily customers. All are managed by the one store, the app-building and administration, receiving orders and distributing them. They will get more company their way this way.
Here is a complete guide to different business models for grocery delivery business.
2. Finalize The Features You Want To Offer In Your Applications
You can't just build and be finished in one grocery app. There are three sides of the app when it comes to on-demand grocery app growth.
It is the user's application. This edition of the application is going to be hosted for uploading and installation in the app store. The consumer software needs to be full of fantastic features and needs to have an outstanding interface and configuration for UI/UX.
The Administrator Application
The admin app or admin panel is the portion of the app that is managed by the distribution app administrator. This is the side that has to be constructed with the highest priority as the consumers would not get their orders if anything goes wrong on the admin side of the service.
The Delivery Person's Application
This one is for the person who is going to do the delivery. With this app, the trinity of applications for grocery delivery is complete. It would bind the vendor and the delivery person to the client, helping them with the right service.
Here is a complete list of the must have features for your grocery app.
3. Design & Other Considerations
You ought to weigh certain major considerations before the on-demand grocery app production process begins. It would make it easy for you to prepare and sell the app to the customer. In addition, doing this would guarantee that the app is more distinctive than your rivals.
Some of the things you should do here are:
Addressing the client's pressure points
Study in detail the strength and shortcomings of the competitors
Creating an elegant interface and configuration for UI/UX
Aim to give consumers a customised experience.
4.Implement The Necessary Application Features List
If you employ grocery app developers, you should know that some important plus personalized features are required for any grocery store app. These features are intended to make it easy for consumers to buy.
Then what qualities are these?
The option of creating a shopping list
How many times have you gone shopping, and you have forgotten what to buy when you haven't written a shopping list?
For so many levels. For internet shopping, the same goes. There is a good enough reason for you to fail to add one or two things to your bag. This is why a shopping list option is important for you.
With this, the user of the app will create a shopping list of all the items they need and check accordingly. Bonus points to the app so they will simply share their shopping list directly with the retailer by putting their order simply via the app.
A quick and easy search feature
Searching for an object in a shop is challenging, isn't it?
This is why individuals switched so quickly to online grocery applications. It's a horrible waste of time looking for your favorite kinds of cookies by walking down the aisles. It's awfully easy on the supermarket applications, though. All you have to do is type the name and search for it.
But if searching and locating items on your app isn't easy, then there is really no point in using it. Customers on your app need to be able to quickly identify their items.
Ensure that all the goods on your app are well classified. You will make searching their items easier for the consumer with a proper category. If they find eggs in the seed segment, that's not going to work. So use the function of categorization well.
Popular & favourite items
Based on their recent orders, you can add the recommendation segment where you can present famous users and their favorite products. In this segment, you can make it easier for users to access goods.
You need the functionality of push alerts to let users know about the sales and offers that go on in your app. However, not only for sales and promotions but also for consumers to set up alerts to purchase or alert consumers when a certain item is on sale. In order to make the app a new favorite for consumers, push alerts will go a long way.
Secure multiple payment options
It is critical that you have several payment choices in your app while going through the creation of grocery shopping apps. Users are going to get a great buying experience with the option to pay right from their phones.
After including these payment methods, you can also add other payment methods, such as Paypal, PayU, Quickpay, etc. Adding these approaches would make it easier for the customers to shop from the app.
5. Choose Your Monetization Methods
There's a need to monetize any app. Since everyone wants an ROI on their app, after all. But along with the kind of app you are constructing, the monetization techniques shift. When it comes to applications for food delivery, many ask how to make money using apps such as Instacart.
So be sure to take a look at these monetization ideas before you start dreaming about how to make your grocery-delivery app. They are:
Up charging the item price
Delivery charges
Commissions from orders
Premium advertising fees
Launch Your Grocery Delivery App in 2 weeks
With Customized On-Demand Solutions by OyeLabs
6. Choose Your Tech-Stack
To introduce the above-mentioned functionality in your app, you first need to know the tech stack. So what's the tech stack for your grocery app building? 
We'll tell you the technical information you need to know in the following points in order to create a supermarket app like Instacart. So grab your paper and ink.
Developing & Deploying Your Code
You need proper codes to create a full app. And writing and correctly executing these codes is part of the software stack for app growth.
Apps such as Instacart use Github to build their codes and deploy them. The code is easy to share, deploy and comment on via Github, which is why many Uber for X startups are using it to create their first app.
Programming Languages To Use
If you are creating an Android-only app, so Java is the programming language you need to use. You need SWIFT for iOS. You can also use the Ruby on Rails platform to build the front end for your app's initial iOS version.
You can use C++ or C# for a web application. You can use HTML, CSS, and Javascript for the website frontend. PHP or Python can be used to construct the backend of the software.
To add a secure payment portal to your app, you need to use secure technologies. Stripe, Braintree, Paypal, etc. are the most used technology by app developers to give the user a smooth payment experience, make sure that more than one form of the payment gateway is added to your app.
It would be fantastic if you were able to let your customers know when their goods would come.
And you can do exactly that with the Machine Learning Algorithm. The algorithm takes all the variables into account, such as the place of arrival, the amount of order, the time of dispatch. With this, the app would give the customer an average time for the groceries to be shipped.
For your distribution app, you need GPS navigation. In your app, it is a valuable function to provide.
You will use the Main Location System for iOS and Google Places API for Android for the location of the distribution.
You can use MapKit for iOS and the Google Maps API for Android to watch drivers and provide them with the correct navigation information.
Tech Stack You Can Use For An App Like Cornershop
Application and Data: Python, NGINX, Django, Amazon Cloudfront
DevOps: New Relic
Utilities: Mix Panel, Segment, Google Analytics, Twilio Sendgrid
Business Tools: GSuite, Intercom
7. The Final Cost Of Development
In India and the US, the expense of creating grocery applications depends on several different factors, such as the network and the kind of business model you want to go with.
The time span of the process of software creation also has a significant influence on the process of app construction.
Here is a short timeline for the creation of an on-demand grocery app. However, based on the types of functionality you choose to incorporate in the app, the time limit will vary.
Customer smartphone app- 20-30 days for iOS and Android
The admin app- 30 days for iOS and Android
App-for iOS and Android-30-40 days of delivery
Synchronization and API- 30-35 days
It can be difficult to determine the exact production cost of the grocery app. However, the cost of creating an on-demand grocery app will rely on the platform, the features, and the quality of the app. We will send you an approximation if you have mentioned your features! 
Shoot us a mail, and we're going to respond with an NDA.
Frequently Asked Questions (FAQs)
How much time does it take to build an app similar to CornerShop?
If you want a readymade grocery app, you can have your app delivered within 2-4 weeks.
Developing a customized grocery app from scratch, it can take up to 3-4 months.
How much does it cost to build an app like CornerShop?
A grocery app built from scratch can cost anywhere around US$20,000 to US$40,000. A readymade grocery app will cost you around $10,000. Apart from this, you can opt for a SaaS product development model, it will cost you around $2500 in set up cost and $149/mo thereafter. As per your requirements, you can choose to go with any one of these two options.
Are there similar apps like CornerShop?
There are multiple apps like CornerShop available in the market. Some popular examples are Instacast, Postmates, Peapod and more.
Who will own the source code?
For a customized app, you will own the source code once the app is complete and delivered to you. You can modify the code if you want as per your needs and convenience.
I have an idea and I want to implement A new feature in the app, will there be an NDA?
Yes, we will sign an NDA and your idea is secure with us.
Are there any maintenance charges?
For the custom app, there are no maintenance charges for the first 45 days post app deployment. Thereafter, the charges will depend on the resources, bandwidth and requirements. Usually it is around $350 a month or 20% (annually) of the project size. If you opt for a SaaS based grocery app, there are only monthly subscription charges and the maintenance is free with it.