Guide To Build A Fitness App Like FitCoach
Guide To Build A Fitness App Like FitCoach
Last Updated on May 11, 2022
Exercise and fitness apps have become the new normal in an era when people were locked up at home after the COVID-19 crisis.
Today, more and more people are paying attention to their own health and working tirelessly to stay in good shape and health. After all, immunity is everything, and good exercise is a catalyst to boost immunity.
As a result, fitness applications continue to grow at a tremendous rate. The app was previously found on the phones of fitness enthusiasts, but after Corona, everyone realized the importance of fitness, so such apps have become a permanent resident of almost every smartphone nowadays.
This is why several companies in this space have embraced the concept of mobile apps and designed their apps to better serve their audiences, and one such player is FitCoach which has been doing some really amazing things in the fitness industry.
However, if you want to build an exercise and fitness mobile app, like FitCoach, and gain market share — you're in the right place.
In this blog, we will share a step-by-step guide to developing a great exercise and fitness mobile app. It explains how to build a fitness app, the different revenue models, and the cost of developing this app category.
But first, let us clear out our basics first.
What Is a Fitness App?
Building a fitness app is more than just developing a gym workout app. This mobile app is designed to improve your health on the go.
The scope of these applications ranges all the way from simple activity tracking to the actual provision of providing fitness-related advice or exercises via a mobile interface.
Or, applications can be a way for clients to take control of themselves or let others evaluate their performance and suggest tools for improvement.
And from a company's point of view — mobile interfaces can be a communication tool and often the primary way from which customers consume and purchase fitness products. The options are almost endless. 
However, in general, mobile fitness apps tend to fall into the following categories:
What Is FitCoach
FitCoach is a fitness app for people starting a new active lifestyle, developing healthy habits, losing weight, getting in shape, and feeling better. Their famous 30-day fitness plan makes it easy to change your lifestyle, adjust your diet, and get actionable body care tips.
Moreover, they also provide training sessions for people who have just started working out.
The FitCoach app is specially designed for people who care about their health, want to lose weight, and stay in shape, but don't have time to go to the gym. It is also for those who want to change their lives and pay more attention to their health.
Fitness Apps — Industry Stats
According to a study published in January 2019 by Polaris Market Research, the fitness app market is expected to reach $14.7 billion by 2026. During the forecast period, the growth rate is expected to be 23% per annum.
According to a Statista report, the fitness segment currently generates $4,024 billion in revenue and is growing at a rapid pace. Therefore, from 2019 to 2023, the revenue is expected to grow at an annual growth rate of 5.0% CAGR, and the market size is expected to reach USD 20.499 billion by 2023.
This means that the fitness app market will continue to grow and expand with several health and fitness developments.
Moreover, the health and fitness apps have been downloaded 593 million times since COVID-19 helped keep people safe at home. This happened in the first quarter of 2020. And by the end of Q2 2020, apps in this category had over 656 million downloads. In contrast, in the same quarter last year,  health and fitness apps were downloaded only 446 million times.
This growth, primarily due to the global pandemic, has forced consumers to stay at home and reconfigure their training regimens and lifestyles.
Additionally, in 2019, there were only 68.7 million smartphone owners in the United States who used at least one health or fitness app at least once a month. And now, by 2022, it is expected that there will be 86.3 million health, exercise, and fitness app users in the United States alone.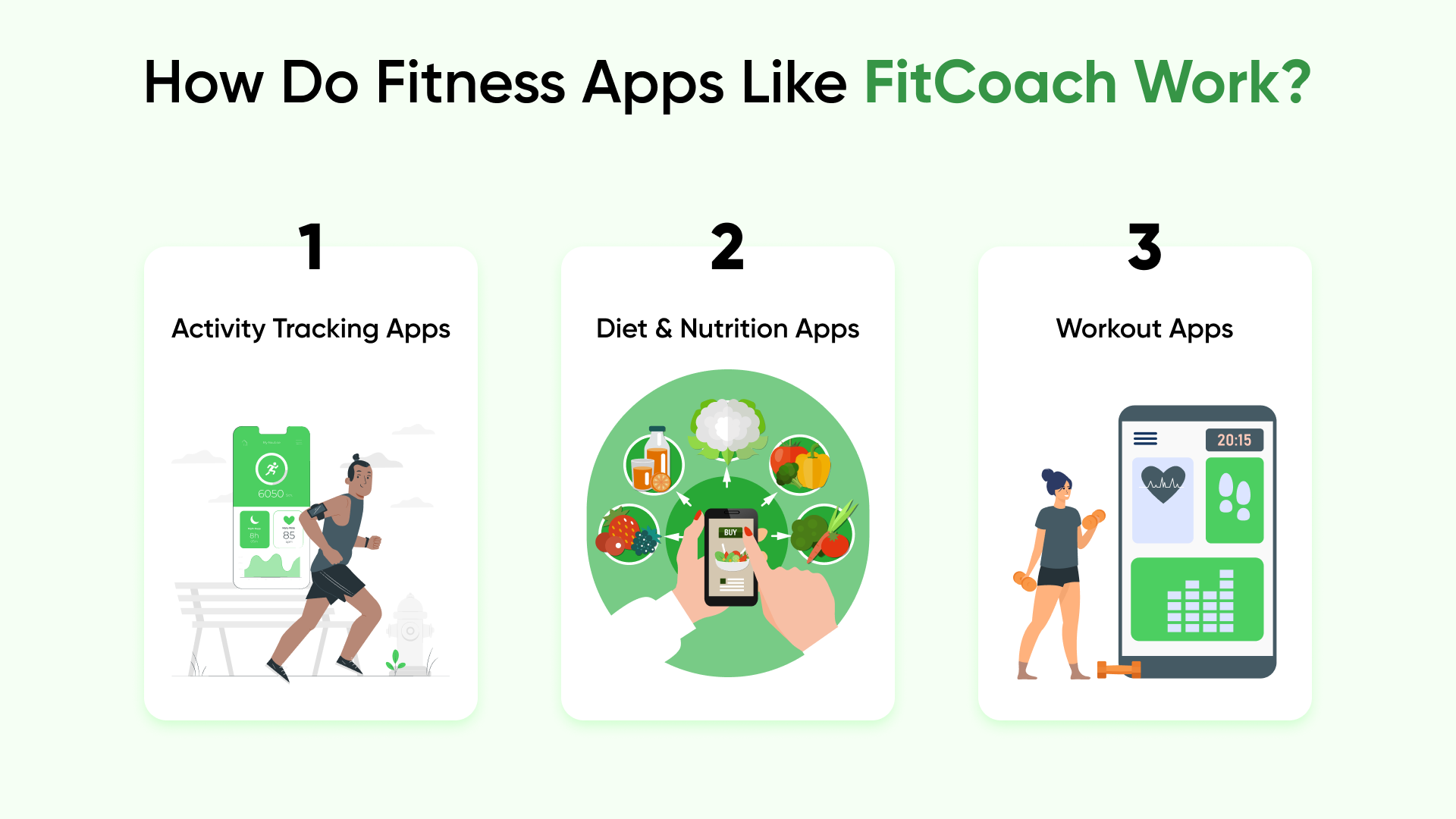 How Do Fitness Apps Like FitCoach Work?
These are the kind of applications that help people from all walks of life — with different needs and requirements to meet their activity goals. So, whether you are looking to record your daily steps, or trying to track how much time you are sedentary? Or do you want to log your jogging route?
You can also log your weightlifting routine or specific exercises? Or keep track of the time you`ve spent on interactive exercise machines, like a Peloton bike? To do all of this, you can create a fitness app with an activity tracker.
Most activity tracking apps link directly to a native mobile app, such as a phone's gyrometer, information about a connected exercise machine, such as the Peloton, or information the user enters.
The data is then sorted into useful information such as progress charts, map routes, or competitive data about how users are performing compared to other users using the app. This information motivates users and creates new and healthy behaviors, making them a preferred product in the market. 
The Diet & Nutrition app helps you collect tracking data that make your goals specific, measurable, and achievable. How?
When developing fitness apps, you help users understand their calorie intake by the scale of their height, weight, gender, and age, and record the calories they burn during exercise.
Users can also set personal goals, create shopping lists and collect recipes. This typically requires accessing a specific food library and analyzing the nutritional value of that food. They also provide a library of recipes, typically developed by companies or submitted by users.
Companies that build these types of fitness apps should be prepared to serve a strong user community. Because their user support groups and the novelty of their ever-changing options and recipes will help motivate their users.
 App gamification elements, scoreboards, or weight-loss contests are all integral parts of the  diet and nutrition app features 
Developing a gym app may also include an activity tracking element, but its main purpose is to deliver you the workouts so that you can do them yourself. Users can choose from recorded sessions that can be played back on their iOS or Android phone or tablet.
They can also provide a library of workouts that users can access and combine together as part of a personalized workout. It then collects data about how many workouts you have completed. 
It may seem that all workout apps are based on cardio, dancing, or running. However, there is more than one type of exercise and they encourage you to consider yoga, meditation and relaxation apps as well as developing fitness apps alongside standard workouts.
 The monetization potential of these apps is great, as users often pay a monthly fee or purchase the app as part of their gym membership. You can add additional services such as personal coaching or dedicated running training.
Any gym or equipment company offering an on-demand fitness approach is encouraged to adopt a weight loss app business model and develop a secondary revenue stream.
How Do You Monetize Your Fitness App?
Here are some tips on how your app can make money and monetize it. There are many monetization models to choose from.
If you want to run a free mobile fitness app but still want to make money, you can encourage users to make in-app purchases. Just like the Sarva Yoga app once tried, here you can offer multiple in-app purchases, from premium content to healthy recipes or celebrity workouts.
That way, you can partner with other fitness-focused companies to run ad campaigns in your workout app. You can charge a per-click or per-milestone fee for this.
In this model, users of the application can use the basic functions of the application free of charge. However, you can charge for premium features. This type of income model is also known as the premium subscription model. The main features of the app here are free and premium/premium fitness plans are paid. 
In this model, users must purchase a subscription to the application to start using it. App prices may vary by subscription type, mobile platform, and app content available.
This type of business model involves working with exercise and fitness professionals. Here, partners can distribute useful content to app users and enhance the app with app users' experiences. 
READY TO LAUNCH YOUR APP?
With Customized On-Demand Solutions by OyeLabs
What Problems Could You Face While Making Your Fitness App?
When building a fitness app, just like any other app project, you can face many challenges. It could be more because many of the applications depend on geographic location or user input.
Below are some of the most common problems you may encounter when building a fitness app.
   

Poor UX design makes data entry difficult or more complex and difficult to use than competitors' apps.

   

Offering services that the market does not need

   

Failure to properly connect sponsored content or applications built into the phone (eg motion sensors).

   

An incomplete framework

   

Problems running on the operating system platform (eg Android or iOS) or rendering from desktop to mobile, tablet.

   

Budgeting for emergencies 
Features To Include In your Fitness App
Users can register or log in to the app by entering their personal information such as name, date of birth, location, age, gender, current weight and height, and email address. Some applications also allow social media registrations where users can log in via social media handles.
Users can create a profile, add options and preferences, so the app provides the content and offers they want. The user panel also shows progress and training programs that have been attended in the past and are currently in progress.
   

Punching In Workout Details
This feature allows you to track each user's physical activity. To this end, users can connect the application to their smartphone's sensors to implement tracking using Apple HealthKit and GoogleFit via APIs, or they can choose to manually enter data. 
   

Quality Workout Guides & Videos
Fitness & Workout Videos gives users access to training programs with high-quality videos where they learn how to perform exercises properly demonstrated by professional fitness trainers. 
For running, cycling, and other fitness activity tracking applications, it's important to use routing overlays to display maps. Users don't necessarily have to use this feature on the go, but they will review it once the training is complete.
Easy. You need to notify your users about your training, offer discounts during the season when you're feeling better, and update when others comment on your post. 
One thing to keep in mind about notifications is that it's easy to exploit this feature and turn it off for your customers. On the other hand, when developing a wellness app, it's important to send positive messages and daily motivational quotes, and you need to think out of the box to make a difference.
Let's face it — many of us love training on our favorite audio content pieces, but it's confusing if you need to switch between workouts and players. That's why it's so important to integrate your workout app with Apple Music, Spotify, or other music streaming services.
   

Meal Planners & Calorie Counting
Of course, when creating a fitness planner app, you can't ignore meal planning and calorie counting. The best apps in this category provide exaggerated information about ingredients and recommend recipes based on user goals, preferences, and constitutions.
   

Quality Workout Guides & Videos
If you create a fitness app, you need to add a class streaming option. I'm confident that Peloton is the perfect role model for this and one can draw a lot of ideas from the company. However, it's important to integrate all these features into one seamless fitness program experience. 
Users can choose the duration of these movements starting from 5 minutes while doing strength training, yoga, cardio, and other workouts. While exercising, the user can pause on the exercise screen, skip the exercise, and turn the sound on and off. 
   

Workout Goals & Objectives
Allows users to set goals and objectives. Because what can be a better motivation for prioritizing fitness. This feature is a goal tracker that helps users achieve their fitness goals perfectly. 
If you have a diet app, you can integrate the app with a barcode scanner. Bar scanners help you shop by letting you know the nutritional value of your groceries.
The app may provide online advice to receive personalized recommendations. To that end, you can integrate chat functionality to make things much easier and smoother. 
With gamification, you can further improve your app's experience. This will enhance user engagement with the app. App developers can apply gamification in various sections such as Leaderboards, Goal Achievers, etc.
How Do You Build Your Own Fitness App?
With all of this in mind, you'll prepare a successful strategy for creating a mobile fitness application. The development process should consist of the following steps:
There are many mobile fitness apps on the market, so you need to find something that makes your solution unique. So carry out a detailed competitor analysis including product features, design features, platforms, user reviews, and more.
You can read customer reviews, positive or negative, on the App Store and Google Play. This will help you identify your competitors' strengths and weaknesses and understand how you can stand out from their backgrounds.
By analyzing your competitors, you can find out what questions and preferences your customers have. You can find your audience in social networks, groups, forums, etc.
Read their posts and comments and communicate with them to clarify their needs. Identify a user's identity by specifying goals such as age, country, body shape, tracking physical activity, habit formation, or a healthy lifestyle. 
   

Prepare for Reference Conditions
Think about how much value your mobile fitness app will add to your users, how your app should look and work, how users will interact with it, and what it can do. If your requirements are difficult to formulate specifically, your IT service provider will always be happy to help. 
Success in the marketplace requires a lot of loyal customers. Most people don't use digital products with unattractive designs and slow content. So, create beautiful mobile fitness apps that deliver amazing user experiences.
An MVP, or minimally viable product, is a solution with a minimal set of features to accomplish the required task. We recommend using this approach as it offers many benefits.
 First, it can reduce the cost of developing fitness applications. Second, it shortens time to market. Third,  attract first users and collect feedback. Analyze customer feedback to get a clear idea of ​​what needs to be improved or changed. 
Avoid overspending and engage your audience by creating only the features you need. You can learn more about this method in our article on MVP Startup Development.
During this phase, quality assurance (QA) engineers test the mobile fitness app for bugs and ensure compliance with requirements. Then the software developer solves all the problems. 
When everything is ready, we launch it to the market. That is, we publish to the App Store and/or Google Play. This is where you have to deal with things like App Store Optimization (ASO), product icons, screens, and descriptions.
Wrapping Up 
The health care and fitness industry is on the rise. With more people preferring to work out at home the demand for such apps is increasing. With complete knowledge of launching a healthcare and fitness app, you can successfully leverage the vast potential of this market.