5 Examples Of Blockchain In Supply Chain Management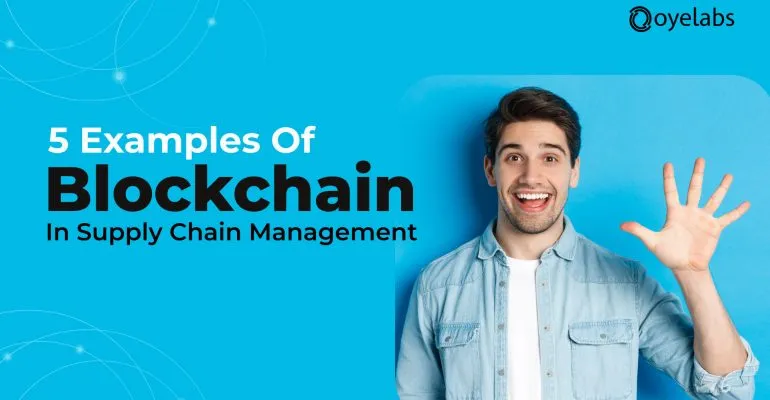 5 Examples Of Blockchain In Supply Chain Management
Last Updated on November 28, 2023
Managing supply chains today is very difficult. According to PR Newswire, shipping giant Maersk found that a single batch of refrigerated products from East Africa to Europe requires more than 200 interactions through about 30 people and organizations.
Successful supply chain operations depend heavily on reliable, transparent, and end-to-end communication across a geographically dispersed ecosystem of partners. Due to the complexity and lack of transparency in traditional supply chains, there is growing interest in the role of blockchain in supply chain management (SCM). Many Blockchain apps have come up recently and have generated commendable revenue by leveraging the advantages of this technology.
Forbes says modern supply chains have collapsed. Today's supply chain is no longer a linear, sequential chain from raw materials to final products, but a multi-level ecosystem of suppliers, partners, and customers in a much more closely interacting manner. It is multi-region, multi-geography and more and more multi-industry. The modern supply chain creaks with complexity. 
The supply chains today cannot work successfully without visibility, openness and confidence between possible thousands of parties. All these variables may be met by Blockchain in the supply chain. We're still in the early phases, though, and even if we get all the potential benefits of blockchain in our supply chain, blockchain has issues.
Why Do Companies Use BlockChain In Supply Chain Management?
Let's start with the blockchain definition. Blockchain is a decentralized digital ledger. In the ledger records — the transactions are recorded as a series of blocks sequentially linked to each other in a chain. The ledger itself is distributed across multiple computers, each of which is updated whenever the blockchain changes. 
The principle of blockchain operation means that the data in a block cannot be changed, and intervention into the block is almost impossible. There is a single source for all transactions, and the blockchain in supply chain management allows full validation and auditability of all transaction flows.
In other words, when it comes to blockchain in the supply chain, companies can build trust in the accuracy and security of transactions, even when there is little  trust  between the parties to the transaction.
For instance when a firm works with suppliers and logistical providers worldwide, it can trace all components and make sure that parts are authentic without having to constantly monitor third parties and middlemen. Blockchain supply chain Management technology allows companies to work in a near-zero-confidence environment.
Key Features Of BlockChain In Supply Chain Management
Bitcoin is perhaps the most popular blockchain implementation. However, Blockchain not only creates cryptocurrencies but also allows execution and tracking of all transactions through its distributed ledger function. Reliability and integrity are driving the use of blockchain in the supply chain.
Some of the main features are: 
All parties must agree for a transaction to be valid. Without this consensus, no new blocks are created or changed. This means that all parties know  and agree to when the changes will take effect. All  entities on the chain agree that all transactions are valid. When it comes to supply chains, blockchain technology can be used to achieve consensus on a wide range of transactions such as payments, warehousing, transportation and delivery. 
What is the origin of the blockchain and how does it apply to the supply chain? In practice, the main attribute used in the supply chain is country of origin. 
Blockchain technology allows you to know exactly where a raw material or product came from and where it is in the supply chain. Sources allow supply chain professionals to quickly determine who owns an asset and when. Within the supply chain, a source can be associated with any asset such as iron ore, food, currency, machinery or intellectual property. 
It is almost impossible to change an item in a distributed ledger. Each item has multiple copies, all of which must be modified at the same time. Only a new blockchain transaction can completely reverse the effect of a previous transaction. The introduction of blockchain into the supply chain makes it extremely difficult to falsify  payment transactions, inventory records, receipt conditions, delivery times, and more.
All copies of the General Ledger contain the same version of the truth. This builds trust because all parties have a common understanding of the transaction. For supply chain management (SCM), blockchain provides completeness to reduce disputes and improve relationships between all partners.
Examples Of Blockchain In Supply Chain Management
1. Blockchain In Oil Supply Chain
Abu Dhabi National Oil Company (ADNOC), the UAE's state-owned oil company, has partnered with IBM. Together, they successfully launched a blockchain supply chain pilot program which helps you track oil from wells to customers and log transactions at every stage of your journey.
Although the  program is still in its infancy, ADNOC aims to expand its network to include customers and investors. This allows you to increase the transparency of your business processes. Abu Dhabi Oil Company produces about 3 million barrels of oil per day.
Therefore, the introduction of blockchain technology into a supply chain management system simplifies the process of reporting the amount of oil produced. It also reduces delivery time and  costs.
2. Blockchain In Diamond Supply Chain
Regarding the working conditions under which diamonds are mined, the diamond industry has great problems. In most cases, diamonds are mined under violent  or inappropriate conditions.
The largest producers are, of course, in Africa. On the continent, diamond sales often serve to finance various disputes in the region. On the other hand, De Beers, the world's largest diamond producer, wants to  end this with a blockchain supply chain program. You can read our article on Blockchain in finance industry.
Their Tracr program successfully traced 100 diamonds from the mine through the cutter and grinder to the jeweler. In this program,  blockchain participants upload photos and information about the color, quality and location of cut diamonds. More importantly, the introduction of Tracr to the diamond industry will help prevent illegal mining activities worldwide.
3. Blockchain In Food Supply Chain
Interestingly, there seems to be a new food epidemic every year. Because it takes time to determine the cause of a disease, many retailers have to scrap all their inventory. But Walmart, IBM, JD.com and Tsinghua University have come to the rescue through blockchain technology. They want to increase the transparency and  efficiency of supply in the food industry. 
IBM and Tsinghua University are responsible for blockchain research and maintenance, while Walmart and JD.com manage the shipping and manufacturing processes. As the project progresses, other large corporations such as Nestle, Unilever, and Tyson Foods are also expected to participate.
4. Blockchain In Fast Fashion Chain
Fashion designer Martine Jarlgaard is working with Provenance on a campaign to increase transparency in the fashion industry. As a result, he showed off the first garments tracked using blockchain at the 2017  Danish fashion show. The goal is  to enable shoppers to track all aspects of clothing life. In this way, the blockchain ensures that the clothing purchased  is legal and manufactured in a factory that does not violate the  working conditions of its employees.
5. Blockchain In Wine Supply Chain
The wine industry sells nearly 30,000 bottles of illegal wine per hour in China alone. Many of these wines contain additives that can be harmful to the health of the consumer. To solve this problem, Origintrail and TagItSmart have created a blockchain solution.
The two companies were able to track more than 15,000 unique wine bottles using the pilot version of the program. They are using QR codes to stop illegal wine production. This way, shoppers can scan the code on the bottle and get all the information about their purchase.
Just how Blockchain has many uses in supply chain management, in a similar manner Blockchain also has many use cases in the Healthcare industry.
Benefits Of BlockChain In Supply Chain Management
Any transaction with trust issues could potentially be improved with blockchain technology. Supply chain management is full of these types of transactions that require hundreds or thousands of partners to run their business at maximum efficiency. McKinsey highlighted four areas where blockchain development for supply chain management can make a difference. 
Increasing Processes Speed
Many supply chain processes, especially at lower levels of the supply chain, are slow and almost entirely paper-based. Think of the logistics industry. Blockchain technology in the supply chain can replace these manual processes with continuous digital processes that provide new levels of visibility and transparency.
But for the blockchain to work, a lot of work is needed to create a supply chain that needs 100% digital support. According to McKinsey, blockchain technology cannot yet collect data from many untrustworthy partners. 
Regulatory and growing consumer demand for paternity is already driving change. For this reason, companies are already turning to blockchain for supply chain transparency by applying blockchain tracking and tracking styles to the supply chain is one of the most popular.
Supply Chain Transparency increases the transparency of supply chain operations to increase inventory utilization, shorten delivery times, increase quality, and reduce lost revenue from black or gray market products.
Transactional Cost Reduction
At a basic level, the ability of blockchain-based cryptocurrencies to enable cross-border transfers of funds without banks and clearing means that blockchain technology in the supply chain can speed up payments while lowering the fees incurred. However, developing smart contracts via the Ethereum platform, for example, means that many supply chain tasks can be executed automatically via smart contracts.
For example, a smart contract could define the agreed delivery of a product and what happens if delivery is delayed or missed. Contracts can track shipments and automatically initiate action in case of violations. This saves a lot of money, especially if a third party was previously used to perform part of the process.
In theory, blockchain technology protects the integrity of information and transactions. Fewer mistakes and disputes. The need to recall products or refill missing orders is reduced, speeding up the entire process. In addition, the use of smart contracts reduces the need for intermediaries or third parties, as mentioned above. For example, blockchain in the supply chain can reduce the need for a bank or clearinghouse in the payment process. 
Making Supply Chain Ethical
Consumers demand a deeper understanding of the origin of their products and the activities of the companies that manufacture them. This has sparked the momentum to build an ethical supply chain.
Blockchain helps businesses in the supply chain in two key ways.
The first is the country of origin. Supply chain professionals can use blockchain to see where everything they use is coming from and pass that information on to their customers.
Second, blockchain is used for supply chain transparency so customers know exactly how products were manufactured and shipped.
Wrapping Up
Blockchain is revolutionizing many more industries other than the supply chain. Many companies are incorporating blockchain technologies into their regular operations to increase efficiency, and transparency and enjoy other benefits that blockchain technology has.
The cost of blockchain development may vary according to your needs and it is important to find an experienced blockchain developer to build solutions for your business as it is a relatively new field, for successful execution, it is important that your technology partner is well versed with the technology.
Here's our article on building a successful NFT marketplace platform. Do check it out.