Just Eat Business Model – How It Works and Earns Money
Just Eat Business Model – How It Works and Earns Money
With people stuck at their homes and intensively following social distancing and unable to visit their favorite restaurants due to the COVID19 pandemic — the demand for online food delivery around the world is increasing rapidly.
And with that, people are gradually developing the habit of ordering food from the warm and cozy comfort of their homes instead of eating out, as most restaurants are not allowing people to come in and sit and have their meals there. As a matter of fact, even the restaurants that never offered online delivery services prior to the pandemic have now either switched to an online mode of operation or are planning to do so. 
After all, this new normal requires restaurants to translate a dining experience into a digital experience. Online food delivery giants like JustEat and Delivery Hero have made it possible for restaurants around the world to meet the changing needs of customers.
Today's market provides many opportunities for entrepreneurs to start a food delivery business. If you are planning to launch a site like JustEat this is a great time as the online food delivery industry is expected to show an annual growth rate of 7.5% by 2024.
As JustEat is one of the most popular food delivery markets, the majority of the entrepreneurs prefer platforms that are based on similar food delivery business models. Without any doubt — it would be safe to say that the Business Model of JustEat is one of the most successful models of all time in the history of on-demand food and grocery development.
And in case you are planning to launch your very own on-demand food delivery app, JustEat's business model would help you a lot.
So, What Exactly Is JustEat?
JustEat is an on-demand platform that offers users food ordering and delivery services whenever they request it through the application. The UK's online food ordering and delivery service act as an intermediary between customers and independent takeout outlets. 
The company is headquartered in London, England, and operates in more than 13 countries, including Asia, Oceania, Europe, and America. Founded in Kolding, Denmark, JustEat allows customers to search for local takeaway restaurants, place an order, choose a pick-up or delivery option, and get hassle-free online delivery. 
See also – Create Takeaway App For Restaurants
The food service platform was listed on the London Stock Exchange until Takeaway acquired the platform in 2020. The two companies merged with the parent company JustEat, replacing JustEat's listing on the London Stock Exchange. The online ordering platform has a strong market presence. It is considered one of the most valuable global food technology companies in Europe and other countries.
JustEat has one of the most established markets in the UK, with over 122 million orders processed alone in 2018. Canada is considered the second established market for JustEat; The company operates under the subsidiary brand `Skip the Dishes`, which represented 22.8% of the company's revenue in 2018.
The brand has also set up its commercial presence in other European markets, including Norway, Denmark, Switzerland, Ireland, Spain, France, and Italy, where it partnered with more than 8,000 restaurant partners in 2017. Just Eat also purchased the Menulog platform in New Zealand and Australia, which accounted for around £47 million in revenue.
JustEat's History
JustEat was originally formed in Kolding, Denmark. It was created by Laurens Groenendijk, Jesper Buch, Marc Wesselink, Martijn Rozendaal, and Per Meldgaard in 2000. At the time, Buch, who was 25 years old, was a graduate student in Norway.
It all started when one night he was hungry for some old-style Italian pizza. Since he was new to the town, Buch didn't know any local pizza shops. He found out that most of the restaurant information is not available on the web. And therefore the ordering of meals online is exceedingly tough for customers.
This frustration served as the spark for what would become Just Eat. With more than 10,000 employees worldwide, JustEat Takeaway has multiple offices serving different parts of the world. The UK's largest market is owned by Just Eat, with over 122 million orders processed in 2018 alone.
Canada is considered the second established market for Just Eat. With a contribution of 22.8% of the company's revenue in 2018, it operates under the subsidiary brand "Skip the Dishes".
Launch Your Food Delivery App in 2 weeks
With Customized On-Demand Solutions by OyeLabs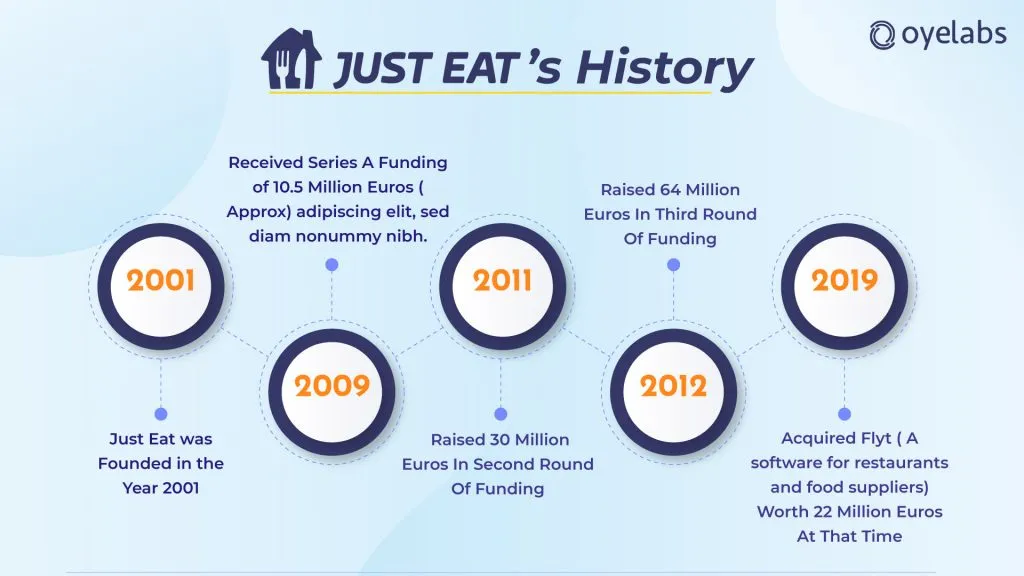 JustEat's Funding History
JustEat plc's annual reports and accounts clearly show everything about the food ordering and delivery platform. This indicates that JustEat secured its first Series A investment funding in 2009 from Venrex Capital and Index Ventures, which invested approximately £10.5 million in Just Eat Holdings Ltd. 
The new investment capital allows the company to expand its food delivery business to other markets ensuring rapid further development. In March 2011, food startup JustEat raised £30 million in the second round of investment, as two major US venture capitalists, including Redpoint Ventures and Greylock Partners, invested in the company. Greylock Partners has invested in Wonga, Facebook, and LinkedIn. 
During its third round of investment in 2012, the company saw Vitruvian Partners and Redpoint Ventures invest approximately £64 million in Just Eat Holdings Ltd. Then in 2019, the company bought Flyt, feature-rich and impressive software for restaurants and food suppliers. The cost of acquiring the company during that time period was around £22 million.
JustEat's Business Model
Food technology expansion is undoubtedly appreciated in Germany and elsewhere in the world. JustEat's great business concept and operational approach have swiftly made their impact on the market.
The enterprise works according to a successful business plan, ensuring strong cash flow, and generating value for food and drink businesses.
Discover its business plan overall to know how it works to offer platform users wonderful services.
Value Proposition For Customers
The company primarily offers three key value propositions to their customers — convenience, performance & customization.
JustEat creates convenience for their customers by identifying all the restaurants in a given location that offer take-out options. This means  people using their platform don't have to waste time searching for multiple websites. In addition, this service makes ordering food  easier by providing restaurant reviews, allowing the users of the app to order from anywhere (regular website, mobile website or mobile app), storing card/bank information for quick payments and remembering favorite restaurants and past orders.
Then they offer excellent performance as well as they have invested heavily in its technology, resulting in a robust and scalable platform that doesn't slow down during periods of peak demand and ordering. 
Company allows customization too by letting the consumers choose whether to pick up their order or have it delivered. In addition, they can choose to pay with their stored card/bank details or in cash.
Value Proposition For Restaurants
The company primarily offers four key value propositions to the restaurants they make partners with — accessibility, convenience, performance, and risk reduction.
To start with, JustEat improves accessibility for the partner restaurants by informing consumers about restaurants that have take-out options. This allows the restaurant to get customers who don't want to physically go to the venue or who might not find it in an online search. The service also allows restaurants to view customer reviews, providing insight into their reputation.
The company creates convenience as it only takes a few minutes for restaurants to register for inclusion on the platform. In addition, they receive the ability to accept online payments for orders.
JustEat showcases some excellent performance too as it help restaurants generate more orders than they would if customers ordered by phone only. The platform processes 2,500 orders per minute during peak hours. In addition, the number of online orders is 25% higher on average than telephone orders.
And lastly, JustEat reduces risk by offering a money back guarantee to the restaurants. This means that if the restaurant does not recover the registration fee on the order within the first six months of service, they will be refunded in full. 
Customer Segmentation
Customer segments operate on a multifaceted business model, with two major interdependent customer segments required to run the business.
Individuals who wish to order takeaway at a local restaurant.
Foodies who enjoy delicious food
Individuals who don't have enough time to cook
Businesses that offer take-away meals on request. 
Grocery stores that are looking to expand their customer volume beyond traditional channels. 
JustEat customer relationships are largely self-service. Customers can use the service through the main platform with limited interaction with employees. There is a personal help component in the email support and phone module.
The company's relationship with the food business is primarily of a  personal nature. They are assigned as special members of the local team who can visit the site if necessary. In addition, this platform allows restaurants to answer all questions via email, phone, etc. 
Their Key Activities
The business model involves maintaining a scalable platform mainly between two parties, namely restaurants and consumers. The platform includes a mobile app and website that connects food lovers with nearby food outlets to deliver their favorite foods to their homes.
Major partners
JustEat joint venture with similar services in countries to expand its business reach. The company has partnered with Eat.ch, a Swiss food ordering service, to expand its business worldwide.
Key Resources
JustEat's main resource is its platform, which serves more than 13.4 million active users. The company launched more than 320 platform updates in 2015, far more than 2014. It depends on its human resources and technology employees to upgrade the platform, on its sales staff to get new customers. As a startup, JustEat relies entirely on investor funding, raising an estimated $583.6 million from about 30 companies in 2015.
JustEat's Revenue Model
JustEat earns through restaurant fees, delivery fees, delivery and service fees, sponsored placements, merchandise and packaging sales, and exchange fees. They operate on a market business model that matches supply (restaurants and aspiring drivers) to available demand.
In recent years, that market has grown to millions of monthly subscribers. This allows the company to expand other cross-selling opportunities, whether it's selling ad space on popular apps or corporate catering services. Let's take a closer look at each of JustEat's revenue streams in the sections below.
Most of the revenue  JustEat Takeaway generates comes from the commissions the restaurant pays for each order facilitated through its platform. These costs can vary depending on a variety of factors, including the location of the restaurant and bargaining power (Burger King may pay significantly less than a local kebab shop).
Generally, JustEat Takeaway charges a commission between 10% and 15%. For example, if a customer orders $10 worth of food, JustEat can save between $1 and $1.5. 
In addition to restaurant fees, Just Eat Takeaway also charges a delivery fee (if delivery is made by a contractor) and a service fee. For the UK, the platform costs between zero and £4.50 per delivery, which ultimately depends on distance. As for the service fee, which includes payment processing fees and other services, JustEat charges another £1.99. It changed those fees in July 2021 from the 50p previously charged. 
Sponsored Placements Within The Platform
Restaurants and other partners on the JustEat Takeaway platform can increase their presence through promoted placements. Promoted placement is an advertising solution that places a restaurant in one of the top five results across a variety of platform apps or websites.
JustEat Takeaway generates revenue through sponsored placements through the so-called Cost Per Click (CPC) model. This means that every time a customer clicks on the promotion, the restaurant has to pay a small commission. The restaurant signed a six-week contract with JustEat. Then they determine the budget from which the CPC commissions come. Once the budget runs out, the restaurant will be removed from the top five spots. 
Merchandise & Packaging Sales
Another source of income, although quite small, for JustEat Takeaway is the sale of packaging goods and equipment. The merchandise includes clothing and accessories for couriers while the packaging is used for food being delivered. 
In August 2021, JustEat Takeaway announced a partnership with Adyen, a payment processor that facilitates online payments for various tech businesses. The two companies have introduced the so-called Takeaway Pay Card, a pre-funded debit card that employees can use for meal expenses. The card allows employees to purchase goods and services at thousands of restaurants and shops that accept Maestro and Mastercard.
Just like any other traditional debit or credit card, an exchange fee is applied which is paid by the merchant. The exchange fee is about one percent. Most likely, Adyen and JustEat will share that revenue as part of their partnership.