7 Must-Have Risk Mitigation Tactics For Your Startup!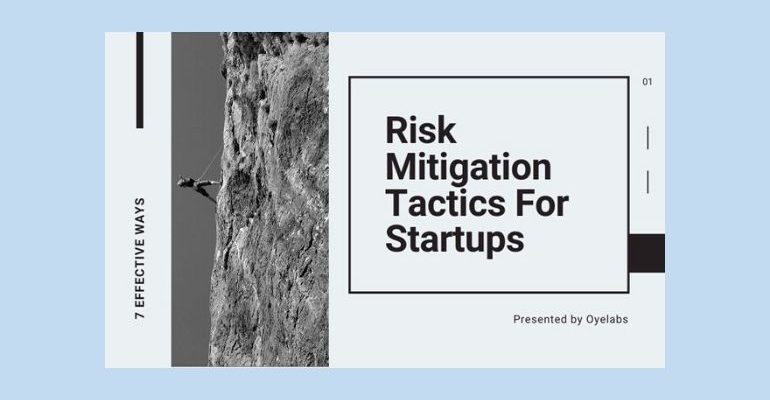 7 Must-Have Risk Mitigation Tactics For Your Startup!
Last Updated on September 8, 2021
Risks are an unavoidable and essential part of the entrepreneurial journey. Although they may not always be eliminated, learning how to handle risks is important to defend and enhance your business' growth.
Whether you are Hiring a blockchain developer to give your revolutionary idea a reality or launching your cryptocurrency. It can be daunting to build a company, but actually, it doesn't have to be. A startup should have processes in place to detect and remedy the business, employees and customers' vulnerabilities and threats.
Risk management is a process that detects, analyzes and takes precautionary steps to reduce or mitigate potential risks in advance. Risk rating or prioritization, tracking and analysis of the measures are also important steps in risk management.
A manager or group should take several simple steps to predict and mitigate risks.
Some of the most useful and effective Risk Mitigation Tactics are:
Insist on Down Payments
Some startups are lucky that they get to partner with some major brands right in the beginning. In such cases, payment terms are generally in favor of the larger company, but this can create a significant cash flow threat. Therefore, companies should insist on 50 percent down-payments before going ahead with the production processes. In fact, startups should make it a custom to receive at least 30% of the payment in advance. after all, you get what you negotiate for!
Knowledge
Knowledge is your best and greatest resource. On a misconceived notion, several people start new businesses. What is crucial is to examine the market that you are joining for the potential risks that you may face in the future.
You will have to know the market's size, width, and every inch. Who is the intended audience for you? Is your product or service in demand and are people willing to take a chance on it?
Investigate your rivals. Find out what's going on, where are the holes and how you can develop your competitive advantage.
Look for your product Comprehend where the industry stands for your product or service. You might not find your USP right from the start, but don't let your goals dissuade you. Recognize the margins at which you operate, what your break-even point is, or how much labor capital you need.
Historical and current research patterns in your business. In order for your startup to achieve success, you need to continuously invest time to catch up on market news, learn and eliminate any gray areas you may have in your market research.
In case you are not sure about how your startup is going to perform in the real world, you can always take help from companies that offer Startup Simulator services. Backed by their massive amount of data, they can help you anticipate how your Startup is going to perform and react to market trends and situations.
Have Good Contracts
Many businesses learn this the hard way, but you must have clear agreements that protect the company. Assume your child is the company. Doesn't it take precedence over anything else then? Because it is your creation the organization is the most important entity, and many people depend on it. A great businessman puts the business first over his own ego and immediate needs.
Finance and data analytics
When some people seek business advice and want to start their business journey, they tell people how bad they are in statistics and the usual' I'm not a finance person.' If you can't crunch key numbers and details, your company won't survive the time test.
In order to better understand your balance sheet, which is basically your business report card, you don't need to have a background in finance. This can be clarified or studied by learning by consultants. Writer Anil Lamba gives an implementable guide in the book Romancing the Balance Sheet to preserve a flawless balance sheet. Understanding his / her balance sheet is essential for an entrepreneur and helps in decision making!
Many companies monitor their reports of profit and loss (P/L) to see their profits and productivity and often rely only on P/L figures. Although keeping a detailed P/L report is important, it is equally important to see how the P/L impacts the statement of cash flow and balance sheet.
Statements on cash flow tell you about the resources you need to finance your company. Understanding your cash flow enables you to make emergency plans and allocate capital to business areas that most need it.
Voice the Red Flags
Every company has red flags signaling trouble— trouble with a customer, a system, a member of staff or a vendor. Coaching your people to express the red flags is important to address them early, so they don't cause problems that expose the business to real risks. Empower the front-line people. Recompense them with the use of their voices.
People Management
Any business needs the right amount of collaboration. You have to spend time recruiting the right talent as founders. Over time, these individuals need to be inspired and engaged in learning and mentoring.
Everyone in your startup, including the founder, should be dispensable (makes your company a target for acquisition if that is the case). Give people the opportunity to grow and invest in coaching and empowering them.
You may have 10-12 people at the beginning that are essential for the company. Work to make them excluded, thus providing them with job security and advancement. The company shouldn't lose if any of those employees go on a break or an extended leave.
Draw a detailed chart of the organization. Keep in mind all the key positions and see who the department would fail without. If they are no longer available, how will it affect your business? Have you got a contingency for this situation?
Be vigilant in following up on the processes. Be open to suggestions on what you are doing and how successful it is. This might sound like a stretch too much, but don't let it bog you down. This test and error are important for your startup's health.
Hire a Tax Advisor
Small business tax rules and regulations are pretty complicated, and a plan to go without a tax advisor is too risky. Get a competent financial adviser on board so you can focus your energy on other aspects of your business, such as revenue creation, advertising, and customer service.
Successful business people are always learning to accept inevitable risks and to mitigate the risks that can be managed. It requires a good team, a friendly business environment and a high amount of research. Good luck!