Steps to Build Your Own Delivery App Like GoPuff (With Features List)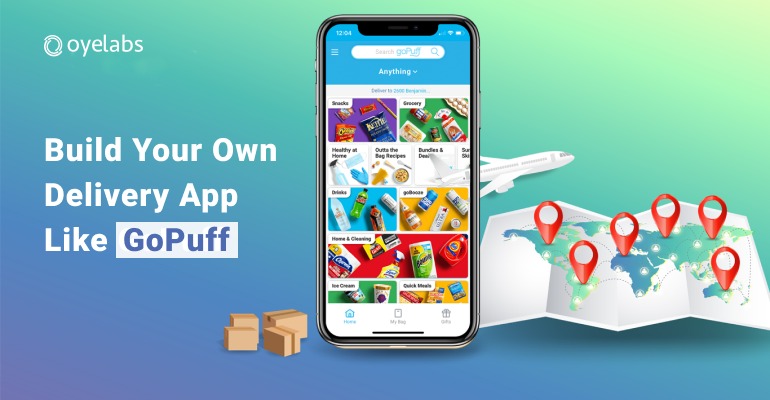 Steps to Build Your Own Delivery App Like GoPuff (With Features List)
Last Updated on June 7, 2022
The concept of ordering food has evolved immensely over the last few years. Not only are people getting more and more food delivered to their doorstep, but their eating habits have also taken a complete 360-degree turn. Humans have just evolved as beings and have adapted to the technological changes around them. Fewer people are going to the restaurants now and more people are ordering from the comforts of their homes. Delivering food at home has come up as a phenomenon in the last two decades, and the advancements we have seen in the industry would be unfathomable to someone living in the early 2000s.
Food delivery as an industry has seen many different companies come up and flourish in the last few years. New companies have brought in advancements with them, which has led the industry to where it is today. We have seen ordering via chatbots, finding restaurants using preferred cuisine, hyperlocal filtering, and many other advancements over the years, and these features are a few of the ones that have made the industry flourish. One of the companies that have become popular over the last few years is GoPuff. GoPuff is a go-to digital delivery service that provides solutions for your everyday needs. The app provides delivery for groceries, food, home & baby essentials, medication, and drinks in real-time. Unlike traditional food delivery services, GoPuff doesn't just deliver food to its customers; it tries to fulfill their everyday needs.
By the looks of how the company is going so far, there is definitely scope for much more growth. GoPuff is a great industry example that shows prospective entrepreneurs how a relatively small investment in a delivery service can offer tremendous payoffs and have long-lasting equity for the company.
How Does An App Like GoPuff Work?
Apps like GoPuff, DoorDash, or UberEats depend on their app interface and infrastructure to make sure things are running smoothly. Because companies like GoPuff have no tangible assets, it is extremely important to make sure that customers and all other stakeholders are satisfied at all times.
For an app like GoPuff to work, it is also necessary to make sure that these stakeholders i.e. delivery agents, sellers, and customers are playing their role seamlessly.
When it comes to GoPuff, the company offers membership programs to its customers and makes sure that products reach them within 30 minutes. Other than that, it also offers multiple payment options and rewards which benefits both customers and sellers. It also has an intuitive interface which makes it easy for agents to deliver the products. Because of its futuristic platform, GoPuff has been able to operate in 500 plus cities in the USA via 200 fulfillment centers. It also has a $15 billion valuation as of July 2021 as reported by Bloomberg.
Related Resource: Top Food Delivery App Business Models
READY TO LAUNCH YOUR APP?
With Customized On-Demand Solutions by OyeLabs
Developing An App Like GoPuff
Founded in the year 2013, GoPuff has been able to garner 2 million-plus downloads over the years. In a market this competitive, GoPuff has managed to stay afloat and remain a leader throughout its journey. This tells us that the app is backed by a distinctive idea and a unique proposition. Both these are extremely important if you want to build an app in the delivery space. It is also necessary to have people who know what they are doing. Developing an app like GoPuff can seem tricky, therefore we are listing the stages you must go through if want to build something similar for your own company:
Step 1. Market Research:
To build an app like GoPuff you first need to conceptualize your idea, this will require market research and a clear understanding of your competitors and the industry. You should understand the different types of food delivery apps and how they work, and also which one would you want to opt for according to your needs. You need to have more clarity on the who, why, and how of your company.
Step 2. Find Out Your Target Market:
It is also necessary to analyze the target market you want to operate for. This target market will impact how you run your business. You will need to decide whether you want to serve an audience your competitor is already catering to or whether you have a completely new target audience in mind. Once that is done, you can clearly define your market, segregate them and identify what their needs are. These needs can be used to add features to your application.
Step 3. Find Your USP:
Once you have decided on your target audience, you will need to find a USP that is specific to your company. This will help you differentiate from your competitors and can be used to lure consumers away from other players in the market. This USP can be in the terms of service, feature, added benefit, monetary gain, etc. This unique offering is your way to getting more customers and building a loyal consumer base.
Step 4. Tie Up With Relevant Stakeholders:
In order to have a successful delivery app, it is necessary to tie-up with relevant delivery agents and sellers. The right sellers/stores/restaurants will make sure you have variety on your app. This is necessary because customers love being spoiled with choices. This gives them the illusion that they get to choose what they are buying. On the other hand, it is also necessary to find the perfect delivery partners for your app. These stakeholders make sure that your products reach the customers on time. The right delivery partners are necessary to ensure that your customers are happy and satisfied.
Step 5. Partner With The Right App Development Company:
Everything that you have done before this step will be rendered useless if you don't have an app that can make all this possible. Your delivery app is the only tangible thing you have for your company; hence it is necessary to make sure that you find the right food delivery app development partner. These development partners will make sure that the interface of your app is aligned with your values and works smoothly at the same time.
Step 6. Find The Right Monetization Model For Your Company:
Monetization refers to the way your company earns money. It is necessary to have a monetization model that would be best suited for your audience. There are various ways to earn money, these include user membership fees, subscription fees, advertisement fees, partnership charges, etc.
Necessary Features List For A Delivery App Like GoPuff
The delivery app structure is very complex as it requires three different interfaces to be built for the three parties involved. This is one of the reasons why the development of a delivery app costs more than generic apps. The three parties or stakeholders involved here are customers, delivery partners, and suppliers.
The customers, delivery partners, and suppliers require their own interface because it can get complex to do everything on the same app. Hence, we have one interface where all the purchases are made(customer side interface), another where the sellers list their products(supplier side interface), and lastly the interface where all orders are processed are assigned to the delivery person(delivery side interface). All these apps have their own set of features that are necessary and must be added to the app. Let's take a closer look at what these features are
1. Customer Interface Features
The following features are necessary for a customer app:
Easy signup- The registration process on these apps should be easy and straight-forward. Customers should be allowed to login via other social media profiles, making it easy to extract relevant information
Review order- Customers should be able to view the order details before confirming the order. This will make sure that they have added all the products to the cart and have entered the correct information
Tracking location- Once the order is processed, it is also necessary to have location tracking. This allows a customer to see where their delivery is in real-time and gives a clear idea about the delivery time
Payment Options- Delivery apps should allow multiple payment options
Order history- Order history helps in obtaining relevant information regarding previous orders. It can be useful if a customer wants to make the same purchase again. The app should also have a repeat the same purchase option
Push notifications- Notification regarding order and delivery should be sent to the customer from time to time. These make sure that the customer is getting relevant updates from the app
Call/Message option- The app should also allow the customer to call/text their delivery agent
Discount- Discount coupons act as an incentive to buy more, hence the customer app should be able to showcase these coupons in the right manner
2. Supplier Interface Features
Let's take a look at the features that are necessary for the supplier interface:
Admin panel- This panel will give them all necessary information regarding the products listed by the seller, the products that are in demand, and the kind of items customers are buying from the seller
Push notifications- Push notifications are necessary because they keep the sellers aware of all the orders that are taking place and the ones that are being fulfilled
Chat- An integrated chat where the supplier can keep a check on the delivery agent, as well as the customer, is necessary
Reports- Reports with information regarding a supplier's previous performance are extremely helpful. It can help them in understanding customer behaviour
Editing menu- Suppliers should also be able to alter the products listed on their menu. This should be allowed manually, as well as with the help of inventory solutions. It should also allow suppliers to change the prices of products
3. Delivery Interface Features
Delivery agents act as the face of the company for the customers. Hence these necessary features should be added to the app to assist them in doing their job in the best way:
Order details- Once the delivery agent accepts the order, he should be able to see the necessary order details. This helps in identifying whether all the products are delivering or if anything is missing
Customer profile- The delivery person should also have the basic profile of the customer. This is necessary to make sure that the order is accepted by the right person
Working/not-working- The delivery agent should be able to set his/her app in inactive mode when they are not accepting deliveries. This will help in the better assignment of orders to the delivery agent who is willing to work at that time.
See Also:
Revenue Model Of A Delivery App
A delivery app can earn its revenue in different ways, some of these include:
Supplier fees- Many delivery companies charge their supplier to be visible on the platform. They charge this money because the app allows these suppliers to reach a wider audience and target newer markets.
Subscription fees- Many delivery services charge their customers subscription fees which allows them to receive free delivery on all orders they make
Advertisement fees- This fee is charged from the suppliers, either to be advertised on the home screen or to be listed on top whenever a customer searches for something they offer.
Technology Stack For A Delivery App
Application and Data: Javascript, Python, TypeScript, CSS 3, Shell, F#
DevOps : Docker
Utilities: Google Analytics, Twilio Sendgrid
Business Tools: Slack,Jira, G Suite, Balsamiq, Kanban Tool
Challenges Of Building A Delivery App Like GoPuff
From what we have discussed till now, conceptualizing and developing a delivery app is not that easy. It requires months of work, research, and alterations on the idea as well as the app. When it comes to a delivery app, these are the main challenges faced by an entrepreneur:
Finding a unique proposition- With many delivery companies already out there, it becomes difficult for a new company coming up now to have a USP that hasn't been used by any other competitor. The trick here is to find USPs that might have been used by competitors but haven't been perfected yet. Not everyone can come up with a different proposition, but you can use something another company is doing and do it better than them.
Deciding a target audience- It can get difficult to decide on a target audience. Many companies try to service the entire population, but it is necessary to know that this can become your downfall. You should never select an audience that is bigger than what you can handle. You should always start small and then widen your target market over time.
Partnering with the right suppliers and delivery agents- When you are starting a new delivery app, it can become difficult to partner with the right suppliers. This is when your business model and revenue model can come in handy. A company that has a business model that is beneficial for all the parties, can easily partner with more stakeholders.
Deciding whether to hire your own delivery agents or use freelancers- This is a big decision before starting a delivery company. While both the options have their own benefits, they are suitable for different types of companies with different investment sizes. For a relatively small company, it is easier to have freelancers.
Finding the right technology partners- As already mentioned, all your efforts will go to waste if you don't hire the right technology partners to develop your app. This will require you to talk to other leaders in the industry and find out who they used for the same, check out the costs of different technology partners, and talk to a few people.
In an industry overflowing with companies and competitors, it may seem foolish to launch your own app. But if you keep in mind the points we have mentioned above, building an app that is distinctive from all your competitors will become relatively easy. With digitization, trends keep on changing, and you may never know when your company sky-rockets and becomes popular among your customers. All you can do is work hard, find out something that will set you apart, and then work on it with the right set of people and you are good to go.
Frequently Asked Question for building an app like GoPuff (FAQs)
Que. What are some apps similar to GoPuff?
Ans. Some apps similar to GoPuff  are InstaCart, Shipt, G2 StoreFront, Rappi, Burpy and FreshDirect among others.
Que. What is GoPuff's annual revenue?
Ans. GoPuff's estimated annual revenue is currently $412.2M per year.
Que. Who are the Investors for GoPuff?
Ans. GoPuff's lead investors are Accel, Softbank Group, Anthos Capital and it has received $2.4 billion in funding till date.