20 Must-Have Features For a Successful Instacart Like Shopper App
20 Must-Have Features For a Successful Instacart Like Shopper App
Last Updated on January 14, 2022
Whether you're a start-up company or a top contractor, We'll help start your online grocery and e-commerce app in a few days' time. Our customized grocery application will help you get started.
Build a powerful yet smooth online ordering system for your foodstuffs with a mobile application. Our customized food app is a fully functional app that enhances the online ordering experience of your customers.
In the US, an estimated USD 57.1 billion in 2020 will be spent on an online market for foods and a 28.8% market share, the survey reports. Instead, with projections of $110 trillion and 20.5 percent up, China, the world's second-largest economy, will become one of the world's largest online food markets.
See also:
And the online foodstuffs industry has become a promising industry for businesses with the Covid-19 pandemic attack. Combining consumer interest to prevent orders to stay home and the constant demand for food and essential products has suddenly increased demand for food supply apps such as Amazon, Grofers, Instacart, and even Walmart.
In the past customers resisted online shopping, but pandemics have forced many people in various countries around the world to change their shopping psychology and speed things up.
So, What Is Grocery Delivery Exactly?
As the name implies, food supply applications can be delivered to customers by ordering food products (or other products). The service itself is of course nothing new, but it has been increasingly affordable and therefore spread through the move towards mobile devices. You don't need to be able to employ a domestic worker to supply food; you are only a couple of taps away.
In short, the development of food supply apps is similar to any other application providing on-demand services. For instance, Uber. Uber also has its own food supply service on demand, Uber Eats, in fact. Uber Eats is one of your biggest competitors, along with Instacart and Postmates, if you choose to join the food supply business in the USA.
But with a good team, you can probably take these giants if you develop your app the right way.
Two applications — one customer app and a separate local delivery app for those making the delivery — usually include an online delivery service. On the other hand, a supplier in the vicinity who sees the order within the delivery app accepts and completes the order, supplying the product to the customer when he places an order in his app and pays for it.
Launch Your Grocery Delivery App in 2 weeks
With Customized On-Demand Solutions by OyeLabs
Technically, the features required by customers and delivery personnel can be combined in the same application but that makes your app lengthy. This approach is hardly effective.
How Does InstaCart Work?
Instacart allows customers to shop in local food stores via their website or mobile app and to create a virtual shopping cart that a "staff shopper" will later fulfill on a specific day. Instacart typically provides same-day delivery to customers needing food sooner rather than later within a five-hour window. Shoppers can take the order to the store of their choice and then deliver the order in their own car each day – or you can plan a delivery order on a different day in advance.
Since Instacart does not sell foodstuffs itself, your buyer will notify you in the app of something that you have purchased that is out-of- stock or unavailable.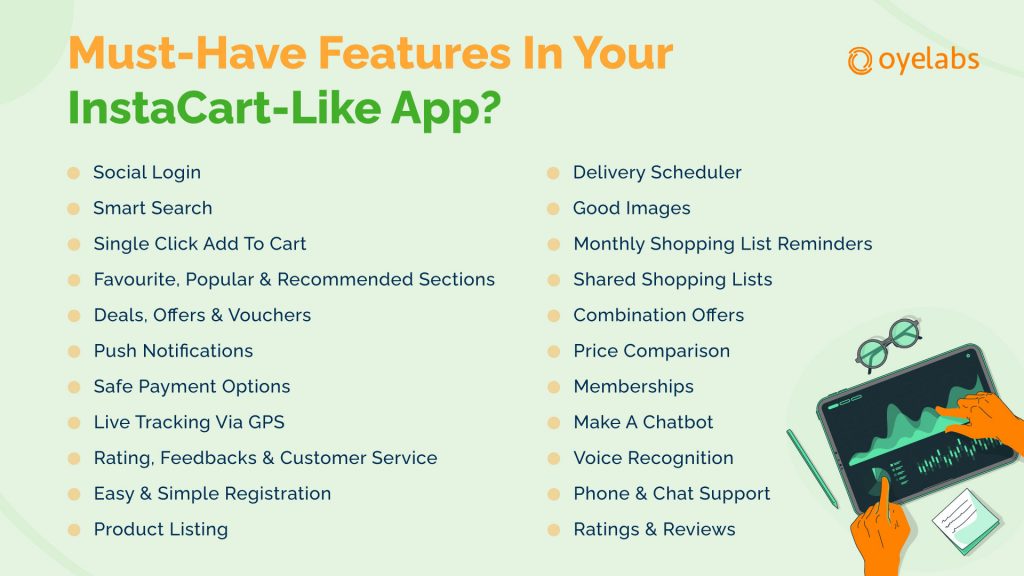 Must-Have Features In Your InstaCart-Like App?
Social Login
It is very obvious why we need social login features in our apps in a world dominated by social media. Customers are encouraged to open their services via all applications and websites. Both companies and customers are helped by accounts to monitor their things.
On the other hand, the tracking of all their accounts of different websites and applications is really difficult for clients. This is where logins into social media help. Only one ID is used by customers, and companies get all the required information. So you must log in to your app for social media.
Smart Search
Think of a scene: You have thousands of goods, but from that pile, customers can't find one. It means you're worthless of thousands of products. You must have an intelligent search engine with the needle in the haystack and the like and related items displayed. Google is doing its thing like that. The integration of intelligent search into your food supply on-demand app is therefore inevitable.
Single Click Add To Cart
Customers will perform one of two things after searching. Either now or later he decides to purchase a particular product or he does not purchase it at all. So, if you wish to buy a specific product now, it really helps to add a 1 click To cart feature.
When customers don't need to go to a separate page or click, their interest in shopping is not lost. You are encouraged to browse more things with the functionality of 1 click Add To Card. In addition, it can display the total value of the cart and help clients monitor their budget.
Favourite, Popular & Recommended Sections
If you favor a photo on Instagram or like a post on Facebook, it will improve user experience by adding a star or adding it to a favorite list. As a company, you have a clear understanding of customers' likes and dislikes. Also if the shop's Trend Articles or personalized 'Recommended For You' have a 'Popular' section, it will become a win-win for all parties concerned with food delivery applications on demand.
Deals, Offers & Vouchers
The deals and discounts are one of the main reasons why clients place online orders on this app. You most likely visit this section when you open the app when you have a separate section for ongoing deals and offers from your store. The integration of loyalty bonus codes and loyalty programmes like PayBack is a great help in retaining customers.
Push Notifications
Push Notifications are a major feature to boost customer involvement and use of the app. These notifications allow you to do many things. You can notify customers of your stores' ongoing deals and discounts, welcome them during good days, and tell them to buy their products or things as they wish. Too many notifications will damage your business, but the intelligent use of push notifications will really help.
Safe Payment Options
Who would not like to see after a long time browsing and selecting the quickest check-out experience? The same applies to the world of online, but online payments are made here and clients can have problems in confidence. Therefore they have to be able to choose a number of payment options such as credit card, debit card, online banking, PayPal, and cash upon delivery.
Live Tracking Via GPS
Once the order has been placed, customers need to be able to track and see their order status. This is very basic but it must also be supply-tracked as an On-Demand Grocery Delivery App. The confidence of your company will increase many folds if you can track your driver's location via GPS and if Google Maps are integrated.
Rating, Feedbacks & Customer Service
After the shopping has been done and delivered, customers can leave words of appreciation or complain. They should therefore have options to evaluate the product and provide feedback on their experience in your online store and can contact you immediately via customer support or chat. You may want to integrate a ChatBot to help your customers respond automatically.
Easy & Simple Registration
It must be easy and easy to use to register. Currently, social media registration is popular. The registration process can be completed with this feature. The email id and mobile number also offer other options. When logged in via social media, it is good publicity for the food delivery app that can share any products.
Product Listing
Yes, this is the foundation of every development of a food app. However, proper care is needed to separate foodstuffs into products and by-products so that users can shop seamlessly. In order to obtain valuable details, all products should have a rich description.
Quick Shopping List
Here, the customer is able to save the items. This function can contain several options, such as a list of favorites, a bar code list scanned, a memory list, etc.
Delivery Scheduler
This enables users to plan their delivery at their convenience in advance. During the checkout process, customers can choose a delivery date for their order. The development of the foodstuffs mobile app can cover the estimated delivery time to inform customers.
Good Images
Customers must display 3D images of real products for an authentic shopping experience. This increases the visual attractiveness and gives them the impression that they actually view the product. This makes shifting from physical shopping to digital shopping easier.
Monthly Shopping List Reminders
This is an easy note to list the monthly food shopping to be done. The customer can be remembered by push notifications of this list.
Shared Shopping Lists
The User can use this feature to share the shopping lists. By adding this function, customers can share it with other members of the family to know if anything additional should be added.
Combination Offers
When a user chooses an item, the other items that the user purchases in combination with the item chosen will be shown. This combo offer makes the user's search easy and gives them an idea of what other items the purchaser has chosen for the selected item. The listing of products can also show combination products in which the shopper can save money.
Price Comparison
The price comparison feature allows customers to quickly know what other brands for similar products are priced for. Instead of going back and forth, this helps them compare prices for similar items.
Memberships
Many on-demand applications charge membership and offer various benefits such as free delivery, members-only, and so on. This will attract customers to your food app as they feel they have a good deal. Both you and the customer benefit from annual membership fees.
Make A Chatbot
Chatbots can be implemented in numerous ways. A chatbot could show valuable information about products and stores for your customers (and delivery personnel) or give popular recipes for a selected product.
Voice Recognition
Your busy customers will greatly appreciate voice recognition, allowing them to place their orders on the move without having to stop, type or browse the inventory of the products.
Phone & Chat Support
Another good idea is telephone or chat support for customers, be it technical support in applications or the ability to contact a provider to modify an order at the last minute.
Ratings & Reviews
Allow your customers to pass evaluations and reviews on each shipment. You can thus keep tabs on your supplier and the performance of your app. A similar feature can also be applied to filter customers causing problems in the delivery app. This is one way to understand how your business works.
Wrapping Up
The covid pandemic is making grocery shopping applications increasingly popular, but after it's finished many customers will still choose to purchase grocery products online. Now is a great time to start a food service company. In addition, by allowing users in your shop to keep their cards on their smartphones, you can provide extra value to users.
In this field, competition is on the rise every day. It's also important, or you'd fall behind, to have the right features. With the addition of these 23 features to your on-demand food app, users will love your app.
Frequently Asked Questions For Instacart Features List (FAQs)
Q. What business model does Instacart use?
A. Instacart uses Subscription model for their business
Q- What are the challenges of a grocery delivery app?
A.There are many challenges for grocery delivery apps some of them being:
   -Low cost margins
   -promotional activities and cost
   -coping up with the evolving market trends

Q. How much time does it take to build such an app?
A. The average time required to develop an app of such kind might take an average of 300-600 hours to develop, depending on the complexity of the app. If you're looking for some readymade app solution, checkout oyelabs grocery delivery app solutions.