How Weezy Works? The Business Model Explained
How Weezy Works? The Business Model Explained
Last Updated on June 24, 2022
We've already been following the concept of receiving our online orders on the same day. Then came delivery in an hour. And now a Hyperlocal business like Weezy in London is making 15-minute delivery a reality. According to future market insights, the revenue of the hyperlocal delivery market was US$ 952.7 Million in 2021and this market is forecasted to reach US$ 8,856.6 Million by 2032! 
In the now-booming online grocery sector, the startup, which will compete with major supermarkets, convenience stores, and Amazon Prime Now, targets health-conscious yet time-poor professionals and parents who need the speed of an on-demand service but don't want to pay the odds over.
Heartcore Capital led the round with the involvement of 20 angel investors including one fine stay co-founder Greg Marsh, Deliveroo's early sponsor, and Jon Rudoe, Ocado's retail and consumer boss behind the 60-minute delivery plan from Sainsbury, Chop Chop. The other international investors have worked with Uber Eats and Delivery Hero.
"We had long been looking to back a company reinventing convenience groceries in our digital age. When we met Kristof and Alec, we were immediately convinced that they not only had the superior model but most importantly exceptional potential as founders," said Heartcore partner Yacine Ghalim.
"This follows our investments in two of Europe's fastest-growing startups in food, online restaurant chain Taster and online organic retailer La Fourche," he added.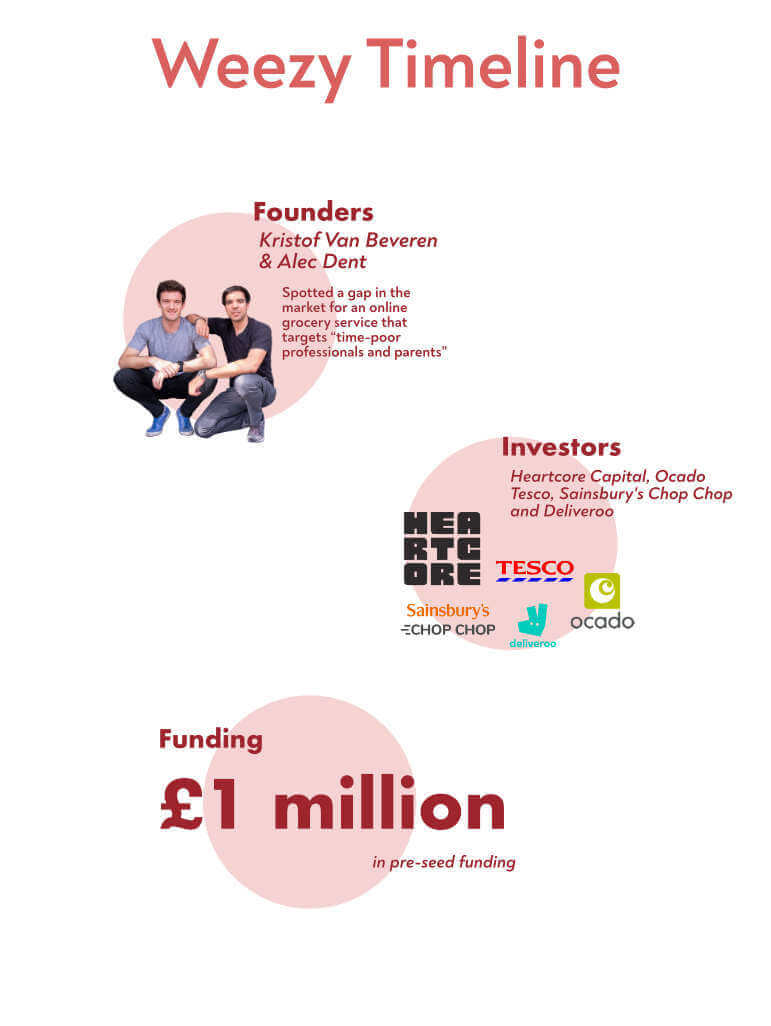 What is Weezy?
Weezy is a London based tech startup that delivers grocery in a matter of 15 minutes. It is more like a supermarket on your fingertips. You can order anything from shampoo to shaving creams, from snacks to last-minute food cravings, with just a tap.
Weezy is the first on-demand supermarket in the UK to deliver groceries with an app and website in just 15 minutes. Weezy is developing a network of dark stores across London while relying on a rider network to deliver orders to customers.
In London, Weezy is providing grocery delivery to consumers in as little as 15 minutes. 
After raising £1 m in funding from over 20 angel investors, the tech firm is piloting the first "hyperlocal " fulfillment center in the city. Shoppers in Fulham and Chelsea can now order from Weezy's app a range of fresh fruit and vegetables, food, alcohol, medication, and cleaning supplies.
"We set out to build Weezy in late 2019 having spotted a clear gap in the market for rapid, on-demand delivery of groceries at recommended retail prices," says Co-founder and CEO Kristof Van Beveren.
"We know that people are actively looking for simpler, faster new ways to shop and we've seen it first hand. In the current climate, it has become less viable, and even less appealing, for consumers to visit stores."
"Our hyperlocal fulfillment center model works since we are able to optimize the space for fast picking and packing while having low property and fit-out costs. This allows us to offer the fastest grocery delivery service in London while keeping prices affordable. This, coupled with our in-house team of riders, allows us to offer the fastest and friendliest grocery delivery service. And, compared to convenience stores, Weezy has better pricing and a broader and more premium range of products." he added.
See Also:
How Weezy Works – Insights into Business Model
Business Model:
Here's the insight into its business model – Weezy operates local warehouses and holds the product as inventory. It makes a margin on products sold. Orders get packed and delivered within 15 minutes between 10 am and 10 pm every day for £2.95 per delivery. Let's see how it works
The user can browse multiple products while sitting at their places. They can place their order and get their grocery delivered in a matter of a few minutes. It's like a supermarket on your fingertips.
Fill-up your baskets and pay!
Order gets picked up from the local warehouse
The order is then picked up and packed in Weezy 's fulfillment center, before being delivered within 15 minutes on electric mopeds or bicycles.
Best part? 
There is no middleman involved. The platform owns their own small warehouses where they buy products in bulk and deliver to their customers effortlessly. 
Gets delivered in 15 mins
The startup is known for its quick deliveries. Weezy tries to deliver every order in 15 minutes on average. 
Weezy offers a much more stable and fast delivery than delivery services from more known supermarket competitors like Sainsbury's, which charges £4.99 for their 60-minute delivery service to Chop Chop delivery service. 
Related Read: Guide To Choose The Right Hyperlocal Delivery Business Model
Launch Your Grocery Delivery App in 2 weeks
With Customized On-Demand Solutions by OyeLabs
What all does Weezy offer?
Eggs, freshly baked bread, soaps, shampoos, sanitary pads, you name it!
Weezy covers every item from your fridge to your washroom. It's super convenient for people who are less on time or someone who is tired of long waiting slots. 
Treat yourself anytime, anywhere in just 15 minutes. House party in 15 minutes and forgot to bring snacks? With Weezy, you don't have to worry. Order anything and leave the rest in their hands. 
Fresh produce and bakery items
Weezy makes sure that their customers receive everything fresh and quick. They stock up all the necessary items such as fruits, vegetables, and bakery items, in their local warehouses to help you get the best.
Weezy keeps on adding new offers and products as per the demands of their customers. This helps them in refreshing and upgrading their platform with better items to offer.
The app-based company sources food and grocery supplies from a number of wholesalers as well as local bakers and butchers, including New Covent Garden Market fresh fruit & vegetables. There are currently 1,200 SKUs available, with the company looking to scale up to 2,000.
"We set out to build Weezy in late 2019 having spotted a clear gap in the market for rapid, on-demand delivery of groceries at recommended retail prices," Weezy's co-founder and chief executive Kristof Van Beveren said.
Weezy plans to open another 15 fulfillment centers throughout London by the end of 2021, before expanding throughout the UK.
Weezy integrates its own strategically placed fulfillment centers with a fleet of electric mopeds and bicycle couriers, ready to receive orders through the Weezy app, bringing the hyper-local into online grocery shopping.
Its founders, Kristof Van Beveren and Alec Dent believe they have spotted a void in the market for an online grocery service that targets "time-poor professionals and parents" who want the speed of an on-demand service but are not prohibitively costly to deliver.
Starting in the affluent districts of Fulham and Chelsea, customers use Weezy's app to select and pay for items on their shopping lists – fresh fruits, vegetables, bread, over-the-counter medicines, cleaning products, and alcoholic beverages.
Groceries are sourced not only from selected wholesalers but also from nearby independent bakers, butchers, and markets, as Weezy talks to local businesses for their support. The company is planning to open up to 15 additional centers in the UK. "No other service delivers as quickly," says Weezy CEO and co-founder Van Beveren. 
"Next to speed, we have a full range of carefully curated products and pricing in line with recommended retail prices," adds Weezy co-founder and COO Dent.
"We also only use electric vehicles or bicycles for deliveries. We are committed to creating a supportive culture and the best working conditions for our team of riders, who are also trained to work in the fulfillment center, and offered opportunities for career progression. Happy staff makes happy customers", he added. 
Bonus Info: How do I start my on-demand delivery business?
When you select your Startup Idea, evaluate the market, examine the need for it, and study potential rivals and their weaknesses where it will help you land on the current market in a perfect position. While you are at it, choose the best On-Demand App Development Company and go on creating an on-demand app. 
You have to be very careful about the financial funding and backup to start it and set up competing for your niche in the marketplace. The most important factor in starting and setting up a company on the market is financial support. You need to go for financing on new startups as it would help you get onto the market and make you survive the financial crisis.
There are more credible investors in the current scenario than in conventional crowdfunding. These investors are of two forms and have benefits and demerits of their own. You have to be very careful when selecting an investor that suits the business plans.
Related Read: Guide To Build A Supermarket Like Weezy
Conclusion
Online supermarket stores are intensely competing for customers, and therefore it's getting harder than ever to know which ones have the best offers, and sell high-quality food, so as to get a five-star booting service. Forget dragging your granny trolley to the store, online supermarket apps are the best ways to get food and produce directly to your customer's house. 
OyeLabs helps you analyze the current market situations and build solutions as per your requirements. We team you up with our experts who will help you gain an insight into what's best for your business and will rope in huge profits.
Get in touch with our thought leaders and witness your business grow. 
Frequently Asked Questions For Weezy Business Model (FAQs)
Que. What are some apps similar to Weezy ?
Ans. Some apps similar to Weezy are InstaCart, Postmates, BigBasket, FreshDirect, Talabat, El Grocer among others.
Que. Where is Weezy headquartered?
Ans. Weezy is headquartered in London, England.
Que. How do apps like Weezy make money?
Ans. Many apps are based on commission-driven models. This model includes paying grocery store fees depending on the number of orders issued. The other business model is focused on supported ads and pay listings which enhance online visibility.