How to Build a Multi-Vendor Marketplace in 2022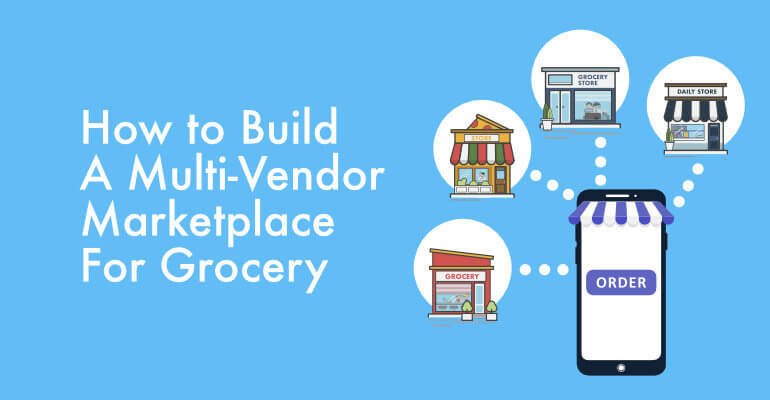 How to Build a Multi-Vendor Marketplace in 2022
Last Updated on May 27, 2022
With changing customer behavior and technology advancement, online business models have made their way into every business vertical. People want the same experience as a mall from the comfort of their sofa, as it saves time and provides many options. Buyers want to purchase online but do not want to waste time browsing for products on multiple websites. The answer to this changing environment is a multi-vendor marketplace. Common examples of multivendor marketplaces include Amazon, eBay, Etsy, etc.
Know what is a Multi-vendor Marketplace?
A Multi-vendor marketplace is a platform where customers can purchase goods from different suppliers. The platform features multiple vendors, each having an account on the marketplace and allows them to add and display products on the website. The sellers can focus on their core competency, providing customers with the most relevant products. In contrast, the marketplace owner is responsible for attracting customers, storing products, handling logistics, or facilitating payments. The marketplace operator does not hold any inventory type but helps the buyers and sellers facilitate a transaction.
Launch Your Grocery Delivery App in 2 weeks
With Customized On-Demand Solutions by OyeLabs
Here your step-by-step guide on building a multi-vendor marketplace
1. Understand How Does a Multi-vendor Market Place Work?
The Multi-vendor marketplace is beneficial for the marketplace owner, vendors, and customers. The owner gets the commission upon every sale without worrying about product inventory and shipping, and the seller need not worry about website maintenance and advertising aspects.
2. Advantages of a Multi-vendor Marketplace
Quick launch for products: Sellers don't have to worry about managing the website, with a multi-vendor platform, they can focus on selling products and earn profits.

Variety of Products: In a multi-vendor marketplace, customers get many options in product categories and their variations.

Ease of Expansion: Expanding is fast and easy. In a multi-vendor marketplace, you can quickly bring in new products and expand your market. It is easier to find more customers since you are selling various products in your marketplace.

Ease of Promotion:  If you are selling niche products, it is easier to target and promote products in a marketplace.

No Inventory: Marketplace operators do not hold any product inventory on the platform; hence you do not incur any inventory losses and don't have to invest your funds in stocking products.

Deeper Customer Engagement: The increased number of products and services available on a single platform increases user engagement.

Bigger Brand Building: In an online marketplace, many sellers are providing different products that are recognized under the brand of the marketplace operator.

Network effect: Once there are enough buyers and sellers on the platform, the marketplace can grow organically; if the platform is engaging and beneficial to the intended customer demographic, new users will automatically come.

Hard to replicate: Once the marketplaces scale-up, customers and vendors will be most likely to remain loyal to the platform. Any competitor needs to spend significantly delivering better offerings and building a similar-sized network. This is expensive and time-consuming.

High margins. If a marketplace becomes the dominant player (and thus has to spend less on marketing), its profit margins increase.

Pricing monopoly: Predominant marketplaces can dictate the commissions and fees charged on the platform. If there are few options in the marketplace, sellers have no choice but to absorb these higher rates.

Data Generation: Marketplaces generate a large amount of (consumer) data, which operators can use to either sell or take advantage of by setting foot in a new industry. Amazon, for instance, analyzes its sellers' data and can then sell it under its own branded Amazon Basic brand.
3. Challenges You will face while creating a multi-vendor marketplace:
Generating Traffic: When you launch a multi-vendor marketplace, you need to attract both buyers and sellers, which might be challenging without spending additional resources.

Low Margins: The profit margin is lower initially, which might be challenging to cover the cost of managing the website.

Product Quality and Brand Control: With multiple-sellers comes to the responsibility of maintaining product quality, and it may be challenging for the marketplace operator to ensure uniform quality and services delivered to the customers. The obligation to maintain the brand image is of the operator as the products and services are sold under the marketplace brand.

Customer Service: Since the customer purchases the products on the marketplace platform, in the customer's view, the primary source of product or service provider is the marketplace operator. Any dissatisfaction on the customer part is going to be impacting the marketplace brand and not the vendors.

High set up cost: Building technology backbone, advertising to attract buyers and suppliers, and hiring the right employees are capital and time-intensive activities. It may take a substantial amount of investment, time, and effort to scale up.

High Competition: Online marketplace is a highly competitive place, but it still attracts many vendors to pour financial resources to grab a share of the burgeoning opportunity.

Varying seller quality: The quality of products or services varies significantly on the marketplace. Marketplace operators have to account for these and focus on the quality aspects on the seller side, such as authenticating sellers, products they are selling, and building a logistics network to facilitate transportation.
4. Choose a Business Model For Your Multi-vendor Marketplace
The multi-vendor marketplace can be classified by the types of products sold, such as consumer goods and niche of sale products such as books, baked goods, art, and craft, etc.
The marketplace has six business models based on platforms –
B2B Marketplace:Transaction between business where they sell products to other business
B2C Marketplace: Transaction between business and consumer where business sell directly to customers
C2B Marketplace: Transaction between customer and company
P2P Marketplace: It is a multi-vendor marketplace where customers sell to other customers.
Other transactions include G2B transactions between government and business, G2G, Government to Government, G2C, Government to Customer, etc.
Related Resource: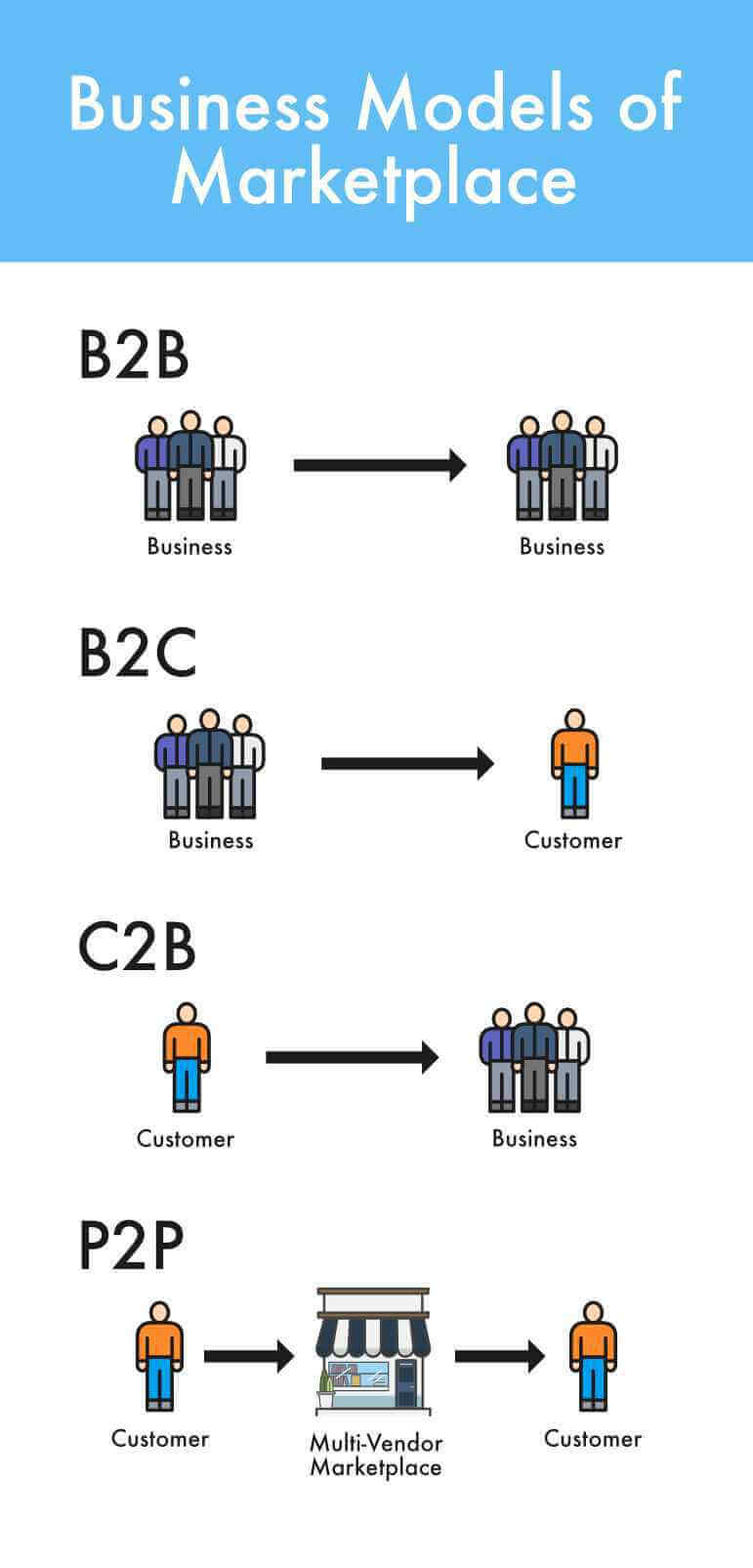 5. Choose a Revenue Model For Your Online multi-vendor marketplace

Subscription or membership fee: Registered sellers can host their products on the multi-vendor platform for a fixed price paid in the monthly subscription. Marketplaces provide several subscription options for arranging membership, depending on the volume of features delivered. The platform has to become valuable enough so that both customers and sellers gain enough benefits from using it.

Commissions:  Marketplace charge sellers a specific percentage commission for each transaction. It is one of the most commonly applied business models in marketplaces and is an attractive proposition for buyers and sellers. They only have to pay the commission after a buy or sell transaction (receive a real value) on the platform. This strategy is lucrative for marketplace operators as they receive funds on every sale on the website. The more transactions are performed on the marketplace, the more revenue you generate.
The commission is of two types, fixed or flat amount on each transaction or a certain percentage of the order; these changes are based on product category or nature of the marketplace client.

Payment Processing Charges: If the marketplace owner processes the payment, they charge a fee for the amount processes in the form of a percentage or a flat fee.

Logistics: Another additional revenue source is offering logistics and shipping services to vendors by the marketplace owner or affiliating a third-party provider.

Listing Fee: E-commerce websites charge sellers for listing their products on the website for sales and exchanges. The listing charges will be based on the value of the products listed and the number of days to keep the products. This strategy is widely used for non-monetary transactions and when the listings have a high potential value such as OLX, Click.in, etc. Listing fees may be regular or premium depending on the type of visibility they provide and are often called featured listings. The price for listing an ad should be affordable since providers would not prefer prohibitively high fees if they do not get value out of it.

Advertising: Since multiple vendors are vying for the same customers, online marketplaces allow vendors to advertise on the platform to grab more eyeballs.

Fulfilment Fee: It is the fees paid for the products in the warehouse for shipping. This fee is charged for the space utilized by the product in the warehouse.
It is ideal for focusing on one core revenue model in the initial stages, and as the business grows, you can add different monetizing approaches.
6. Finalize Components of Your Multi-vendor Marketplace
The multi-vendor market place needs to ensure that the end to end process works smoothly to keep the customers and sellers satisfied. There are many moving pieces in the multi-vendor marketplace hence it is essential to identify and work on them:
Manage a large number of vendors selling different types of products.
Handling end-to-end transactions
Ensuring the orders are purchased and delivered correctly
Sharing the revenue with the vendors once the request is completed on the eCommerce platform.
Managing Inventory
When your vendors are from different locations selling different products, it is essential to maintain the inventory efficiently to provide an ideal service.  It is vital to keep a quality check on the products before they go live in the marketplace.
7. Select Technological Stack
Choosing the right technology stack is critical for developing the multi-vendor marketplace and can be a crucial differentiator in the platform's performance, web page response time, and website stability. All these factors affect the visitors' user experience and retention.
The technology stack used to build the marketplace can be divided into front-end technologies and back-end technologies.

Front-end Technology Stack:
Hypertext Mark-up Language (HTML) and Cascading Style Sheets (CSS) point a browser to display content on the web page.
JavaScript (JS) allows customers to interact with the e-commerce platform. Some of the technologies used here are React.js.

Back-end Technology Stack:
A programming language and framework are applied to build the underlying logic of your marketplace. It is generally made using Ruby and Ruby on Rails, which can help build scalable, fast-loading, and secure online platforms. Besides, automation frameworks such as RSpec and Capybara are used for testing.
A database is used to keep the necessary information about your marketplace website. Some of the options include PostgreSQL (SQL data storage), Redis, and Amazon Web Services (AWS).
A server works with requests from customers' devices; some of the options include Nginx and Puma, which can be easily combined with Ruby on Rails.
8. Core features that you need to include in a Multi-vendor Marketplace
Some of the most critical elements of the marketplace include:

Custom Marketplace Branding:  Add custom branding: logos, landing pages, color themes, and fonts and pages to keep the look and feel of marketplace consistent across sales channels.

Responsive Design: Offer consistent User Experience across every device and screen size to improve conversions and reduce bounce rate.

Promotional Banners and Carousels: This feature enables you to display the best deals, and discounts through promotional banners to attract customers.

Safe and Secure: Since the marketplace handles multiple high-value transactions, it should be built on a robust framework and employ safeguards for storing data and confidential details. Regular backups should be available to make it safer, and it should include security features such as payment gateways with PCI compliance.

Profiles: Contain all the necessary information about the buyers and sellers. Manage all your users, including customers, suppliers, and affiliates in one place. Verify and accept new vendors or suppliers seamlessly. The vendor panel includes information such as shipping and payment methods used by a seller, product listings, etc. Buyers' accounts include details such as personal information, order history, Wishlist.

Admin Panel: The admin panel allows the e-commerce platform operator to manage the entire marketplace. It enables them to customize settings for various groups of suppliers. These settings include shipping and payment methods, fees. The administrator can also manage sellers' listings, filters, verifying products and listings, and overall marketplace improvements.

Vendor Dashboard:  Each seller on the platform have their separate dashboard, where they manage their profile page info, product listings, payment methods, and rates, shipping info, and extract personalized reports.

Easily Add New Products: Add new products in a few clicks and update product variations like size or color.

Track Inventory: Robust inventory tracking and notifications feature to ensure that vendors don't run out of stock.  This feature allows you to create low limit alerts, automatically restock inventory, hide out of stock products, etc.

Order Management: Streamlined order management allows you to manage transactions efficiently by creating shipments, sending out delivery drivers, accept refunds, etc.

Order Notifications: Automatic notifications feature enables the vendor to receive an instant email or text about new orders. It also provides the Admin with details such as the order processing time, order status, etc.

Wish Lists and Favorites: Let customers save products for later as favorites.

Sales, Coupon Codes, and Discounts: This feature enables you to create a sales campaign using rules, time, and display settings. You can customize the conditions for the discount to be applied.

Ratings and Reviews: Build a dependable reputation for your marketplace using the built-in review system. This helps identify high-quality products based on customer feedback and creates accountability and ensures quality control on your products and services.

Search and Filter: This feature allows customers to search quickly, categorize, and filter content. Customers can browse for products by categories, keywords. They can filter and sort products by price, name, size, color, vendor distance, rating, etc.

Accounting: Keep count of every penny that goes through the system, including individual vendor sales, taxes, etc. You can also integrate your books with accounting software such as QuickBooks.

Adaptive Commission: This feature enables you to customize commissions manually or automatically based on rules or conditions. You can attract more vendors by offering lowers commission rates in low margin high volume categories and generate more margin on high ticket items.

Multivendor Order Management System: In a multi-vendor marketplace, customers can buy goods from several vendors in one order. As the administrator, you can see both requests, however, the vendor can view only their part of the order and is responsible for completing the same. Payments are split automatically by the platform to ensure that the correct amounts are distributed to each vendor.

Configurable Vendor Plans: This feature enables you to create subscription plans for vendors with different conditions and limitations. You can also pre-set commissions for each program, so vendors can simply choose what suits them best.
Separate Mini-Store or Micro-Site for Each Vendor
With this feature, vendors can create a micro store inside the marketplace, with their page on your URL subdomain.

Vendor Promotions:  This feature enables vendors opportunities to boost sales by creating their own product and basket promotions, including free shipping, discounts, free products, coupon codes, and reward points.

Automate Sales and Email Marketing: Use built-in email rules to send out content to your subscribers automatically, or integrate campaigns with Email Marketing service provider such as Mailchimp.

Social Media Sharing: Increase your social media presence and reach customers on all the popular platforms they use. Allow people to share on Facebook, Instagram, and other Social Media channels.

Loyalty Programs: Reward point programs encourage customers to buy more and shop regularly by letting them earn and spend points on purchases. You can decide on the ratio of points to purchase value, limit points to specific products, or reward loyal customers more.

Payment Features: Multiple Payment Options This feature allows customers to make payments through numerous methods. They can pay by debit or credit card, e-wallet, bank transfer, or even cash on delivery.

Adaptive Vendor Pay-outs and Commissions: Collect commissions on every sale. Pay your sellers automatically on a specific date, or when an order is complete. Customers can place orders with products from multiple sellers.

Reporting and Analytics: Get instant reports for sales, customers, coupon usage, inventory levels, and more. Create custom reports based on rules and filters to find exactly the information required.

Vendor Analytics: Measure vendor sales performance, order fulfillment completeness, customer satisfaction, etc.
Sellers can view detailed statistics of transactions in the marketplace. Vendors can also view their account balance to track all pay-outs and commissions.
Realted Resource: Grocery App Features List
Bonus – What is a Grocery Marketplace?
Amazon revolutionized the grocery marketplace when it acquired Whole Foods in 2017, bringing a technology-driven e-commerce mindset to the digitally dormant sector. The grocery and food sector is expected to boom in the future, and online grocery sales are forecasted to reach $100 billion by 2022 in North America.
From Amazon Go to Instacart, HelloFresh to Peapod retailing has shifted rapidly from offline to online model with digital-first services designed to make food shopping convenient for consumers. As more consumers experiment with online grocery shopping, the marketplace model provides a wide product assortment and secure and convenient transactions.
However, running a marketplace model for groceries is challenging compared to running an eCommerce website for electronics, home décor, and apparel due to the perishable nature of products.
Building a feature-rich grocery marketplace with all the bells and whistles would take a significant amount of time, effort, and investment. The ideal approach would be to consider a readymade technology solution that offers all these features and enables you to add unique and customized eCommerce features seamlessly, offering you the best of both worlds.
Grocery Delivery App Development by Oyelabs can assist in creating high-quality solutions for every type of grocery business.
GoodGrocers can help you create a feature-rich multi-vendor marketplace based on a modern architecture that delivers exceptional performance and is scalable and dependable.
Stay ahead of the competition and get your own feature-rich grocery mobile app created by our expert team at a competitive price in a Software-as-a-Service (SaaS) format. No coding experience is required. There is no need to invest enormous resources as we offer a ready-made solution for your requirements so that you can focus on core business functionalities.
Start your online grocery delivery platform and allow retailers to sell groceries on the web store and mobile app Now!
FAQs
What's the Multi Vendor marketplace, and what are some of the best Multi Vendor apps?
A Multi Vendor marketplace is a space (virtual in this case) where a variety of vendors can offer their products at competitive rates for users to choose from for buying. A Multi Vendor marketplace brings more options under one app. Some of the best Multi Vendor Apps are Amazon, eBay, Flipcart,  Etc.
What should I keep in mind before making a Multi Vendor marketplace?
You should first define the type of Multivendor app you're building. You can choose from B2B, B2C, and C2C models, depending on the category your idea falls in among these types. For example, a Multi Vendor Platform like eBay has a C2C model. You should do the due market research and get trustworthy and quality vendors onboard, depending on the demand of your market. Know your target audience, and provide a lucrative solution that can differentiate you from your competition.
What Platform should I make my application for, iOS or Android?
It entirely depends on the audience you want to tap. Generally speaking, Android users outnumber iOS users. However, iOS users typically spend more on apps than average android users. When you're making a Multi Vendor app, you can try to go for both markets to keep tap into these varying user groups.
See also: