How FreshDirect Works – Insights into Business Model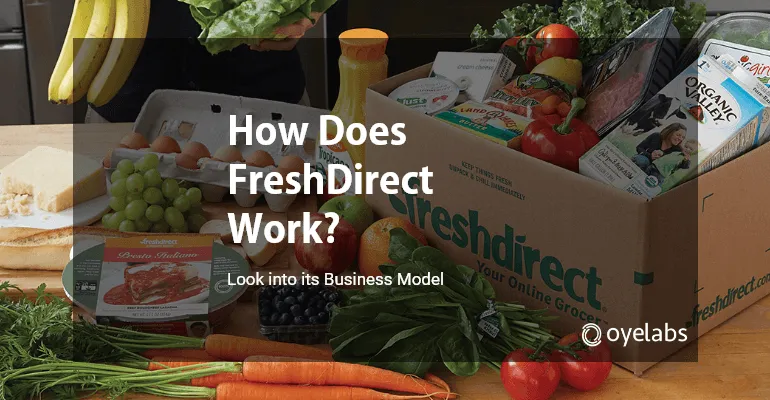 How FreshDirect Works – Insights into Business Model
Last Updated on May 26, 2022
Today's flourishing on-demand economy (even/especially amidst the pandemic) seems as if a logical extension to our system. However, it is thanks to the foresight and business acumen of various pioneers and risk-takers that we saw the popular culture around how we consume and celebrate products change. You can be sitting at your desk at work or lying on your sofa watching NETFLIX; all you need is a smart device, the internet, and viola! Almost anything that you can have delivered to your doorstep, from everyday essentials to luxury innovations, there's probably an app for it you can use, pay online (or on delivery) and get instant gratification.
FreshDirect is one of the earliest players in the on-demand scene in the US, and it has a stable and profitable business structure that has helped it keep its place in the market. Online grocery delivery services in the United States, FreshDirect is a smoothly working business delivering thousands of orders each day for people across the New York Metropolitan area as well as select counties in New Jersey, Connecticut, Pennsylvania, Delaware, and Washington, DC metro area.
See also:
If you're thinking of starting an on-demand delivery service for grocery, prepared food, and other everyday items, studying the business model of  FreshDirect can be of great use to you. It will not only help you understand how FreshDirect works, but it'll also give you an idea of how you can make use of the model in your context to start a sustainable and profitable business.
Before beginning, however, let's have a look at the company's journey so far.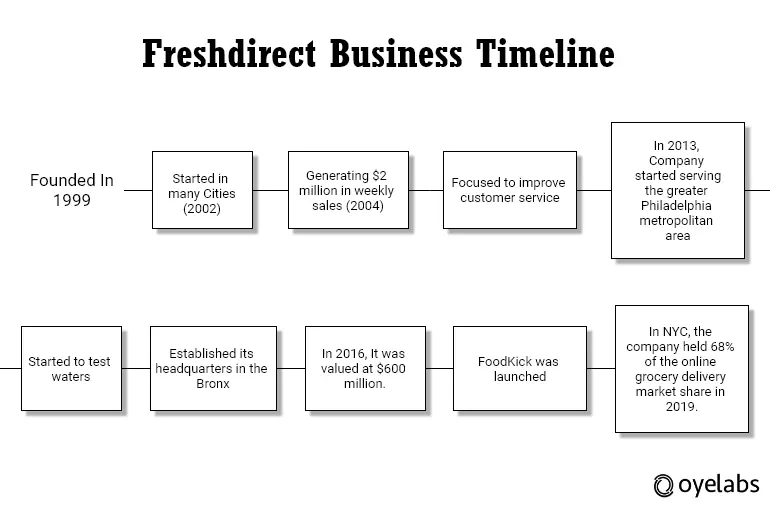 FreshDirect Growth Timeline
The company is the brainchild of Joe Fedele (formerly CEO for Fairway Market) and Jason Ackerman (former Investment Banker specializing in the grocery industry), and they founded the company back in 1999. 
In 2002, FreshDirect started in parts of Manhattan, Brooklyn, and Queens, and was introduced in New York and saw popularity and growth thanks to its convenience, fresh food, and affordable pricing (10% lower than the on-going prices at the time). 
In 2004, the company was already generating $2 million in weekly sales. 
In early 2008, the company made changes seeing the inconsistent performance in terms of business. Richard Braddock, who was serving as the chairman and had extensive experience leading e-commerce companies, was also appointed as the CEO of the company. 
The company made changes to its strategy, and after discontinuing solicitations for new customers for two years, shifted its focus towards improving customer service. In this direction, the company implemented real-time data reports to monitor and resolve customer issues. 
Gradually, by 2010, the company managed to secure 45,000-50,000 repeat customers who generated the majority of the company's revenue. 
The company started to test waters in select parts of Connecticut and New Jersey in 2010. The company also had ventured in some parts of the Bronx, but it began serving the whole borough in 2012. 
In January 2013, the company started serving the greater Philadelphia metropolitan area, and by September, it also launched new services in parts of the state of Delaware. They generated $400 million in annual sales(2013), and around 250,000 people were using the company's services. 
In 2014, the company established its headquarters at Harlem River Yards in the Bronx, along with a 500,000-square-foot (46,000 m2) distribution hub. 
In 2016, in a funding round, the company raised $189 million in outside funding and was valued at $600 million. Led by J.P. Morgan Asset Management, W Capital and AARP Innovation Fund investing also participated in the round, making it the most successful fundraising round in the company's history. 
FoodKick, an on-demand grocery delivery service, which provided an array of essential food items (along with alcohol) within one-hour, was also launched by the company in 2016. 
In 2017, the company started delivering to Washington, DC and the surrounding towns of Arlington and McLean, Virginia, and Bethesda, Maryland. 
In 2018, the company established its administrative and warehouse center in the Bronx.
In New York City, the company held an impressive 68% of the online grocery delivery market share in 2019. 
Now, let's have a look at how the company operates its business. 
FreshDirect Business Model and How it works
The Business Model
FreshDirect is one of the best examples of building a focused business and slowly expanding while keeping track of and fixing any emerging issues within the evolving structure. Despite many hiccups along the way, the company has managed to win over loyal consumers over the years. To make an app FreshDirect, understanding the workflow of the app is one of the important aspects.
Defining FreshDirect's Userbase
People who work late hours or have very tight office schedules benefit from FreshDirect's fast food delivery services. 
People who are unwilling to visit stores themselves for a variety of reasons, crowded areas, limited selection, time constraints, or anything similar, can use the FreshDirect service to get their groceries delivered at their doorsteps. 
People who want to browse a wide selection of food items while sitting at home for the sheer convenience of ordering delicious food without going out. 
Young people away from home, people traveling to new cities, etc., also find it convenient. 
FreshDirect makes it very convenient for people to select and order an item of their choosing, but there are plenty of other advantages that it offers to its customers. 
FreshDirect delivers fresh and quality items to its users and works hard to maintain its high standards. 
Thanks to its smooth management, it can keep the prices low and while profiting various segments of the model, including Suppliers, the Delivery chain, and the users. 
There is a large selection of offerings that the company provides its users, such as prepared food, grocery items, and liquor (in select parts), among others. 
One of the leading factors behind FreshDirect's success is its loyal chain of suppliers and Delivery personnel, who stay with the brand and help in making it a more efficient and successful operation. In turn, FreshDirect has plenty to offer to these invaluable segments of the company. 
Benefits to the Suppliers
FreshDirect provides a profitable platform for suppliers as it is one of the leading on-demand services in the areas in which it works. 
The company moves its products fast thanks to its loyal customer base, and there are no delays in the payment of the fees to the suppliers. 
The company keeps a close eye on its operations, and thanks to that, it has plenty of useful data it can impart to the suppliers, who in turn can improve their product strategies and benefit. 
Benefits to the Drivers
It provides a reliable and lucrative career choice to its users. 
Since the operations are well- planned, there is no undue pressure on any of the driving staff. 
Delivery personnel can get a tip from the users via the app or in cash, adding to their overall earning. 
Launch Your Grocery Delivery App in 2 weeks
With Customized On-Demand Solutions by OyeLabs
How the Freshdirect model works
Ordering 
FreshDirect has an app as well as a website that lets users browse a variety of items based on their location, and users can add these items to their cart. 
There's a lot of options for users to choose from, and, to make it even more interesting, users can browse categories like Fresh Deals, Top rated products, or check out products that are within budget or have coupons available. You can find local fresh products and even order farm packages from the nearest farms. FreshDirect has links with local suppliers as well as popular brands and presents a nice mix of options for any user.
Once added to the cart, users can select the delivery time, with a two-hour window, and pre-pay for the stuff. Users have the convenience of scheduling express delivery, next day, or up to a week. 
Back at the Warehouse (Order retrieval, Preparation, Packaging, Shipping)
The company made a move from its base of operations in Long Island City, New York, to The Bronx in 2018. The Bronx distribution center is 400,000 square feet and is a drastic improvement on its predecessor. 
There are fifteen different temperature zones within the facility, with personal shoppers working with the same twenty to thirty fresh products daily. Orders are retrieved and accordingly sorted, prepared, and packaged in the facility. With the help of an internal quality control app, the quality of every fresh item is monitored, and tracked, and is available for assessment. 
Transportation Fleet and Delivery Process
The company has an impressive transport and delivery mechanism, and it owns more than three hundred vehicles ranging from box trucks to tractor-trailers. Once the daily shipments are sorted and packed, the delivery fleet takes the orders and ensures that the orders get to their right destination. 
With the Global Positioning System, safety warnings, notifications, and alerts, the company ensures that the items are delivered safely. 
Table below contains a snippet of the modest delivery fee that FreshDirect charges its customers
| | | |
| --- | --- | --- |
| Area | Min. Order | Delivery Fee |
| Manhattan | $30 | $5.99 |
| Queens | $30 | $5.99 |
| Westchester | $30 | $6.99 |
| Rockland | $30 | $6.99 |
| Fairfield | $30 | $6.99 |
| Northern New Jersey | $30 | $6.99 |
| Central New Jersey | $30 | $7.99 |
| Southern New Jersey | $30 | $7.99 |
Present and the Future of FreshDirect
In 2020, FreshDirect saw a surge in demand due to the pandemic. The company took the challenge as an opportunity to grow, and evolve, and to provide a solution to the complicated problem communities it served faced. Significantly increasing the delivery time slots and adding capacity throughout the New York areas, the company also extended delivery services to Hamptons on Long Island and the New Jersey Shore.
In February of 2020, the company decided to form a relationship with a regional (NewYork based) no-profit organization Common Pantry, and in the initial phase of the relationship, users raised around $1 million in funds in a few months. By September, the company announced office space for Common Pantry as well. 
In March, the company's CEO David McInerney partnered with the mayors of all five boroughs of the city of New York and launched a citywide initiative to deliver food to families that were impacted by the global pandemic.
Conclusion
FreshDirect is one of the most popular on-demand services, especially in New York and also in several other major US cities. It has generated a loyal customer base over the years, thanks to its commitment to maintaining high standards of quality, reliable delivery service, and prompt customer service. Despite hitting a few roadblocks along the way, the company has managed to come out ahead, and presently, it is doing excellent. There is no reason to doubt that it'll be stopping anytime soon.
FAQs
What are some apps similar to FreshDirect?
There are many apps like FreshDirect that you can find in the market today. Some of the examples are Instacart, Doordash, Grubhub, Walmart, and Peapod.
How much does it cost to create an app like FreshDirect?
Creating an app like FreshDirect can cost you anywhere from $20,000 USD to $50,000 USD. This is just an approximate budget. The total cost will vary depending on the features and functionalities. For a budget readymade app, the cost will come down to as low as $10,000 USD.
Does Oyelabs offer grocery delivery mobile app like FreshDirect
Yes, Oyelabs offer both custom-build and readymade grocery delivery app solutions. GoodGrocers is one of our products that deals in online grocery 
How does FreshDirect earn money?
FreshDirect generates its revenue by charging a delivery fee to customers. Unlike AmazonFresh, which charges a $299 annual membership fee, FreshDirect attracts customers with its modest delivery fee that is charged per order. For example, for different counties across the United States, FreshDirect charges a delivery fee on a minimum order of $30, such as for Manhattan and Queens areas it is $5.99 delivery fee, for Westchester, the delivery fee is $6.99.
What are some challenges grocery apps like freshDirect face?
The most common challenges grocery delivery businesses face are user retention, delivery time constraints, delivering wrong product items, items getting out of stock and gaining users trust. The businesses deal with these problems by creating an efficient delivery network, integrating a robust, inventory management system, keeping the product list updated in real time, regularly providing good deals to customers, and more.