Building An App Like Porch – Key Features and Development Cost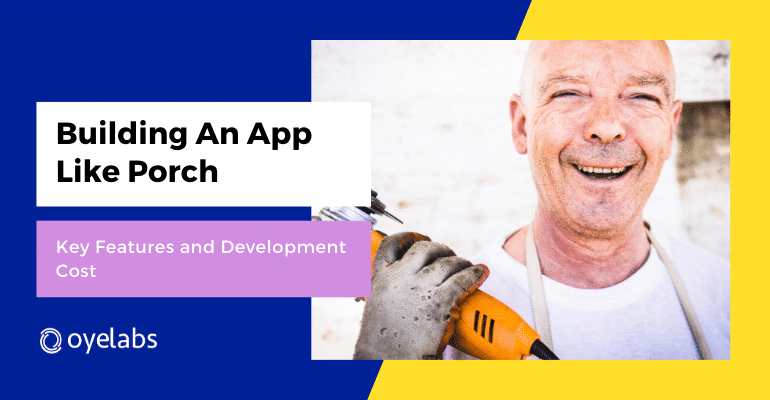 Building An App Like Porch – Key Features and Development Cost
Last Updated on November 25, 2023
We also acknowledge how most traditional markets have been affected by on-demand applications. We all have experienced a tremendous shift in the way we fly, eat, shop, and even date.
So, why not get our domestic duties and errands done? After all, in our lives, we all need a 24×7 available house-help that can complete our household chores and run our errands in a jiffy.
Let's start from the basics to what particular services it offers until we grasp the nitty-gritty of on-demand home services applications.
As the name suggests, it acts as a forum where you can recruit experts at your fingertips for all your household chores. It is integrated with all the necessary features as all other On-Demand Apps.
Hire a plumber near your place who can repair it in no time. Got a leaking problem at home. If you have trouble with your AC, contact an air conditioning specialist who can repair your AC in just a few minutes.
Similarly, these applications aim to provide services like carpentry, house cleanliness, home appliances, and any other issues in the household.
Developing an on-demand home service platform is still in its initial stage; however, it already has some proven names. Well-known utilities in this vertical are TaskRabbit, Convenient, and Porch.
See also:
Almost all of the home services apps are gaining momentum rapidly, and one of them may well be as popular as Uber. But some of them have already made a name for themself in the industry. 
One such platform is — Porch. 
Porch — Introduction 
In 2013, Porch came to life to fix the age-old question of matching homeowners with high-quality experts in home renovation. It started off as a platform for home services, providing project orders to professionals around the nation that are part of the $500 billion home renovation industry.
Since then, Porch has grown into a vertical SaaS company focused on simplifying the home and supplying businesses with apps and services. These 8,000+ small and large corporations use Porch to boost their activities, expand their industry, and optimise their consumer experiences from moving businesses, home inspections, large service businesses, real estate professionals, and more. Porch is introduced to its clients by these firms to help make moving and home cleaning easier.
Some facts about the Porch App
Founded:

September, 2012

Founders:

Matt Ehrlichman 

Revenue: $77.4 Million(2019)

Headquarters: Seattle, Washington, United States

Valuation :$523 Million (As of July 2020)
Today, Porch is engaged every month with around 2 out of every 3 homebuyers. They deliver a complete range of products and services to enable homeowners to:
Compare and purchase at competitive prices for home and car insurance plans and the correct coverage
Organize their entire travel, whether loading or unloading a truck or full-service long-distance jobs,
Uncover and add on the market the finest home automation and surveillance solutions
Compare solutions for the internet and TV for the new home
Book small handyman jobs with assured efficiency at set, upfront rates
Compare bids from pros who can complete bigger jobs
Why Home Service Apps Are Important
Modern life desires comfort and the same is offered by on-demand services. Apps such as Porch are so common because all home-related services are delivered on one app, making life easier for individuals around the world.
Users will browse multiple service providers, judge them on the basis of feedback, recruit someone according to their needs, and pay for the services offered, all on one app that is easy to use.
Mostly, the cost is the key factor for consumers. Although, compared with conventional services, on-demand home services networks deliver cheaper costs. As a consequence, the industry is booming with a range of home service applications.
iOS delivering home services function as a conduit between providers and consumers of services. These applications also perform billing and payment transfers in a single tap to help consumers pay, which adds to their comfort in the future.
Home service applications that are on-demand know what their customers really want. They seek, thus, to provide services as efficiently as possible and according to the needs of the customer. For example, by only adding a few specifics, customers can set a time period within which they choose to access the service or they can get an idea of how much the service will cost them.
Related Resource: Best Home Services App Business Ideas For 2022
Your Business Can be Helped If You Build App Like Porch 
Mobile apps these days not only keep your loyal users hooked on your service, but also help attract new clients by growing your company's exposure. In turn, this helps you to scale up your market. When you build an on-demand home service app, the popularity of your offline home service company will become 10X.
For existing and potential customers, smartphone apps offer targeted marketing tools. These applications serve various purposes, such as providing general service information, booking forms, prices, search options, and more. This in fact benefits marketing agencies. Apps such as push alerts on offers and promotions available will also help improve the company's revenue.
In today's dynamic landscape, leveraging ways to inform the target audience about the brand and create a positive picture of it is of the utmost importance. By building brand recognition, a home service smartphone application will help you achieve this.
Customer Relationship Management
The improved reliability in delivering customer support services is one of the key benefits of smartphone applications for organizations. By making a home service app, you will resolve your customers' questions in-app via chat or you can even embed a chatbot in your smartphone app that will offer 24/7 assistance to your customers.
The Home Service App Development industry is booming dramatically due to these advantages and is forecasted to grow at a CAGR of 60.77% between 2021 to 2026 according to a report.
If you are looking to build an on-demand home services app to leverage this rising market check out our case study on building a home services app to give you a greater insight into the process and how we can help you to successfully make such an app.
READY TO LAUNCH YOUR APP?
With Customized On-Demand Solutions by OyeLabs
Must-Have Features To Include Your In Porch Like App!
Key Features For Your User's App
Users must be willing, without any difficulty, to locate resources. Provide various filter forms that would ease the operation. The customer experience can be greatly improved by filters such as locating the service provider based on quality, distance, and specialty.
Empower the customer with the option to select the service at their chosen time slot. This feature will allow your customers to pre-book their service appointment. This functionality, other than being an on-demand app, will also bring the app another element.
In every on-demand program, Real-Time Alerts play a significant role. It also plays a similar function in this app, so you must guarantee that a message is sent by the customer after the request is accepted by the service provider.
Ensure that various payment options such as credit, debit card, currency, and wallets are available for your app. As all consumers have their respective tastes, sticking to only one form of payment will backfire.
Your app must include the functionality for analysis after the operation is finished. It must encourage the service provider to score & analyze the client. This functionality is very helpful because it serves as input and encourages other consumers to prefer higher-ranking service providers.
When using the software, current users experience several difficulties. You must provide this functionality, which will be a combination of FAQs, customer helpline support, chat support, and onboarding video tutorials, to solve the problem.
Key Features For Your Service Provider's App
For service providers, the software must have a simplified registration process that does not take so much time. If the profile requested by the service provider gains clearance, he will continue to receive tasks according to his specialization.
The service providers need to accept the inquiry alerts in real-time. Faster notification increases the efficiency of the app and service. For inquiry updates, you must have all choices, such as email, text messages, and push notifications.
Accept or Reject Requests
When the requests are submitted from the service provider, he must have the right to review them. Once he checks it, whether he enjoys the work, he must approve it or deny it if he doesn't. You must, however, make certain rules that prohibit service providers from refusing applications on the trot.
In every on-demand app, connectivity is indispensable. Your app must also have an in-built chat mechanism that helps service providers to communicate with customers. They can fix problems such as rate bargaining and can carry on other relevant job information.
Various payment information, such as PayPal, bank account no., or anywhere they want to collect their payment, may be added by service providers. In addition, any extra costs such as transportation may also be specified in the event that a customer lives far away.
The mechanism of feedback works both ways. So, you need to provide a feature for customer reviews where service providers will score customers on multiple parameters. These requirements could be including the experience of the service provider with the user, correct user directions, and many more.
Key Features For Your Admin Panel
The Admin Panel must have a dashboard that is collaborative. For the whole app, the dashboard will function as a control center. Any activity on the apps can be monitored & tracked. For optimum performance, make sure that the dashboard is easy to navigate.
Manage & Verify Service Providers
You must provide functionality in which all the service providers can be handled. Often, you can manually select additional service providers. In addition to this, you must check all service providers' profiles and avoid any unauthorized entry.
You must quite specifically set the commissions that will later avoid any misunderstanding. Along with this, easy and stable transfers between users and service providers are assured. This feature makes you overcome all the problems of payments.
You will deliver numerous attractive promos and promotions to promote your app. Through this feature, you can track your progress with regard to the provided discounts. It allows you to acquire valuable stats that will lead you in a smarter and more appropriate way to deliver deals and promotions.
Reviews are also critical and, when choosing their partners, they direct both sides. This role will allow you to search for all the feedback from both ends. On the basis of their ratings, you can flag bad performers and can list top performers.
This is really useful because it enables you to get vital insights into your business. You are motivated by these observations and stats to make informed choices and develop your services. Via analytics, you can review your progress again and make appropriate adjustments to get your services on the right track.
Related Resource : Home Services App Features List
Tech Stack Of the Porch App
According to stack share the tech stack used in the Porch app is as follows:
Application and Data: jQuery, PHP, React, NGINX, Java, Cloudflare, jQuery UI, Google Cloud Platform, Animate.css, Slick, Backbone.JS, Ionicons, Fastly
Utilities: Google Tag Manager, Google Analytics, WooCommerce, GitHub, Optimizely
DevOps: Webpack, New Relic, Varnish
Business Tools: Google Fonts, Wordpress, Adroll, Font Awesome, Marketo, Qualaroo
How Much Would It Cost To Build Your Porch Like App?
Firstly, it is important to note that when deciding on the cost of app development and growth, several variables come into play. Those considerations are:
Location: App development costs are largely based on its location & region. There will be higher prices for applications produced in the US & Europe. Whereas the prices will be relatively lower in Asia.
Number Of Features: It is clear that the expense will be more if the number of features are more. If you want the app to have more characteristics and sophistication, you have to pay more.
The UI/UX: The cost is greatly determined by the user interface and graphics. User-friendly applications are more costly.
Company vs Freelancer: Based on your budget and specifications, you have to pick one for your app growth. Typically, the business pays more than freelancers.
The expense depends on multiple variables, as discussed earlier. But after carrying out a lot of analysis, our team determined the average price. About $15000-$30000 would cost you. Within 14 weeks, our committed professionals will create your app.
Frequently Asked Questions for building an app like Porch (FAQs)
Que. How much does it cost to build an app like Porch?
Ans. To build an app like Porch on an average it would cost $15000-$30000. This number is determined by our experts after a detailed analysis.
Que. Who keeps the code after development?
Ans. You, being the owner of your property, get to keep the finished product in all its entirety. However, you are going to need experts on the backend and for keeping the app running smoothly.
Que. What are the means of income for apps like Porch ?
Ans. The various sources of income for apps like Porch are Commission fee, trust and support fee , peak pricing and Advertising charges.